Boasting endless courses and world-renowned golfers, here is all you need to know about golfing in Ireland.
The island of Ireland is ripe will rolling fields and lush landscapes, towering cliffs and vibrant greenery – it is the perfect setting to swing a club.
In this golfing in Ireland guide, we round-up the most memorable courses, the best golfers who have hailed from the Emerald Isle, where to stay and when to visit.
Overview – golfing in Ireland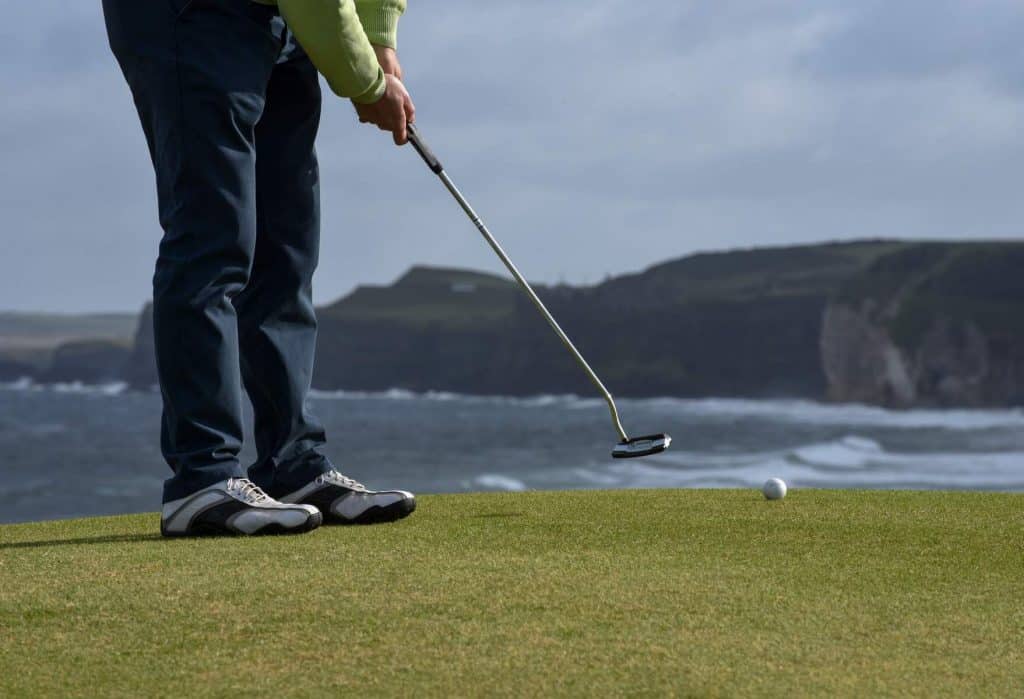 As of 2019, according to the R&A's Golf Around the World report, an impressive 494 golf courses span the island of Ireland.
The history of golfing in Ireland, however, is not one of the recent times. In 1853, the Royal Curragh Golf Club was established, taking the title of the 'first golf club in Ireland'.
Since then, the sport has evolved significantly, and today, Ireland is known to be one of the finest places to take to the green.
When to visit – weather and demand
Ireland boasts a temperate climate, meaning we rarely experience extreme heat or cold. Winters are cool to cold, and summers mild to warm.
When it comes to planning a trip to Ireland for golfing, we suggest spring and autumn. During these seasons, the costs for accommodation and footfall will be lower. This is in comparison to summer, which sees the highest demand for the green.
Top tournaments – what not to miss
Many golf tournaments take place in Ireland each year. These are highly coveted sporting events, so if you're planning to attend, make sure to snag some tickets well in advance.
Irish PGA Championship: This tournament was first instated in 1907 and is impressively one of the oldest golf tournaments in the world – not just in Ireland.
Irish Open: This competition is part of the golfing European Tour. It has been a popular tournament on the golf circuit since 1927.
Irish Amateur Open Championship: Since 1958, this tournament has been an annual affair on the Emerald Isle; it is organised by the Golfing Union of Ireland.
Names to know – famous faces
When the trivia turns to golfing in Ireland, there are a handful of names that should be awaiting in your arsenal.
Rory McIlroy: This Irish golfer has become somewhat of a household name in recent years. He is a former 'world number one' and has won championships, including the 2011 U.S. Open, 2012 PGA Championship, and the 2014 Open Championship.
Padraig Harrington: Credited as the first Irish golfer to win a series of major championships, the name 'Padraig Harrington' is synonymous with the sport in Ireland.
Darren Clarke: With 14 victories on the European Tour, Clarke is remembered as one of Ireland's most renowned golfers. Not to mention his performance at the 2011 British Open.
Best courses – best greens on the Emerald Island
Depending on your preferences, there are endless courses in Ireland to take on.
From coastal courses to those which offer a green against the backdrop of majestic mountains, you'll be spoiled for choice. For those struggling to choose just one, some of our favourites include:
Royal County Down: From sand and sea to the Mourne Mountains, teeing off at this renowned course epitomises the best of golfing in Ireland.
Lahinch, Co. Clare: This is yet another seaside stunner. Located in Lahinch (a haven for surfers), this is the perfect go-to for those who are interested in more than just golf.
Royal Portrush, Co. Antrim: This oceanfront course is as dreamy as they come. It's considered top-class on an international level and was home to the 148th Open in 2019.
Where to stay – comfy accommodation
Those seeking the all-encompassing golfing in Ireland experience are advised to stay in one of the many golf resorts on the Emerald Isle.
If on the lookout for somewhere close to Dublin while also exercising a budget, we recommend the Portmarnock Hotel And Golf Links.
This four-star establishment offers stunning views along a five-mile unspoiled stretch of sand. With an award-winning golf course and spa and two award-winning restaurants, there's much to love about this Dublin golf hotel.
If a luxurious experience is what you're after, head west to the impressive Adare Manor estate in Limerick. This five-star establishment is known to be one of the finest in the entire country, and its golf course is just as accredited.
Most recently, it received a Golf Digest Editor's Choice award for 'Best Golf Resorts In Great Britain and Ireland 2021'.
Set on an 840-acre estate, the Neo-Gothic manor hotel is only punctuated by its masterful course, which is set to host the Ryder Cup in 2027.
Get featured on Ireland Before You Die
Do you want to get your Irish business more online exposure? Especially to those interested in travelling the best places in Ireland? Then why not get a dedicated feature on Ireland Before You Die. Find out more 
here.
Legal Disclaimer
We cover articles relating to many activities. Some of our articles showcase gaming and gambling as activities. While we do not take money for bets or own any gambling venues, we feel it is important that our readers know the risks of such venues or sites that we may mention in our articles. Gambling involves risk. Please only gamble with funds that you can comfortably afford to lose. See our legal disclaimer for more info.