Game of Thrones (GOT) is an HBO smash-hit fantasy-drama television series that has become, over eight seasons, a cult classic. First airing on TV in 2011, GOT was adapted from George R.R. Martin's book series "A Song of Ice and Fire".
The narrative follows the families of power in the Seven Kingdoms of Westeros who fight to rule on the Iron Throne. Now considered a defining TV series of the generation – HBO estimates that nearly 33 million people worldwide tuned into the finale of season seven – it is safe to say GOT is a household name.
Game of Thrones has been largely filmed on location in the North of Ireland. And as the fantasy-drama continues to beguile fans, tourism up North is booming like never before.
For those of you eager to get a selfie at one of these enchanting Game of Thrones locations in Northern Ireland, no sweat. Here are the GOT filming locations in Ireland you can actually visit.
The Forests, Lands and Caves
Tollymore Forest Park, Co. Down
Tollymore Forest Park was used several times in Game of Thrones. It was the Haunted Forest, where the White Walkers first began their march South. Tollymore Forest Park is also where Ramsay hunted Theon; again it was used as the location where the Stark's discovered the direwolves.
The Dark Hedges, Co. Antrim
This mesmerising natural sight was used as Kingsroad during GOT. This is where Arya disguises herself as a boy to avoid capture although she is found out. (See below!)
Mourne Mountains, Co. Down
The foothills of these magical mountains became the land surrounding Winterfell during the filming of GOT. Here is where Bran first meets Jojen and Meera in the woods.
Pollnagollum Cave in County Fermanagh
When Arya is found out, she is brought to Brotherhood without Banners who are stationed in what we know to be as Pollnagollum Cave in County Fermanagh.
Shillanavogy Valley, Co. Antrim
These ancient valleys, rich in native flora and fauna, were used as filming locations in Game of Thrones as Dothraki grasslands.
Glenariff, Co. Antrim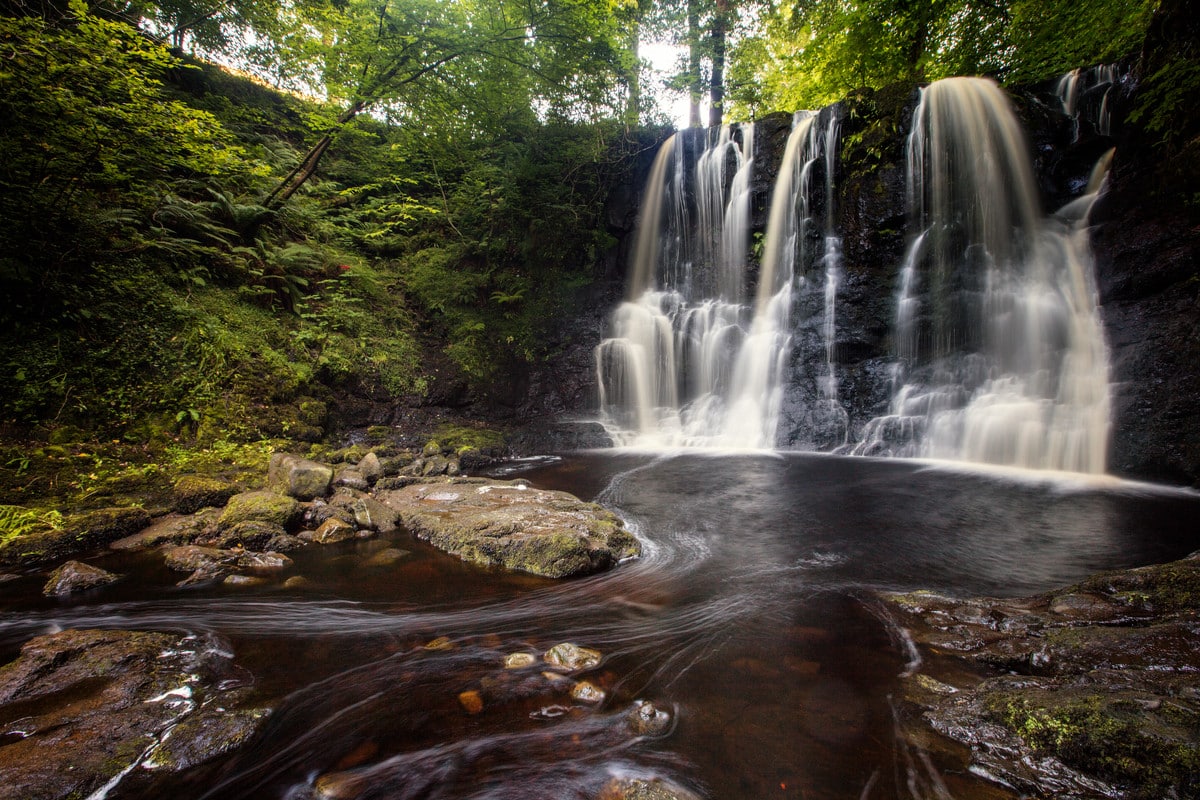 This is another stunning expanse of landscape used in the smash-hit series. Surrounded by breathtaking waterfalls, delicate valleys and blankets of walking trails which intersperse ancient Earth, this is where Robin Arryn attempts duelling, while Littlefinger and Sansa Stark look on.
Binevenagh, Co. Derry
This majestic mountain range offers panoramic views of the surrounding landscapes which stretch to the Atlantic Ocean. Binevenagh was used during filming as the place where Daenerys is rescued by Drogon, her dragon child.
Cushendun Caves, Co. Antrim
Formed over 400 million years, these epic caves in Antrim are another GOT filming location in Northern Ireland that you can visit. If you remember, this is where Melisandre bore the shadow assassin.
The Castles, Waterways and Beaches
Shane's Castle, Co. Antrim
This cinematic setting was used as the filming location for one of the more memorable jousting tournaments: the one where Gregor Clegane beheads a horse.
Lough Neagh, Co. Antrim
This large freshwater lake in Northern Ireland is recreated as the Summer Sea in GOT when Jorah takes Tyrion captive and sets sail in search of his queen Daenerys in Meereen.
Larrybane Quarry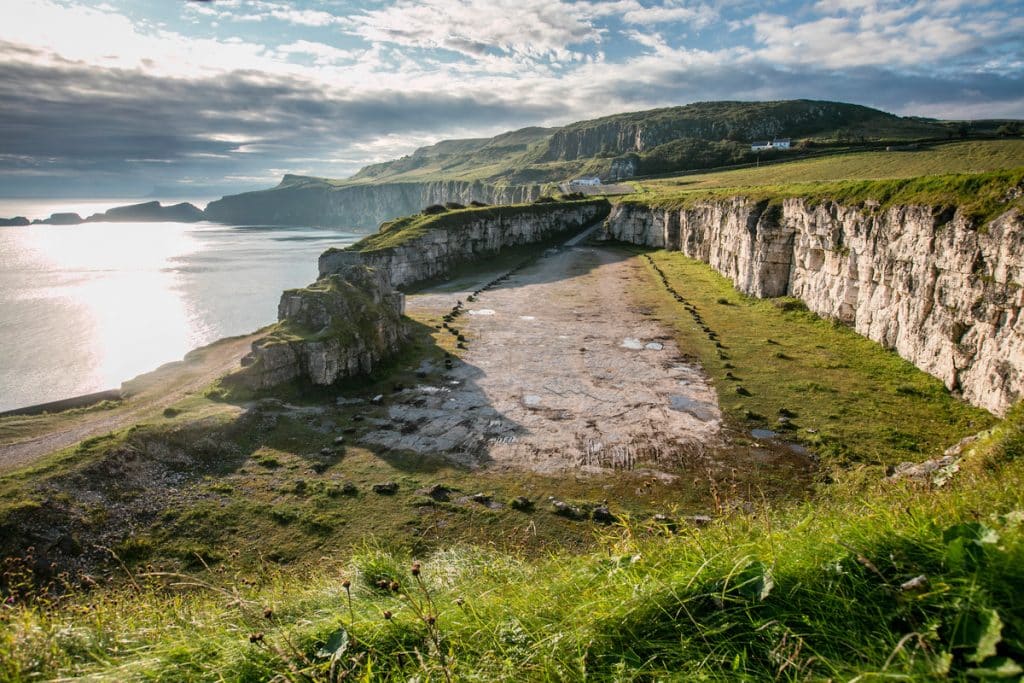 This old chalk quarry, Larrybane Quarry, is now the overflow car park for National Trust owned Carrick-a-rede Rope Bridge.
The scene it was primarily used in was also the introduction of Brienne of Tarth in season two; she fought (and beat) Loras Tyrell in front of King Renly.
Cairncastle, Co. Antrim
Also in Antrim is Cairncastle. While you can't actually visit the castle you can observe its beauty from afar. Here is where Littlefinger takes Sansa to Moat Cailin and decides to ally with the Boltons.
Castle Ward, Co. Down
Parts of this ancient castle have been used as the House Stark in Game of Thrones and is open daily to the public.
Audley's Field and Castle, Co. Down
Only moments from Castle Ward is Audley's Field where Jaime was captured, before being released again.
Strangford Lough, Co. Down
This location in County Down was used to become what fans will remember as The Twins. This is where the Starks approached the Freys to cross the Green Fork.
Ballintoy Harbour, Co. Antrim
This rural town was used as another filming location in Ireland for Game of Thrones. Ballintoy Harbour is seen as the Iron Island port when Theon arrives to seek an alliance with Balon.
Downhill Strand, Co. Derry
This stretch of velvet sand was also used during GOT filming in Northern Ireland. Here is where Melisandre burned the old gods. In the series, this beach would have been depicted as Dragon Stone.
Portstewart Strand, Co. Derry
This beach was used as a filming location when disguised as Martell soldiers, Jaime and Bronn fight Donish while approaching the gates of the Water Gardens.
Murlough Bay, Co. Antrim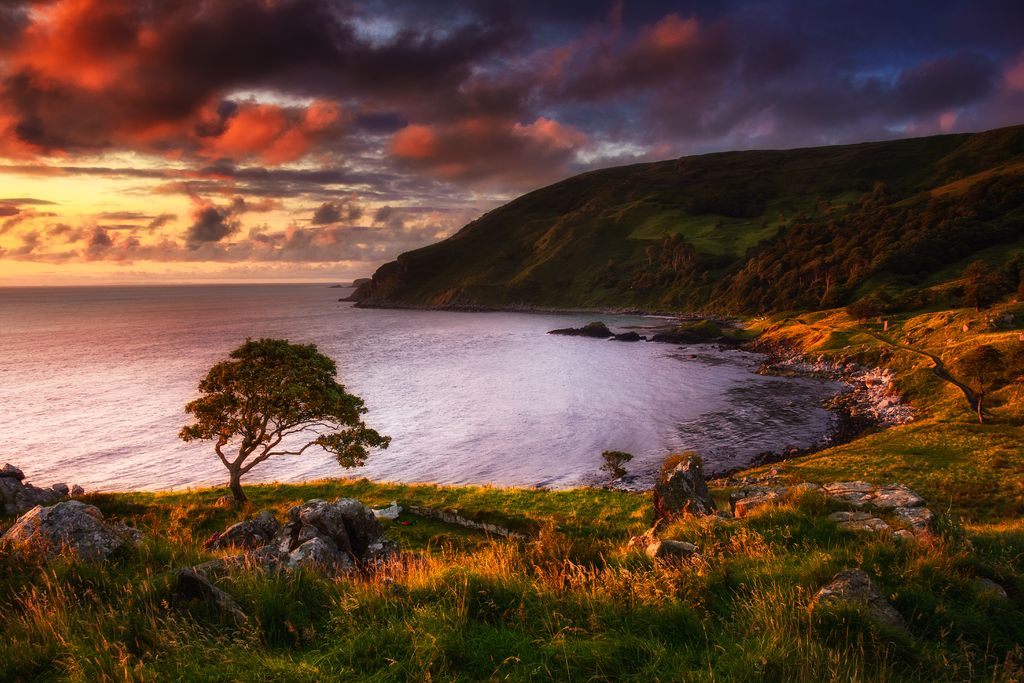 This awe-inspiring view was the filming location for Slaver's Bay, where Tyrion and Ser Jorah are captured. This is also where brother-sister Yara and Theon shared a horse ride during another GOT episode.