Ahhh Galway, the city of the Tribes. Home to the best horse racing in the country, incredible scenery and the friendliest people you will ever meet. Of course there's a chance that I might be biased, having grown up in this charming city. But if you're lucky enough to find yourself here, then I commend you on your excellent decision making.
Galway is chock full of establishments to eat and drink in but if you've come here from afar, you'll be after one thing only. A proper traditional pub. Fortunately for you, I've compiled a list of the best pubs Galway has on offer and the perfect route for you to take that will ensure you get the most out of your night. Get your comfy shoes on and line your stomach. We're going on a pub crawl lads!
1. O' Connell's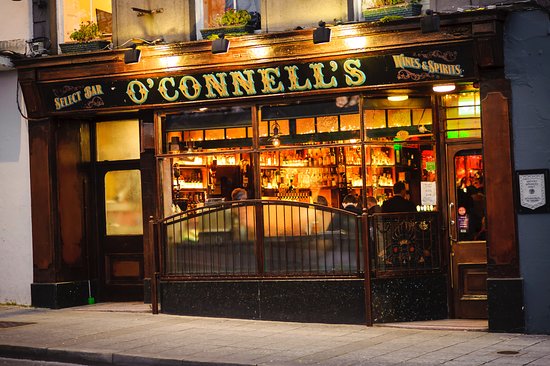 This is one of Galway's oldest pubs, located in Eyre Square and was originally a grocery store with a small bar. Of course, it was recently made famous as one of the locations for Ed Sheerans "Galway Girl" video. Sorry but you won't find Tommy Tiernan and Hector Ó hEochagáin having a laugh in the toilets. What you will find though it the best and biggest beer garden in the entire city and the finest Guinness outside of the Storehouse. The ideal place to kick start your night.
2. Garavans Bar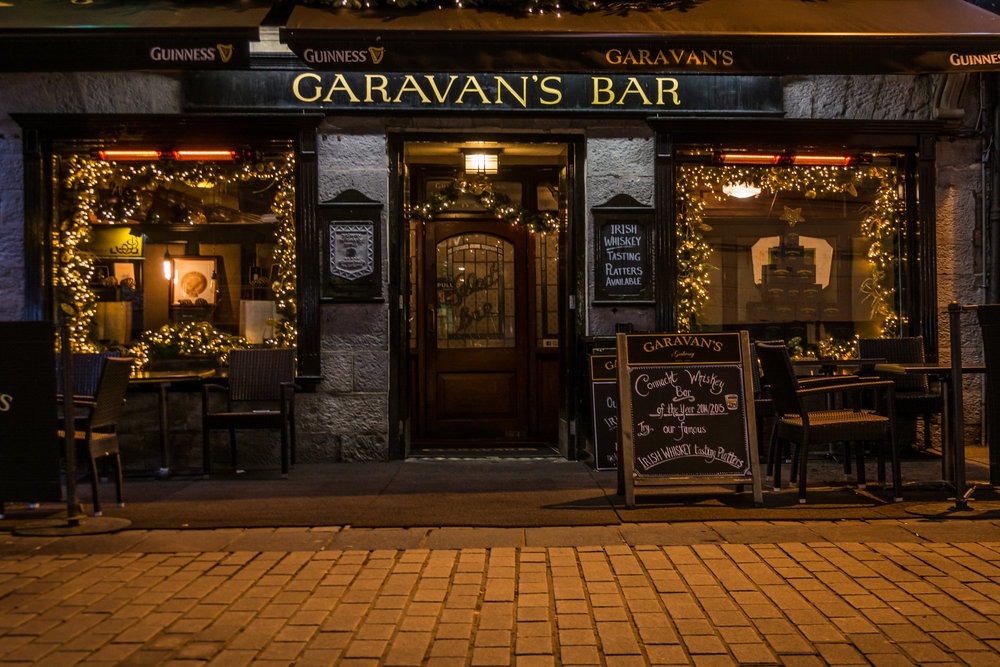 If you like whiskey, you're in the right place my friends! Garavans is legendary for its extensive collection of whiskeys from around the world and has won Connaught's Whiskey Bar of the Year for the past three years. Try their whiskey platter for maximum variety. They also do a bomb Irish Coffee btw. Parts of the building date back to 1650 so get some uisce beatha (water of life) into ya and bask in the medieval grandeur of it all.
3. 
Taaffes
Tip on further down the street and you'll come to our next stop. Most of Galway's drinking establishments are as old as the hills and Taaffes is no exception, operating as a pub for over 150 years. It's very popular with tourists and locals alike so don't bank on getting a seat in here! They have trad musicians playing every day and it's been known to attract the likes of Sharon Shannon. Taaffes has a rep as serious GAA pub but with or without a match, the atmosphere is always buzzing. 
4.
Tígh
Coilí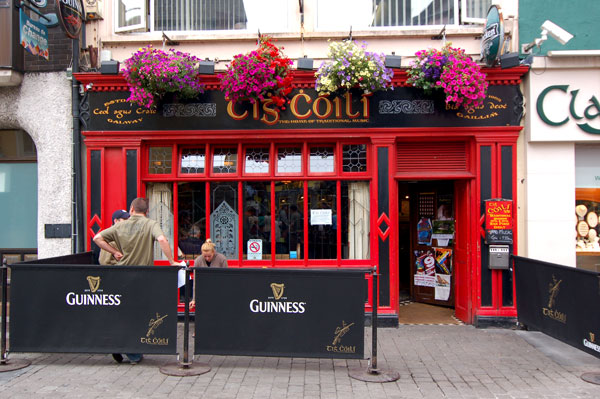 Literally a few steps from Taaffes is Tígh Coilí, which could be the blueprint for Irish pubs all over the world. It's a little spot with massive personality. Another one of Galway's best live music pubs, you can find 14 trad sessions a WEEK in Coilís! It's rare to walk past and not have people and music pouring out of the front door. The walls inside are adorned with the many musicians who have stopped by to play a tune over the years and with plenty of local regulars, it's great for a chat while you still have the run of yourself! 
5. The Kings Head
We're in the Latin Quarter now lads, which means you're only a stones throw from your next stop on the route. The Kings Head is a true relic of Galway's history, dating back over 800 years with links to the cities 14 tribes. It has the traditional décor you'd expect complete with massive fire places and is spread over three floors. It's home to live bands and comedy too so can be a grand place for shaking a leg now that the booze should be catching up with you! Sink a pint in this time capsule and hope you remember it tomorrow!
6. Tígh Neachtain
The blue and yellow walls of Tígh Neachtains are iconic and you might even recognize it from the countless postcards it's featured on. It's a crazy popular spot with fireplaces and cozy snugs to sip pints in but good luck getting a seat in one of them!
Odds are you'll be standing outside with half the city, soaking in the glorious atmosphere of Quay Street at night and shooting the breeze with the assembled friendly drinkers. Literally, you could spend your whole night outside Neachtains, talking and listening to all the banter. But this is a pub crawl lads! 
7. The Quays
You don't have far to go to find The Quays either. It's got to be one of Galway's most beautiful pubs, with half the interiors imported from a medieval French church. We're talking stained glass, gothic arches, the whole shebang. It also happens to be a cracking venue for live music, playing host to trad and cover bands galore. You're seven drinks in now and you're going to want to go exploring all the nooks and crannies of The Quays. So maybe leave a trail of breadcrumbs so your mates can find you. Or, you know, Guinness foam.
8. Club
Áras
na
nGael
Everyone still with me? Good, coz we're going on an adventure to Galway's West End. Club Áras na nGael is like a little hidden gem on Dominick Street and probably the smallest pub in the city. Expect to hear the staff and customers speaking as Gaeilge, as if your brain wasn't fuzzy enough by this point. The Áras also boasts live music sessions and sean-nós dancing nights but might be best to sit those at this point in your pub crawl! 
9. Monroe's Tavern
You won't miss Monroe's big white presence on the corner of the Claddagh. This big, spacious and friendly pub is great for this point in your evening, when the craic is ninety! You need all the space you can get for when you inevitably evolve into Michael Flatley and recreate Riverdance. Naturally, you can find live music and entertainment here 7 nights a week, including Latin Wednesdays when there's salsa and bachata to beat the band. Snake hips at your own risk now! 
10. The Crane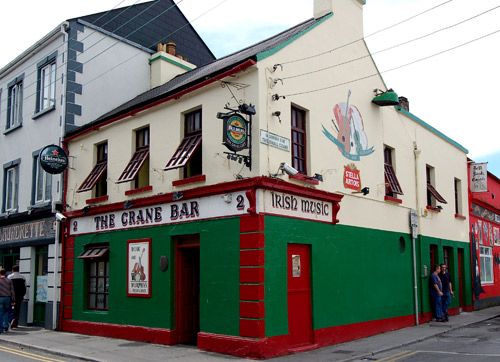 If you're still standing after this noble quest across Galway then well done! We just have one more place to hit before the pub crawl comes to a close and you go in search of a kebab and a taxi. The Crane might be the best-loved pub in the city for music. Another fun sized venue that can fit around 70 people, the intimate setting and haunting music is the perfect way to wind down and round off your night.
Don't be surprised if you get so moved by the magic of it all that you end up sobbing to a bodhrán player about how much you love Galway. A bar crawl of this magnitude can reduce even the most seasoned tourist to an emotional wreck. So there you have it, an authentic Galway girls guide to the traditional Irish pub crawl. Good luck to ye all and don't forget, I'll see ye in Naughtons for a post mortem over pints tomorrow!
Get featured on Ireland Before You Die
Do you want to get your Irish business more online exposure? Especially to those interested in travelling the best places in Ireland? Then why not get a dedicated feature on Ireland Before You Die. Find out more 
here.