The Galway nightlife scene is famous as being one of the best in Ireland and as such there are many bars and clubs in Galway that you need to experience to have a night that you won't soon forget!
Galway was elected the European city of culture for 2020 and a big reason it received this honour was because of its friendly people who embody the famous Irish welcome, and its city which has a bustling atmosphere full of craic and things to enjoy.
From trad bars to trendy clubs and everything in between the Galway nightlife scene has it all. In this article, we will list what we believe to be the 10 bars and clubs that make the Galway nightlife so enjoyable.
10. Electric Garden – adding a twist to Galway nightlife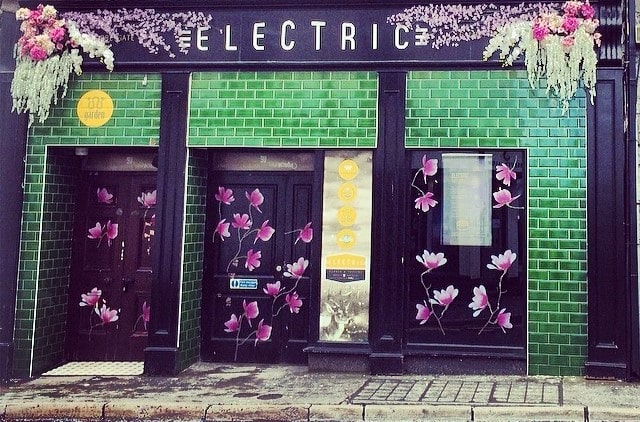 The Electric Garden is a multi-purpose venue which brings a twist to Galway nightlife as it has been home to music and arts festivals, club nights, live shows and many food and cocktail events.
Address: 36 Abbeygate Street Upper, Galway, Ireland
9. Halo – throw on your dancing shoes
Halo nightclub is the perfect place to let loose and dance the night away and is very popular for all types of parties such as birthdays, work do's and hen parties.
Address: 36 Abbeygate Street Upper, Galway, Ireland
8. Taaffes Bar – good for catching a game and a song
Taaffes Bar is another traditional Irish pub located in Galway's renowned Latin Quarter on Shop Street and is not only popular for its live traditional music sessions but it is also a great place for viewing GAA games.
Address: 19 Shop St, Galway, Ireland
7. Coyotes Late Bar and Club – Galway's American theme bar
Coyotes Late Bar is unique as it is Galway's first purpose-built American theme bar which has three different themed areas, a Sports Bar area, two dance floors, a bucking bronco, karaoke, pool table, dancers & singers and a jukebox.
Address: 34 Shop St, Galway, Ireland
6. An Púcán – a musical treat for Irish trad lovers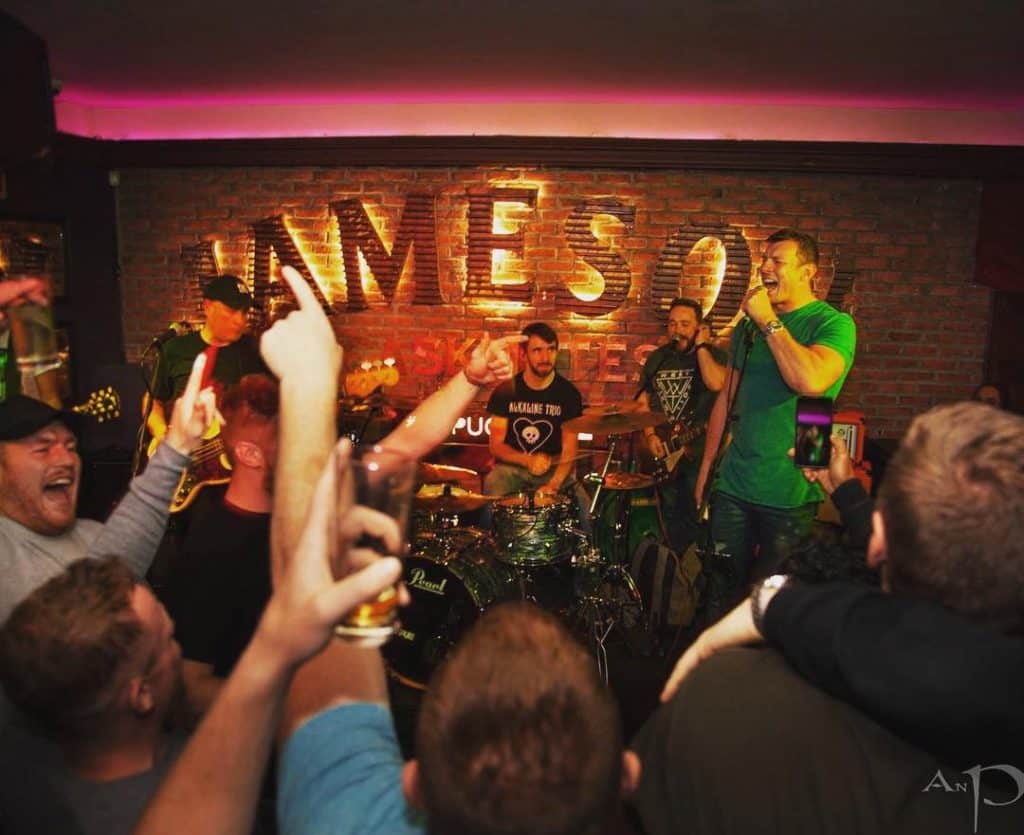 An Púcán, is one of Galway's oldest traditional pubs and has a strong tradition of offering Irish traditional and folk music daily.
Besides its great offerings of music, An Púcán also offers over 150 whiskeys along with craft beers and boutique wines as well as an extensive food menu.
Address: 11 Forster St, Galway, Ireland
5. Bierhaus – Galway's largest and finest beer selection
The Bierhaus can make the proud claim to have Galway's largest and finest beer selection with over 60 different brews on offer from around the globe.
The Bierhaus is located in the heart of the Galway nightlife area and contains a funky bar with some of the best underground DJs that the city has to offer.
Address: 2 Henry St, Galway, H91 E271, Ireland
4. The Front Door – for a great selection of whiskeys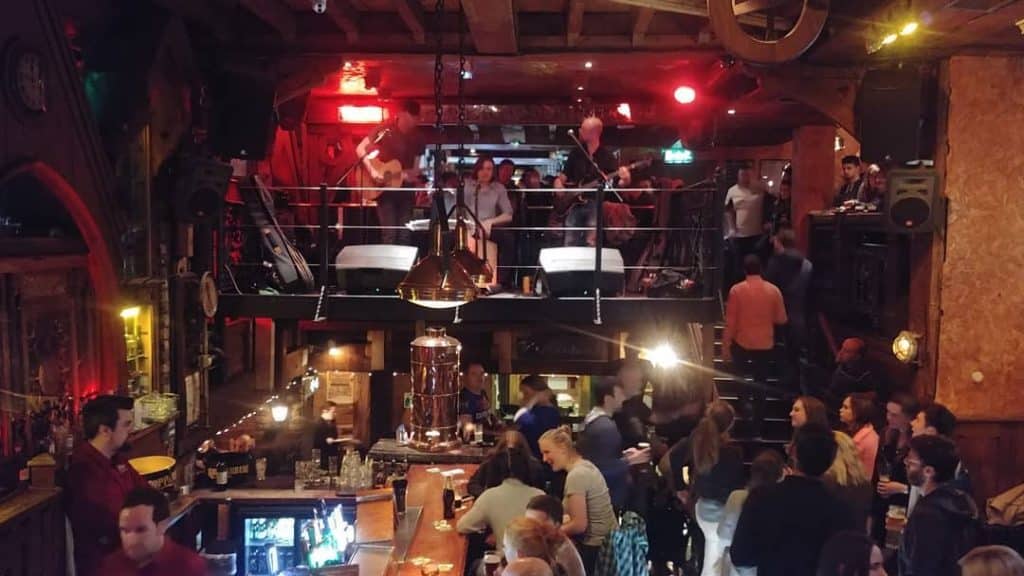 The Front Door in Galway's Latin Quarter is one of the largest pubs in the city centre as it contains two floors and a whopping five separate bars! The Front Door is famous for its Sonny Molloys whiskey bar which offers a wide and delicious variety of whiskeys.
Address: 8 Cross Street Upper, Galway, H91 YY06, Ireland
3. Tig Cóilí – excellent daily live Irish trad sessions
Tig Cóilí is a cosy and old-style pub which is the place to go for anyone wishing to enjoy a real genuine Irish trad session as they offer up to two live sessions every day all year round.
As Tig Coili is considered to be a bastion for traditional Irish music it has attracted many famous musicians from around the world to play there, such as Sharon Shannon.
Address: Mainguard St, The Latin Quarter, Galway, Ireland
2. O'Connell's Bar – one of the best beer gardens in the city
O'Connell's Bar is situated on the east of Eyre Square and is known for its quirky and unique features and for being home to one of the best beer gardens in all of Galway City.
The outside beer garden is decorated to resemble an old-style street and is complete with cobblestones and shop and pub fronts which line the walls. This design makes this particular beer garden very unique and one well worth visiting.
Address: 8 Eyre Square, Galway, H91 FT22, Ireland
1. The Quays – the perfect taste of Irish culture
The original structure of Quays Bar is over 400 years old and it still retains some of its own original features. The Quays Bar is a famous music venue in Galway which has two floors which play music every night and has played host to famous acts such as Aslan and Nathan Carter.
The Quays is also famous for being the home of the television channel TG4's country music competition called "Glor Tire" and is a popular spot for tourists as it is the perfect place to sample everything that is great about Irish culture.
Address: Quay Ln, Galway, Ireland
By keeping these places in mind, the next time you are enjoying a night out in Galway you will have a night to remember and experience the very best that the Galway nightlife has to offer!
Get featured on Ireland Before You Die
Do you want to get your Irish business more online exposure? Especially to those interested in travelling the best places in Ireland? Then why not get a dedicated feature on Ireland Before You Die. Find out more 
here.