Readers of Condé Nast Traveller have spoken, naming the top ten best small cities in the world for 2021.
Ireland's capital of culture is a must-visit for many reasons. Chief amongst them is Galway's new status as one of the best small cities in the world.
Full of great bars and restaurants, colourfully painted buildings lining cobbled streets, and music on every corner, Galway has plenty to offer.
So, if you're planning your next trip to the Emerald Isle, make sure to add Galway to your bucket list.
Travellers have spoken – speaking from experience
International travel magazine Condé Nast Traveller announced the winners of their 2021 Readers' Choice Awards earlier this week.
Reflecting on a year when travel was off the cards, Condé Nast Traveller revealed their ranking of the Best Cities in the World.
They explained, "As the world has begun to reopen, the results of our 34th annual Readers' Choice Awards survey reflect the kinds of places you longed to visit when you couldn't travel and the ones you returned to first once you could."
With over 800,000 votes cast, we were delighted to discover that Galway was named among the best small cities in the world.
Galway named among best small cities in the world – a well-deserved accolade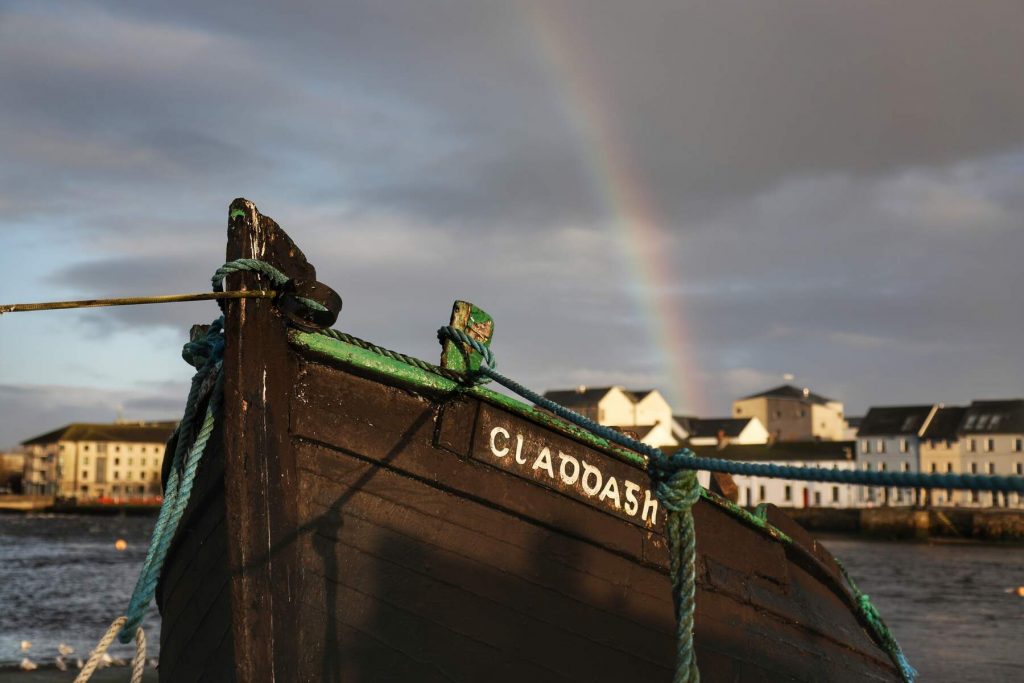 Anyone who has been lucky enough to visit Galway knows how much of a magical city it is. So, we are glad to see it is getting the global recognition it deserves.
Ranked ninth-best city in the world, Condé Nast Traveller praised its idyllic location close to some of the most stunning landscapes in Ireland, as well as its vibrant cultural scene.
They wrote, "A popular home base for day trips to the Aran Islands or the Cliffs of Moher, Galway is a worthy destination in its own right.
"The bustling university town in Western Ireland blends the historic – you'll see remnants of medieval stone walls weaving through downtown – with the contemporary.
"Its thriving art and music communities earned the city the title of European Capital of Culture in 2020."
A thriving food scene – one of the reasons to visit Galway
Alongside its history, culture, and abundance of things to see and do, Galway is also home to a lively food scene.
From fresh seafood caught in Galway Bay to award-winning pizza restaurants and local traders at Galway Market, there is plenty to tantalise your tastebuds in this historic city.
Condé Nast Traveller explains, "Its vibrant food scene spans from pubs to Michelin-starred restaurants, with plenty of fresh seafood thanks to the city's location between the River Corrib and Galway Bay."
They also recognised "its wide range of lodging options includes cosy B&Bs and the avant-garde g Hotel and Spa."
Where are the best cities in the world – must-visit destinations
Once you've made that bucket list trip to Galway, you may want to check out the other spots named among the best small cities in the world.
Taking the top spot is San Miguel de Allende in Mexico, known for its artistic feel and Spanish Colonial Architecture.
Other European destinations joining Galway on the list of best small cities in the world are San Sebastián in Spain and Salzburg in Austria. Siena in Italy, Dubrovnik in Croatia and Bruges in Belgium were also ranked among must-visit small cities.
Closing out the top ten are Cambridge, United Kingdom; Reykjavik, Iceland; and Kralendijk, Bonaire.