The Christmas lights have been switched on in Galway, and they look magical.
Ever since Galway's annual Christmas lights switch-on on the 15th of November, the city has been a glowing sight to behold. The switch-on took place in Galway's Eyre Square as part of the Light Up Galway Festival, which runs until Sunday 22 December and promises a plethora of incredible festive activities.
Luminous beacons throughout the city centre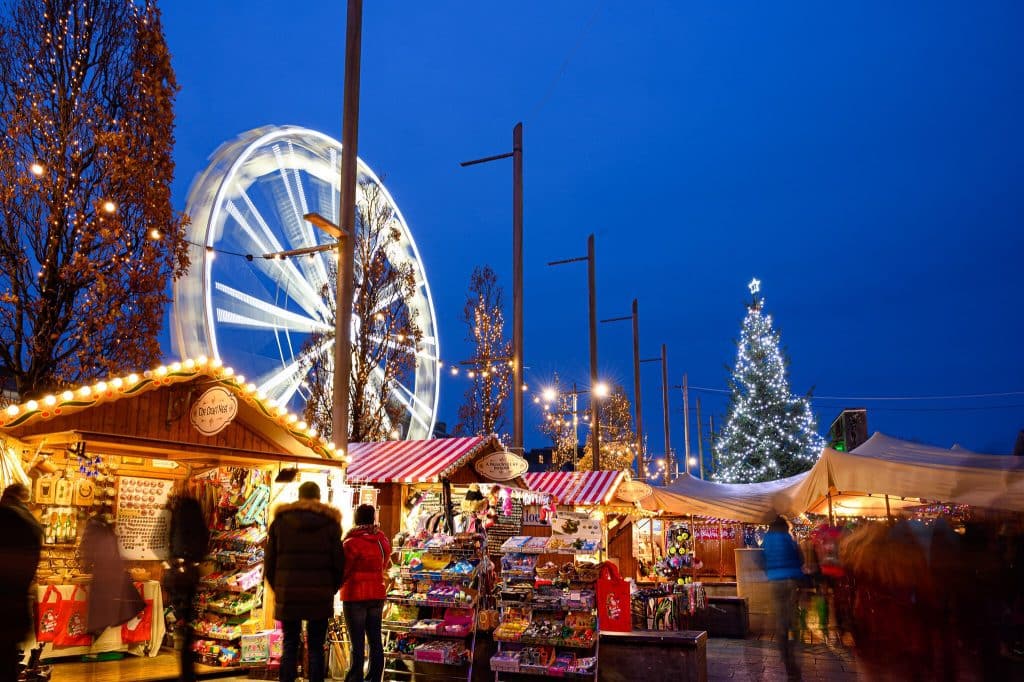 The gorgeous, LED light switch-on has created luminous, energy-efficient beacons and attractions points all around the city centre in some of its landmark locations like the Spanish Arch and beyond. Dramatic light projections now sparkle across prominent city buildings making the city glow like never before!
Blankets of fairy lights dangle above the enchanting streets, and the usually cosy pubs feel even cosier with the addition of Christmas trees and, in true Irish style, roaring hot fires to keep us warm in the chill of Winter.
This year marks the 10th anniversary since the markets began in Galway, which makes it a particularly special year for the festive celebrations.
The light switch-on has marked the beginning of Galway's Christmas Markets
The light switch-on also marks the beginning of the city's Continental Christmas Market. We can expect all of the usual delicious food and tasty range of alcohols to be provided like cider, mulled wines and hot whiskeys to keep our bellies warm.
We should also look out for customary attractions, including the 32-metre high Big Wheel, the Helter Skelter, and the traditional carousel, Après Ski Bar and Santa's Express Train that provide endless fun for all the family.
The event comes as a result of the hard work put forward by Galway's City Council, who work with local businesses to ensure that the annual Christmas light switch-on and its resulting market are a huge hit every year.
Last year saw an incredible 650,000 visitors and more than 50 wooden chalets, but it is expected that this year we will see even more as jolly, energetic visitors have already begun to fill the stalls in their thousands.
Galway hosts plenty of festive activities for all the family to enjoy
As if the markets weren't enough to satiate your appetites for Christmas festivities, visitors will also benefit from immersive live music, and families with kids will be entertained for hours by the puppet shows, storytelling, school choirs and carol singing surrounding Santa's Grotto, which are being run by many of Galway's local charities.
The markets stay open all week, but they have varying opening hours: Monday to Wednesday sees 12 pm to 8 pm opening times, while Thursday to Sunday markets open at 10 am and enjoy a slightly later curfew of 10 pm.
So what are you waiting for? Get to Galway this Christmas and bask in the beauty of its 2019 winter wonderland!
The nightlife is fantastic in Galway with top-notch restaurants and pubs full of life, music and craic, so if you're wondering what other things there are to see and do in
Get featured on Ireland Before You Die
Do you want to get your Irish business more online exposure? Especially to those interested in travelling the best places in Ireland? Then why not get a dedicated feature on Ireland Before You Die. Find out more 
here.