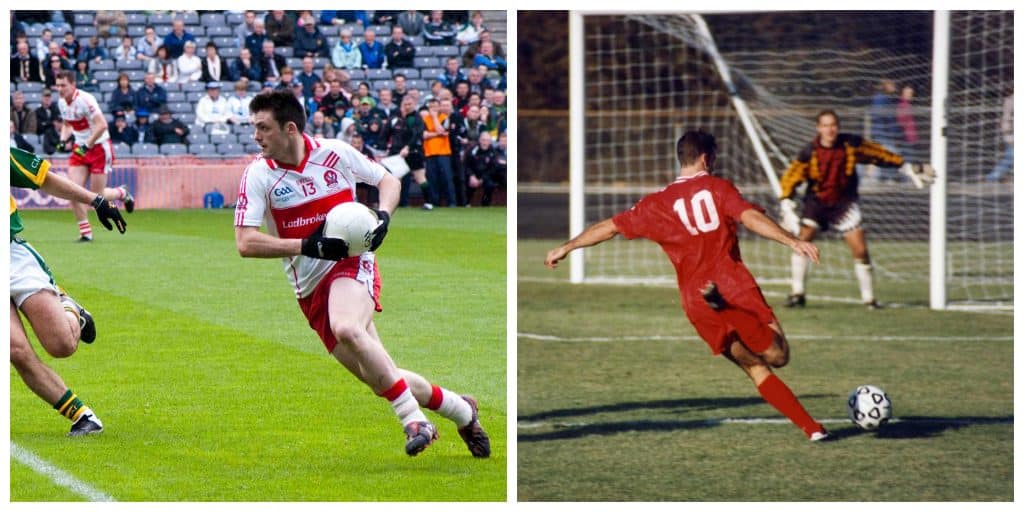 Visiting Ireland is a must for every traveller, but have you ever considered going to watch a game of Gaelic football?
It is a sport that isn't heard about by many outside of Ireland, but it shares many similarities with other variations of football, including rugby, Australian rules and even American Football.
What is Gaelic Football?
Gaelic football is a team sport in which two teams consisting of 15 players each play on a grass pitch; they aim to kick or punch the ball into the opposing team's goal (like in association football/soccer) or between two upright posts above the goals (like in rugby).
Unlike rugby, Australian rules and American football, the ball used in Gaelic football is round, more like the ball used in association football.
It is reported that the sport was first played around 135 years ago in 1884, before this many variations of the sport were played.
There is evidence to suggest forms of football were played in Ireland as far back as 1308.
By the 17th century, the sport had become quite popular amongst the higher classes of society, with landlords fielding teams containing 20 or so of their own tenants. Wagering on these teams was also very common.
Rule Differences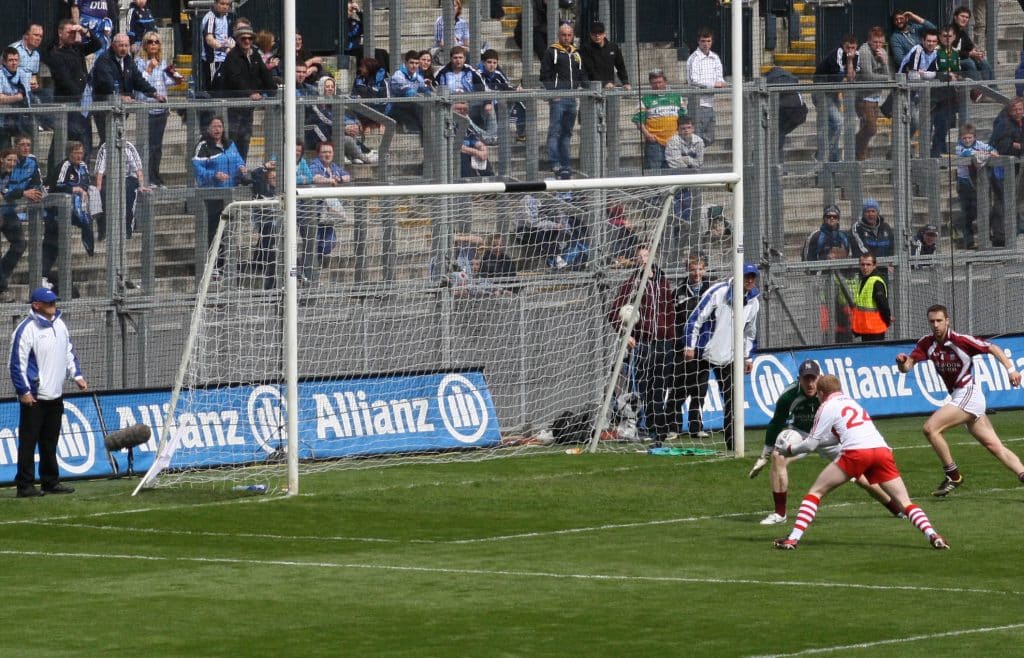 By the 19th century, association football and rugby had become very popular in Ireland and it wasn't too long before the two morphed into Gaelic football.
The Gaelic rules allow players to drive the football up the field through kicking, bouncing, carrying, passing by hand and something called "soloing" (where a player drops the ball and then kicks it upwards into their hands again).
This differentiates it from both association football, where players are not allowed to use their hands to touch the ball, and rugby, where players can carry and kick the ball, but don't bounce it.
Gaelic players are not forbidden from passing the ball forwards like in rugby. Rugby used to be Gaelic football's primary competitor, which is one of the mad facts about gaelic football you never knew.
Games are also shorter than most other variations of football. Most Gaelic football games last for just 1 hour and are split into two 30 minute halves.
This compares to 90 minutes (two 45 minute halves) in association football and 80 minutes in rugby (two 40 minute halves).
Like in other variations, teams switch sides during the half time break to ensure there is no unfair advantage from an unlevel playing surface, or from sunlight.
There are also three cards that can be shown to players that break the rules: yellow, red and black.
A red card allows the sent off player to be substituted, whilst a black card doesn't; the yellow card remains similar to that in association football.
What About Aussie Rules?
For visitors from a land down under, Gaelic Football may not feel too alien as it shares many similarities to Australian Rules Football.
In fact a scheme called the "Irish Experiment" has been designed to encourage Gaelic Footballers to move to Australia to join teams in the AFL.
One of the most well known of these players was Jim Stynes, who joined Melbourne Football Club in 1987 and became one of the league's star players.
His success was so great that Stynes was awarded the Brownlow Medal in 1991, an award given to the player that is judged to be the "fairest and best" that year.
The medal is one of the most prestigious awards in Australia Rules Football with many esteemed winner; 2019 looks to be no different with several star players including Patrick Cripps and Patrick Dangerfield tipped as favourites.
There are many similarities between Gaelic football and other more well-known variations of football: it uses a round ball like in association football, and players can carry the ball like in rugby and Australian rules.
The way players can score is also a combination of other sports with a goal like that in association football and tall posts like in rugby.
Fans of these other sports may find the differences a little strange to begin with, but will quickly begin to intrigued by the additional freedoms Gaelic players have.
So if you're coming to Ireland, why not make time to attend a Gaelic football game? The National Football League generally runs January to April, but other games take place throughout the year.
Get featured on Ireland Before You Die
Do you want to get your Irish business more online exposure? Especially to those interested in travelling the best places in Ireland? Then why not get a dedicated feature on Ireland Before You Die. Find out more 
here.
Legal Disclaimer
We cover articles relating to many activities. Some of our articles showcase gaming and gambling as activities. While we do not take money for bets or own any gambling venues, we feel it is important that our readers know the risks of such venues or sites that we may mention in our articles. Gambling involves risk. Please only gamble with funds that you can comfortably afford to lose. See our legal disclaimer for more info.