Looking to enjoy a one-day Game of Thrones road trip in Northern Ireland? Check out our DIY Game of Thrones tour route.
The HBO hit show Game of Thrones first graced TV screens in April 2011. Over the past eight years, it has grown from a cult classic into a franchise that has captivated audiences by the millions.
The fantasy show follows the most powerful, savage and respected families of the Seven Kingdoms of Westeros. Based on the book series "A Song of Ice and Fire" by George R.R. Martin, the TV show launched its final series in April 2019.
The series, which pairs love with hate, corruption with loyalty, honesty with deceit, and savagery with beauty, has been shot at locations from Canada to Croatia and Iceland to Northern Ireland.
In fact, around 25 filming locations are set in Belfast and Northern Ireland—a factor that has seen a spike in tourism in recent years. More so, around 75% of the entire series was filmed on Irish soil!
While there are plenty of companies that offer Game of Throne tours for a pretty penny, it is easy enough to do it yourself (DIY).
The "Game of Thrones Filming Locations Northern Ireland" app is a great tool that can be downloaded on Apple and Android phones. Pinpointing all of Northern Ireland's filming locations on an easy-to-navigate map, this app allows users to choose their own route, in their own time.
For those of you looking to enjoy a one-day Game of Thrones road trip while also enjoying the beauty of the Causeway Coast—Northern Ireland's most scenic drive—check out our one-day DIY Game of Thrones tour route.
Start
This route will take the guts of a day, so we vote you spend the night before in the humble surroundings of Limepark Arts & Cottages in Armoy—you can thank us later!
Stop 1: The Dark Hedges
Featured: Season two, episode one
Context: Arya Stark travels the road to the Night's Watch
The first stop, and one not to be missed on a DIY Game of Thrones tour, is the Dark Hedges. These looming, intricate trees have been immortalised in the series and play a simple optical illusion.
From afar, the trees, which flank either side of a road, seem to intertwine and tangle, creating somewhat of a creepy canopy overhead. When observed up close, however, one can see it is simply a trick of the eye.
The road itself is closed to cars, but The Hedges Hotel nearby offers free parking and tourist information. The Dark Hedges road can then be accessed on foot.
Stop 2: Binevenagh Mountain
Featured: Season five, episode ten
Context: Dothraki grasslands
Hop in the car and travel about 45 minutes west to Binevenagh Mountain. This is not only a stunning natural site, but also a fantastic drive up windy mountain roads that lead to a gated entrance to the parklands.
From here you will have to take to the terrain by foot. The short walk itself is not too cumbersome, and the site is also listed as an Area of Outstanding Natural Beauty and an Area of Special Scientific Interest.
Stop 3: Downhill Beach
Featured: Season two; various episodes
Context: Dragonstone
This 11-kilometre stretch of sand in Coleraine is a thirty-minute drive from Binevenagh Mountain.
Not only is this a scenic stop along the Coastal Causeway route and perfect for a summer splash or surf, but it is also a site that was used frequently in Game of Thrones season two.
The majestic 18th-century Mussenden Temple stands proudly atop the cliffs that tower over the beach offering a cinematic backdrop to this seaside setting.
Stop 4: Larrybane Bay & Quarry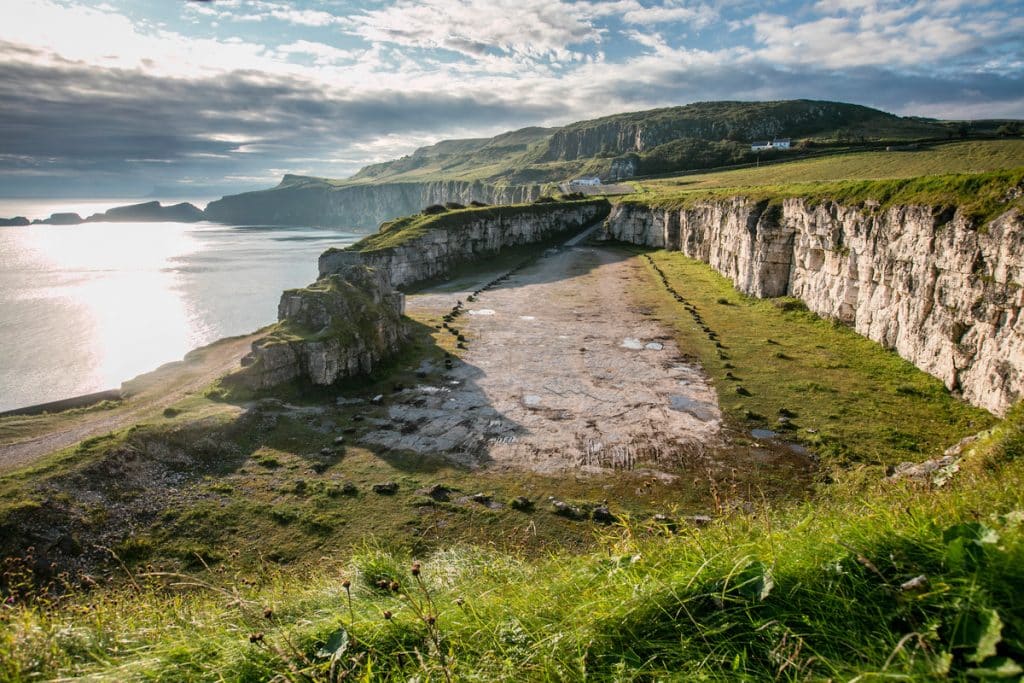 Featured: Season two and season six; various episodes
Context: Renly Baratheon's camp, Kingsmoot
Larrybane Bay & Quarry is an ideal spot to stop at along the Causeway Coast.
Not only is it a scenic site and a Game of Thrones filming location, but it also offers a leg-stretch in a stunning setting and amenities, and many visitors cross the hair-raising Carrick-a-Rede rope bridge.
This site was used as a location in both season two and season six for various scenes.
Stop 5: Murlough Bay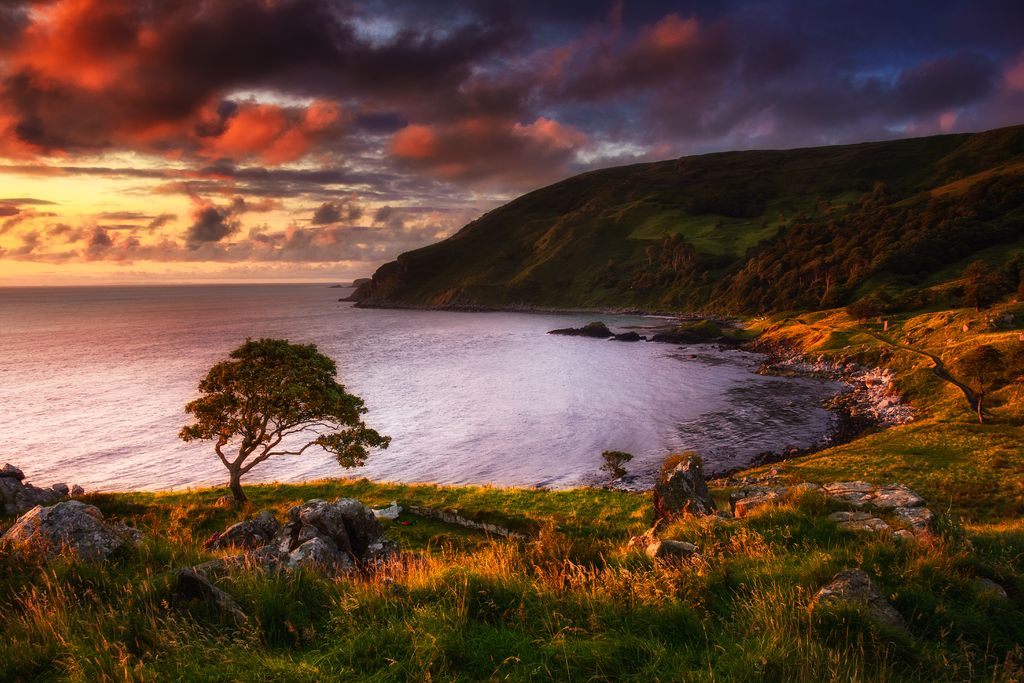 Featured: Season two, three and five; various episodes
Context: Theon's horseback ride; Davos' rescue from shipwreck; various
This is potentially the most amazing site on the entire list. The drive to reach this location is a true hidden gem of an experience.
Meander down the side of a precarious mountain in your car—you have to wonder how the filming trucks did it—while sheep graze and remote silence pierces the country air.
Scottish islands can be spotted in the hazy distance as you stand on the side of this cliff looking across the North Channel. Without a doubt, this location is spectacular and well worth a visit on a DIY Game of Thrones tour.
Stop 6: Cushendun Caves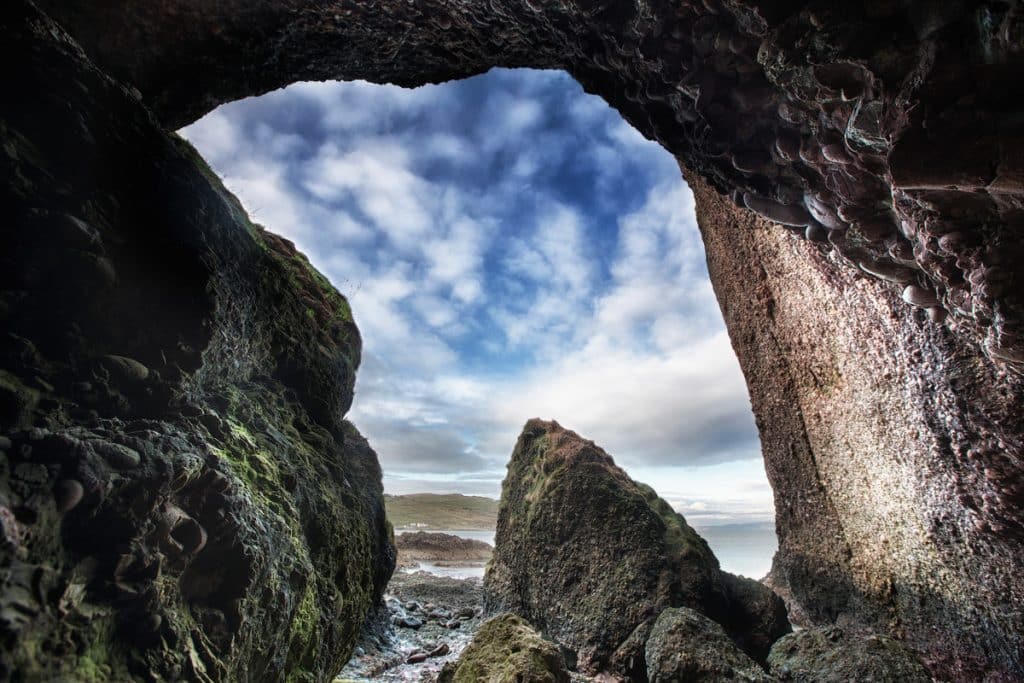 Featured: Season two; various episodes
Context: The Stormlands
No Game of Thrones filming locations tour would be complete without stopping at the Cushendun Caves.
These impressive caves are over 400 million years old and are super easy to access too.
Set moments away from the sleepy seaside village of Cushendun, and only a twenty-minute drive from Murlough Bay, the caves make for a perfect last stop on your DIY Game of Thrones tour in Northern Ireland.
Link to route: https://goo.gl/maps/LU9KFpE2o5E2