People usually focus on the downsides of getting older. However, while we all want to remain forever young, there are some significant upsides to hitting the ripe young age of 66.
Not only are "senior" discounts available across a myriad of cinemas, restaurants and entertainment options, but public travel in Ireland is also practically free!
A government scheme by the Department of Employment Affairs and Social Protection offers permanent residents of Ireland who are over the age of 66 to avail of a Free Travel Pass. This pass ensures free travel for practically every mode of public transport in the country.
Here are ten (or very cheap) Irish trips you can get when you're over 66!
10. City Link
City Link is a bus coach company which offers its users affordable and effective A to B solutions.
The luxury coaches run between Dublin and Dublin Airport, Galway, Limerick and Cork with onboard toilets, reclining seats, free WiFi and generous luggage allowance.
Lucky for over 66s though: if you flash your Free Travel Pass, you'll snag a seat on board for free.
9. Iarnród Éireann
Iarnród Éireann (also known as Irish rail) is the national train and railway line.
It also offers free travel for those over 66, and the options are endless. Care to check out Cork or soak up some culture in Galway?
No worries when you're over 66, though: it won't cost you a cent. A €5 fee will apply for seat reservation if desired.
8. Bus Éireann
Feel like taking a free trip around Ireland? Hop on Bus Éireann and enjoy a day of exploring new lands. This is the leading bus operator connecting the island of Ireland, and one of the top Irish Trips You Get When You're Over 66.
Like all of the transport links listed here, users over 66 must have a Free Travel Pass to enjoy free fares. Holders of this pass cannot avail of free travel on day tours or the Nightrider service provided by Bus Éireann.
7. Dublin Bus
Dublin Bus is the capital's most extensive bus network, and it also offers holders of the Free Travel Pass the ability to travel free of charge.
This transport line offers endless opportunities for people to get out and explore the city, all at ease with regular routes running all day, every day.
6. DART
The DART (Dublin Area Rapid Transit) train links the coastal towns which dot the Dublin shoreline and follows through into the neighbouring county of Wicklow.
The DART traces the sea pretty much the entire way from A to B. It also connects up with Malahide, another quaint seaside town.
Those in possession of a Free Travel Pass can avail of as many trips as they like, making it one of the top Irish Trips You Get When You're Over 66.
5. Luas
The Luas is Dublin's overground light rail (or tram) and one of the best free Irish Trips You Get When You're Over 66.
It has two separate lines. The first links Tallaght and Saggart to Connolly and The Point (3 Arena) via the Dublin city centre. The second line links Brides Glen and Sandyford to Broombridge via Dublin city.
If you have a Free Travel Pass, you do not need to purchase a ticket to ride on the Luas. But you must present the card, should a transport officer ask to see it.
4. Dublin Bus NITELINK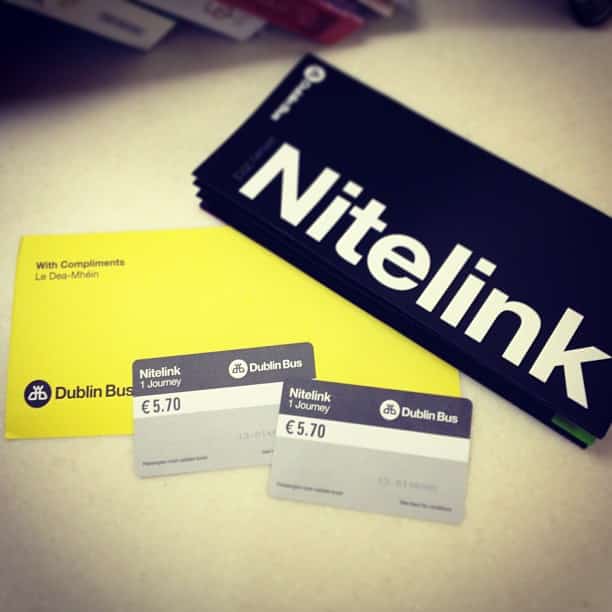 For all those night owls out there, there is the NITELINK. This late-night bus route brings merry revellers from Dublin city back to the suburbs on weekends and holidays. And, it also accepts riders who possess a Free Travel Pass, too!
3. Aran Islands
If you live on (or want to live on) the Aran Islands, this will be of interest.
People over 66 who live permanently on any one of the three islands are entitled up to 12 single (or six return) air trips each year between the islands and the mainland.
2. Tory Island
Permanent Tory Island residents who are over 66 are also entitled to free travel between the island and the mainland.
Residents receive up to eight (or four return) free journeys on the seasonal helicopter service.
1. Republic of Ireland and Northern Ireland
This transport scheme, which was instated by the government, encompasses "all Ireland" hence the name: the All Ireland Free Travel Scheme.
This means both residents of Northern and Southern Ireland, over the age of 66, who have a Senior Smartpass can travel across the border free of charge.