The Irish climate is notoriously rainy and unpredictable, and it can quickly happen to find at least one bad day during a vacation, regardless of the season. But this does not mean that the day is lost.
Ireland has a lot to offer even when the weather is not good. So, let's see today the five rainy day activities that should not be missed.
1. Embrace the Arts
If you are in Dublin, despite its reputation, head to Temple Bar, which is one of the city's most fascinating neighbourhoods.
Here you will find bars, cafes, and art galleries such as the Irish Film Institute, the Gallery of Photography and the Project Arts Center.
These are all places where you can spend some time, especially when the rain won't allow you to do anything else.
And also in Dublin, you will have several museums to choose from. If you are in some less touristy areas, you may even discover a less known historic residence, a small local museum that you did not plan to visit but which could turn in the end into a real discovery.
The National Museum of Ireland is one of the best known and most popular museums in Ireland and should not be missed.
2. Watch Live Sport
Seeing live Gaelic football or Hurling is a must in Ireland. They are the most followed sports in Ireland.
Almost a million people (977,723) attended 45 GAA senior championships games in 2017 combined with attendances at other championship and league games generating Gate receipts of €34,391,635 .
Even in the rain, it is a great sport to watch as slippery surfaces can lead to games being unpredictable.
Rugby and soccer are also very popular in Ireland and there is a wide range of clubs around the country where you can enjoy these sports.
For those who want to place a bet or two so spice up things, sports betting is legal in Ireland and there there are tons of bookmakers land-based and online. Paypal betting is more popular as it makes it easy for any tourists to easily make a bet. However, if betting is your thing, we always advise to bet responsibly.
3) Experience Irish Food and Drink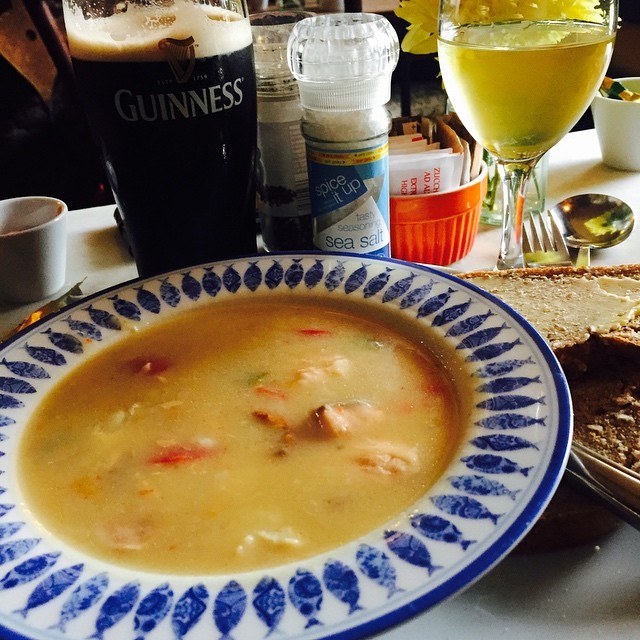 Make sure to stop and enjoy a beer in one of the Irish splendid and famous pubs. Be sure to try the world famous drink Guinness and don't be afraid to have a chat with the manager of the pub.
Of course, you can also go to one famous – or less famous – Irish distillery of the much-loved whiskey produced on the island.
You can also warm up with afternoon tea. Choose a typical tea room, take a seat and order the usual afternoon drink.
The boldest ones can choose even a warm Irish coffee. If you are in Dublin, stop by the beautiful Shelbourne Hotel.
Irish Food is among the most satisfying things to do on the island. You can taste typical dishes in pubs or in Irish restaurants. During the winter period, we suggest you taste the Irish stew.
In general, Irish pubs usually serve fast food all day and maybe you can also order a tasty piece of cake to illuminate the greyness of the rain.
4) Listen to Trad Music in an Irish Pub
Another strong point of Irish culture is music. So, music becomes part of the things to do in Ireland or rather part of the things to listen to. Choose one of the many clubs that offer live music.
If you don't know where to go, and you are in Dublin, Cobblestone is always a good choice.
This pub offers traditional music. If it is not to your taste, try another place. Music, like pubs, is one of the pillars of Irish life.
5) Going Out and … Embrace the Rain!
If rain does not scare you and does not stop you, why not go out – well covered – and admire suggestive scenarios and landscapes that only a gloomy day can give? In the end, this is also Ireland!