With the luck of the Irish, there are plenty of spots around Ireland to place a cheeky bet.
For lovers of casino games and poker, the Irish lockdown has been tough. Casinos have been closed and are only just beginning to open again. With that in mind, we will fill you in on the top five popular casinos around Ireland to place a cheeky bet.
For those naysayers who doubt that gambling can be a source of good, casino gaming is still regarded as one of the most popular forms of entertainment, whilst poker has finally been recognised as a game of skill rather than one of simple luck.
Since 2020, searches for 'online casinos' have boomed, which shows just how important gambling can be in someone's life. Due to the expected influx in people visiting land-based casinos again, we thought we would write a guide to some of the best spots around Ireland.
Before we begin our list, please don't forget to always gamble responsibly.
5. 4 Kings Casino & Card Club – a Dublin favourite
Dublin gamblers will be aware of the 4 Kings Casino & Card Club as one of the most popular casinos around Ireland to place a cheeky bet.
Located at Ainsdale Retail Park in the Swords area of Dublin, this casino has one of the classiest poker rooms in the country.
The casino runs poker tournaments several nights per week with a selection of buy-ins that attract both high roller poker players and recreational players.
The interior of the casino is elegant whilst the staff are always welcoming, professional, and dressed to impress. Visitors can play a wide variety of casino games, including Blackjack, Roulette, and numerous poker variations.
As of May 2021, 4 Kings Casino & Card Club was rated 4.4 stars out of 5 on Google and is regarded as one of the very best places to play card games and casino games.
4. The Sporting Emporium – a city centre spot
This is perhaps the casino with the best location on our top five list. Located near the city centre on Grafton Street, The Sporting Emporium is easy to get to via public transport, on foot, or by car.
It is a lively casino that offers free drinks to all gamblers. If you haven't visited the casino before, you will have to register when you arrive, so be sure to bring a valid form of ID with you – a driver's license is enough.
The table games selection is decent, too, with Roulette, Blackjack, Poker, and Baccarat on offer. If you are looking for a Las Vegas experience in Dublin, then the Sporting Emporium Casino is the one for you. The Sporting Emporium has a rating of 4.2 stars out of 5 of Google as of May 2021.
3. Playland Casino – enjoy a cocktail and a bite to eat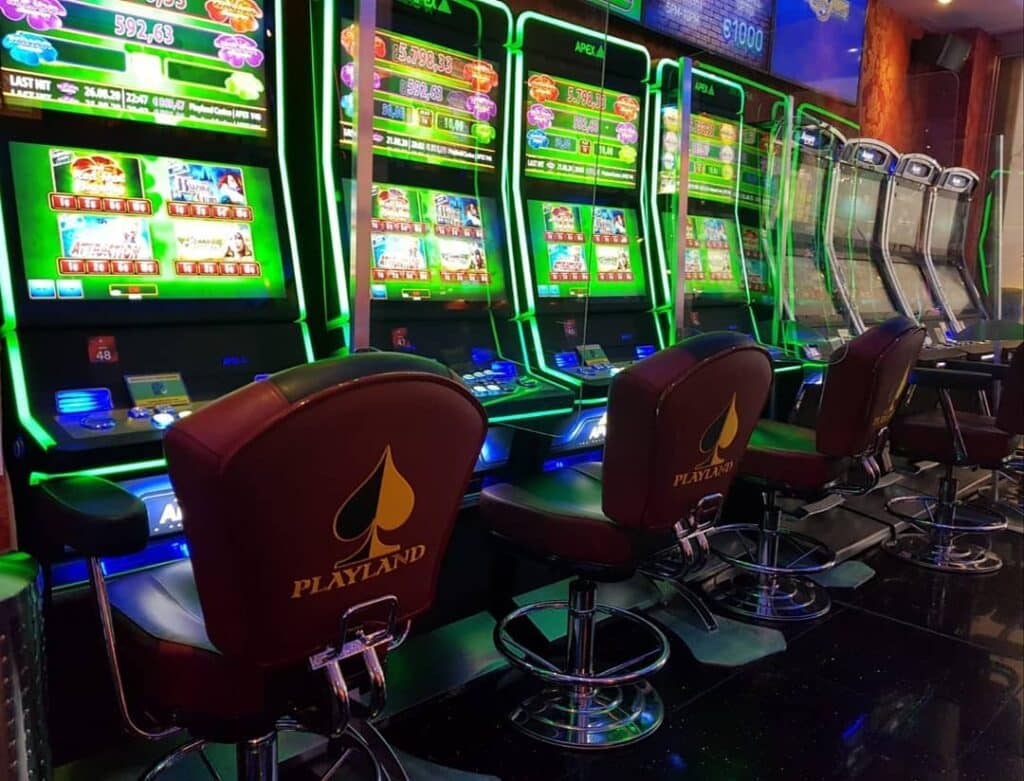 Widely regarded as the busiest casino in Dublin, Playland Casino has been one of the most popular casinos around Ireland to place a bet for several years.
The casino floor itself is fairly small, but that helps it to create such a wonderful atmosphere.
The staff in the casino do their best to always keep their customers happy, and the casino itself is one of the cleanest in the whole city. Everything is spotless, including the slot machines.
Additionally, the slot machines are new which is a huge plus. Free drinks and food are offered to gamblers too, so you could easily spend your whole evening in the casino.
There are often free tournaments that players can participate in, and newbie players are always welcome. If you want to visit just to have a cocktail and a bite to eat, then you are free to do so too.
With a rating of 4.5 stars out of 5 on Google, we are sure that you will love a visit.
2. Carlton Casino Club – a classy spot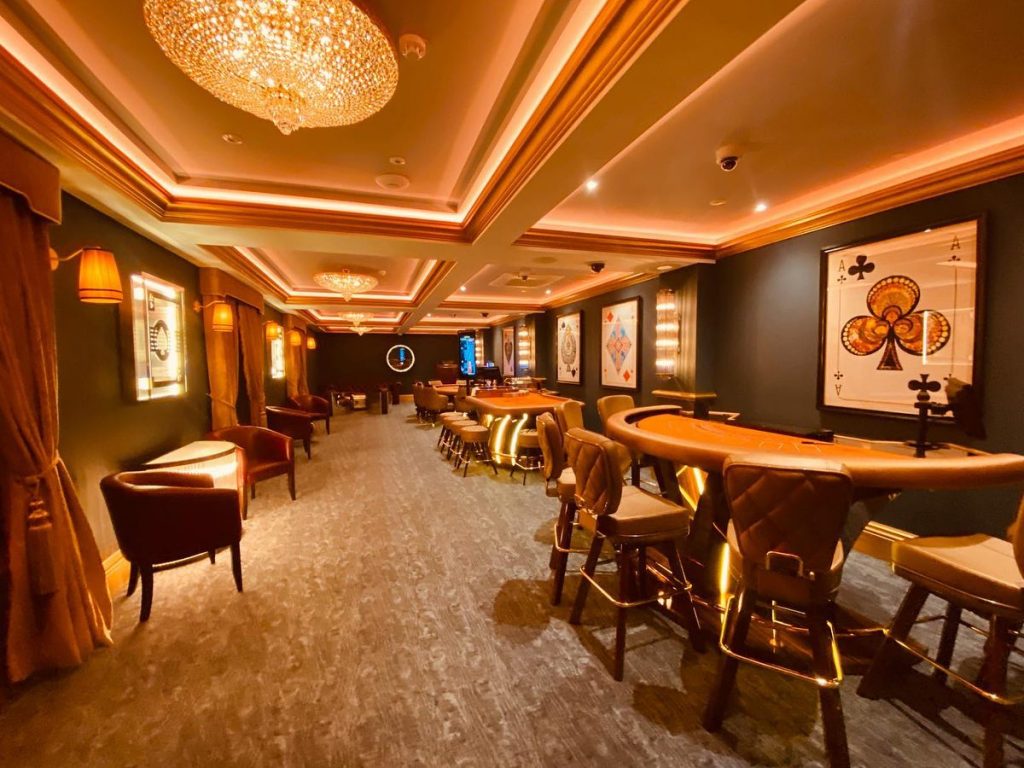 Most likely the classiest casino on our guide to popular casinos in Ireland, Carlton Casino club is a massive venue filled with casino tables, poker rooms, several bars, and a dining area.
Frequented by a large variety of different gamblers, including players from other areas in Ireland, Carlton Casino reminds us of a bespoke but all-inclusive casino.
As usual, some of the games on offer include Roulette, Pontoon, Blackjack, and a wide variety of daily poker tournaments.
The process of registering is simple. Just show up at the doors with a valid ID, and you will be granted membership within five minutes. We can confirm that the staff here are as friendly and as professional as they come, too.
The Carlton Casino Club has been rated 4 out of 5 stars by customers on Google. No wonder it is one of the most popular casinos around Ireland to place a cheeky bet.
1. Online casino games – a great alternative
For the past ten years, the most popular place to play casino games is online. In 2021, the number of Irish players signing up to and playing at online casinos has never been higher.
This is partly due to the ease of access but also because many land-based casinos have had to close their doors from 2020 onwards. Online casinos are great if you want to socially distance or play casino games inside when it's raining!
Websites offering the opportunity to play different casino games from the comfort of your own home have peaked in Ireland and continue to do so.
You can play a much broader range of casino games online, including a huge variety of the best payout slot machines in 2021. You can also play all of the best casino table games and online slots.
Many casino sites also allow players to place sports bets too via a sportsbook. Registering at an online casino is simple too, you just need to ensure you have a valid photo ID.
You will also need access to an email address and an online deposit method such as a VISA debit card or an e-wallet such as PayPal.
There are hundreds of online casinos offering real money casino games to their customers. Just make sure to play at a casino online that is regulated by the UK Gambling Commission. This will ensure that the casino is 100% safe to play at.
Get featured on Ireland Before You Die
Do you want to get your Irish business more online exposure? Especially to those interested in travelling the best places in Ireland? Then why not get a dedicated feature on Ireland Before You Die. Find out more 
here.
Legal Disclaimer
We cover articles relating to many activities. Some of our articles showcase gaming and gambling as activities. While we do not take money for bets or own any gambling venues, we feel it is important that our readers know the risks of such venues or sites that we may mention in our articles. Gambling involves risk. Please only gamble with funds that you can comfortably afford to lose. See our legal disclaimer for more info.