Ger Leddin looks at five Irish people of whom the nation is exceptionally proud of.
What is it about the Irish people? When we have something to shout home about we most certainly do so.
We don't have the largest population in the world but even leaving that aside Ireland has produced some fine and notable persons who have achieved International recognition as being among the best at what they do or have done throughout the world.
Let's take a glimpse at four individuals and one group of Irish from recent and not so recent times.
1. Michael Collins – Irish Revolutionary
Nothing divided the Irish nation to a greater extent than the Civil War of 1922 to 1923 — well perhaps the Roy Keane Saipan incident — in fact, there are still underlying issues from the Civil War period which occasionally surface even in today's political corridors.
But to simplify what is a complex historical issue Ireland has always been divided by those on the de Valera side and those on the Collins side; however, it is fair to say that Michael Collins, whichever side of the political fence you sit on, has always been held in esteem by Irish people.
Recognised internationally as a great military strategist he is known and respected worldwide as one of the major proponents of what is now termed guerrilla warfare and as one of the world's most prominent freedom fighters.
2. Paul O'Connell – Irish Rugby Legend
Paul O'Connell is now retired as an Irish rugby union player. He was Ireland's third most-capped player and the eighteenth most-capped international player in rugby union history. O'Connell captained Munster, Ireland and the British and Irish Lions and as they say in Munster "Superman wears Paul O'Connell pyjamas."
In International rugby circles, Paul is known as a hard but fair player and a fine leader of every team he has captained.
His popularity transcends the rivalry that is provincial Irish rugby and Paul has been polled as the most popular choice for President of Ireland in 2025.
3. Katie Taylor – International boxer
International boxer and former footballer is currently a unified lightweight female world champion, having held the WBA title since 2017, and the IBF title since April 2018.
Teneo the sports sponsorship and strategy organisation who advise the world's most successful companies on measuring, managing and developing their sports investment portfolios hold an annual poll designed to gauge the popularity of international sports stars.
Katie has twice held that company's title of Ireland's most admired sports star. Katie's quiet and unassuming personality has ingrained her into the hearts and minds of not only the Irish public but also into the hearts and minds of an ever-growing international audience.
4. Mary Robinson – The 1st female president of Ireland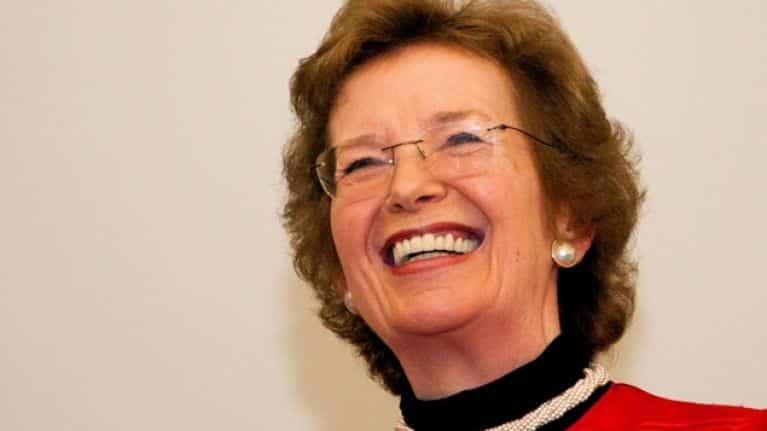 Mary Robinson was the first independent and the first female president of Ireland after being elected to office in 1990 after winning what was at times quite a difficult campaign.
Her time in office is widely considered to have transformed and liberalised what was up to then a conservative, low-profile political post.
Subsequent to her term as President of Ireland, Robinson was appointed as United Nations High Commissioner for Human Rights a post which she held from 1997 to 2002.
Throughout her career in both domestic an international politics, she has at times been seen as outspoken and controversial but still retains her place in the admiration of the Irish people.
5. Irish Peacekeepers
While being a group rather than an individual, the role and tasks carried out by Irish military peacekeepers on active duty for the UN has enshrined these men and women in the hearts of the not only the Irish people but also in the hearts of the citizens in the countries in which they served.
Since 1958 the Irish Defence Forces have been recognised as a leading force in peacekeeping missions throughout the world.
The army's overseas activities with the United Nations, Partnership for Peace and various humanitarian agencies have highlighted our defence forces as loyal ambassadors and representatives of the people of Ireland.
They have served with distinction in Central America, Russia, the former Yugoslavia, Cambodia, Lebanon, Iran, Iraq, Afghanistan, Kuwait, Namibia, Western Sahara, Liberia and East Timor and the Irish Navy has been applauded for its work in the Mediterranean refugee crisis. As a nation, we are justifiably proud of the work they have undertaken.
This text is only a short synopsis of the many Irish leaders in so many various fields; leaders and influencers whom we are so justifiably proud to call our own.
Gabhaim buíochas mór le gach duine acu.