Limerick is known for being a Lady, as the song by Limerick man Dennis Allen proudly proclaims. It is also known as Stab-City much to the annoyance of what is a proud citizenry who blame the Dublin media for the unfair slur on their home. In this Feature Limerick, born Journalist Ger Leddin details some little-known facts about his native isle and hopefully puts some manners on that Dublin media crowd.
1. Is Limerick really a Stab-City?
Most people don't realise that the term Stab-City was popularised by Limerick comic writer Gerry Stembridge for the radio show Scrap Saturday and that the term was first used by Pulitzer Prize-winning author, Limerick man Frank McCourt in his novel Angela's Ashes "if you don't knock it off, I'm gonna pack you up and ship you off to stab city."
Actually, James F Clarity writing in the New York Times way back in 1998 quotes Ciaran MacGonial, the then director of the Hunt Museum as saying " 'Stab city' was a legend, based on an old family feud involving rugby."
The Garda crime statistics when they were published by the CSO showed Limerick to have a much lower crime rate in most crime categories per capita than other Irish cities. Limerick people are good at slagging each other off but woe betides anyone else that tries.
2. Drunken Thady and the Bishop's Lady
In Limerick during the eighteenth and nineteenth centuries, there was a strong belief in the ghostly tale of The Bishops Lady. The Lady in question was the reputably vengeful wife of the then Bishop of Limerick who is said to have lived a life of debauchery and vice and who late at night roamed the streets around Thomond Bridge accosting and attacking those unlucky enough to cross her path.
The story goes that even after her death, her ghost continued with these unpleasant attacks. Drunken Thady was a poor misfortunate who one night and after a having a lot of drink taken came across and was attacked by the ghostly lady, while he stumbled his way home while crossing the bridge. The story goes that the Bishop's wife intended to take poor Thady to Hell. She picked him up and tossed him over the bridge parapet and into the Shannon below. On hitting the cold and dark waters Thady sobers and vows to God to mend his ways if allowed to live. He does survive, keeps his promise to God and goes on to live a life of total abstinence.
The tale was chronicled in the poem Drunken Thady and the Bishop's Lady written during the ninetieth-century by the self-titled Bard of Thomond Michael Hogan and has remained in Limerick folklore since. "Flew out in many a queer direction! Each night, she roamed, with airy feet, From Thomond Bridge to Castle-street; And those that stayed out past eleven, Would want a special guard from Heaven, To shield them, with a holy wand, From the mad terrors of her hand!"
3. The Normans gave up at Limerick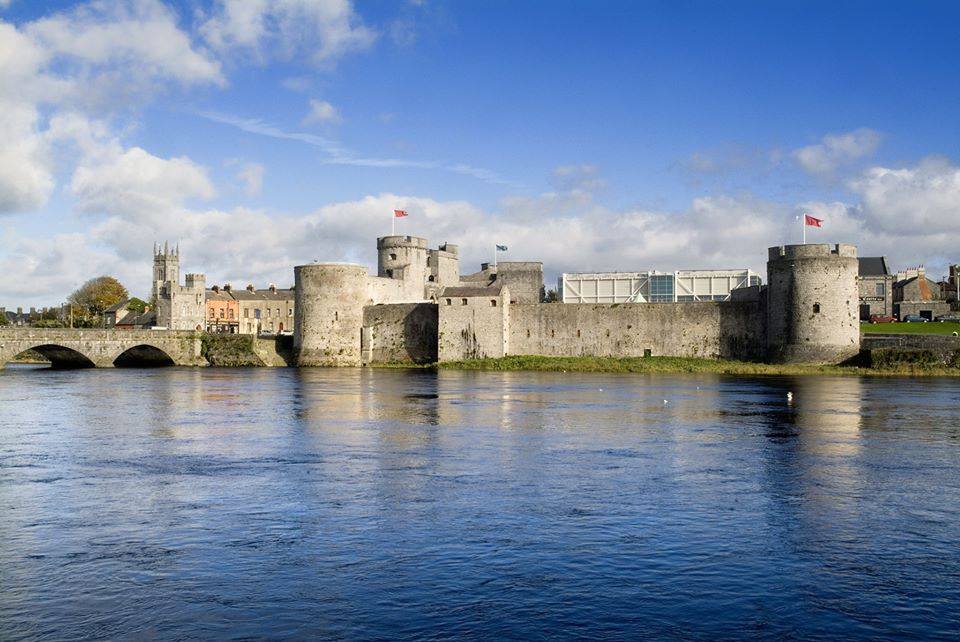 King John's castle in Limerick is the westernmost Norman castle in Europe. According to legend — encouraged, it has to be said by Limerick people — the Normans liked the place so much they said: "Ah Shur, this is a grand spot, there's not much point in going any further into Clare."
Anyway, a bizarre fact about the castle is that during the siege of Limerick in 1642 the castle was occupied by Protestants who were fleeing the Irish Rebellion. The castle was put under siege by the Irish Confederate force under the command of a chap by the name of Garret Barry. Now, Barry was a brilliant commander but apparently also a bit forgetful — he had forgotten to bring his siege artillery along— and as every Limerick schoolboy knows, siege artillery is very handy to have when laying a castle under siege. So, not to be beaten he ordered his men to start digging away at the foundations of the castle walls. Just as the walls were about to collapse the crowd inside gave in and surrendered, thus giving rise to the famous Limerick expression "Don't forget your shovel if you want to lay a siege."
4. Irish Coffee, a Limerick invention
During a stormy winter's night in 1942, a Pan Am Clipper flying boat took off from Foynes Port on the Shannon River just outside Limerick City heading for America. Due to severely poor weather conditions and after flying across the Atlantic for a number of uncomfortable hours, the captain made the decision to turn back and return to Foynes where at this stage the weary, tired and cold travellers disembarked.
In an attempt to warm and cheer the disgruntled passengers, the Head Chef at the restaurant, a chap by the name of Joe Sheridan served up a warming glass of dark coffee, a measure of Irish whiskey and topped off with a floating layer of whipped cream.
As luck would have it, one of the American bound passengers was Pulitzer Prize-winning journalist and traveller writer Stanton Delaplane of the San Francisco Chronicle. Delaplane wrote regularly in his columns on this wondrous and warming brew and introduced the drink to Jack Koeppler, owner of San Francisco's Buena Vista Cafe…and the rest, as they say, is history.
5. People who weren't yet born saw Munster beat the All Blacks in Limerick
The headline above may read a little strange but when you consider the pride that is still held in Limerick in connection with the thrashing that the Munster Team of 1978 gave to touring national New Zealand team at Limerick's Thomond Park it's not surprising that in the city where rugby is king memories of that great day can get a little bit exaggerated.
Nearly every Limerick rugby supporter claims — if not to have played a significant part in the victory — to have attended the match, even if being at the nappy-wearing age or not even born yet in 1978. Such is the love for the sport on the Shannon side city.
Well, there you have it, five bizarre facts about Limerick, the city which gave its name to a form of humorous and mostly obscene verse. The city due to its abundance during the eighties, of bacon factories, was nicknamed PigTown. And a city of sport and culture loved passionately by its people.