Cork is the largest county in Ireland and covers a vast part of the South West of the country. Cork city is a vibrant hub of cultural gems and superb culinary experiences.
The university attracts academics from all over the world while the English Market and fantastic restaurants tempt the foodies.
Corconians might refer to the city as 'the real capital' but where do they go to escape the bright lights?
Well, it is just their luck that Cork is also home to some of the most stunning coastline on the Emerald Isle with the Wild Atlantic Way starting at the Mizen Head peninsula.
West Cork is extremely popular in the summer months with many visitors hoping to hit the beach.
There are so many beautiful beaches to choose from, but we have managed to narrow the best beaches in cork to just five.
5. The Warren Beach, Rosscarbery
The Warren is a pretty blue flag beach nestled within a Natural Heritage Area and protected by sand dunes. Although rural, it has facilities including a café and toilets.
The beach itself is sandy, immaculate and has a lifeguard present during the summer months.
Dogs are allowed on a lead, but owners must take responsibility for any mess they leave. A backdrop of rolling hills and lush green fields adds to the charm of this beach while the local town of Rosscarbery is charming … the perfect spot for a bite to eat after a family day out.
4. Inchydoney Beach, Clonakilty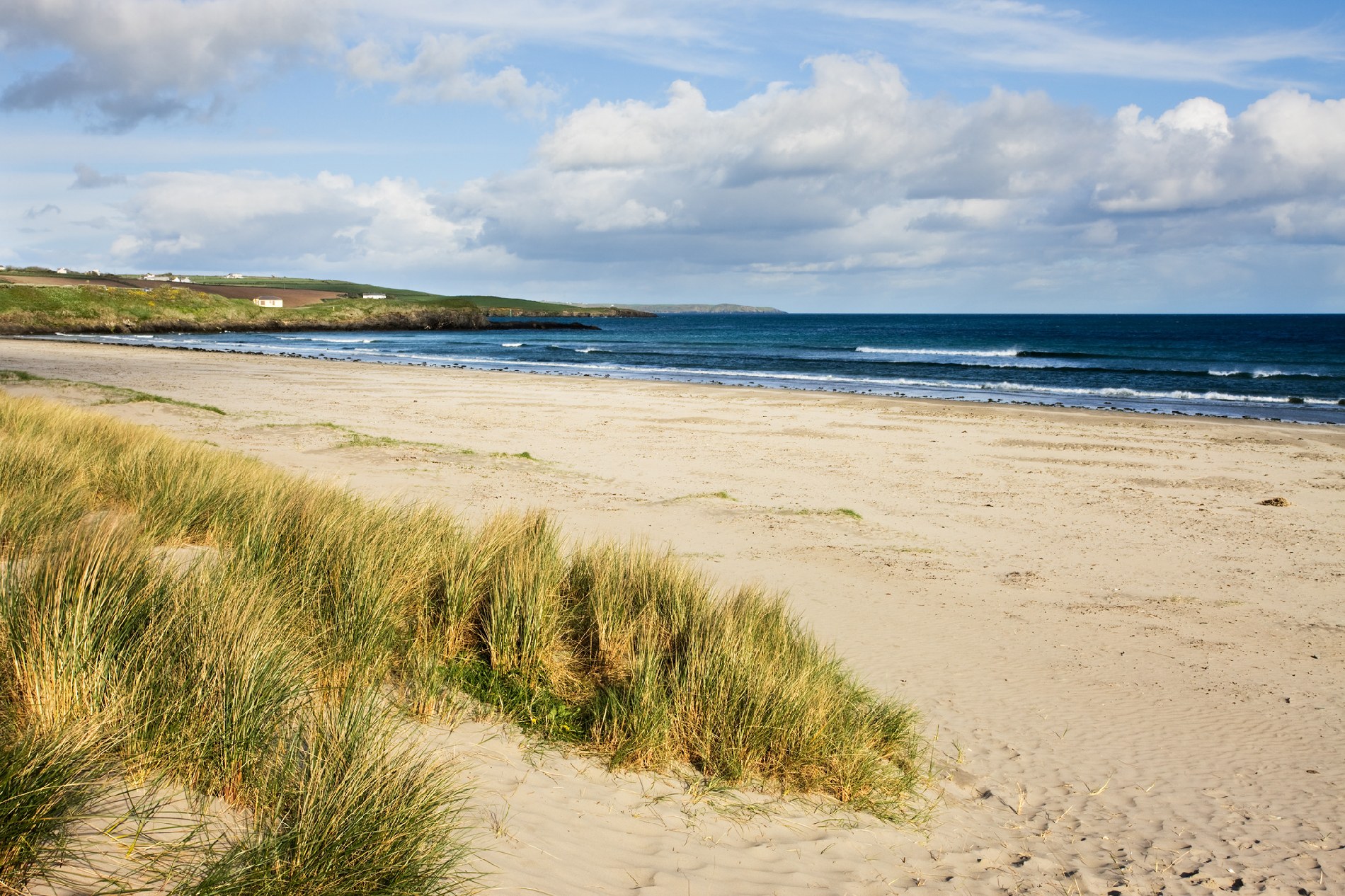 This beautiful beach is a stunning stretch of soft sand and dunes. It is very popular among surfers, and there is a surf school on the beach for those who need lessons or board and wetsuit hire facilities.
Inchydoney beach won the International Blue Flag Award last year and is super family friendly with lots of space to build sand castles, eat picnics or explore rock pools. It is very popular in the summer months but has plenty of room for everyone.
3. Garrylucas Beach, Kinsale
Kinsale is one of the most popular tourist spots in Cork, and its beaches are no exception. Garrylucas (White Strand) sits next to the Old Head of Kinsale and is popular among visitors and surfers alike.
It is very much at the mercy of the elements encouraging waves great enough to get any water sports enthusiast excited. It is also perfect for swimming as the sand is clean and the water crystal clear. Simply a beautiful beach in a beautiful part of the world.
2. Shelly Beach, Mizen Head
A trip to Ireland would not be complete without stumbling across a hidden gem along the way. A mysterious ruin, an enchanting cave or a cozy nook in the corner of a quirky pub. Well, Shelly Beach is another secret spot you might want to investigate.
Be prepared to trek over fields and down boreens to get to it, but it is well worth the trouble. Once you reach this little piece of paradise, you won't be sorry. As its name suggests, it is decorated with pretty white shells and is the perfect spot to pause and soak it all in.
1. Barleycove, Schull
If you want a truly memorable day at the beach, this is a great spot. An estuary running alongside it and into the Atlantic makes it safer for children to swim compared to other beaches. The sheer stretch of clean sand makes an awesome view on approach to Barleycove and is enough to make you stop in your tracks and take a deep breath.
To visit this stunning spot any time of the year is spectacular. And if it is too cold for swimming, a beach horse ride is another superb way to experience the glorious Wild Atlantic Way …. Pure heaven!