Wicklow is unique in that it boasts both stunning sea and mountain views. A little like the city of Barcelona, just with a slightly cooler climate. South of Dublin, it's a great spot for tourist or Irish folk alike looking for a staycation.
Wicklow is known for the Wicklow Mountains, beautiful Irish Sea coastline, country estates and the scenic Wicklow Way, but it should also be known for its pubs. It's here you'll see the heart of the friendly community Ireland is famous for.
Since there are so many beautiful towns to enjoy in Wicklow, we have compiled a selection of great bars across the county. Wicklow has stunning scenery and friendly people and its bars capitalise on both.
5. Martello Bar
The Martello bar in Bray caters for everyone, young and old. Connected to the stunning Martello Hotel, the building looks out across the Irish Sea and the formidable Bray Head.
Martello bar has a beautiful selection of food, catering for both kids and adults. It's also a great spot for music lovers, as there's live music in the bar every weekend and daily in summer. The bar is a prime place to have a few drinks before heading to the adjoining Koo Nightclub.
Address: 47 Strand Rd, Bray, Co. Wicklow, Ireland
4. Horse and Hound

Although the Horse and Hound have been situated in the heart of Delgany for 220 years, the newly renovated pubs are proving to be a big hit. The Horse and Hound feature different rooms, all with diverse tastes and atmospheres but all cosy: The Raglan Room, the Heritage Room and the Lounge. For all you G&T lovers, you'll be happy to know the Heritage Room is home to a fantastic Gin And Cocktail Bar.
Both the Raglan Room and the Heritage Room can be rented out for special occasions and events. The pub offers a relaxed atmosphere with kind and warm service. There's also a beautiful beer garden, complete with an outdoor fireplace. Handy for those cold winter nights! It also offers modern accommodation which is perfect if it's the home to an event you're planning for family out of town.
Address: Convent Rd, Delgany, Co. Wicklow, Ireland
3. Harbour Bar
You can find the Harbour Bar in an idyllic location at the seafront in Bray. Harbour Bay, Bray, say that three times fast. It was voted 'The Best Bar in the World' by Lonely Planet in 2010 and with good reason.
The views of Bray Harbour across from the pub are simply stunning. Actor Peter O'Toole, often drank in The Harbour Bar when filming nearby in Ardmore Studios, and donated the famous moose head (a prop from Woody Allen's What's New, Pussycat?) as a gesture of gratitude.
There are six rooms in the pub, all with different moods and furnishings. 'The Good Room' is particularly amusing because you feel as if you've wandered into your granny's sitting room while she was entertaining guests. There's also a great music scene here, with anything from rock to traditional Irish music on five nights a week.
Address: 1 Strand Rd, Ravenswell, Bray, Co. Wicklow, Ireland
2. The Bridge Tavern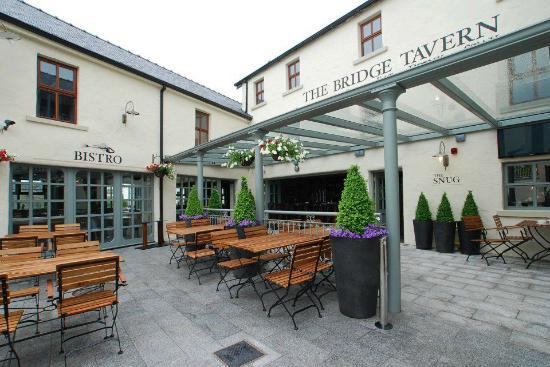 The Bridge Tavern in Wicklow town is a lively pub, which boasts an excellent menu. This riverside bar is an excellent place to have dinner and relax over a couple of drinks afterwards.
There's live music here seven nights a week so you can count on great entertainment any night you decide to go. If whiskey is your drink of choice, you'll be delighted to hear they have an exciting Whiskey Bar featuring exclusive Irish Whiskeys & rare spirits. They also do whiskey tasting at the bar if you're on the lookout to try something new.
Address: Bridge St, Wicklow, Ireland
1. The Beach House
The Beach House pub in Greystones is a fantastic place. I challenge you to find a prettier bar front. It was first established in 1850 and has been a family owned and operated pub ever since. The Beach House has a few different venues hosting different moods and atmospheres, which you can drift to based on how you're feeling.
The beach house boasts everything from Dann's Bar, which is as traditionally Irish as they come, to the Upstairs Bar & Venue, a trendy and modern space upstairs. If you're in the mood for a pint head to Dann's and if you're in the mood to dance the night away head to the Upstairs Bar. T
here's something for everyone. They also have an extensive menu, with gorgeously presented food. If you're looking for regular entertainment gigs take place every Tuesday, Thursday, Friday, Saturday & Sunday.
Address: The Harbour, Greystones, Co. Wicklow, Ireland
Written by Sarah Talty.
Get featured on Ireland Before You Die
Do you want to get your Irish business more online exposure? Especially to those interested in travelling the best places in Ireland? Then why not get a dedicated feature on Ireland Before You Die. Find out more 
here.