Street art is massive in Cork. The street art brings a lot of character to Cork. Cork's streets are filled with powerful images of street art.
Some street art can be purposeful, and thought-provoking and then others are simply amusing or beautiful. In fact, street art is so prominent and special here in Cork that there is a volunteer group set up dedicated to street art.
Mad About Cork is a volunteer group who create different types of street art around Cork and also plant flowers to make a positive change to the city.
Street art can be fleeting. Sometimes pieces can disappear as quickly as they appeared so when you stumble across a really impressive piece of street art it can make your day.
Cork is filled with impressive pieces, but to make it a bit easier for you to feast your eyes on the artistic talent there is to be found around Cork, we have named five spots to catch a glimpse of some amazing street art.
1. Kyle Street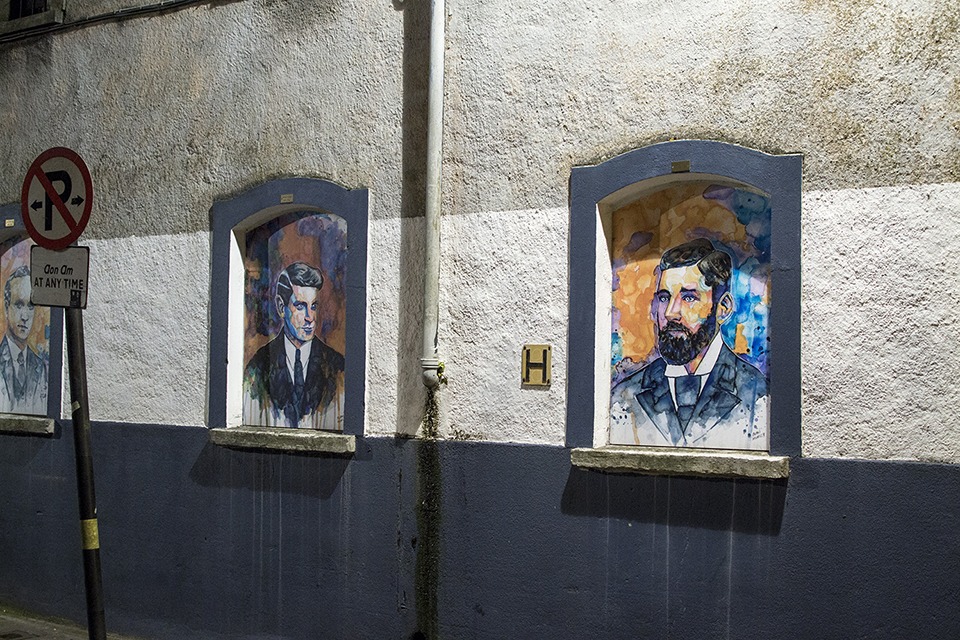 The Kyle Street portraits are quite stunning and powerful. Designed by the volunteers at Mad about Cork, the street features several portraits to commemorate and honour historical Irish figures such as Michael Collins, Thomas Kent and Terence McSweeny.
These were revolutionary figures and played an important role in Ireland's history and independence. They are super colourful while also featuring incredible detail which makes the portraits quite realistic.
The windows they are inserted into on Kyle Street add another dimension entirely to the street art, it's like having a glimpse into Ireland's history.
Address: Kyle Street, Cork
2. Near Fitzgerald Park
Imagine the excitement of stumbling across this by mistake? Immediately I'm brought back to childhood memories of playing Super Mario, and I can almost hear the loud bangs as he jumps from box to box and catches all the coins.
This is a wonderful piece of street art, and it is especially cool that they have included the natural street surroundings in their design. This is a great example of someone brightening up a street and inserting a bit of magic, into what would otherwise be another monotonous street scene.
You'll continue on your way and start to see electric boxes in a new light. It's a retro street design that everyone, kids and adults alike, can enjoy.
Address: near Fitzgerald Park, Mardyke, Cork
3. Cornmarket Street and Kyle Street
This decorative oriental scene, on the corner of Cornmarket Street and Kyle Street, adds a magical feel to the city. The attention to detail is superb, and it's a great example of street art making your usual commute a little brighter.
The trees above the street art create a wild effect to the faded, intricate design. The flowers, hot air balloons and oriental theme, contrasts with the leafy bright space above and takes your head out of Cork for a minute as you walk past.
You could almost imagine you were stepping into the world depicted here.
Address: the corner of Cornmarket Street and Kyle Street, Cork City
4. Cork Opera House
Located on a previously dull wall of the famous Cork Opera House is a mural they commissioned in 2013, dedicated to famous Irish artists. Painted in varying shades of blue, beautiful street art murals featuring Irish writers, features on the back of Cork Opera House.
The Irish writers featured are George Bernard Shaw, CS Lewis, James Joyce, WB Yeats, Oscar Wilde, Theo Dorgan, Samuel Beckett, Bram Stoker, Maeve Binchy, and Conal Creedon.
The paintings are on the rear wall of the Opera House, running the length of Half Moon Street. The mural was painted by Dusto and Psychonauts from France, who are very well respected street artists in their country.
They spent a long time researching the writers for the project and then about a week painting the project itself. These larger than life portraits are a great way to immortalise these literary giants.
Address: Cork Opera House, Emmett Pl, Centre, Cork
5. Coleman's Lane
Street art gave a new lease of life to this once derelict historic laneway. Since 2015 it's been brightly decorated, the Mad about Cork volunteers painted it from one end to the other and had dozens of flower boxes installed.
They maintain the plants and art on a regular basis. Sometimes narrow laneways can be a bit dark and daunting so it's great that walking through this one in Cork can add a bit of colour and art to your day.
Address: Coleman's Lane, 92 N Main St, Centre, Cork