Two classic Irish TV shows, but which one is the ultimate champion? Read on for Father Ted vs Mrs Brown's Boys to find out if your favourite sitcom came out on top.
There is one thing that can be said about the Irish: we have always maintained the ability not to take ourselves too seriously, and we possess the gift of laughing at ourselves. Ok, I know that's two things, but who's counting?
Radio and television comedy has held a special place in our hearts, particularly if crafted and produced either in Ireland or across the water with a strong Irish input.
From Hall's Pictorial Weekly through to Podge and Rodge and on to Killinaskully and Bridget and Eamon, we have laughed at that unique and exaggerated Irishness portrayed by some of our best actors, writers, and producers.
However, one debate that has raged in Ireland is the perennial argument over which is/was the best Irish sitcom, Father Ted vs Mrs Brown's Boys.
In this feature, journalist Ger Leddin gives you all the information you might need to make an informed choice on this most important talking point.
Production – what are the series' about?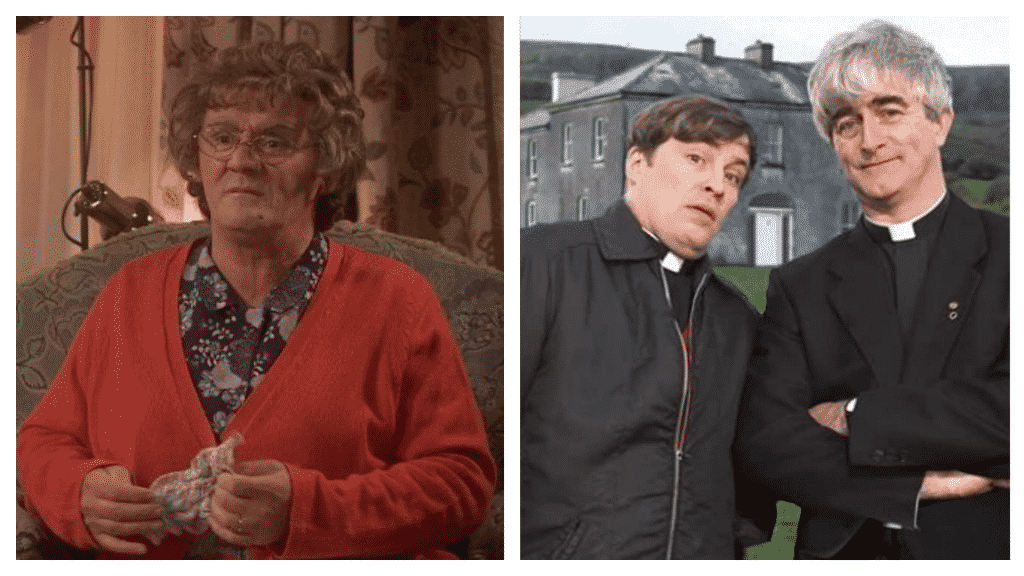 You know the stories, a household of three priests, banished by their bishop to a fictional remote Irish island parish as punishment for various misdeeds and tended to by a dotty Irish housekeeper. That's the Father Ted plot.
Meanwhile, in a not so fictional North Dublin suburb, Mrs Agnes Brown, a matriarchal Dublin mammy, tries to shepherd her family through the day to day lunacy of survival, always seeming to come out tops in the end.
History – characters and original episodes
Technically, Mrs Agnes Brown as a character predates Father Ted Crilly, having made her appearance in various stage and radio plays from the early 1990s alongside Rory Cowan playing Rory Brown.
However, the accolade of the first broadcast on TV as a sitcom goes to Father Ted. The original episodes of Father Ted were first broadcast by Channel 4 on 21 April 1995, whereas Mrs Brown had to wait a further 16 years to make her TV debut on 1 January 2011.
Father Ted was written by the Irish writing duo of Graham Linehan and Arthur Matthews.
Ted first came to life as a character used by Matthews as part of a comedy warm-up act before performances of the U2 tribute band The Joshua Trio, of which both he and Linehan were members.
So, you could say that, in a way, both Mrs Brown and Father Ted were conceived on the stage.
Mrs Agnes Brown, of course, was written by Brendan O'Carroll, who not only writes and executive produces but also plays the title role of the foul-mouthed and mischievous but lovable North Dublin mammy.
Interestingly, both sitcoms were produced mainly by English production companies. Ted was produced by Hat Trick Productions of London for Channel 4 and Mrs Brown by a collaboration between the BBC, RTE, and O'Carroll's own production company BOC-PIC.
Location – audience participation and the famous Craggy Island
"Believe it or not, Dougal," Craggy Island doesn't exist. While North Dublin does, neither sitcom was actually filmed in their supposed settings.
Many of the on-location shots for Father Ted were filmed in County Clare, where "outside the window things look smaller Dougal because they're further away."
Other scenes were shot on location in Ennis, the famous lost in the women's lingerie department, Kilfenora, Ennistymon, and Kilnaboy.
These are all very close to McCormack's house on the road between Boston and Killnaboy, the exterior of which is used as the Parochial House in the opening sequence.
The "down with that sort of thing" featured in 'The Passion of St. Tibulus' was filmed outside the Ormonde Cinema in Greystones, County Wicklow.
Father Ted even ventured into North Dublin for the location shooting of The Field in 'Good Luck Father Ted', where Portrane was used for the Funland scene.
At this stage, it's fair to assume that everyone knows that Craggy Island is actually an aerial shot over Inisheer, the smallest of the Aran Islands.
You might also know that the shipwreck is that of The Plassey, which was owned by the Limerick Steamship Company and was wrecked off Inisheer in 1960 while carrying a cargo of whiskey; Father Jack's fondness explained, perhaps?
The interior shots were filmed at The London Studios in Waterloo in central London in front of a live audience. So, in fairness, credit has to be given to Fathers Ted, Jack, and Dougal for getting, as Jack would say, "off their arses" and travelling around.
All episodes of Mrs Brown Boy's are filmed in Scotland, at the BBC Pacific Quay studios in Glasgow, also in front of a live audience.
Cast – Father Ted vs Mrs Brown's Boys casts
Most of Mrs Brown's Boys cast are in some way related to each other.
Brendan O'Carroll's wife, Jennifer Gibney, plays the daughter of Agnes Brown, while his sister Fiona O'Carroll plays the longsuffering Winnie. Brendan's daughter Fiona plays Maria; actually, the list is endless.
Meanwhile, back in Craggy Island, none of the main cast is related to each other. So again, in fairness, you have to hand it to Mrs Brown for keeping it in the family.
On a side note, both Mrs Brown and Father Dougal are sons of once well-known Irish Politicians.
Brendan's mum Maureen was a Labour Party TD for Dublin North-Central during the late '50s. Meanwhile, Ardal O'Hanlon's dad was Dr Rory O'Hanlon, a former Minister for Health.
One-liners – the reason we all watch
When it comes to Father Ted vs Mrs Brown's Boys, one thing we have to consider is the one-liners. Both shows are not shy when it comes to that distinctly Irish tendency of never using the Queen's English when a good swear word will suffice.
But again, while Mrs Brown has been known to utter the odd expletive and occasional profanity, she can't hold a candle to Father Jack, who has taken the words 'feck' and 'arse' and brought them to dizzying heights.
Father Ted
On a personal note, I remember once being with a colleague – both of us battle-hardened journalists and not easily impressed – covering a civic function that was being MC'd by the late Frank Kelly, a.k.a Father Jack.
Frank was resplendent in a suit, collar, and tie, not looking a bit like his fictional character. Neither my colleague nor I could restrain ourselves from asking, "C'mon, Frank, do it."
Well, in the blink of an eye, he did. Out came the "drink, feck, arse, girls" line, which he had made famous. We fell about the floor laughing, gone were any vestiges of journalistic coolness.
Mrs Doyle, "Now come on, Father, what would you say to a nice cup of tea?"
Father Jack, "FECK OFF, CUP!"
Mrs Doyle, "You'll have some tea… are you sure you don't want any? Aw, go on, you'll have some. Go on go on go on go on go on go on go on go on GO ON!"
These have gone down in sitcom folklore, simple but effective.
Mrs Brown's Boys
Mrs Brown, not having to worry about the niceties of clerical behaviour, can allow herself to be that bit brusker or, dare I say it, crass. An example is:
Grandad, "I don't feel well."
Mrs Brown, "You're 92; you're not supposed to feel f*****g well."
Or the rude but classic: "I was so long in labour they had to shave me twice".
As I said, Agnes is not bothered by any clerical etiquette.
Best episode – which was your favourite?
Here's a hard one; there have been so many excellent episodes and many side-splitting moments in both shows.
My personal favourite Father Ted episode is the parody of the 1994 American action film Speed starring Sandra Bullock and Keanu Reeves. In this episode, Ted and Dougal expose a philandering milkman, Pat Mustard.
The scene in episode three of season three sees Mustard take revenge on his replacement, Dougal, by putting a bomb on the milk float. If Dougal's speed drops below four mph, the bomb will explode, taking Dougal with it. Of course, Ted saves the day.
My personal favourite Mrs Brown's Boys episode and shared by many others would have to be 'Mammy Rides Again'.
In the scene in episode four of season one, Agnes and Winnie are not invited to Maria's hen party because of their advanced years. They, therefore, decide to crash it.
However, they end up crashing a funeral instead, with Agnes jumping on an inflatable dildo and singing Tom Jones' 'Sex Bomb'.
Critical acclaim – taking the award for comedy
Both sitcoms have achieved tremendous popularity both in Ireland, in the UK, and even further afield in the US.
Industry awards for Father Ted include the British Academy of Film and Television Arts (BAFTA) Award for Best Comedy both in 1996 and again in 1999. Then in 1995, the sitcom won the British Comedy Awards' Best New TV Comedy.
It has won the Channel 4 Sitcom Award in both 1996 and 1997. Pauline McLynn, Dermot Morgan, and Ardal O'Hanlon have individually won numerous awards for comic actors.
Mrs Brown's Boys, on the other hand, seems to inspire a love or hate reaction among the general viewing public. The show has received less than favourable reviews from many critics.
Writing in The Guardian, Bruce Dessau commented in March 2011, "No amount of "fecks" is going to make Mrs Brown's Boys a classic like Father Ted, but I'll keep watching it. Now, where are my slippers?"
Still, the show received a National Television Award for comedy in 2013.
On an interesting side note, while researching this article, I conducted a small straw poll on social media. I asked which, in people's opinion, came out as the better sitcom… if such a question can be fairly answered.
I have to say the overwhelming replies did favour Father Ted.
Well, there you have it; I've done my best. Now perhaps it's time to feck off and have another cup of tea.
Notable mentions
Feature film adaptation: One category to be considered when it comes to Father Ted vs Mrs Brown's Boys is whether the Irish comedy shows have been made into a feature film.
There has not been a Father Ted movie. In contrast, Brown's Boys D'Movie was distributed by Universal Pictures in 2014. It actually became the highest-grossing movie in Irish cinemas on its first day.
Festive specials: Both Mrs Brown's Boys and Father Ted aired festive special episodes. So, this one is a tie for us!
North America: Both Mrs Brown's Boys and Father Ted gained a cult following in North America.
Production: Mrs Brown's Boys has a very informal production style, allowing for audience participation. The show even had a one-off live episode to celebrate 60 years of comedy on the BBC. In contrast, Father Ted is filmed on location or in a studio. Thus, the audience is, for the most part, removed from the action.
FAQs about Father Ted vs Mrs Brown's Boys
Why did they stop making Father Ted?
Father Ted ended in 1998 when the lead actor, Dermot Morgan, died suddenly from a heart attack.
Is Mrs Brown's Boys based on Agnes Browne?
Yes, they're both based on the character written by Brendan O'Carroll.
Is Father Ted popular in America?
Father Ted has a cult following in America.