Forest parks in Northern Ireland are not your run-of-the-mill public parks. Here are our top five that look like they're straight out of a fantasy film.
One type of destination you'll find aplenty in Northern Ireland is the "forest park"—an area of natural beauty with walking trails for public enjoyment. Forest parks are not your run-of-the-mill public parks; they make up some of the most breathtaking and well-cared-for parts of Northern Ireland, and they attract true nature lovers.
While they may be called forest parks, they offer much more than woodland. Some trails lead to scenic views—from mountain to countryside to sea views—and even have castles, ruins, and storybook sculptures along the way.
We have to warn you, though: Many of these forest parks seem straight out of a fantasy film. In fact, one has literally been used as a filming location for the fantasy TV series Game of Thrones. So be prepared to feel like you've been transported to another time or world—to a Grimm fairy tale or Middle Earth (that is, Rivendell or the Shire; not Mordor!).
If you want to feel like you're in an enchanted forest, check out these five forest parks in Northern Ireland (and an honourable mention) that give us major fairy-tale vibes.
5. Slieve Gullion Forest Park – for the Giant's Lair Story Trail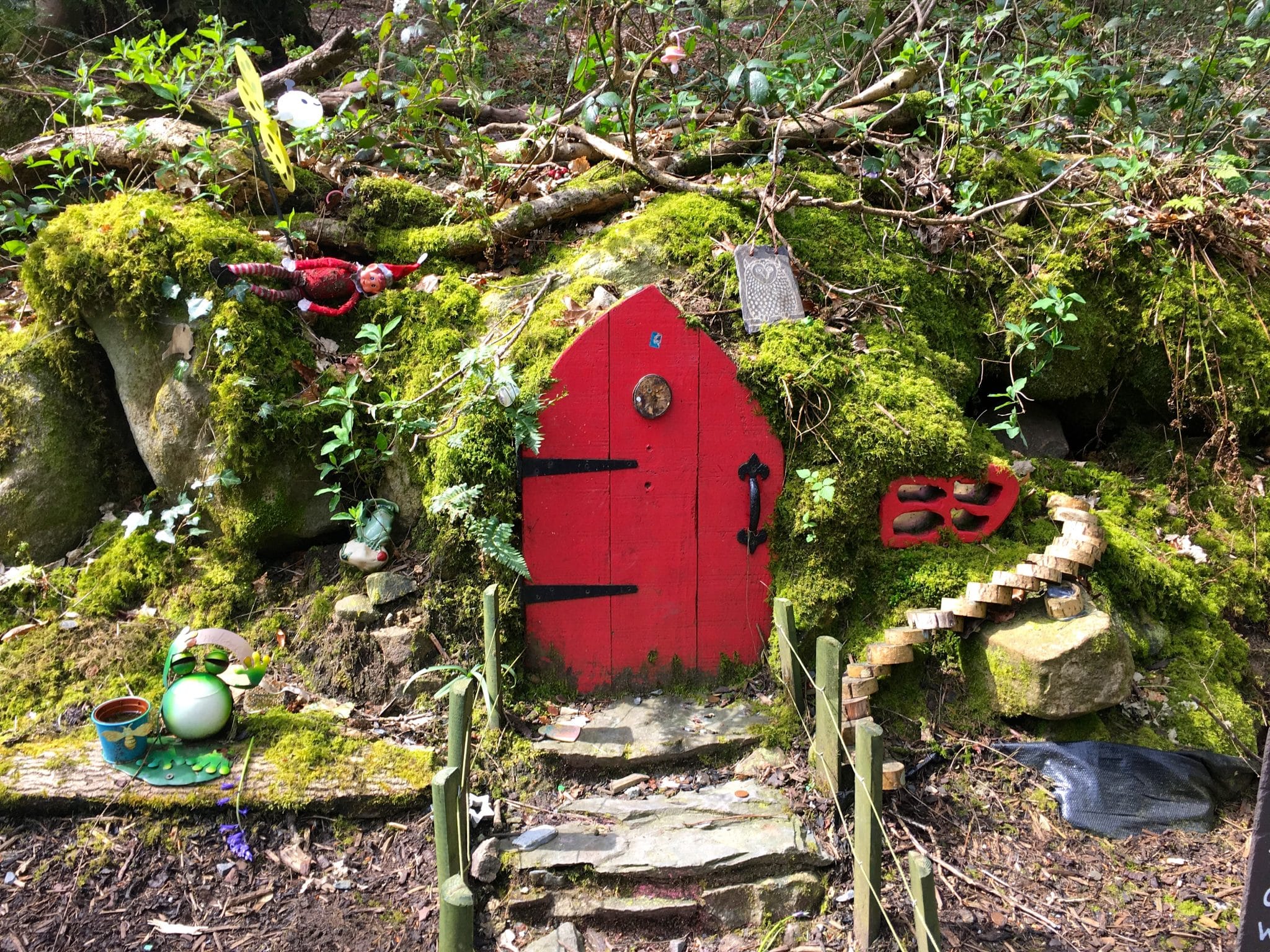 What are three signs that you might be in an enchanted forest? Fairy-size dwellings, giant-size objects, and (in May) bluebells carpeting the forest floor seem like strong hints to us, and you'll find them all in Slieve Gullion Forest Park, namely the area called the Giant's Lair Story Trail.
Slieve Gullion Forest Park sits on the eastern slope of Slieve Gullion, the highest mountain in County Armagh. The park offers tranquil woodland trails with stunning views across the Ring of Gullion and the Mourne Mountains.
The Giant's Lair Story Trail within the park is where you'll want to go for the strongest fairytale vibes—from the giant-size sculptures of teacups, a storybook, and a witch to the "Fairy Village" and the "Fairy Kingdom." While this seems to be marketed as a children's story trail, we visited without kids and, if we're being honest, think anyone of any age can appreciate the enchantment here.
Address: 89 Drumintee Rd, Meigh, Newry BT35 8SW, United Kingdom
4. Castlewellan Forest Park – for a Wonderland-like maze and lakeside castle
Located in the town of Castlewellan in County Down, Castlewellan Forest Park may be one of the most underrated destinations on the island of Ireland. The park's features include Castlewellan Castle (which overlooks Castlewellan Lake), various nature trails, and the ruins of the Moorish Tower.
But no trip here would be complete without checking out the park's hedge maze. Called the Peace Maze, it is like something out of Alice in Wonderland, and if you don't feel like getting lost in it, you can stand on the bridge looking over it and beyond to the stunning countryside and the Mourne Mountains.
Address: Forest Park View, Castlewellan BT31 9BU, United Kingdom
3. Kilbroney Park in Rostrevor Forest – for the Narnia Trail
C.S. Lewis, author of the beloved Chronicles of Narnia books, was born in Northern Ireland and often spent holiday time in Rostrevor, which is said to have inspired the land of Narnia. He also wrote in a letter to his brother, "That part of Rostrevor which overlooks Carlingford Lough is my idea of Narnia."
Set within Rostrevor Forest is Kilbroney Park, where Narnia fans can enjoy the Narnia Trail, a short loop that you enter as you would Narnia: through a "wardrobe door." Beyond it you will find Narnia-related sculptures and features, including the White Witch, a lamppost, the beavers' house, and "Aslan's table."
Tip: While at the park, hike up to the Cloughmore Stone for panoramic views of the Mourne Mountains. And for some extra magic, check out "The Fairy Glen," a walk that begins on the left immediately after the bridge beside the entrance to Kilbroney Park.
Address: Narnia Trail, Kilbroney Park, 3ES, Kilbroney Rd, Rostrevor, Newry, Co. Down
2. Glenariff Forest Park – for the "Queen of the Glens"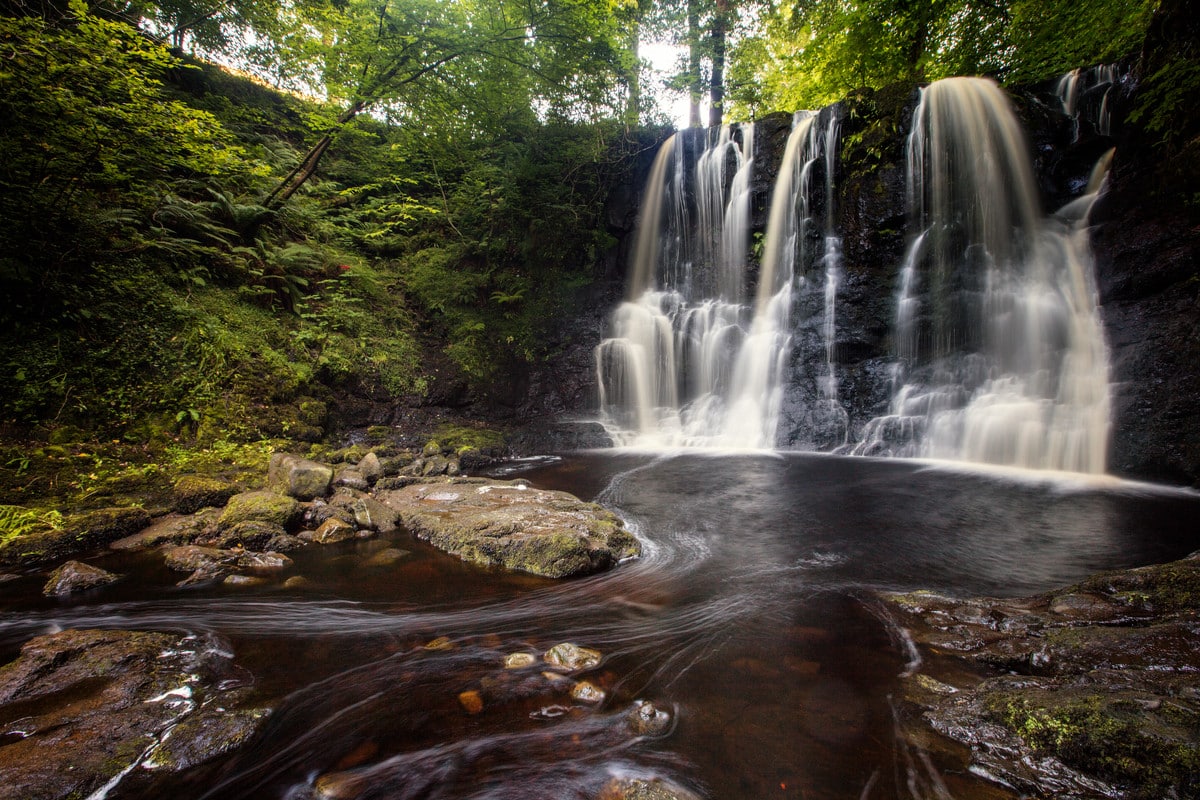 Glenariff Forest Park allows nature lovers to get up close and personal with Glenariff, the largest of the "Nine Glens of Antrim." Known as the "Queen of the Glens" due to her size and magnificence, she will leave you staring in awe and wonder.
Maybe it's the magical waterfalls along the waterfall trail (3 km) and the rainbow trail (0.6 km), or the stunning glen and sea views on the viewpoint trail (1 km) and the scenic trail (8.9 km), but there's something (or rather, many things) about this forest park that make it an enchanting escape within Mother Nature's kingdom. All hail the Queen of the Glens!
Address: Glenariffe Rd, Ballymena BT44 0QX, United Kingdom
1. Tollymore Forest Park – for scenery of Game of Thrones fame
The top forest park on our list was also the first-ever state forest park to be established in Northern Ireland. Opened in 1955 near the town of Newcastle in County Down, Tollymore Forest Park is one of the most magical destinations on the Emerald Isle. You might feel like you've stepped into The Lord of the Rings or Game of Thrones—and in a way you will have, because several Game of Thrones scenes were filmed here.
From the Hermitage and Foley's Bridge to the castle-like Horn Bridge and the stepping-stones across the Shimna River, Tollymore really is like an enchanted wood from a fantasy film. Is there anywhere more enchanting in Northern Ireland than Tollymore? We think not!
Address: Bryansford Rd, Newcastle BT33 0PR, United Kingdom
Honourable mention: Colin Glen Forest Park – for the Gruffalo Trail
To enter this park in West Belfast, you must pass through an archway that says: "A mouse took a stroll through the deep dark wood." How's that for a fairytale greeting? It also happens to be the opening line of the classic children's book The Gruffalo, written by Julia Donaldson and illustrated by Axel Scheffler.
Colin Glen Forest Park sits at the foot of the Belfast Hills, offering a woodland escape on the outskirts of Northern Ireland's capital city. As its entrance hints, the park is home to the Gruffalo Trail, along which you'll find various characters from The Gruffalo, from a fox to an owl to the Gruffalo himself, allsculpted by Andrew McIntyre.
While Colin Glen may not be as epic as some other forest parks in Northern Ireland, it definitely has those storybook forest vibes that make it worthy of a mention on our list. And did you hear that the park will soon be getting its own alpine-style roller coaster?
Address: 163 Stewartstown Rd, Dunmurry, Belfast BT17 0HW, United Kingdom
Tip: Most of these forest parks charge a fee to park your car there. Entrance by foot, though, is free, so consider taking public transportation (which is possible for most parks on this list; visit translink.co.uk to plan your journey).
Note: our travel articles should be used only to plan future trips. Please stay at home until the government has advised otherwise.