Let's take a look at then of the best fairs and festivals Ireland has to offer.
Normality has returned to Ireland, and with that, so has the return of many long-standing and renowned fairs and festivals, and some new ones too!
From trade fairs to folk festivals, there truly is one for everyone, and we've created a list of the ten best fairs and festivals in Ireland!
10. Irish Record Fairs – a vintage and new record fair coming to a town near you!
Irish Record Fair events are a music lover's paradise, the entry is free, and the collections are vast.
The fairs are held throughout the year in different locations across the country, with Ireland's largest selection of CDs and vinyl, from vintage gems to the newest releases. Check out their website to keep up to date on their upcoming events.
More info: HERE
9. Tedfest, Inis Mór – the one and only festival dedicated to Father Ted-themed frolics
Tedfest is a celebration of comedian Dermot Morgan, otherwise known as Father Ted Crilly, of the cult classic sitcom Father Ted.
Held on the beautiful Island of Inis Mór, expect costumes, craic and original cast-member appearances. The festivities include the infamous 'lovely girls' competition and the annual nuns versus priests volleyball.
More info: HERE
8. Puck Fair, Co. Kerry – one of Ireland's oldest fairs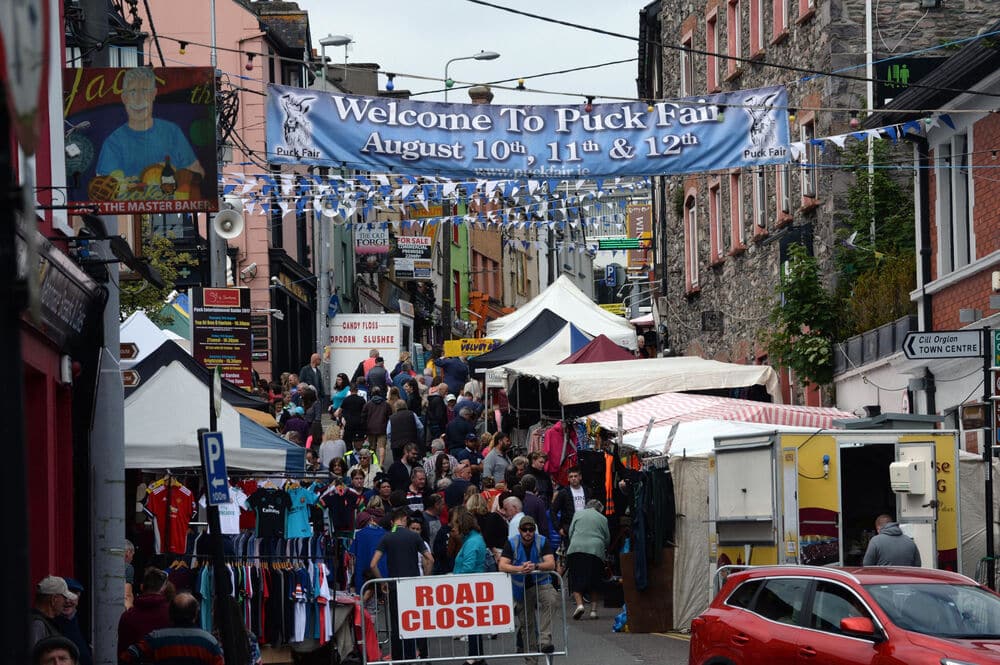 Dating back as far as 1900, the Puck Fair has been held annually in Killorglin. Originally the fair was the celebration of catching a wild goat on a mountain which was then crowned 'King Puck' by the local 'Queen of the Puck', leading to three days celebration.
The celebrations continue in Kerry with live music, performances, and more!
More info: HERE
7. Waterford Walls Street Art Festival – the largest international street art festival in Ireland
This celebration of art takes place every August in Waterford City, with artists from Ireland and beyond creating and displaying large-scale artworks.
The festivities include workshops, live music, guided street art tours and plenty more, making it one of the best free fairs and festivals in Ireland.
More info: HERE
6. Battle for the Lake, Achill Island – a kitesurfing competition off the coast of Mayo
Battle for the Lake brings thousands to the stunning shores of Keel Lake every September for this multi-water sports festival.
The festival has grown into a weekend of sport, music and fun. With live performances every night followed by a magical light show, this festival is one for lovers of sport and festivities.
More info: HERE
5. The Doolin Folk Fest – a festival jam-packed with music in one of the most beautiful villages in the world
This festival takes its music seriously and has become internationally renowned for its varied line-up of world-class performers and its intimate atmosphere.
There are beautiful beaches, delicious food and, most importantly, a musical journey to be experienced at the Doolin Folk Fest! Find out more about it here.
4. The Galway International Arts Festival – the best cultural experience in Ireland this summer
The Galway arts festival is one of the greatest events to enjoy in Galway City. It's bursting with free exhibitions, activities, parades, performances and workshops.
The festival brings a joyous atmosphere to the city, with art to be found on every corner and international acts taking the big top festival stage every night.
This year promises a line-up including Kasabian, Bell X1 and much, much more!
More info: HERE
3. The Rory Gallagher International Tribute Festival, Ballyshannon – an homage to the world's greatest guitarist
Ballyshannon is home to Rory Gallagher, and this fabulously fun festival is held there in his honour every year. The festival has become internationally popular since its inception in 2002.
The music and the welcoming atmosphere of this Donegal festival bring people from different countries and generations together in celebration of the late great Rory Gallagher.
More info: HERE
2. The Cork Jazz Festival – bringing the finest jazz to Cork City since 1978
If you love music, you don't want to miss this festival. It is three days of musicians and music lovers coming together across the rebel county for jamming, dancing and having the craic!
This event is extremely popular and sells out every year due to its unmissable line-up for jazz lovers and music fanatics alike. This year big names like Chic are performing alongside plenty of independent acts for you to discover!
More info: HERE
1. Electric Picnic Arts and Music Festival – one of the finest festivals in Europe!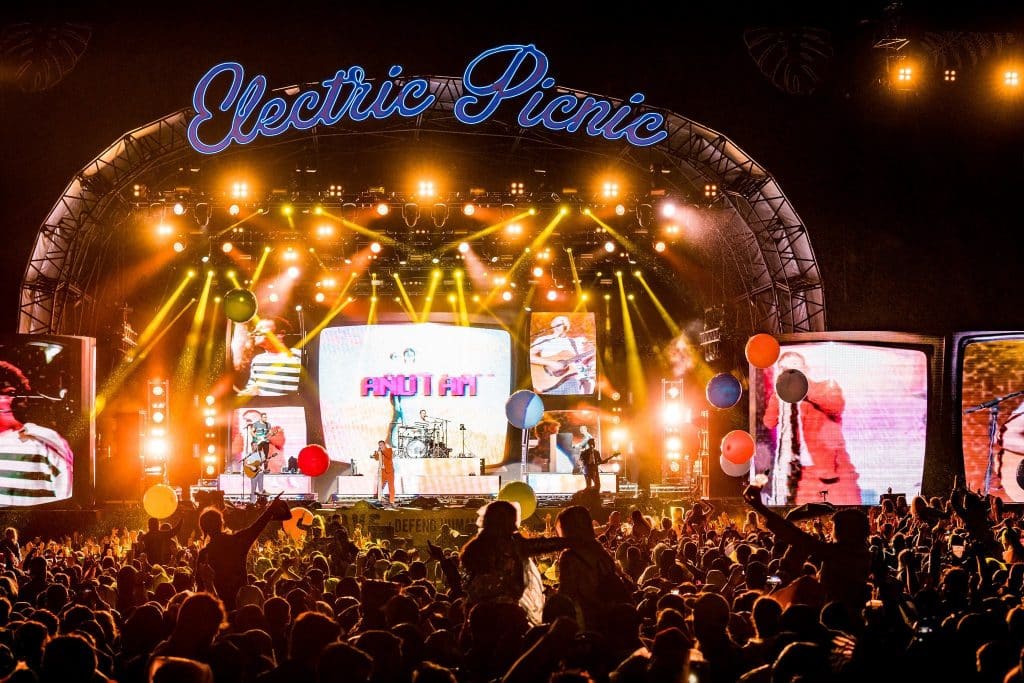 Every year thousands of festival-goers make the pilgrimage to County Laois for this internationally renowned open-air music and arts festival.
If you're lucky enough to nab a ticket, you're in for a treat with live performances from Lewis Capaldi to Niall Horan, along with the infamous rave in the woods too.
More info: HERE
So, whatever you're into, why not check out something from our list of the top ten fairs and festivals in Ireland? There's something for everyone!
Get featured on Ireland Before You Die
Do you want to get your Irish business more online exposure? Especially to those interested in travelling the best places in Ireland? Then why not get a dedicated feature on Ireland Before You Die. Find out more 
here.