From talks to tours, here's all you need to know about the C.S. Lewis Festival in Belfast this November.
Known globally for his epic fantasy series The Chronicles of Narnia, C.S. Lewis was one of the most influential writers to ever come out of the Emerald Isle, and some might say he was even the most impactful Christian writer of his generation.
Spanning from Friday 22nd to Tuesday 26th November 2019, this year's C.S. Lewis Festival celebrates the life and work of this magnificent writer by bringing the fantasy world of Narnia to life in a series of family-friendly events, workshops, and talks across his home city of Belfast.
The festival is run annually by EastSide Arts in C.S. Lewis Square. The Square is easily identified by its seven bronze sculptures of various characters from The Lion, the Witch and the Wardrobe, including Aslan, Mr Tumnus, The White Witch, and others.
Below we've broken down everything you'll need to know about this year's programme.
Christmas at the C.S. Lewis Festival in Belfast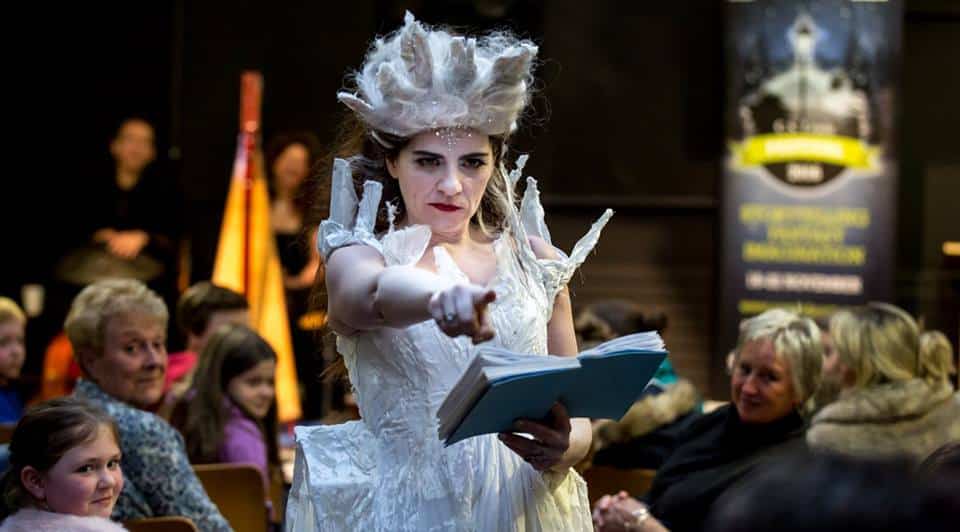 This year's 'Chronicles of Narnia' theme suits the winter season perfectly as C.S. Lewis Square kicks off the festival in Belfast with its annual light switch-on.
The event starts at 12pm on Friday 22nd and promises to bring unique food, music, and entertainment all the way from Narnia and right in time for Christmas in Northern Ireland.
This is one of the festival's most festive and high-spirited events, and it's also free, which makes it accessible to everyone.
Kids and adults can also enjoy magical stories told by the Literary Fairy, the Faun, and the Very Interesting Creatures in an attempt to foil the bewitchery of the Snow Queen who plans to ruin Christmas.
Stories are told at 10.30, 12.00, 2.00, 3.30 and 5.00 from Friday 22 to Sunday 24 November in C.S. Lewis Square. Tickets for this event cost £8 per person or £30 for a family of 4.
A Christmas art exhibition will also be available from Friday 22 to Tuesday 26 November at the ArtisAnn Gallery (address: 70 Bloomfield Ave, Belfast BT5 5AE), hosting over 100 pieces of art by a collection of artists available for purchase.
Literature workshops, tours, discussions, and Q&As across Belfast
At the heart of the C.S. Lewis Festival in Belfast is the celebration of the works and intricacies of Lewis' work, and that's exactly what is achieved through the array of incredible creative workshops, discussions, and cultural activities organised throughout Belfast.
From Saturday 23 to Tuesday 26 November, a huge selection of cultural events will take place to celebrate Lewis. These include readings from other local Belfast writers, discussions on Lewis' literature, arts and crafts, workshops, Q&As with an expert panel, and talks on equality and diversity in the field of literature.
To help you out with planning your itinerary, we've broken down this year's programme by venue:
Events at QSS Artist Studios, The Arches Centre (11-13 Bloomfield Ave, Belfast BT5 5AA)
CHILDREN AND YOUNG ADULT PUBLISHING PANEL
"Join award-winning children's authors as they give honest advice and insight into the world of children's and young adult publishing."
11.00am
Saturday 23 November
£6
BEYOND THE WARDROBE WITH WOMEN ALOUD NI
"Join Women Aloud NI as our writers take you on a journey beyond the wardrobe."
12.30pm, Saturday 23 November
Free
THE IMAGINATION LECTURES
"Tenx9 founder, poet, and theologian Padraig O'Tuama and festival Curator Jan Carson will deliver two short lectures exploring the theme of imagination."
4pm, Sunday 24 November
£8
A SENSE OF PLACE: READINGS FROM BELFAST STORIES
"Rosemary Jenkinson, Wendy Erskine and Michael Nolan read from this acclaimed anthology from Doire Press, with music by talented Belfast duo Marble Index."
7pm, Tuesday 26 November
£8
Events at Strand Presbyterian Church (161 Connsbrook Ave, Belfast BT4 1ND)
FILL THE BLANK PAGE
"In this two-hour workshop, poet and novelist Nessa O'Mahony will help you explore ways to kickstart the imagination and break through writer's block."
2.00 – 4.00pm, Saturday 23 November
£15 / £10 concession
THE MALLOW RACES
"This workshop, facilitated by award-winning poet Stephen Sexton, will explore approaches to imaginative and non-realist themes in poems."
2.00 – 4.00pm, Sunday 24 November
£15 / £10 concession
Events at the Lamppost Café (19 Upper Newtownards Rd, Belfast BT4 3HT)
LITERARY KNITTERY
"Bring your current crafty project – knitting, sketching, mending, collage, graffiti stencils, tattoo plans … whatever your style."
7pm, Monday 23 November
Free
WRITING OTHER WORLDS WORKSHOP
"This workshop will look at how to bring your settings to life and make them feel as real to your readers as they do to you."
2.00 – 4.00pm, Sunday 24 November
£15 / £10 concession
16+
THE LION, THE WITCH, AND THE WARDROBE
"Join us as we gather together to openly discuss 'The Lion The Witch and The Wardrobe.' "
6.30pm, Monday 25 November
Free
Events at Fighting Words Belfast at the Skainos Centre (241 Newtownards Rd, Belfast BT4 1AF)
FRIENDS AND MONSTERS: BOOK LAUNCH
ANTHOLOGY OF TEEN WRITING INSPIRED BY MARY SHELLEY'S FRANKENSTEIN
6pm, Tuesday 26 November
Free
Events at EastSide Visitor Centre (402, A20, Belfast BT4 1HH)
ESCAPING TO NARNIA
"Learn about Lewis's childhood in Belfast, look at his childhood imaginings from Animal-Land to Narnia and find out about his perceptions of childhood when he became a stepfather for the first time in his 60's."
1pm, Friday 22 November
£6
PURE IMAGINATION
"Singer songwriter Hannah McPhillimy, poet Dawn Watson and novelist Jan Carson explore the theme of imagination in story, song and poetry."
7pm, Saturday 23 November
£10 / £8 concession
BELOVED BY TONI MORRISON
"Join us for an informal discussion of her incredible, prize-winning novel, Beloved."
2pm, Saturday 23 November
Free
GOD, JESUS AND JONI MITCHELL'S BLUE
"Join theologian and Joni Mitchell fan, Dr Andrew Cunning, for an evening unpacking Joni's best album."
6.30pm, Sunday 24 November
£6
IAN SANSOM'S IMAGINATION HEROES
"In this illustrated talk, Ian Sansom shares the work and ideas of some of his imagination heroes."
1pm, Tuesday 26 November
£6
Adults only
Events at Willowfield Parish Church (149 My Ladys Rd, Belfast BT6 8FE)
CHASING ASLAN
"Kids and Youth Teams explore the exciting writings of C.S. Lewis and what they mean for us today."
10.00am and 11.00am, Sunday 24 November
Free
THE LIFE AND FAITH OF C.S. LEWIS
"This special service will celebrate the life and witness of C.S. Lewis."
5.30pm, Sunday 24 November
Free
Events at Crescent Arts Centre (2-4 University Road, BT7 1NH)
SOCRATIC DEBATE
"C.S. Lewis was President of the Oxford Socratic Society and oversaw many vibrant debates on contentious issues."
7.30-9.00pm, Tuesday 23 November
£8
Events at Strand Arts Centre (152-154 Holywood Rd, Belfast BT4 1NY)
REVOLTING RHYMES PART 1&2 – 2016
"In celebration of the incredible imagination of the late, great Roald Dahl, storyteller Stephen Beggs will perform a reading before the film and host the workshop afterwards."
12pm, Saturday 23 November
Film is free, workshop £3 per child
Parental guidance
Events at Park Avenue Hotel (158 Holywood Rd, Belfast BT4 1PB)
THE WITCHES
"Mask-making workshops before the film, a chocolate mice hunt and perhaps even some real witches!"
3pm, Saturday 23 November
Adult £5, Child £6.50 (includes workshop)
Parental guidance
TENX9
"Tenx9 is a storytelling event where nine people have up to ten minutes each to tell a true story from their own life."
7.30pm, Sunday 24 November
Free
Events at Elmwood Hall (Elmwood Mews, Belfast BT9 6BD)
FINE AND DANDY MARKET
"We will be holding this special market with a Junior Craft table and drop in workshops."
1pm, Friday 22 November
£6
Events at C.S. Lewis Square (402 Newtownards Rd, Belfast BT4 1HH)
C.S. LEWIS WALKING TOUR
"Join C.S. Lewis expert, Laura Spence, for a 2.5 hour walk around some areas of east Belfast."
1pm, Friday 22 November
£6
Events at Dundonald Cemetery (743 Upper Newtownards Rd, Belfast BT16 2QY)
GUIDED TOUR
"Your guide, Peter McCabe will tell you the stories behind a range of headstones with links to C.S. Lewis."
11am, Saturday 23 November
£6
Events at Belfast City Cemetery (511 Falls Rd, Belfast BT12 6DE)
GUIDED TOUR
"Peter will call at graves that include Lewis's parents and grandparents."
1pm, Saturday 23 November
£6
Theatre, music, and art
Theatre and arts lovers can enjoy a range of incredible films and performances on the theme of C.S. Lewis and his literary legacy at the C.S. Lewis Festival in Belfast.
On Friday 22 November, theatregoers should attend the Lamppost Café for a showing of Private Peaceful, which relives the story of a young First World War soldier. It costs £10 per person and shows at 3pm and 7pm without any age restrictions.
Searchlight Theatre Company will perform their award-winning production of The Screwtape Letters in Willowfield Parish Church on Monday 25 November.
Anyone who enjoys dramatised readings should attend the presentation of Lewis' works between 1960 and 1963 by the Bright Umbrella Drama Company.
If you fancy watching some cult classics, such as Donnie Darko (2001) or Willy Wonka & the Chocolate Factory (1964), showings will be played in the Strand Arts Centre and Inverary Community Centre respectively. Donnie Darko shows at 6pm on Monday 25 November, while Willy Wonka plays on Tuesday 26 November at 11.30am. Both viewings are free.
An evening on the theme of contemporary Protestant imagination will be carried out in the Park Avenue Hotel at £40 per person.
Finally, art lovers should check out Malachi O'Doherty's free exhibition on modern India in the Eastside Visitor Centre.
For kids and families
Head to Ballyhackamore Library (address: Library Court, 1-3 Eastleigh Dr, Belfast BT4 3DX) Friday 22 November or Woodstock Library (address: 358 Woodstock Rd, Belfast BT6 9DQ) on Saturday 23 November for free storytelling that explores tales of forest animals and trees for your kids.
Alternatively, head to Connswater Shopping Centre's C.S. Lewis Reading Corner so your child can imagine their own world in one of the interactive musical adventures held on Saturday 23 November.
EastSide Visitor Centre is also holding a free Narnia-themed treasure hunt for kids up to 10 years old.
Buying your tickets
Buy your tickets for the C.S. Lewis Festival in Belfast in person from the Visit Belfast Welcome Centre, or book them over the phone on 028 9024 6609.
Any tickets for events hosted at the Strands Art Centre may be booked directly from them in person, online, or over the phone.
Check out the C.S. Lewis Festival 2019 Programme for further information on events and times.
Get featured on Ireland Before You Die
Do you want to get your Irish business more online exposure? Especially to those interested in travelling the best places in Ireland? Then why not get a dedicated feature on Ireland Before You Die. Find out more 
here.