One of the most stunning areas in County Sligo, let's take a look at everything you need to know about Enniscrone Beach.
County Sligo is somewhat of a hidden gem along Ireland's Wild Atlantic Way. Enniscrone, also spelt Inishcrone, is a coastal town about 40 minutes from Sligo Town, and it has a lot to offer anyone who visits.
Enniscrone Beach is popular among locals and tourists alike. In this article, we're going to tell you the best time to visit, what to see, and things to know before your visit.
Ireland Before You Die's top tips for visiting Enniscrone:
If you're staying in Enniscrone, always book accommodation in advance.
Weather is unpredictable in Ireland. Pack for every possibility!
The summer months are the busiest. If you want a quieter time, consider visiting Enniscrone in spring.
Be sure to take a surf or yoga session on Enniscrone Beach.
Enniscrone – a jewel in Sligo's crown
Situated near the county border with Mayo, Enniscrone is a picture-perfect seaside destination on Ireland's west coast.
When exploring the Wild Atlantic Way, Enniscrone should not be overlooked. The town is home to one of Ireland's finest golf links, some of the most beautiful beaches in Ireland, and an abundance of great places to stay.
With its close proximity to Ballina, County Mayo, it's the perfect place to visit or stay when you want to check out County Mayo, too.
When to visit – the best time to visit Enniscrone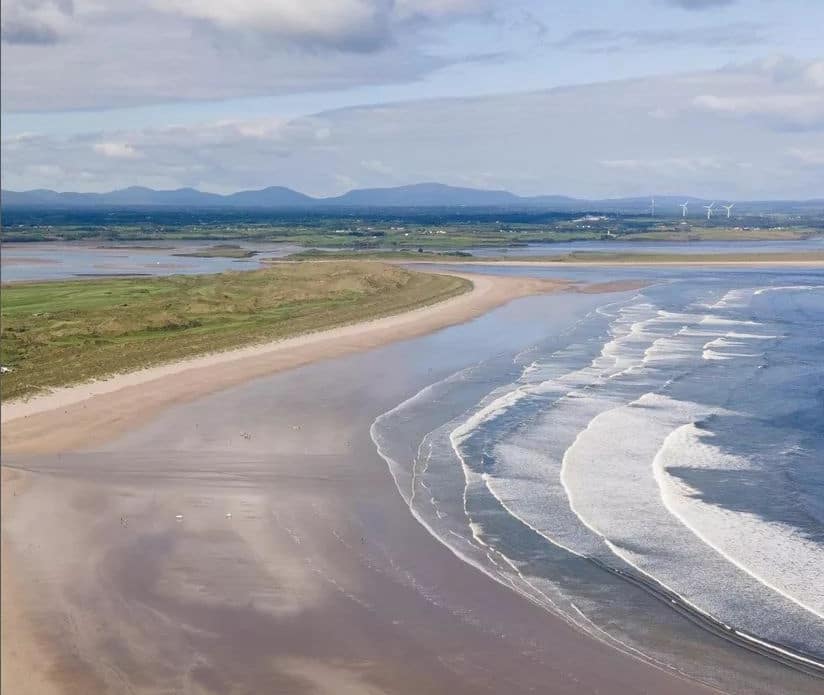 Like a lot of seaside villages in Ireland, summer is the most popular time to visit Enniscrone. However, Sligo wouldn't be as populated as the likes of Donegal in the summer, but it definitely is the busiest time of year.
If you want to beat the crowds, we recommend visiting Enniscrone in the spring. April and May see fewer crowds and decent weather, so it's the perfect time to experience everything the town has to offer.
Bigger crowds start to show up from June until the end of the summer. Regardless, the summer months are still a great time to visit Enniscrone and the surrounding area.
Enniscrone Beach – surf, swim, and so much more
The beach in question is one of the best-known Blue Flag beaches on the west coast of Ireland. Stretching for 5 km (3.1 km), this is a wonderful place to go for a leisurely stroll, a beach picnic, a surf, or a cold Irish swim.
It's a really incredible spot for surfing. With moderate surf breaks along the beautiful sandy beach, it's one of the best beaches to introduce you to the world of surf. Having said that, it's popular among beginners and advanced surfers alike.
For all of your surfing needs in Enniscrone, check out Tonnta Adventure. With Brian at Tonnta Adventure, you're in safe hands on the tides of Enniscrone Beach.
Better yet, there are great chances of spotting wildlife, like seals and dolphins, on the beach or while you're surfing the water.
Activities in the area – the perfect spot for adventuring
While visiting Enniscrone Beach, you're going to want to check out some other great activities in the area.
For the yogis, check out Roots Wellness Ireland. Offering bespoke wellness packages that include beach yoga, breathwork classes, forest bathing and more in some truly stunning locations, this is a great way to capture the beauty Enniscrone offers.
Head for coffee and a smoothie bowl at Offshore Coffee in between activities. Set just off Enniscrone Beach, this is a great way to warm up and refuel after a surf, swim, or a lovely beach walk.
Of course, when checking out any area, you need to suss out the best pubs. Don't worry; we've done it for you. Check out Gilroy's Bar and Pilot Bar for a delicious pint and a spot of lunch or dinner when visiting the area.
For the golf lovers among us, you need to check out Enniscrone's championship links course at Enniscrone Golf Club. This is a stunning course in a beautiful location that is often voted one of the best in the country.
Where to stay – some great hotel options in the area
If you're staying in Enniscrone, there are a number of great accommodation options available. For a comfortable stay with two great restaurants and a bar on site, Diamond Coast Hotel is a fantastic option located mere minutes from the beach.
Another great option near the centre of Enniscrone is Ocean Sands Hotel & Apartments. Offering killer views over Killala Bay, this is a great choice for pet owners as there are nine dog-friendly rooms available.
If you fancy staying in a beautiful castle tucked away in Belleek Forest, Belleek Castle in nearby Ballina is another fabulous accommodation option.