Dare to discover one of Ireland's most-loved natural attractions? This guide explores the journey from Dublin to Giant's Causeway, with answers to your most-asked questions.
Dublin City and the Giant's Causeway: two of Ireland's most popular destinations for daytrippers, sightseers, and those keen to explore Ireland at its best.
In this go-to guide, we map out the best route, highlighting key sights on the way, as well as insider tips on where to stay once you're there.
Overview – a UNESCO World Heritage Site
Dublin City is the capital of the Republic of Ireland. Located in the east of Ireland, it is well connected with the rest of the country, including towns, counties, and key sights, such as the Giant's Causeway.
The Giant's Causeway is a natural attraction located in Northern Ireland in County Antrim, near Bushmills and is one of the best things to do in Northern Ireland.
It is recognised world-over for its impressive interlocking basalt limestone columns amounting to over 40,000 in total. Sliding into the sea, the Giant's Causeway is a UNESCO World Heritage Site and one of the most historical places in Ireland.
Distance – how long to get there
At approximately 265 kilometres (165 miles) from Dublin City, the Giant's Causeway is achievable in just three hours by car.
Travel options – plenty to choose from
There are many ways to reach this destination, including car, bus, train, and tour group.
If travelling by train, your best option is take Irish Rail at Connelly Station and head to Belfast City. From there, you can catch another train to Coleraine and then a bus towards the Giant's Causeway.
The entire journey, one-way, without transfer time, would take just over four hours. Make sure to check the most up-to-date schedules and ensure your entire journey connects up, with ample time to transfer before embarking.
Those who prefer buses can hop on one outside the Gresham Hotel on O'Connell Street in Dublin. Head to the Belfast Europa Bus Centre. From there, you can transfer to Coleraine and then travel on towards the Giant's Causeway. This journey, not including transfer time, would take around five hours.
Tour companies – for a local guide
Whether you're a solo adventurer or prefer to make friends on your travels, tour companies are a great way to get from Dublin to Giant's Causeway.
Many groups offer tour experiences, ranging from intimate excursions to large crowd journeys. The decisions on what's best come down to personal preference.
Paddywagon Tours is one of the top companies offering the experience at €65 per adult and €60 per student. The trip includes stop-offs at Carrick-a-Rede Rope Bridge and Game of Thrones filming locations.
Sights along the way – lots to see and explore
If travelling by car, make sure to stop off at key sights along the way. These include Belfast City and all that comes with it, such as Titanic Belfast and Crumlin Road Gaol.
We also recommend a Black Cab Tour and touring the Peace Walls. Before you reach the city, a stop off at We Are Vertigo is recommended.
En route to the Giant's Causeway from Belfast, you can enjoy a self-guided Game of Thrones filming locations tour as you make tracks towards your destination.
Carrick-a-Rede Rope Bridge and the town of Bushmills, along with the world-famous distillery, are other attractions to add to the bucket list on your Dublin to Giant's Causeway adventure.
Of course, if you're travelling on a bus or train, you will have little flexibility to stop along the way. In contrast, these additional attractions are often built into the itinerary when travelling with a tour group.
Where to stay – cosy accommodation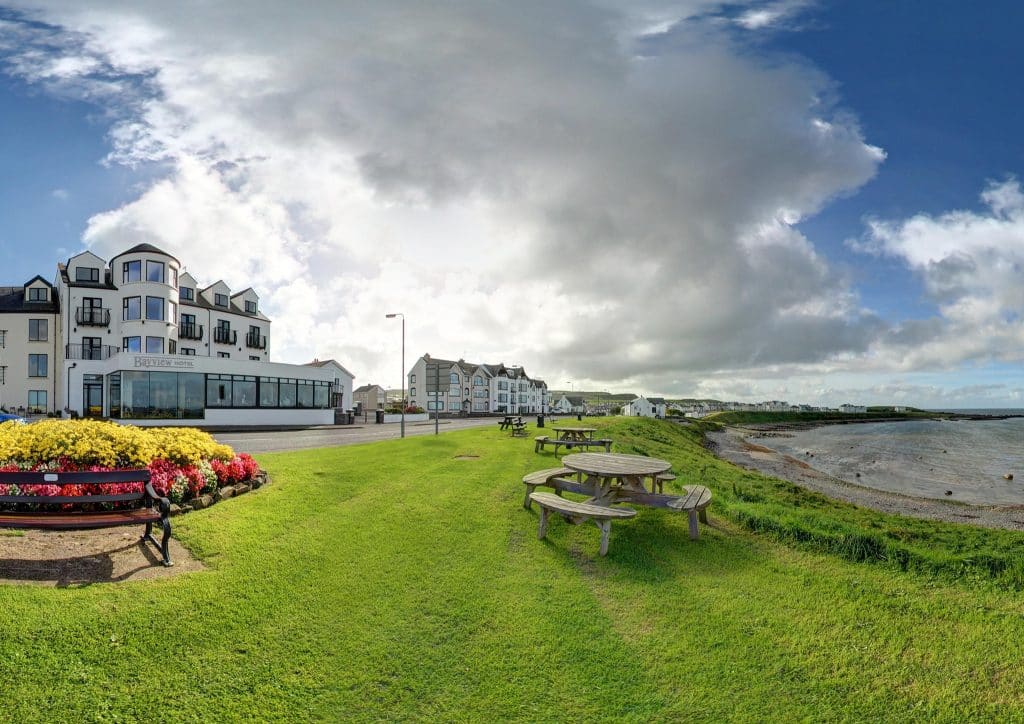 There are many great places to rest your head for those who wish to spend an overnight on their trip from Dublin to Giant's Causeway.
Finn McCools is a laidback hostel and a fantastic fit for social travellers looking to meet a friendly face on their journey.
For those looking for a traditional setting, head to the Bushmills Inn Hotel. However, if convenience is your preference, look no further than the three-star Causeway Hotel, located practically on-site.
If you're seeking a more luxurious stay, head to the four-star Bayview Hotel in Portballintrae. The hotel offers water views and an on-site restaurant. This is an idyllic place to kick back after you've completed the first leg of your Dublin to Giant's Causeway adventure.