Start your engine! Our five-day itinerary for a road trip from Dublin to Galway is packed with scenery and culture.
Due to Ireland's intimate size, it makes for a great road tripping destination. With endless adventure on offer in the Emerald Isle, vacationers will be faced with everything from heritage sites and historical locations to cultural experiences and outdoor activities.
Whether you're travelling to the island of Ireland for the first time or want to explore your home territory, a road trip is a fantastic way to have an immersive trip in the Emerald Isle.
If you're thinking about road tripping from east to west, from the capital of Ireland (Dublin) to the capital city of culture (Galway), there are tonnes of routes you can take, all of which offer stunning sights and scenery along the way. This way you don't need to decide which city to visit: Dublin vs Galway!
This is our suggested route, with a few recommendations on what to do and where to stay on your Dublin to Galway road trip.
Day 1: Dublin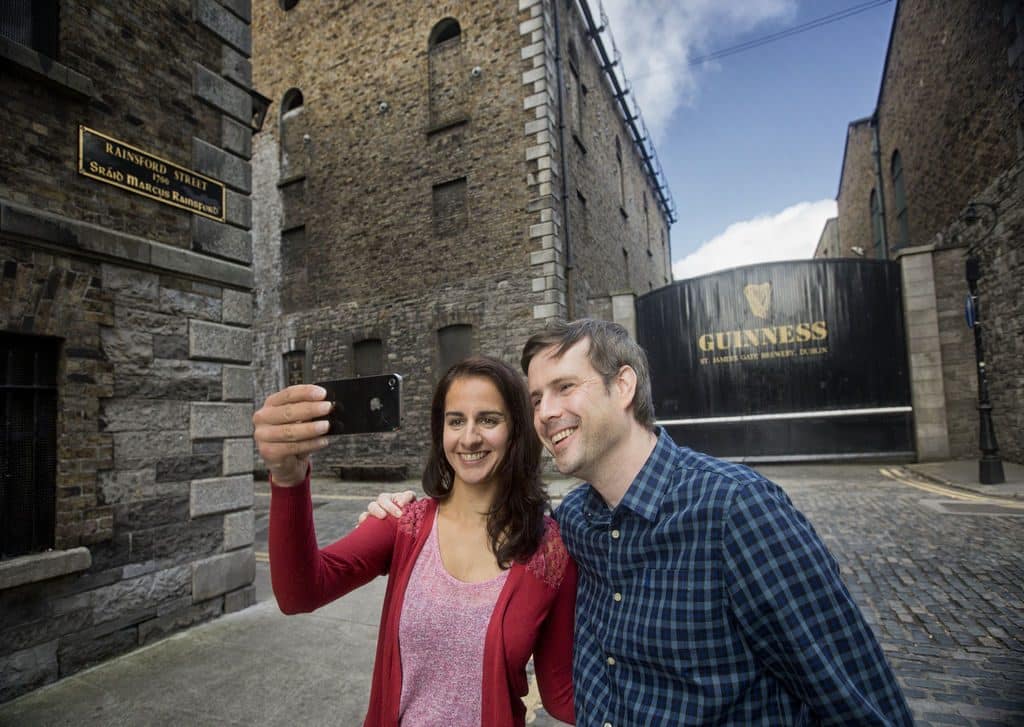 Morning
For the first day of your road trip, enjoy all that Dublin has to offer. While we always suggest at least 3 days in Dublin, 24 hours is just enough to soak up its electric atmosphere. As the capital city, it boasts an endless array of activities to pepper your trip.
For breakfast, check out The Fumbally or Metro Café, both in the centre of the city. These prove to be a winner with Dublin locals!
Afternoon
Daytime activities are many, but the general consensus is that no trip to Dublin would be complete without learning how to pull a pint at the Guinness Storehouse, visiting Trinity College and The Long Room, or experiencing a tour at Kilmainham Gaol.
For lunch, we vote for The Woolen Mills, which offers great veggie and vegan dishes, as well as tonnes of meaty and fishy mains.
Evening
No trip to the capital would be complete without checking out Temple Bar, with its endless offering of Irish pubs. Dinnertime calls for Coppinger Row if you're feeling fancy or Bunsen if you're craving a top-notch burger.
For affordable accommodation, check out Isaacs Hostel, or if you want to live it up, stay at The Marker.
Day 2: Dublin > Mullingar (approx. 60 mins)
Morning
On day two, head on out of Dublin in the direction of Mullingar. This is a short drive of only about 60 minutes, and as the cityscape starts to fade the countryside will open up.
Located in County Westmeath, this town has a great cultural atmosphere and stunning natural scenery. For lunch, drop into Red Earth, a café-cum-lifestyle store with a cracking restaurant and designer buys, too.
Afternoon
In the afternoon, enjoy the surrounding sights. There are tonnes of shopping opportunities in this county town and we suggest you check out Belvedere House and Gardens, as well as the Cathedral of Christ the King.
Mollie Moo's Fun & Adventure Pet Farm & Playground is another great shout if you're travelling with the whole family.
Evening
In the evening, pop by Danny Byrnes for a couple of pints and grab some dinner in Church Restaurant, which, as you may have guessed, is in an old church!
For affordable accommodation, we suggest you check out Kerrigan's B&B, which is located over the family-run pub. If you're feeling a little fancier, the Bloomfield House Hotel, which is a short drive outside of town on the shores of Lough Ennell, is the spot to be at.
Day 3: Mullingar > Longford (approx. 35 mins)
Morning
On day three, hit the road en route to Longford. This brief drive will bring you Northwest and only takes about 35 minutes.
Afternoon
For lunch, stop by Green Apple Restaurant and enjoy some good, wholesome nosh. Afterwards, be sure to check out St. Mel's Cathedral and the Corlea Trackway, which dates back to the Iron Age, 148 – 147 BC, and boasts an open walking track and visitor centre.
Evening
Later in the eve, we suggest you stop by Viewmount House for dinner in its renovated stable, four-star setting. Edward J Valentines Bar is a popular local pub with great vibes and live music.
Take 2 Restaurant & B&B is an affordable place to rest your head and also has a restaurant and pub to keep you entertained, but if you're looking for luxury, look no further than Viewmount House.
Day 4: Longford > Roscommon (approx. 30 mins)
Morning
On day four, hop in the car and head for Roscommon. If you haven't had breakfast yet or are feeling peckish, we suggest you try out Rogue & Co Café which is a favourite of the locals.
Afternoon
Top tourist attractions to check out include Roscommon Castle, which is in the heart of the town, and Sacred Heart Church.
Evening
In the evening, Regan's Gastro Pub and Restaurant offers both food and drinks and always has a lively atmosphere and great service.
For accommodation, we suggest the four-star Abbey Hotel or, if you're trying to keep to a budget, Arch House B&B is a solid shout.
Day 5: Roscommon > Galway (approx. 90 mins)
Morning
On the final day of your five-day road trip from Dublin to Galway, we suggest you hit the road after breakfast and head to the capital city of culture. It's only a ninety-minute drive and will offer lovely countryside scenery along the way.
Upon arriving in Galway city, Brasserie On The Corner is a top spot for a good feed, or if you're just seeking a caffeine fix, try out Coffeewerk + Press.
Afternoon
In terms of attractions, your options are limitless, but key spots include Eyre Square for people watching, Galway Cathedral, Connemara National Park for nature-lovers, or even a trip to the Aran Islands if you're not feeling city vibes.
Evening
In the evening, a pub crawl is suggested – Galway has an amazing amount of cultured bars and pubs! Ard Bia at Nimmos is a quirky restaurant in the city which fires up quite the feed, and Kai Restaurant is another dinnertime favourite for locals.
To rest your head affordably, check out Galway City Hostel. If you have some cash to spare, stay at The G Hotel and Spa.