Dublin Castle is a fantastic place to visit any time of the year, but visiting at Christmas is a whole different experience. So, let us tell you all about it.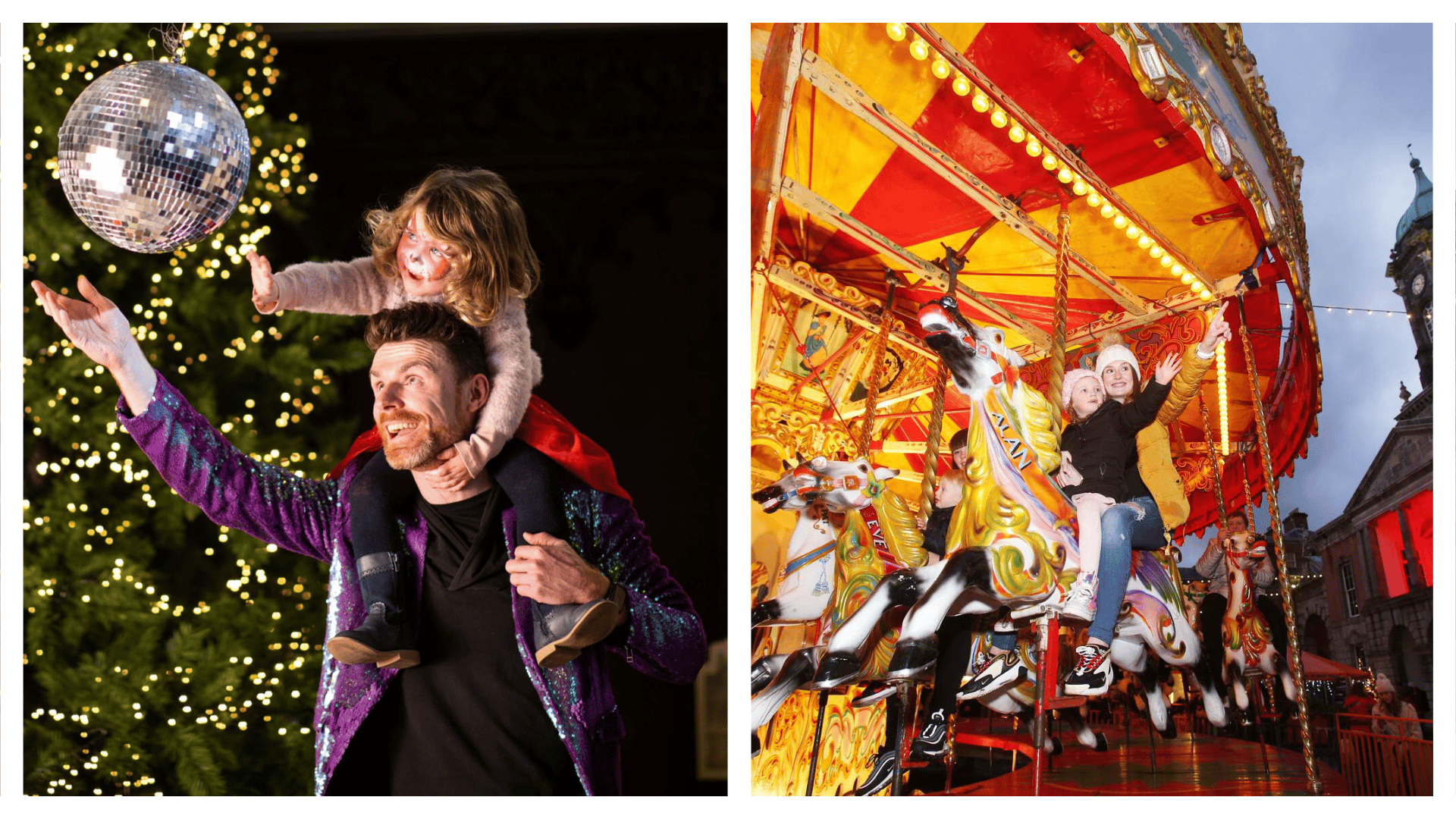 Christmas is one of the most, if not the most, magical times of the year. So, what better time to get planning a visit to one of the best Dublin events around than now?
Christmas at the Castle has been a favourite pastime of locals for years now. Visitors to Dublin city at this time of year are captivated by the magic that this event hosts.
Maybe you are looking for the ideal way to get into the Christmas spirit. Or maybe fancy getting your hands on local crafts from the boutique open-air Christmas market.
Perhaps you just want to indulge in festive food and treats. Whatever you're after, stick around for our in-depth guide to Dublin Castle at Christmas.
Overview – what Christmas at the Castle is all about
Dublin hasn't always been a top European city known for its Christmas markets. These days, however, the Irish Christmas markets are giving others a run for their money, encouraging locals to explore festive magic right on their doorstep without flying to the continent.
Christmas at the Castle took place between the 8 and 21 December last year. As yet, the dates for this year have not been confirmed. However, you can assume it will fall somewhere around this time frame, so you can still plan.
Dublin Castle is a top attraction in the city, which makes it an ideal place to host a festive market. Given that it is in a central location, it is a well-known landmark, and there is plenty of space to host all the Christmas enthusiasts.
Wander around the cute Alpine Market Stalls in the historic courtyard and soak up the festive atmosphere. There are plenty of food and drink on offer, artisan craft vendors to wander around, and music to keep you entertained.
Therefore, there is every reason to pay a visit to Dublin Castle this Christmas 2022. So, let us give you the details on how to explore this open-air Christmas market in Dublin.
What to see – the top attractions
Dublin Castle at Christmas is a one-stop shop for entertainment, food, shopping, and getting into the festive spirit. So, if you are wondering what exactly there is to see here, let us spill the beans.
Of course, music lovers will be entertained by a host of music events and performances, while children won't be able to take the smile off their faces after a ride on the kid's carousel.
Then, when it comes to arts, decorative crafts, and gifts, there will be plenty to keep you browsing, with inspiring gift ideas courtesy of local artisans, including jewellery, wooden crafts, and unique handmade gifts. You really won't want to miss wandering through the dedicated Irish Designers' Market.
Foodies are encouraged to arrive hungry, given that there will be a vast assortment of treats and festive food at the artisan food village. We all know that food is one of the best aspects of this time of year, right?
This is an excellent opportunity to try out local produce, meet local vendors, and indulge in some of the best traditional fares alongside a warm cup of mulled wine.
In 2021, the food vendors who made an appearance were Handsome Burger, Los Chicanos, Griolladh, Corleggy Cheeses Raclette, the Smoken Grillhouse, Chocallure, Sweet Churro, The Crepe Box, Ciao Cannoli, Nutty Delights, Beanery 76, and the Buddy Cu.
We are excited to see what festive food and artisan producers Dublin Castle at Christmas 2022 will bring.
How to get there – the best options for a visit to Dublin Castle
So, now that you know what makes this one of the top Christmas events in the capital, it might be worth planning your arrival and the best way to get there. There are a few options for getting to Dublin Castle at Christmas, and here are a few main routes.
By car: It is worth knowing that it can be hard to find on-street or free parking in Dublin. So, if you are travelling by car, always plan and arrive early to get a spot at one of the parking garages nearby, which we have listed in detail below.
By public transport: This may be the easiest and least stressful way to arrive at Dublin Castle at Christmas. With a central location, plenty of buses stop here, as does the Luas tram. In addition, you can choose to get off at Dawson Street, Trinity College, or the Four Courts Luas stops, all of which are around a ten-minute walk from Dublin Castle.
By taxi: Dublin has plenty of taxis and Ubers. So, using these services can always be a quick and easy option to get to Dublin Castle.
Address: Dame St, Dublin 2
Where to park – for those taking their car to the city
There are a few options for parking close to Dublin Castle. However, these will be on a first-come, first-served, payable basis.
Parking is hard to come by in Dublin at any time of year, so at Christmas, it is worth allowing extra time to arrive and find a parking space at one of these parking areas.
These are generally safe and secure parking areas, and some can be booked online in advance.
Drury Street Car Park
Park Rite Car Park
Q Park Christchurch
Useful info – things to know
Although the event is free, you should book your tickets in advance online via the website. This is how they monitor the crowds and event attendees.
The event is free. However, you're going to want to bring some money to cover the cost of food and cute gifts from the craft market.
Dublin Castle at Christmas usually runs from 2 pm to 9:30 pm, but times may vary as Christmas at the Castle 2022 details are revealed. So, keep an eye out for this.
The last admission is 30 minutes before the final time on your event ticket, so arrive on time.
Dublin Castle Christmas Market is an open-air event in Dublin City Centre. So, make sure to wrap up and bring an umbrella or raincoat just in case it rains. It's Ireland, after all, and the weather can be unpredictable.
Notable mentions
Dublin Castle at Christmas is one of the main festive events in the city. Still, there is an array of events, including plenty of other fantastic Christmas markets, to check out.
Swords Castle Christmas Market: Featuring music and kids' entertainment, a variety of food stalls, and Santa's grotto, this is a Christmas event in Dublin with something for everyone.
Dun Laoghaire Christmas Market: The coastal town of Dun Laoghaire hosts its own Christmas markets with dozens of gift vendors and plenty of delicious food to indulge on by the water.
Mistletown:This Christmas festival, located in Smithfield, is a magical festive experience within the city.
Wild Lights at Dublin Zoo: After visiting Dublin Castle Christmas Market, we recommend heading to Wild Lights at Dublin Zoo. One of the top festive offerings in the city, kids of all ages can immerse themselves in a winter wonderland of lights and statues bringing the experience to life.
Terenure Christmas Market:Located on the city's south side, this local Christmas market has many intriguing festive stalls to wander around.
FAQs about Dublin Christmas Market
What happened to Dublin Castle?
Dublin Castle was once the seat of British power in Ireland and is now used by the Irish government for state events and banquets.
Where is Christmas at the Castle?
It is located at Dublin Castle, a central landmark of Dublin City.
What's on in Dublin over Christmas?
Dublin hosts an array of Christmas events, with many towns having their own Christmas markets, festive music events, and pop-up stalls around the city. There are even festivities at The Guinness Storehouse.
So, if you don't have plans yet for the festive season of 2022, why not visit Dublin Castle at Christmas? It is a surefire way of keeping the family entertained and creating lasting memories.
Get featured on Ireland Before You Die
Do you want to get your Irish business more online exposure? Especially to those interested in travelling the best places in Ireland? Then why not get a dedicated feature on Ireland Before You Die. Find out more 
here.