Ireland's premier cities go head-to-head in this article, but only one can prevail in this Dublin vs Belfast comparison. Which of the two would you choose?
Ireland's first and second cities have each had their heyday as the epicentre of activity on the Emerald Isle. For the last century or so now, Dublin,which can also be explored by boat, has emerged as the largest and most prosperous of the two. However, some worry if Dublin is safe.
However, there is much to see and do in both of these historic cities, separated by only an hour and a half of motorway travel and home to almost one and a half million people in their respective areas.
In this article, make the ultimate Dublin vs Belfast comparison and try to establish which is the better city to live in and which is the better city to visit. Read on to find out.
Cost of living – put your money where your mouth is
Perhaps the first aspect people will consider when deciding on a winner in the Dublin vs Belfast comparison and a key difference between them is the cost of living, the affordability of living in the city, and, by extension, the cost of visiting the respective cities.
Unfortunately for Ireland's capital city, Belfast comes out on top with this. For example, consumer prices are 15% lower in Belfast than what they are in Dublin, while groceries are 11% cheaper. Indeed, Dublin is one of the most expensive European capitals.
The determinative factor in this part of the Dublin vs Belfast comparison is the cost of average rent, which is a staggering 51% lower in Belfast than in Dublin. So, if you are looking to rent or soon own a home, Belfast may be the better option.
The average cost of rent in Dublin is an astonishing €1,900 per month, compared to Belfast's is £941 a month, a huge gap and allows for more affordable living. However, note that prices are rising in both jurisdictions.
Economics prospects – balancing the cost for Dublin
The flip side to being the more expensive city is that Dublin is also a wealthier city than Belfast. Dublin has more job opportunities and a higher level of pay, therefore the economic prospects are better in the Irish capital.
Dublin has a lower unemployment rate by 3.3%, while the average salary in Dublin is €41k per year (£34k), compared to the average salary in Belfast, which is between £29k and £31k per year.
There are more job opportunities in Dublin, with some of the world's largest companies such as Google setting up shop in the capital over the last number of years.
Dublin citizens can also boast a 13% higher local purchasing power that their Belfast counterparts.
Transportation – navigating Ireland's premier cities
We will give the nod to Dublin here for its public transportation. While transportation is more expensive in Dublin, there is an abundance of efficient options.
For example, in Dublin, you have the choice of the DART, the Luas line, local buses, tram services, and also taxis.
Belfast offers good options, too, which has been improved by the Glider service. However, we give the nod to the capital in this part of the Dublin vs Belfast comparison for its variety of public services.
It can be argued Belfast is easier to walk around as it is a small city. Still, Dublin is also fairly accessible when you're in the city and a lot of the main attractions can be reached by foot or their range of public transport options.
When in Dublin you also have the option of taking a bus tour!
Attractions – a key battle in the Dublin vs Belfast comparison
This is an extremely tough battle between the two, but Dublin slightly edges this part of the contest in the Dublin vs Belfast comparison.
Both are cities filled with heritage and each has a bit of history thrown in. In Dublin, you can visit the G.P.O, Kilmainham Gaol, and St Patrick's Cathedral and do walking tours.
Meanwhile in Belfast, you can visit the Titanic Museum which is one of the best museums in Ireland, the International Wall of Murals, the Ulster Museum, and the Belfast City Hall. Not to mention doing a history of Belfast walking tour, or delving deeper into Belfast's history during the troubles with a political tour.
Belfast also offers further great attractions such as Cave Hill and Ormeau Park, but Dublin takes the victory here as you can attend the Guinness Storehouse and watch a game at the iconic Croke Park.
You can even go walking along the water at the River Liffey, strolling O'Connell Street, heading to the Aviva, and visiting Trinity College.
Nightlife – plan your next night out in Belfast
Both cities are certs for an excellent night out. However, we have picked Belfast for this, owing not only to its superb range of bars and clubs, but also its slightly better value on the price of drinks and alcohol.
For example, the average price of a pint of Guinness in Dublin is €5.50, while a lager is €5.90. The average price of a pint in Belfast is £4.50.
The nightlife is excellent in both cities. You could easily find refuge in Dublin's Temple Bar area, but have just as much fun in Belfast's Cathedral Quarter. City centre bars, such as The Points, Limelight, Pug Ugly's, Kelly's Cellars, and Madden's also offer a great night.
Places to eat – Belfast takes the biscuit for this one
Good food is an essential ingredient of any city break, even more so if you live in the city. So, dining options will be a crucial factor in deciding the winner of this Dublin vs Belfast comparison.
We've gone with Belfast. A Bumper Ulster Fry in Maggie May's is hard to beat, while the sweet tooths may love a pancake stake in French Village.
Stix and Stones is the best steak joint in the city, while Belfast also has a plethora of top-class cafes, such as Established, Neighbourhood, Hatch, and Napoleon.
Winner: It's a draw! It ends Dublin 3-3 Belfast. After reading this article, which city do you think is the best to live in and visit?
Other notable mentions
Safety: Belfast is probably slightly safer. Both cities have areas you would avoid whilst visiting, but crime and gangland activity is much higher in Dublin.
Education: Again, this is a tight contest. Dublin may slightly edge it as it has Trinity College, which has one of the best art galleries in Dublin, DUC, and UCD colleges. However, a new Ulster University campus is opening in Belfast city centre to accompany Queen's University and St Mary's/Stranmillis.
Air travel: Another tight affair. Perhaps Dublin has the edge with the larger Dublin Airport. In Belfast, you have the Belfast City Airport and Belfast International Airport.
FAQs about Dublin vs Belfast comparison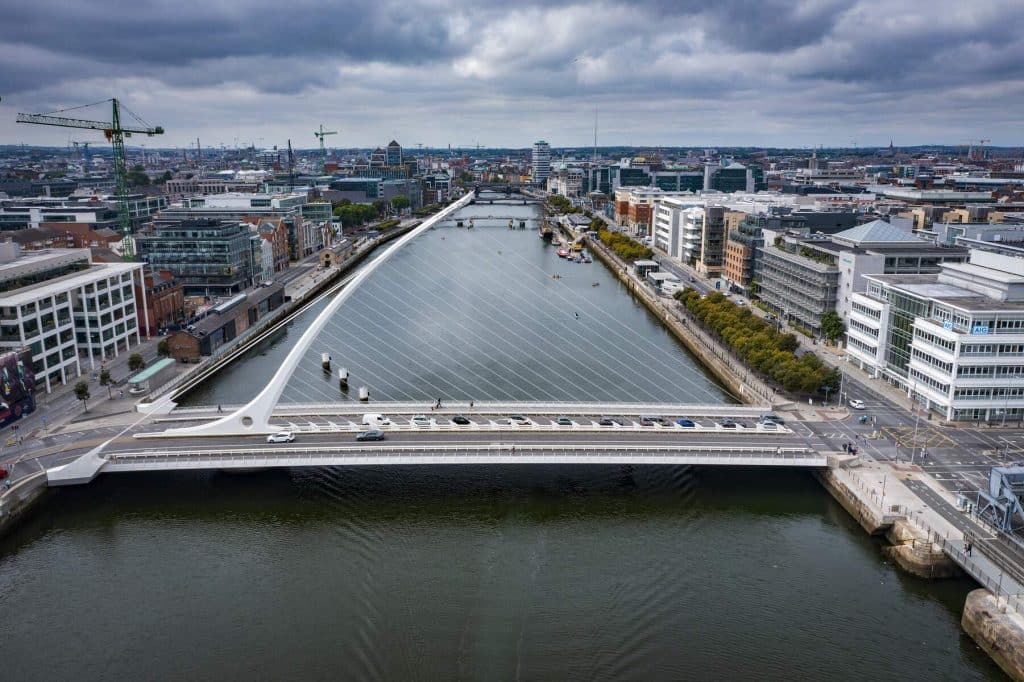 How affordable are Belfast and Dublin?
While it is clear from this article that Dublin is more expensive, both can be affordable when visiting if you set a budget.
What is the population of Belfast and Dublin?
The population of Belfast is 638,717, while it is 1.4 million in Dublin city.
Are both cities easily accessible to each other?
Yes, thankfully transport between the two is very easy. It is a fairly straight drive down the motorway, while you can get the bus from either Aircoach, Dublin Coach or Translink.