From castle ruins to scenic views, here are five reasons to visit Dundrum—a hidden gem in Northern Ireland.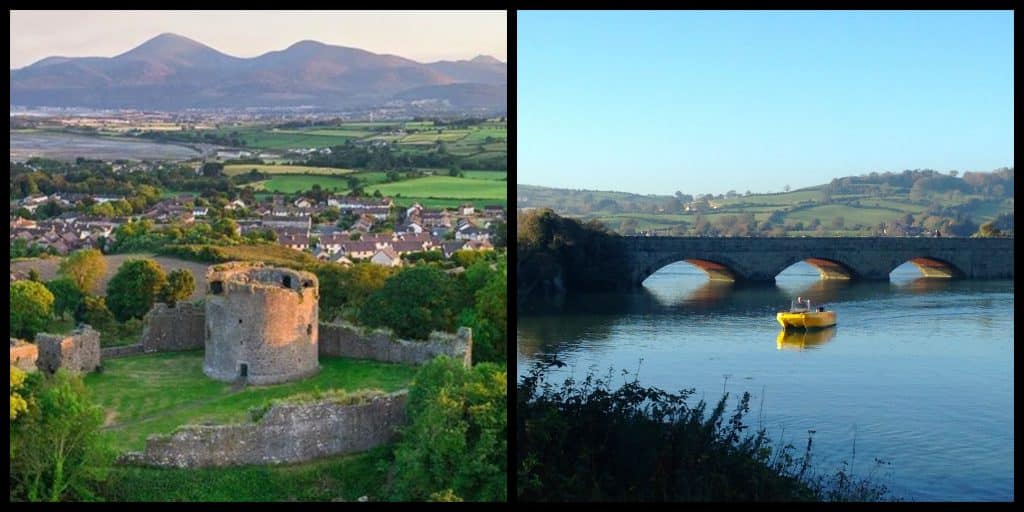 Its name might not perk your ears up, perhaps because it sounds like a cross between doldrums and humdrum, but we can assure you that Dundrum in Northern Ireland is nothing of the sort.
A charming village in County Down (not to be confused with the Dublin suburb or the County Tipperary village of the same name), Dundrum is an underrated treasure of Ireland that has a whole lot to offer, from striking castle ruins to scenic views to delicious scones.
On top of that, it's affordable (all free except the scones!) and easily accessible by public transport.
Not yet convinced that Dundrum is worth a visit? Here are five reasons to visit this lesser-known destination, a hidden gem in Northern Ireland.
5. An epic medieval castle
The ruins of Dundrum Castle, built in the thirteenth century by Sir John de Courcy, are impressive. Just a short walk from the village, the castle sits above Dundrum and overlooks Dundrum Bay and the Mourne Mountains.
You can even climb parts of the castle and walk around the upper levels, imagining what it was like to live there in the Middle Ages. Best of all? There's no entrance fee. This is one of those amazing medieval relics that doesn't cost a penny to see.
Address: 2 Castle Hill, Dundrum, Co. Down
4. 360-degree, all-in-one views
While you're atop Dundrum Castle, turn around and you'll find stunning views in all directions—country, sea, and mountain views. Especially on a clear day (which we'd recommend waiting for if you can), you can see the Mournes, Dundrum Bay, and surrounding countryside in all its glory.
So if you like your scenery to be sweeping, the views from Dundrum Castle won't disappoint. Just make sure to bring your camera!
Address: 2 Castle Hill, Dundrum, County Down, Northern Ireland
3. Tea and scones at the Blue Bay Café
After you've explored the castle and taken in its views, head back down to the village for a cosy rest at the Blue Bay Café and Bakery. Fresh scones are often available (but get them before they're gone!), as are other delicious pastries and sweets.
Perhaps you'd like something heartier—a sandwich or a full Irish breakfast—in which case, Blue Bay still has you covered. Try not to stare at the sweets on display; you might spot a slice of rainbow cake or a hot cross bun you won't be able to resist.
Address: 105 Main Street, Dundrum, Co. Down
2. Natural beauty at Keel Point and the Murlough National Nature Reserve
Just an eleven-minute walk from the Blue Bay Café is Keel Point, where you can cross a bridge to enter the Murlough National Nature Reserve. From the village, simply walk down Main Street until it forks left onto Keel Point Road and then keep going.
Once you cross the Downshire Bridge (see #1), walking trails of varying lengths will take you through a range of scenery and habitats. Try the North Point Nature Trail for coastal strolls and views in all directions, the South End Nature Trail for rich grassland and more natural beauty, and the Woodland Walk for shady peacefulness.
Whichever trail you choose, you can't go wrong.
Address: Keel Point, Dundrum, Co. Down
1. The postcard-worthy Downshire Bridge
Connecting Dundrum village to the Murlough National Nature Reserve at Keel Point, the Downshire Bridge is lovely to behold with its arches and the rolling hills beyond it. Once you've crossed it coming from the village, turn left to eventually walk along the tranquil, pebbled shore and then take a look back for some striking photo opportunities.
Address: Keel Point Road, Dundrum, Co. Down
Bonuses: Affordability and accessibility
In case you need even more reasons to visit Dundrum, all of the above are free (except for the scones, of course) and walkable (you can see it all without having to walk more than a mile or two).
As further icing on the cake, Dundrum is accessible by public transport; for example, you can take a direct bus from Belfast to Dundrum in only an hour. No need to rent a car to see this gem.
You won't be fighting your way through crowds of tourists here, either, as Dundrum still remains a hidden gem in Northern Ireland. So what are you waiting for? If you want to spend an afternoon near a castle but also by the water and also in a picturesque village (and who doesn't?), then make Dundrum your next travel destination.