Tired of job hunting and want to get paid to sit on your own sofa? Look no further, for we have found the dream job. Read on to find out more about becoming a Father Ted TV Show critic.
Job hunting can be challenging. It is often dull, monotonous, riddled with jobs you just don't want to do, and the endless search usually ends with you closing the laptop, sighing, and mentally preparing yourself for another search the next day.
Well, search no more, for we have found the dream job for you! Popular Irish website Meanwhile in Ireland has announced that it is hiring a Father Ted TV Show critic, and we think you have what it takes to fill that post.
Yes, you read that right. From your own home, and in your own time, you will watch every last Father Ted show there is and will get paid for it. Dream job? We think so. Read on for more of what it will mean to become a Father Ted TV Show critic.
What it means – what will come from your role?
Over three weeks, you will watch, review, critique, and rate every Father Ted episode, the iconic Irish TV show etched in Irish folklore that spanned 25 episodes in total between 1995 and 1998.
While experience as a TV critic would certainly help your application, it is by no means an essential qualification needed for the post. What's most important is your intimate knowledge of TV, the film industry, and, of course, Father Ted, which is surely in no doubt.
The fruits of your labour will be the ultimate, in-depth, and thorough guide to Father Ted ever written, based entirely on your reports and published on Meanwhile in Ireland, composed by budding writers working for the website after they scan your findings.
The details – your role as a Father Ted TV Show critic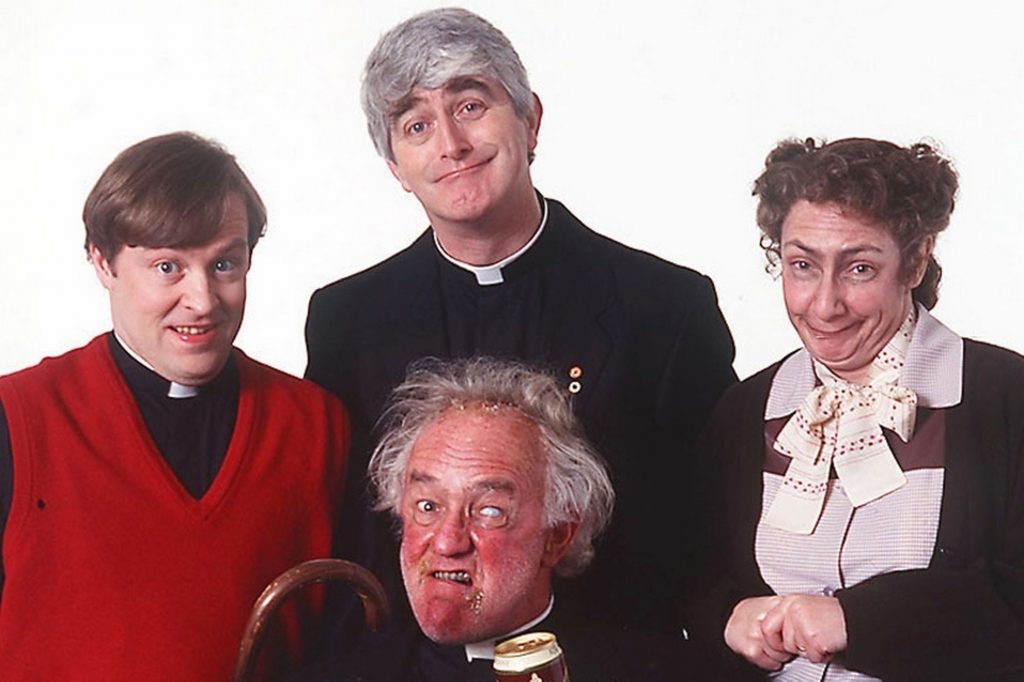 Interviews for this dream job will commence on the 15th June 2020, giving you plenty of time to brush up on your knowledge of Father Ted and prepare how you will prove your mastery of the show.
The interview process will initiate with a first-round submission, followed by a short assessment, and then will conclude with a video call. The chosen watcher will navigate all three avenues successfully.
If you are selected for the post, you will start the job in early July 2020, and it will last a total of three weeks from the official start date, giving you 21 days to complete the task.
The best thing about this job is that there are no set hours – all you have to do is stick to the three-week window, but how you watch, rate, and rank the episodes during that time falls under your own jurisdiction.
By the end of the 21 days, you, the Father Ted TV Show critic, must submit to the editor at Meanwhile in Ireland, comprehensive notes on each episode, accompanied by an overall ranking of the episodes from the best to worst.
It is from your notes, rankings, and ratings that the publishers at Meanwhile in Ireland will then base their ultimate guide to Father Ted, which will be published for all to see shortly after you submit your findings.
The benefits – what this role will mean for you
For those of you who are devout Father Ted fans, this is truly a unique, once-in-a-lifetime opportunity for you to get paid to do something you have done for free up until now. Better still, you can do it from wherever you like.
Furthermore, if a career as a writer, TV critic, or a job in media is something you are after, this will be a valuable experience. You will pick up the critical skills required to progress in any of these careers, and you will also work alongside exciting, energetic, and ambitious members of the Meanwhile in Ireland platform.
Please note that to apply for the job, the successful applicant must be over 18 years of age and fluent in both spoken and written English. If you want to read more about the job as a Father Ted TV Show critic, read more here.