Downpatrick Head in North Mayo is a breathtaking headland defined by beautiful scenery. So, let us tell you why, when, and how to visit this remarkable landmark.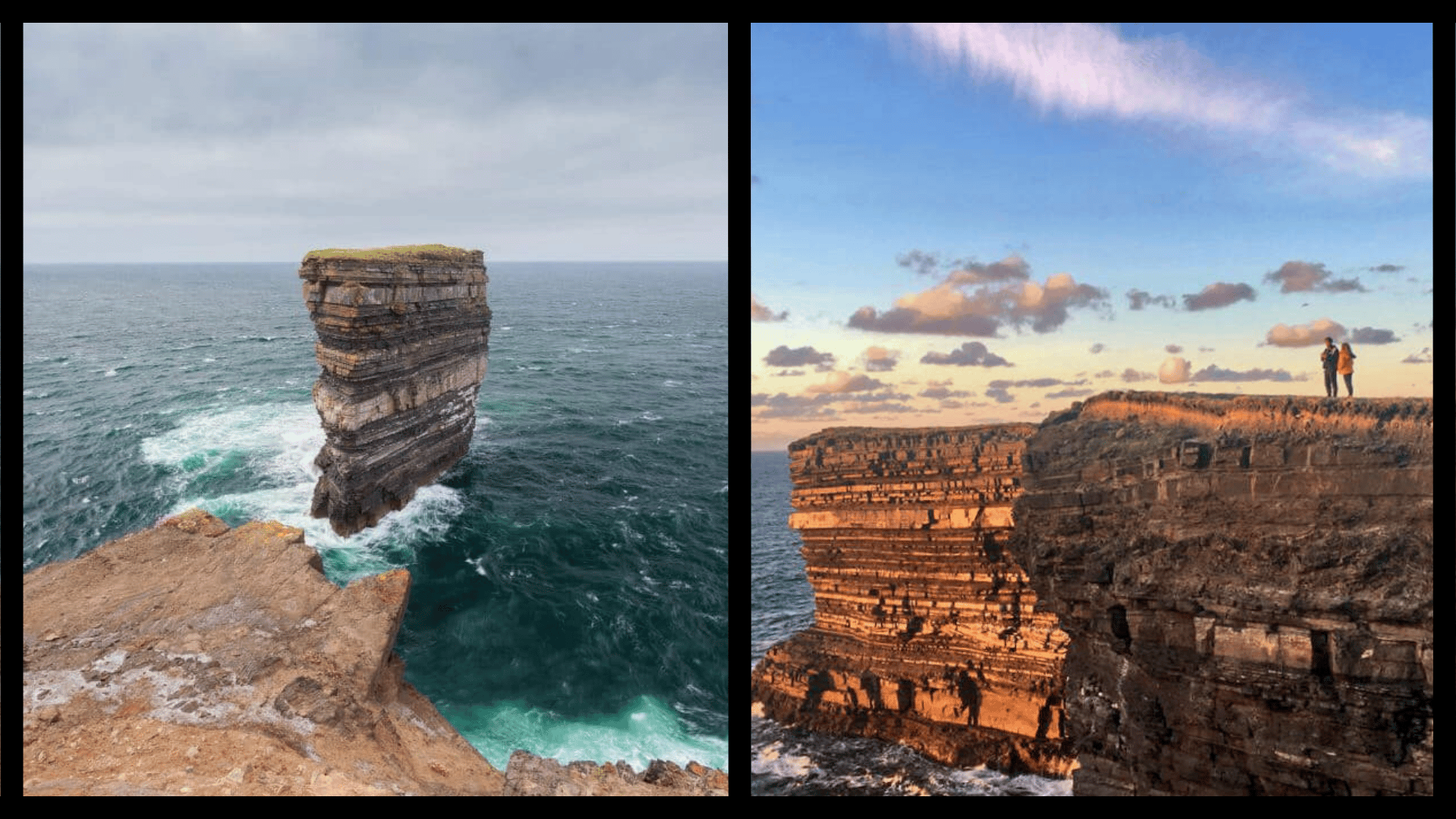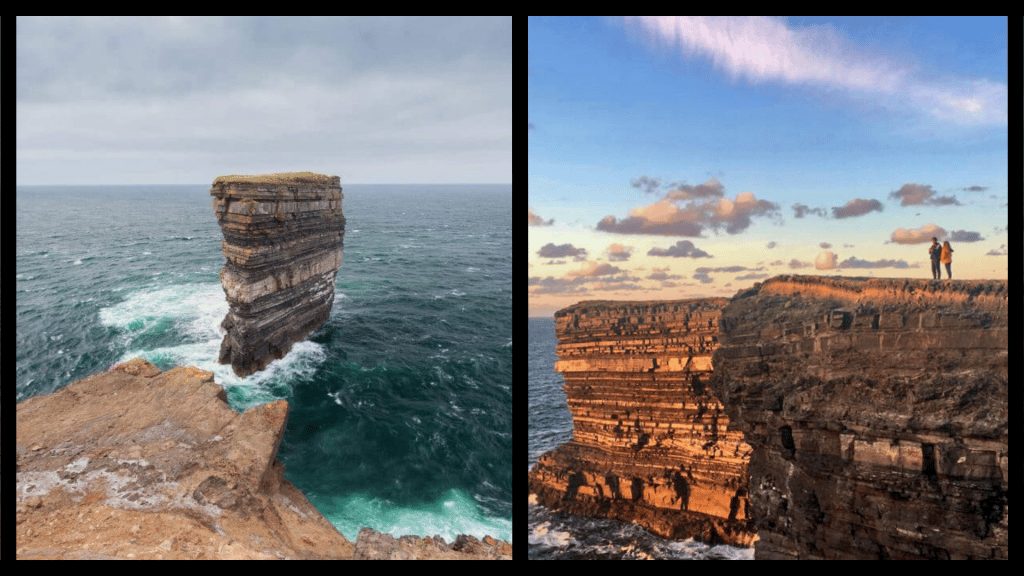 Downpatrick Head is a spectacular location and point of interest along the Wild Atlantic Way. If you have not yet feasted your eyes on this geological formation, then a trip may be on the cards after reading our in-depth guide.
Ireland is well known for its rugged and wild landscape, carefully carved out over billions of years. Downpatrick Head is a fascinating result that attracts many people to County Mayo.
Are you looking for your next adventure in Ireland? If so, a trip to this prominent rock formation on the west coast could be an ideal getaway. So, keep reading for our in-depth tips, highlights, and more.
Overview – about Downpatrick Head
Downpatrick Head is not just a fascinating sight, jutting out to the roaring Atlantic Ocean. Rather, it is a sight of historical importance. Thus, making it one of the top attractions for those embarking on a tour of Ireland's famous Wild Atlantic Way.
Just a few kilometres north of Ballycastle village in County Mayo, you will come across this 'hard to miss' sea stack. It is known to be one of Ireland's most photographed cliff sections and one of the best things to see in Mayo.
As mentioned, this place has incredible historical significance, given that it is associated with Ireland's patron saint, Saint Patrick, as is the rest of County Mayo, known as Saint Patrick's County.
Saint Patrick founded a small church on this sea stack. In addition, this area was the main pilgrimage trail, just like the mountain of Croagh Patrick. Therefore, making it a fantastic place for history buffs and cultural enthusiasts to discover.
When to visit – the best time to explore
As we know, the weather in Ireland is unpredictable at the best of times. Still, to get the best chances of good weather, it is advisable to visit this area between May and September, when the weather is favourable.
However, it is worth noting that the steep cliff edge here is exceptionally high with no safety barrier protection. Therefore, it is not advised to go during rain or windy conditions.
The summer season is the peak tourist season in Ireland. At this time, the weather presents clear, dry, and sunny days, which makes this a perfect time to visit this site.
However, to avoid crowds, it is best to visit early in the morning, or even better, at during the late evening when the sun can be seen going down over this magical setting below the sea – a stunning sight to behold.
What to see – the main highlights
Dun Briste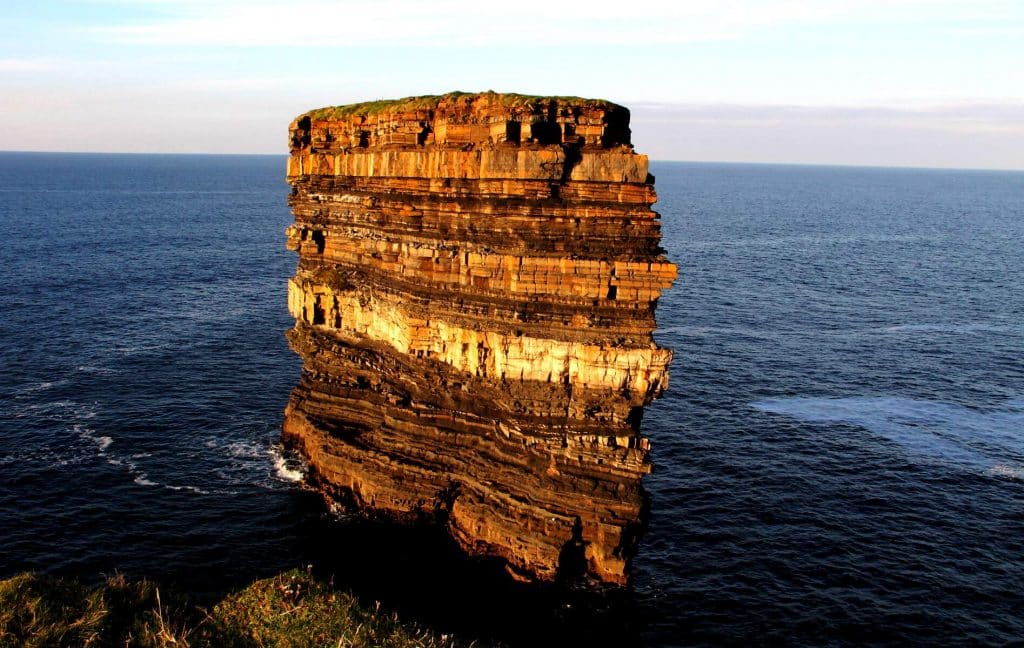 Translated from Irish, this means 'Broken Fort' and is the name given to the sea stack you see jutting out into the ocean from Downpatrick Head.
This incredible formation was once joined to the mainland, but over time it has become separated and now isolates itself off the wild west coast of the country.
It stands at 45 m (150 ft) tall, and the surrounding stunning cliffs date back to a whopping 350 million years ago, which is hard to believe when witnessing it in person.
As you can imagine, this inaccessible sea stack makes an ideal spot for birds to nest. So, bird watchers will be in their element when visiting Downpatrick Head.
St Patrick's Church
Crowds gather on the last Sunday of July each year at the site of the ancient church ruins. This is known as Garland Sunday when an open-air mass is celebrated along the spectacular headland.
If you happen to be here during this time, this is a fantastic experience, so plan accordingly if you don't want to miss this event (subject to weather conditions). Also, keep an eye out for the holy well and stone cross, which can also be seen here.
Eire 64 Sign
Not only does Downpatrick Head have geological significance, but this area was also used as a lookout post during World War II. It is home to one of many Eire sign aerial markers scattered along the coast can be seen here.
Lookout for Eire 64, a signal to aircraft flying overhead to let them know they were flying over neutral Ireland.
Ceide Fields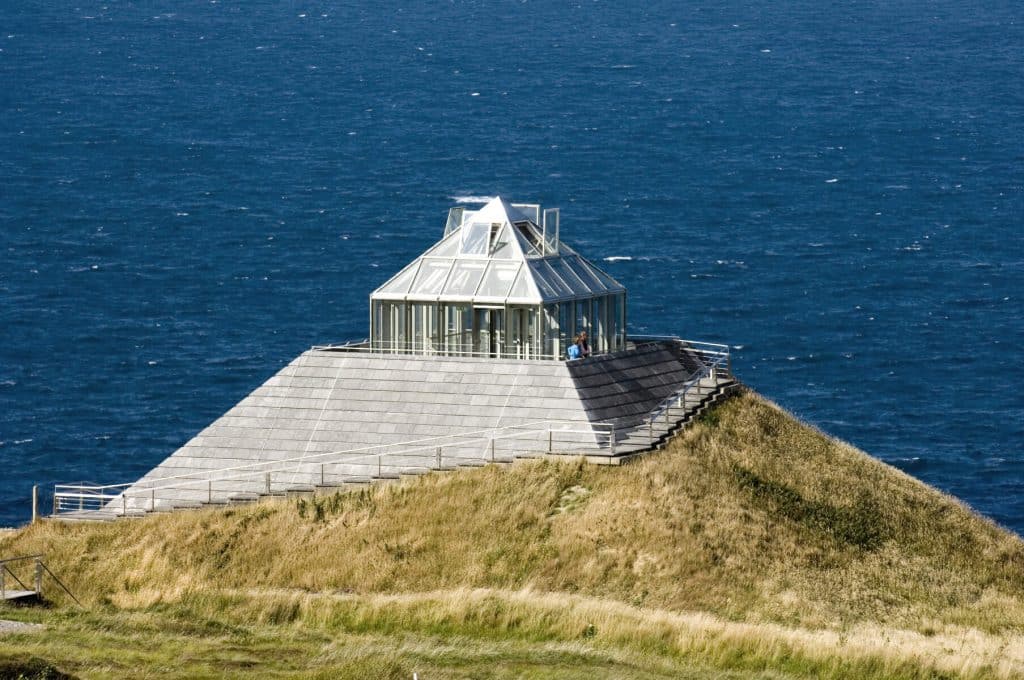 Just 14 km (8.7 miles) from Downpatrick Head, you can visit the Ceide Fields Visitor Centre and Historic Site, which dates back to 6,000 years.
Known as 'the world's most extensive Stone Age monument,' this award-winning visitor centre is one of the top attractions in the country, especially for those interested in Irish culture, history, and ancient ruins.
If you plan to visit, the cost is €5.00 for an adult, €4.00 for a group/senior, €3.00 for a child or student, and €13.00 for a family ticket.
Downpatrick Head Blowhole
Downpatrick Head Blowhole is a unique formation also called Pul Na Sean Tinne, which means 'hole of the old fire'. It is essentially a naturally formed inland tunnel that erupts when the enormous Atlantic waves surge through the gap.
There is a viewing platform, and it is incredible to witness this during stormy weather when the force of the water sends foam gushing through the hole. However, we advise viewing this from a distance, exercising extreme caution.
Things to know – some helpful tips for visiting Downpatrick Head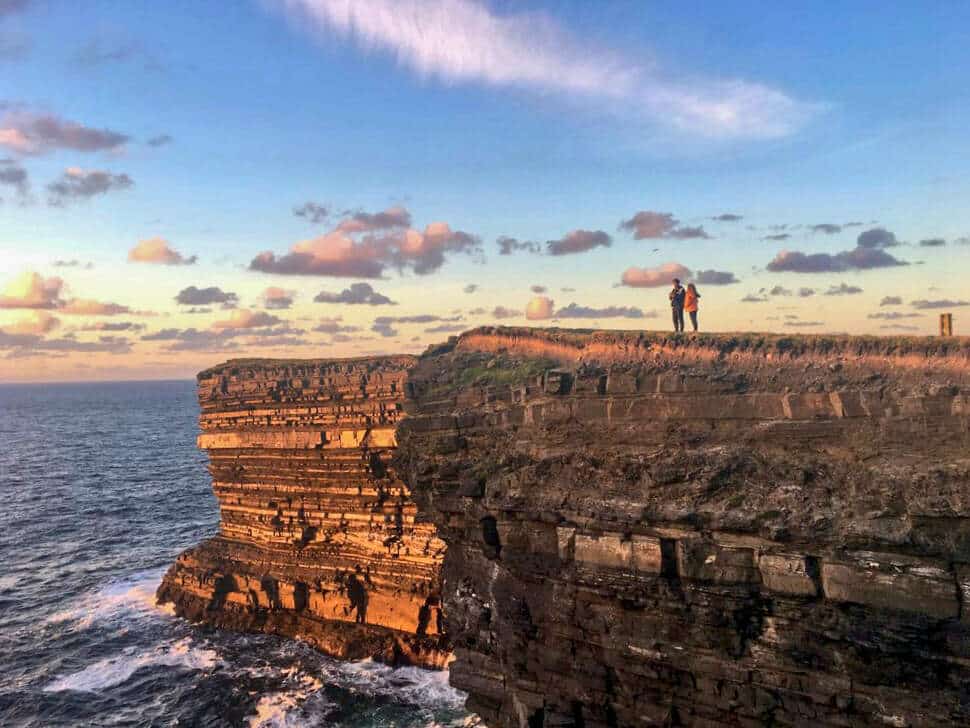 If you have children, take great care of the sheer cliff edge. Also, note that dogs are not allowed in this area.
Book your tickets for the Ceide Fields in advance to avoid disappointment. It is an extremely popular attraction for visitors and can get booked out quickly in the summer months.
If you are a bird watcher, this is a perfect place to bring along your binoculars. Here, you can spot puffins, cormorants, and even kittiwakes.
Allow 15 – 20 minutes to walk to Downpatrick Head from the car park. Note that the sea stack of Dun Briste can be viewed but not accessed.
The ground can be very uneven. So, make sure to wear shoes suitable for the terrain.
Notable mentions
Benwee Head: Just 50 km (31 miles) from Downpatrick Head, you will arrive at Benwee Head, a great spot to take on a five-hour loop walk, capturing the stunning coastal region.
Belleek Castle: Belleek Castle is located 26 km (16 miles) from Ballycastle village. It is a great place to venture off to for an authentic Irish castle experience in Ballina, County Mayo.
Mullet Peninsula: This hidden gem is just a 45-minute drive away. It makes for a perfect getaway to discover some unspoilt nature, with many idyllic beaches and unbelievable views to enjoy.
Broadhaven Islands: From Downpatrick Head, you can enjoy spectacular views of the Staggs at Broadhaven Islands.
Moyne Abbey: Take a trip to this 15th-century Christian abbey. It is now in ruins but makes for a fascinating walk around. Witness the Gothic architecture within these impressive ruins and step back in time to ancient Ireland, which makes for a truly historic experience.
FAQs about Downpatrick Head
How was Dun Briste Sea Stack formed?
The Dun Briste sea stack, which was once attached to the west of Ireland's mainland, took millions of years of erosion to separate. Some minor changes can be spotted each year as it continues to erode.
Is there parking at Downpatrick Head?
Yes, there is a sizeable car park at Downpatrick Head. However, get there early, especially if you have a larger vehicle, such as a campervan, to get a space.
What is there to see near Downpatrick Head?
You can visit the historical Ceide Fields. Alternatively, do the loop walk at Benwee Head and hike to the top of Croagh Patrick.
Alas, if you have not yet set foot in this part of Ireland or have not seen the sights we have mentioned, this is your sign to add it to your bucket list when planning your next Irish trip.
Downpatrick Head and surroundings have so much to offer that the whole family will thoroughly enjoy.