The cast of Derry Girls will bring some Northern Irish craic to a special New Year's Day episode of The Great British Bake Off.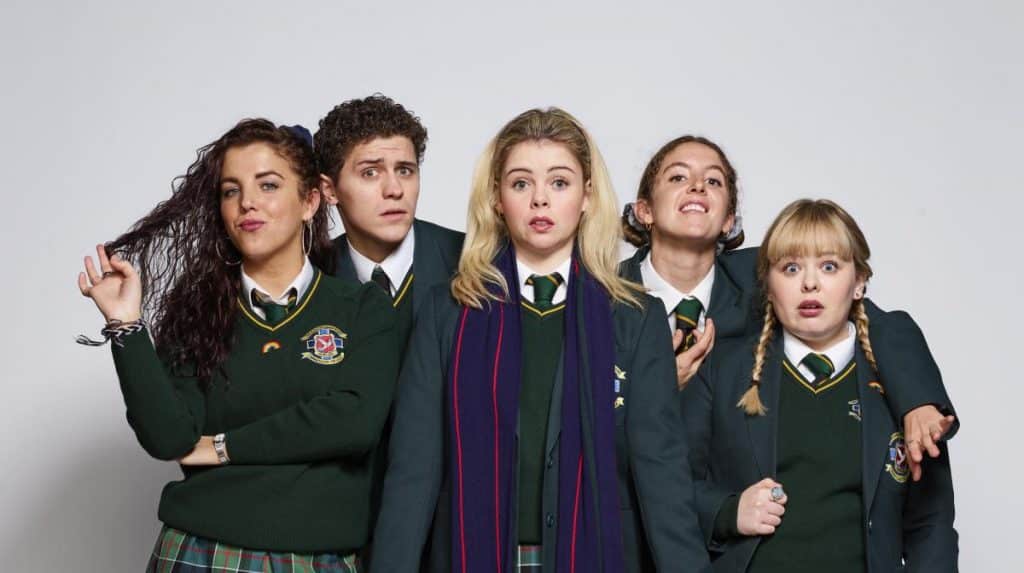 The cast of Northern Irish hit TV comedy Derry Girls will appear on The Great British Bake Off on New Year's Day, and we can't wait.
Any fans of the Channel 4 sitcom, set in Derry, Northern Ireland, will already be eagerly waiting the arrival of season 3, which will air in 2020.
Until then, the famous Bake Off tent will host three teenage girls from Derry, "one wee English lad," and one feisty nun in a very special episode of the popular show.
Festive fun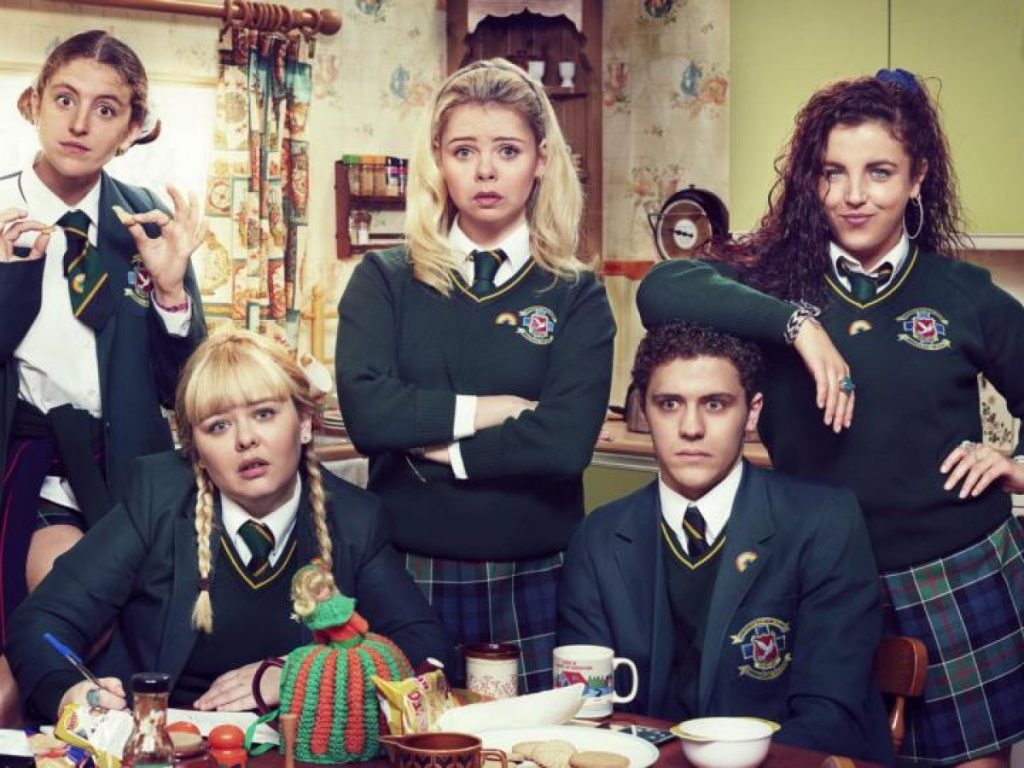 January 1 is a fantastic day for polishing off any remaining Quality Street in front of the TV, and The Great British Bake Off is the perfect show to watch.
To add mischief and mayhem, 2020 will kick off with a one night only appearance of the hilarious cast of Derry Girls in a Festival Bake Off Special.
Nicola Coughlan (Clare), Saoirse Monica Jackson (Erin), Jamie Lee O'Donnell (Michelle), Dylan Llewellyn (James) and Siobhán McSweeney (Sister Michael) will test their baking skills and no doubt cause quit a stir.
Actress Nicola Coughlan made the sweet announcement to the nation via Twitter but failed to give any details of what we can expect.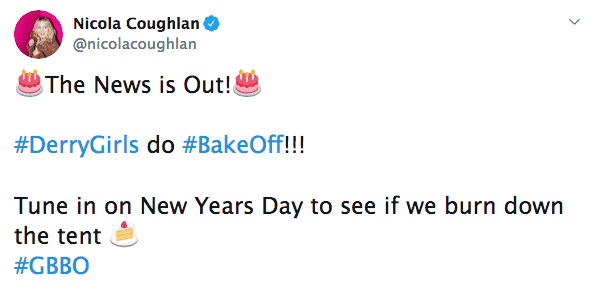 "The News is Out!" she tweeted. "#DerryGirls do #BakeOff!!!"
"Tune in on New Years Day to see if we burn down the tent," she teased.
The Derry Girls star went on to admit she now has "PTSD when I think about fondant icing" and that her nerves were "WRECKED."
But actress Siobhán McSweeney gave a more candid account of the New Year's Day plans, tweeting that recording "went as smoothly as you can imagine" but that "NO ONE made a holy show of themselves. NO. ONE."
We find that unlikely!
Impressing the judges
Bake Off judges Prue Leith and Paul Hollywood are renowned for their high expectations and are likely to put the Derry Girls' baking skills firmly to the test.
We can only imagine who will be the first to raise Prue's animated eyebrows or impress Paul enough to receive a much desired "Hollywood handshake."
The recent Bake Off series ended last month after David Atherton was crowned winner ahead of Steph Blackwell and Alice Fevronia.
More than 6 million viewers tuned in to watch the finalists reveal their "picnic" of baked goods, each treat to be cleverly disguised as something else.
A Derry merry Christmas, and a happy new year
Derry Girls is also very popular, with the Channel 4 series securing a BAFTA award nomination for its second run.
The storyline is based around four teenage girls from Derry during the Troubles of the 1990s and follows 16-year-old Erin and her eccentric family and friends.
English boy James joins the gang, and the five characters stumble through life getting into all sorts of mischief despite being under the watchful eye of Sister Michael.
A combination of these two fantastic shows can only make great viewing and will no doubt be a treat on New Year's Day, so make sure you tune in.