Howth is an electric little seaside village located on the North side of Dublin. This small-scale fishing village is ripe with things to do and makes for a fantastic place to spend the day, not forgetting the abundance of seafood in Howth to enjoy!
Historical ruins, sights of cultural interest, nature walks and scenic strolls exist alongside some of the most bustling bars and restaurants North of the River Liffey.
Plus, given Howth's successful fishing trade, it comes as no surprise that the seafood in Howth village fuels some of the best dining experiences.
Read on to check out the best catch in the quaint seaside town of Howth!
5. The Brass Monkey Restaurant and Wine Bar – for endless options
Situated on the West Pier in Howth Harbour is The Brass Monkey Restaurant and Wine Bar. This cosy little eatery doesn't exactly specialise in seafood – its main appeal is European tapas. Saying that they serve up some of the freshest seafood in Howth village.
The Brass Monkey operates as a laid-back restaurant as well as a wine bar, so it's the perfect stomping grounds for friends looking to catch up over a bottle of wine (or few).
Top dishes on the menu include the award-winning double smoked salmon and the award-winning Atlantic oysters straight from Sligo Bay.
Location: The Brass Monkey Restaurant and Wine Bar, 12 W Pier, Howth, Co. Dublin, Ireland
4. Beshoffs, The Market – for tradition
Most Irish people associate the name Beshoffs with the fish-trade, and if you're an out-of-towner, it won't take long for that connection to set in.
Many argue that Beshoffs offer the best fish and chip restaurants across Dublin, yet it's often overlooked that Beshoffs is also a prime fishmonger with its own market restaurant in Howth Harbour.
This grocer-cum-monger-cum-restaurant is perfect for those who want to check out their meal before they chow it down. An "on the ice to on the plate" relationship is exercised here, and it's the perfect spot for those who want to do their weekly shop while grabbing some of the freshest caught fish in all of Dublin.
Top tip: for those who don't like to see (or smell) freshly caught fish right before their meal, this one is not for you.
Location: Beshoffs, The Market, 17-18 W Pier, Howth, Co. Dublin, Ireland
3. Octopussy's Seafood Tapas – for seafood tapas
It's true this spot first garnered most attention for its name, but once locals and tourists started to try out this tasty seafood tapas spot in Howth, they were hooked.
All of the fish served in Octopussy's is procured from the monger next door, Doran's on the Pier, who get it straight from the fishing boats, ensuring transparency with every bite.
On top of that, fish not sourced from Doran's comes straight from Octopussy's own sea trawler, "The Celtic Fisher". The tapas style menu omits the concept of starters and mains, so expect to muck in with a spread of authentic and local dishes.
Location: Octopussy's Seafood Tapas, West Pier, Howth, Co. Dublin, Ireland
2. Deep – for an upscale experience
Deep is a more upscale seafood dining experience in Howth. Specialising in a selection of top quality fish dishes, Deep offers an eclectic menu which delivers global fusion and local favourites.
The team behind Deep in Howth have too many accolades to count, and its mission is simple: to provide its customers with sustainably sourced, fresh and exciting seasonal dishes that resonate on the palate and leave them wanting more. And, with a loyal following to rival any other seafood restaurant in the locale, they seem to be doing just that.
Fish is supplied by local, Joe Caufield, while an independent farmer takes care of land-grown stocks. Weekend brunch offers a unique take on the classic "brunch menu", all the while the lunch and dinner menus at this seaside restaurant are some of the most popular in town.
Location: Deep Restaurant, 12 W Pier, Howth, Co. Dublin, Ireland
1. Aqua – for panoramic views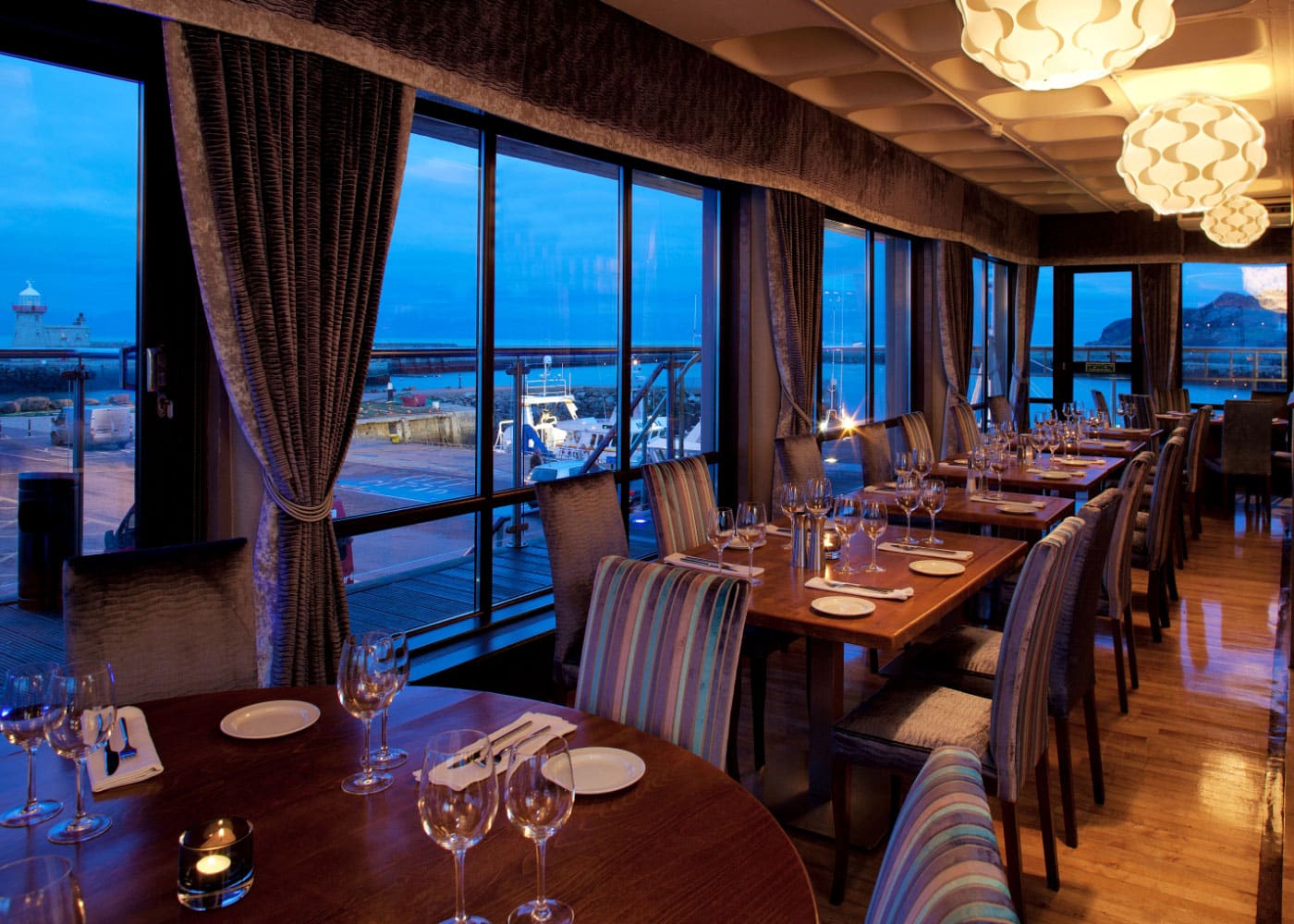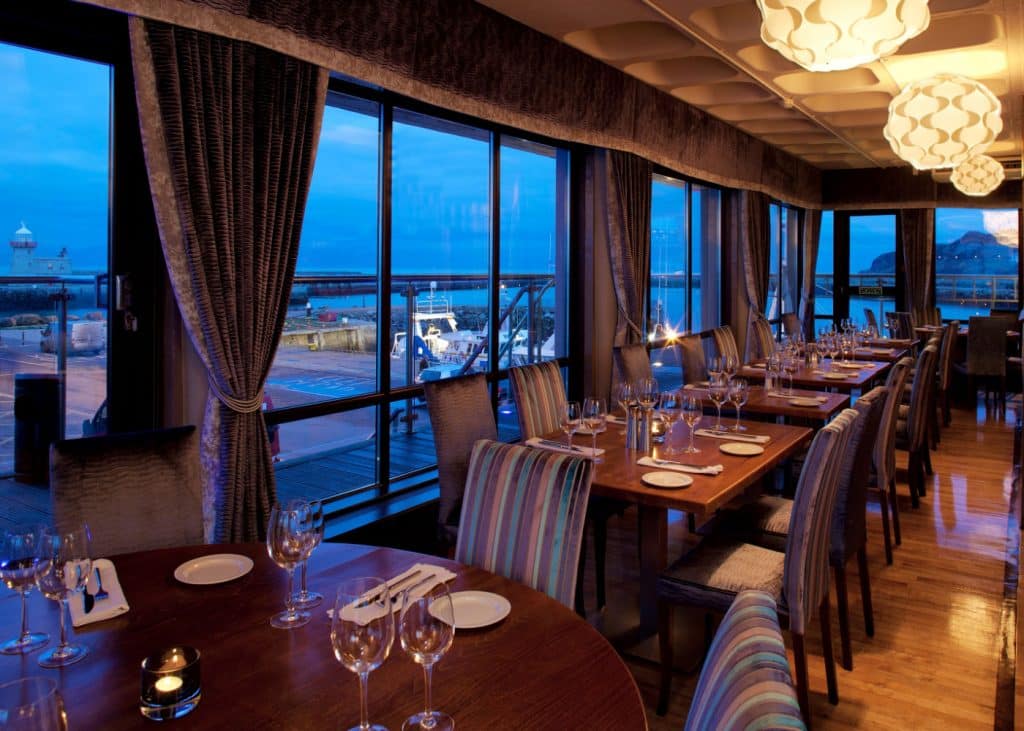 One of the most sought-after destinations for seafood in Howth has got to be Aqua, and this fine-dining experience doesn't fall short, by any means.
Set on the West Pier in Howth Harbour, Aqua pulls out all the stops from panoramic views (of the surrounding piers, yacht club and Ireland's Eye) to stellar service, top class cuisine and a wholesome setting.
Having won every award in the (Irish) culinary book – including Lucinda O'Sullivan to Good Food Ireland – Aqua promises to produce, and it does just that. For fine diners who love their seafood, this one is for you!
Location: Aqua, 1 West Pier, Howth, Co. Dublin, Ireland