From legends and family ties to modern-day depictions, here is all you need to know about Cú Chulainn, one of the most iconic Irish mythical demigods.
Ireland is a land of tall tales and ancient myth, stories passed down from generation to generation as the gospel of a cultural kind. The story of Cúchulainn is no exception!
Mythology runs through our veins here on the Emerald Isle, and many of these tales involve the demigod, Cú Chulainn.
Read on to learn all you need to know about this force to be reckoned with!
Overview – who was he?
Cú Chulainn is an Irish mythological demigod – a minor deity whose power and prowess made him the stuff of great legend.
The name can also be seen in literature spelt as Cú Chulaind, Cúchulainn, and Cuhullin. It translates to "Culann's Hound" in English.
Cú Chulainn frequently appears in the Ulster Cycle – one of the four prevalent texts of Irish mythology. The other three include the Mythological Cycle, the Fenian Cycle, and the Historical Cycle.
Family ties – Irish mythology
It is said that Cú Chulainn is the reincarnation of his father, the Irish god, Lugh. His mother, Deichtine, was a mortal and sister of Conchobar mac Nessa – the king of Ulster as documented in the Ulster Cycle.
As a child, Cú Chulainn was educated in the art of war, poetry, magic, and the occult. He was a worthy hurling player – one of Ireland's national sports – and was known for his mastery of the game.
The name he is associated with today, Cú Chulainn, was assigned during his youth when he famously slew Culann's dog. From then on, his reputation grew favourably.
Legends of Cú Chulainn – fantastical tales
There are endless legends surrounding Cú Chulainn, beginning with his birth, leading up to his death and even documenting his afterlife.
Throughout mythological texts, Cú Chulainn is seen as a noble warrior with seemingly limitless power, driven by purpose and passion, guarded by divine magic.
He is forever depicted as a distinguished fighter and is often seen alongside a 'gae bolga' (somewhat of a lighting spear), which obliterates opponents.
Most famous tales – you may know some of these
Some of the most famous stories, including Cúchulainn, are those that feature Queen Maeve (Queen Medb), his arch-nemesis. One of the most iconic texts of the mythological cycles is 'La Razzia des Vaches de Cooley' (or the Táin Bó Cúailnge in Irish).
As the Red Branch Knights leader, much of the writing details accounts of the demigod's run-ins with the queen of Connacht.
One of the most well-known legends surrounding their strife is when Queen Maeve discovered a great Brown Bull located in Cooley, County Louth. Of course, she wanted it all for her own.
When she was denied the bull, she called upon Cú Chulainn to settle the dispute. Queen Maeve offered him gold and precious goods if he relinquished the beast. Refused once again, she chose brawn over brains and called on her army to extract the bull with force.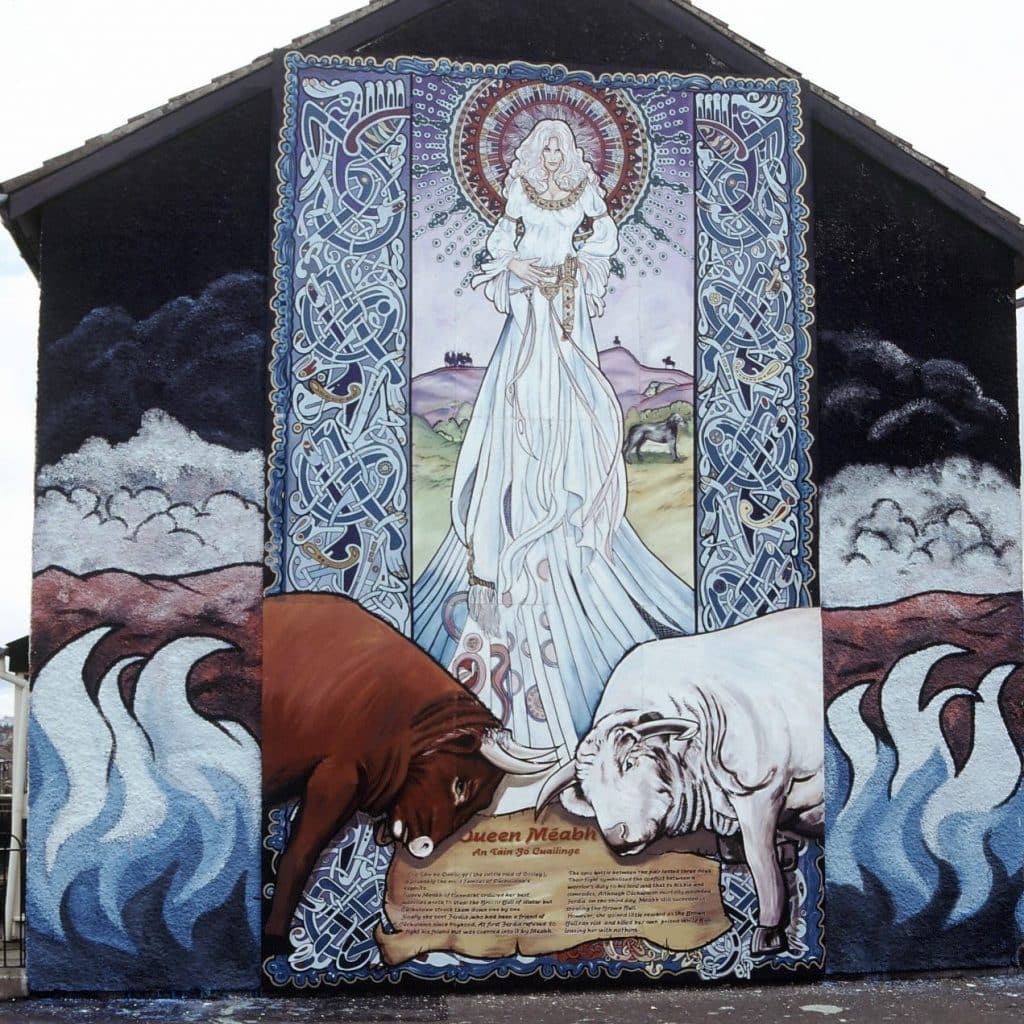 Although a lengthy and bloody battle ensued, Cúchulainn emerged victoriously – but this glory was short-lived. After some time, Queen Maeve rallied her troops once more to defeat the noble warrior.
Turning to the dark arts of magic, she finally defeated Cú Chulainn and succeeded by piercing the Irish mythological demigod with his own sword.
It is said that as he began to fade away, he tied himself to a high rock, his body poised in a standing position; he did not want to meet his maker lying on the ground, like a mortal.
Still and quiet for some time, it was only when a black raven landed on his shoulder that his enemies knew he was finally dead.
Depictions of the legend – Cúchulainn today
A mighty warrior, depictions of Cúchulainn have fed into modern culture. Both Irish nationalists (those who vie for a united Ireland) and unionists (those who follow the British Crown) support depictions of the mythological figure.
In addition, his portrayal can be seen throughout recent history, particularly during the Irish revolutionary period and Ireland's fight for independence.
In literature, Cú Chulainn is similarly present. William Butler Yeats, Ireland's preeminent scholar, poet and dramatist, painted the demigod in texts including On Baile's Strand (1904), At the Hawk's Well (1917), The Death of Cuchulain (1939), and the poem, Cuchulain's Fight with the Sea (1892), to name but a few.