The Emerald Isle currently experiencing a heatwave. Thus, there is no better time to head to one of the island's best beaches.
A County Mayo beach has been named one of the best in the world, beating tropical beaches in Hawaii and Fiji.
People across Ireland are looking for the ultimate staycation. So, a trip to one of the best beaches in the world could be on the cards.
The Wild Atlantic Way is renowned for its rugged coastal beauty, majestic cliffs, and rolling countryside. Now, however, it is being recognised for its golden sand beaches.
Who needs the Caribbean or Meditteranean? – Ireland's beautiful beaches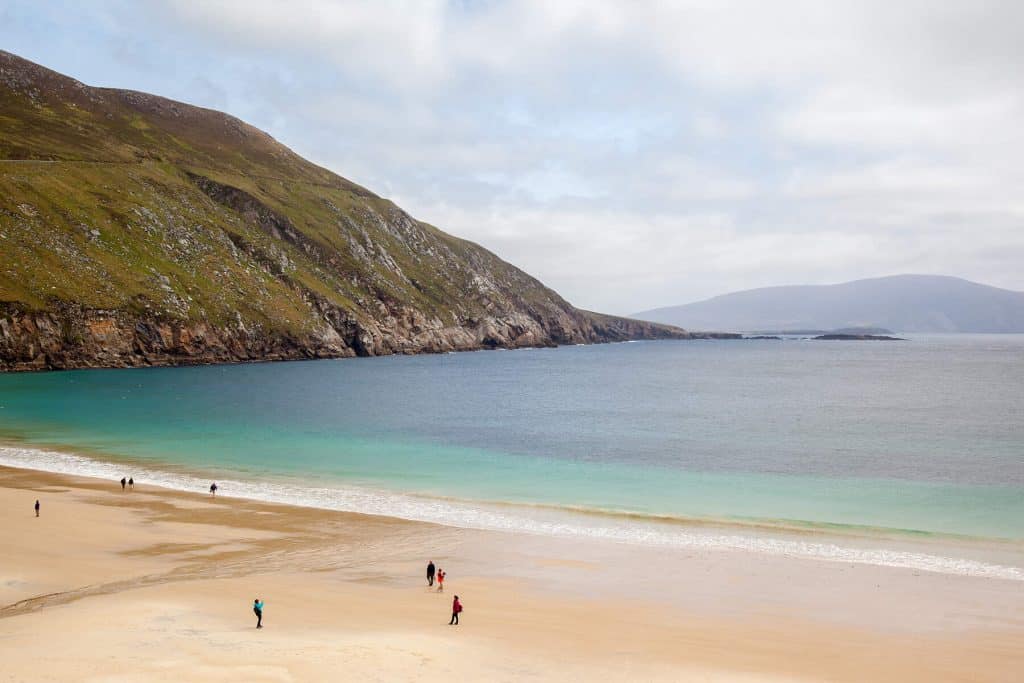 With international travel heavily restricted, many people are planning staycations for their 2021 summer holiday.
The Emerald Isle is currently experiencing a heatwave with temperatures reaching over 30 C (86 F). Thus, there is no better time for a County Mayo beach to be named one of the best in the world.
The gorgeous Keem Bay in Achill Island ranked 11th in a new list of 'The 50 Best Beaches in the World' by Big 7 Travel.
The beauty of the Wild Atlantic Way – sink your feet in the sand
Just missing out on the top ten, this stunning County Mayo beach was named one of the best in the world.
Known for its secluded location off the incredible Atlantic Drive and boasting tranquil turquoise water, Keem Bay is popular with both locals and tourists alike.
Naming the stunning strand one of the best in the world, Big 7 Travel wrote, "Keem Bay is a breathtaking rural and sheltered beach surrounded by cliffs on Ireland's largest island – Achill Island.
Its gleaming white sand rivals tropical islands and the water is superbly clear."
The best beaches in the world – you may be surprised by number one
As the stunning County Mayo beach is named one of the best in the world, ranking at number 11, you may be wondering where to find the top ten.
The top spot was claimed by the magical and remote Vaeroy Beach in Norway.
Norway may not be the first country that comes to mind when you think of white sand beaches. However, the island beach located on the Lofoten archipelago is a truly world-class spot.
Less surprisingly, Whitehaven Beach on Australia's Whitsunday Islands came in second place.
Fig Tree Bay in Protaras, Cyprus, was named the third best beach globally. Then, Grace Bay in Turks and Caicos took the fourth spot.
Coming in fifth is the magical Secret Lagoon in El Nido, Palawan in the Phillippines. Then, Reynisfjara Beach in Iceland came in sixth.
Source d'Argent in stunning Seychelles came in seventh, and Mexico's Playa Ruinas came in eighth.
Closing out the top ten, the phenomenal Kanuhura Maldives on the Lhaviyani Atoll was named ninth. Finally, the famous Pig Beach in the Bahamas came in tenth.