At the time of writing, coronavirus in Ireland is an ever-developing situation. If you are travelling to Ireland, here is what we know as of the date of this article.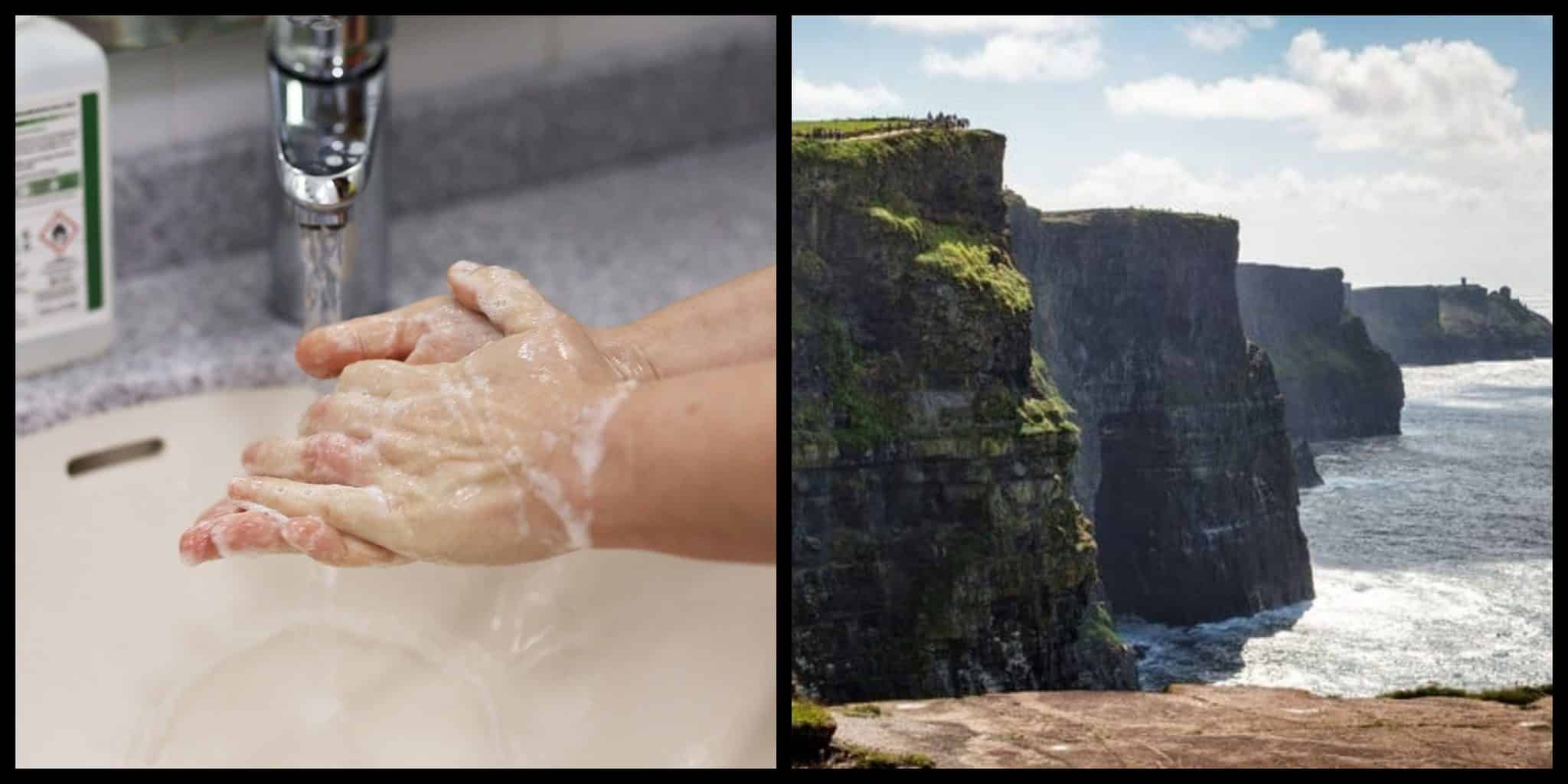 The coronavirus is currently spreading worldwide, and there have been confirmed cases in Ireland – the country is currently considered a low to moderate risk area.
The present advice indicates that basic preventative measures such as hand hygiene will significantly decrease your chances of contracting the coronavirus.
We write this article to reflect current advice around travelling in Ireland in relation to COVID-19, but be sure to check in with the HSE website (www.hse.ie) and the Department of Foreign Affairs website (www.dfa.ie) for the most up-to-date developments and recommendations.
How to protect yourself and others from the coronavirus in Ireland
Coronavirus is spread via droplets released by sneezing or coughing. If an infected person sneezes or coughs on a surface and you touch this surface, you risk spreading infection by then touching your own eyes, nose, and mouth.
This is why hand hygiene is the most effective way to prevent contracting the coronavirus in Ireland. If you are travelling around Ireland, carry a pocket hand sanitizer while out on any excursions so that you can clean your hands even when there aren't hand-washing facilities available.
Whenever you are at bathroom facilities, take the opportunity to thoroughly wash your hands in warm, soapy water.
Limit your physical contact with others – your tour guide won't mind you waving rather than shaking their hand!
Evidence indicates that wearing a face mask is not an effective way of preventing yourself from contacting COVID-19. However, if you begin to develop symptoms of coronavirus in Ireland, it may be recommended that you wear a surgical mask to prevent any potential infection from travelling to other people – more on the symptoms to watch out for in our next section.
Symptoms of coronavirus
If you do contract coronavirus, the symptoms will not present for about two weeks.
The symptoms of coronavirus are similar to that of a flu or a respiratory infection. They include coughing, shortness of breath, and fever. A full list of symptoms can be found on the HSE website.
Current advice indicates that if you have not travelled from an affected area or been in contact with those who have, these symptoms are most likely indicative of another form of infection. However, the only way to confirm this is through testing.
What to do if you present with symptoms
If you present with suspected symptoms of coronavirus in Ireland, it is better to err on the side of caution. You should ring a doctor rather than presenting to a surgery, and they will advise you from there.
If you have contact with a GP in Ireland, ring their surgery for a phone consultation. If you are in Ireland travelling and are not affiliated with a particular GP surgery, ring the national hotline on 1850 24 1850.
What will happen if I am diagnosed with coronavirus in Ireland?
If you are diagnosed with COVID-19 while in Ireland, follow the advice given by your doctor. This will likely include a period of self-isolation – meaning you will have to completely remove yourself from contact with other members of the public while recovering.
This may prove logistically challenging if you are a tourist, but helpline staff will be happy to advise you around the practicalities of self-isolation. It may also mean that you will not be in a position to fly home on your intended dates – it is best to check with your travel insurance provider around how this will affect you financially.
Will I be okay if I contract coronavirus in Ireland?
Most people will recover from COVID-19 successfully with just rest and fluids. However, there are high-risk populations for whom the virus can be more serious.
If you are over 60 or have a long-term medical condition, particularly a respiratory condition, you may require additional medical input. Again, your GP or the helpline will give you more specific advice around your specific case if you do contract coronavirus.
The risk of contracting the coronavirus in Ireland at present is relatively low – and if we follow current advice around containing the virus, this maximises the chances of a safe and healthy trip.