Glow Cork is a yearly event that takes place in Cork. So, if you've never been before, then you're in for a festive treat. Here is everything you need to know about the Cork Christmas Market.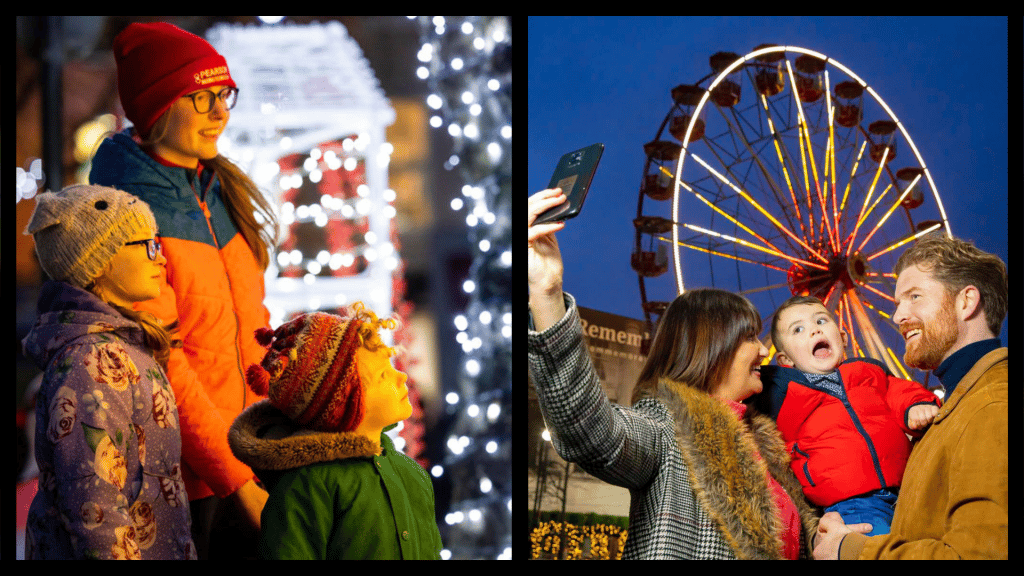 Christmas may be a few months away, but if you have ever celebrated Christmas in Cork, you will look forward to this special festive event, which no one should miss when in the city.
Cork city centre is always a bustling location, but it truly comes alive during the festive season. The main event, known as the Cork Christmas Market or Glow Cork, is a sight you need to feast your eyes on.
So, believe us when we say that Christmas starts when Glow comes to town. So, here is all you need to know to get involved in this fun, festive event for all ages.
Overview – about Cork Christmas Market
Firstly, let's tell you a little about Glow Cork and what to expect from this much-loved festival in the city. We are still a little while away from Christmas 2023, but if previous Cork Christmas festivals are anything to go by, then we are in for one hell of a festival.
With entertainment for children and their parents, as well as heaps of festive food to munch on, not to mention a host of musicians to get you on your feet, there is something for everyone who appreciates the best time of the year.
Even if a Grinch exists in your life, we are sure this epic Corkonian festival will sway them. So, make sure to bring them along.
When it comes to the details, we've got it all here for you. So, let us guide you towards what you can expect from this yearly event and how to make Christmas 2023 the best one yet.
If you need a place to stay, we might have a good suggestion on this list of the most magical hotels in Ireland to spend Christmas.
What to see – the main events
The festival all begins with Bishop Lucey Park being transformed into a magical Christmas market. We are still in the dark about what the 2023 theme will bring. However, that keeps the excitement brewing within us.
At Cork's 12-day Christmas Festival, you can expect to see a gigantic Ferris wheel at the Grand Parade, which caters to the brave, a host of food stalls dedicated to the food lovers out there, and Christmas music hits within the park to get you in the festive mood.
Glow Cork ‒ what not to miss
One of the biggest attractions, and perhaps the main reason the festival is known as Glow Cork, is the fact that every weekend of the festival, there is a different static light installation.
Together, these events tell the story of the 12 days of Christmas in the four weekends leading up to the big day. Cork Christmas Market is a magical winter wonderland that draws you in and keeps you entertained for not just a few days but a few weeks.
Along Cork's Grand Parade, you will find the majority of the markets, which offer a fantastic chance to get some handmade gifts, try some delicious food, and watch the world go by as you sip on some warm mulled wine or hot chocolate.
Take your time as you wander around the local artisan stalls, where there will be plenty of inspiring gift ideas, souvenirs, and the chance to chat with the locals. After all, everyone is always in a fantastic mood at Christmas.
How to get there – planning your visit
So, if we have convinced you to add this incredible Christmas event in Cork to your calendar for 2023, you might want to know how to get there.
Bishop Lucey Park is right in the heart of Cork City, just a few minutes from the English Market and a ten-minute walk from Cork's central bus station. So, if you are going by bus, you will arrive at Parnell Place and won't have far to walk to attend the event.
If you plan to go by car, there are a few places to park, which we will mention in detail a little later. However, it is worth noting that you can take taxis or Ubers in and around the city, too.
Finally, if you are planning to take the train from other parts of the country, you will arrive at Kent Station, the central train station in Cork, which is a 20-minute walk to Bishop Lucey Park.
Cork Christmas Market Address: Bishop Lucey Park, Cork City, County Cork
Where to park – parking options in the city
Are you planning to drive to the Cork Christmas Market? If so, it is advised to arrive early to beat the traffic and to find a parking space. Some options for private and secure parking garages include:
Q Park Grand Parade
Park It Here
Union Quay Carpark
All these can be booked online. Still, you can also choose to park on the city's outskirts and take a taxi or bus into the centre, as free parking in the centre is a rarity.
Helpful Info – extra bits to know
Glow Cork ran from 25 November 2022 to 5 January 2023 this year. However, details for 2023 are subject to confirmation.
You may expect to see The North Pole Express Train, Santa's Workshop, and plenty of local choirs and bands during the event.
Access to the markets and Bishop Lucey Park is free, one of the best free activities in Cork around this time of year. However, there are also ticketed events, such as the Ferris wheel. This costs €4.00 per adult, €3.50 per child aged three and over, and €2.00 per child under two.
The market will be open from around 12 pm to 8:30 pm. Bishop Lucey Park will be available from 4:30 pm to 8:30 pm.
Bring cash so you can make the array of food trucks and market stalls, offering goods from Cork craft experts.
Notable mentions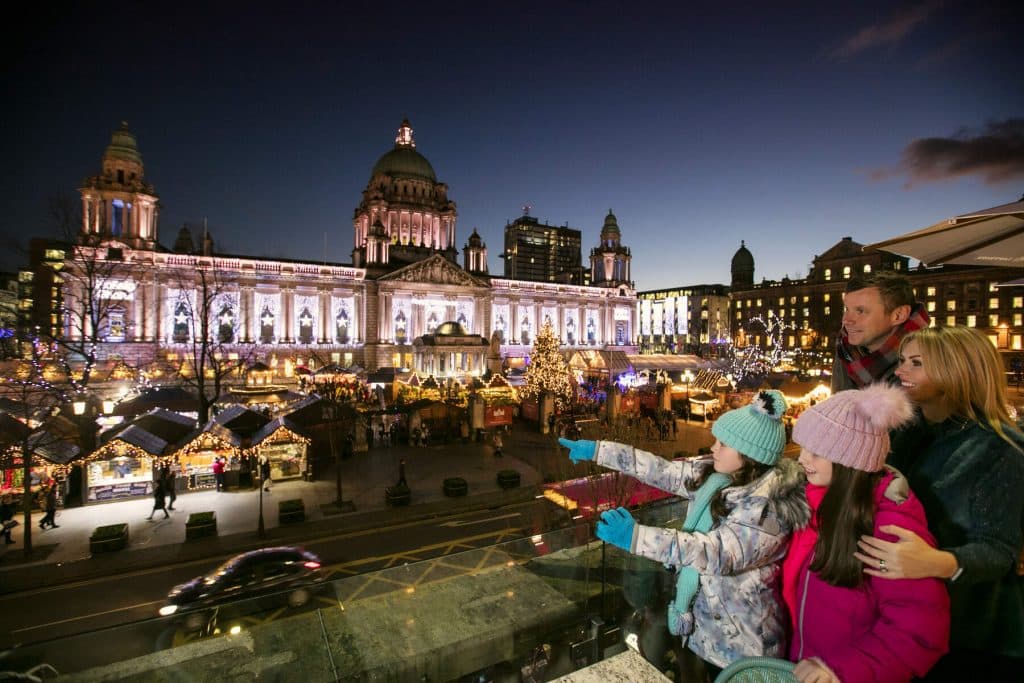 If you find yourself elsewhere in Ireland, there are plenty of fantastic festive markets worth checking out.
Dublin Castle Christmas Market: Located at the historic Dublin Castle, this Christmas market is home to craft stalls, music events, and delicious food.
Galway Christmas Market: Eyre Square is transformed into a magical festive wonderland. There is an array of wooden chalets, carousels, and food stalls to enjoy.
Belfast Christmas Market: Why not head to Belfast City Hall this year to try some festive international foods, have a pint in the beer tent, and enjoy the magical Christmas atmosphere of the city?
Waterford Winterval: Head to Waterford City. Here, you can expect to witness the massive Waterford Eye, try ice skating, and indulge in some festive treats.
FAQs about the Cork Christmas Market
What's on in Cork for Christmas?
Many pubs and clubs host their own events. Still, there is also the Cork Christmas Market and various festive concerts to attend in the city.
What date are the Christmas lights switched on in Cork?
The tremendous festive lights are traditionally switched on by the Lord Mayor of Cork on 18 November each year. However, local councillors have called for the light switch on to be delayed until 8 December due to rising energy costs.
Where can I see Santa Claus in Cork?
You can visit Santa in many places around Cork, including Fota House, Leahy's Farm, Cork North Pole Outpost Experience in Cobh, and Patrick Street in Cork City.
So, if you find yourself in Cork this Christmas, you can certainly look forward to this incredible event. Cork Christmas Market, also known as Glow Cork, will be a sight to behold. We are certain it will make for a lifetime of memories this festive period.
Are there other Christmas Markets in Ireland?
Yes, there are the Dublin Christmas Market, the Galway Christmas Market, and the Belfast Christmas Market.
Get featured on Ireland Before You Die
Do you want to get your Irish business more online exposure? Especially to those interested in travelling the best places in Ireland? Then why not get a dedicated feature on Ireland Before You Die. Find out more 
here.