The Cliffs of Moher cliff walk is one of Ireland's most majestic coastal trails; read on to learn all you need to know before planning your visit.
Visiting the Cliffs of Moher, which is one of the most beautiful places in Ireland, is one of the best things to do in Ireland.
Spanning 16 kilometres (9.9 miles) along the west coast, the Cliffs of Moher cliff walk is the most memorable way to discover these towering cliffs that hang over the wild Atlantic Ocean and many movies feature the Cliffs of Moher.
Ireland Before You Die's top facts about the Cliffs of Moher
The iconic Cliffs of Moher can be found on the western coast of Ireland in County Clare. It majestically overlooks the Atlantic Ocean, and so forms part of Ireland's Wild Atlantic Way.
The Cliffs of Moher are an imposing sight. They stand at around 214 metres (702 feet) high and stretch for a total of 14km (8.7 miles) along the western coast.
If you are lucky to visit the Cliffs of Moher on a (rare) clear day in Ireland, you will be blessed with views as far as the Aran Islands, the Twelve Bens mountain range, and Galway Bay.
The Cliffs of Moher are also part of the UNESCO Global Geopark. This is because they are millions of years old and are formed from sandstone and shale.
With all that said, is it any wonder that the Cliffs of Moher are one of Ireland's premier tourist destinations? It is estimated that a total of around 1 million people visit the site annually.
Basic info – the essentials
Route: Cliffs of Moher cliff walk
Distance: 16 kilometres (9.9 miles)
Start / End Point: Liscannor/Doolin
Difficulty: Strenuous
Duration: 4.5 hours
Overview – in a nutshell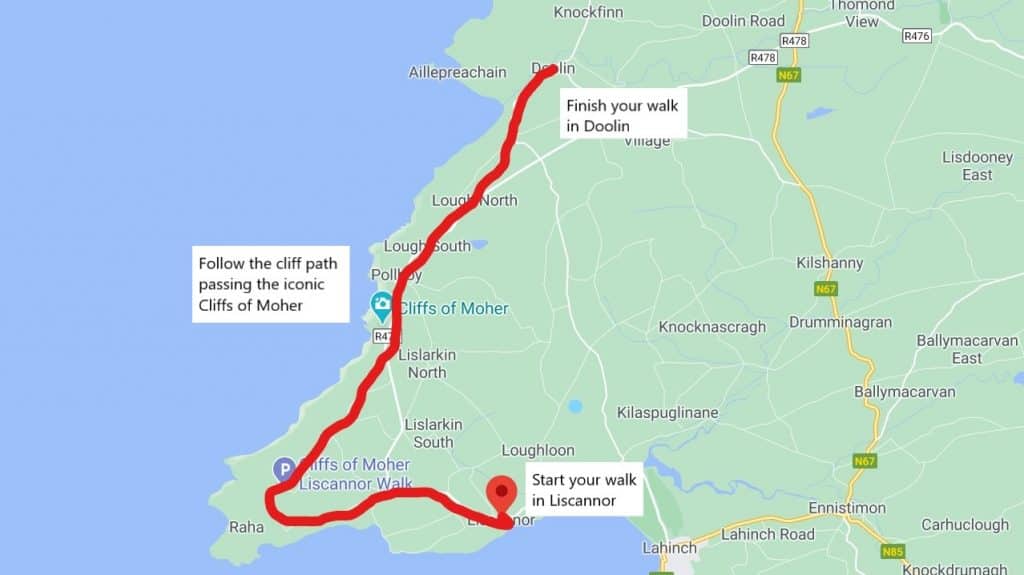 The Cliffs of Moher are iconic. Located in County Clare, they endure as one of Ireland's most beloved natural attractions due to their sheer size and impressive beauty and a visit here is known to be one of the best things to do in Europe.
Each year, approximately 1.5 million people visit these cliffs, which span 14 kilometres (8.6 miles) along the coastline. Towering at 702 feet (214 metres), it's needless to say: they are a sight for sore eyes.
If you're planning to experience this epic attraction, one of the best ways is via the Cliffs of Moher cliff walk.
Stretching from Liscannor to Doolin, the route takes walkers along the cliff paths, offering spellbinding views from the top. Begin from either direction: both Liscannor and Doolin are towns as charming as one another.
When to visit – the time in question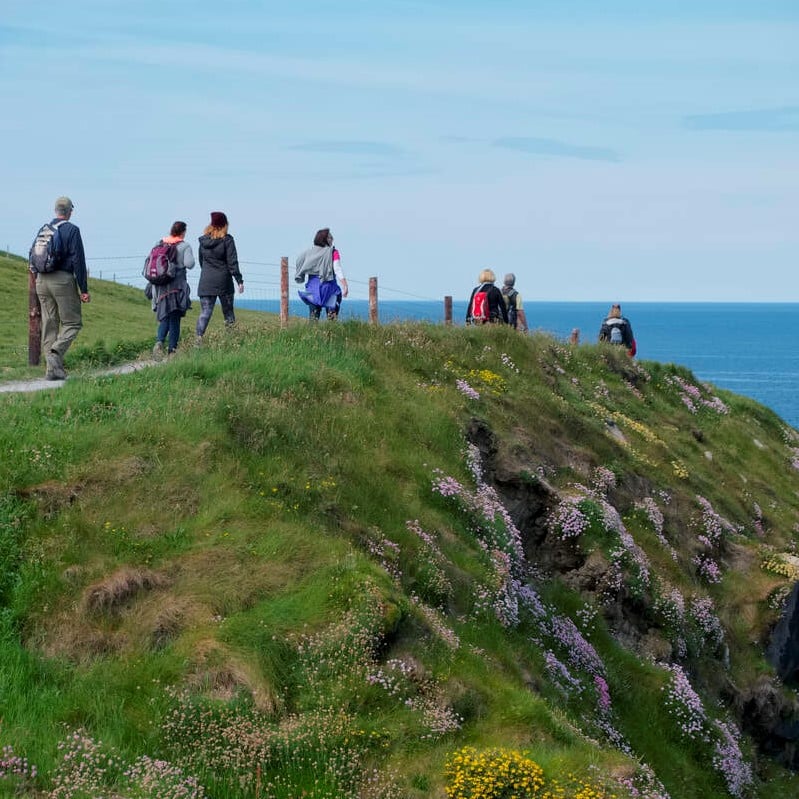 The best time to tackle the Cliffs of Moher cliff walk differs from person to person. If warmer days are a defining factor, summertime is your best bet. Saying that, this is the trail's busiest period.
Spring and autumn are always the finest time to visit attractions in Ireland, in our opinion. The days can often be balmy, and with fewer visitors in the area, your experience is likely to be more laid back.
Winter is Ireland's coldest and wettest season. However, it also is a great time to visit the Cliffs of Moher cliff walk: unspoilt and serene. The cliff trails will be populated by only a handful of locals and out of towners during these months.
What to see – make the most of your visit
The Cliffs of Moher cliff walk is all about the great outdoors. Make sure to breathe it all in as you wind your way around the cliffs, taking in the stunning views and vistas.
The trail begins and ends in the towns Liscannor and Doolin – both brimming with traditional Irish character and charm. Make sure to find time for a good pub dinner and a pint of the 'black stuff' (aka Guinness) on completion of your Cliffs of Moher cliff walk.
READ MORE: See IB4UD's article on the top 5 amazing movies that feature the Cliffs of Moher
Direction – how to get there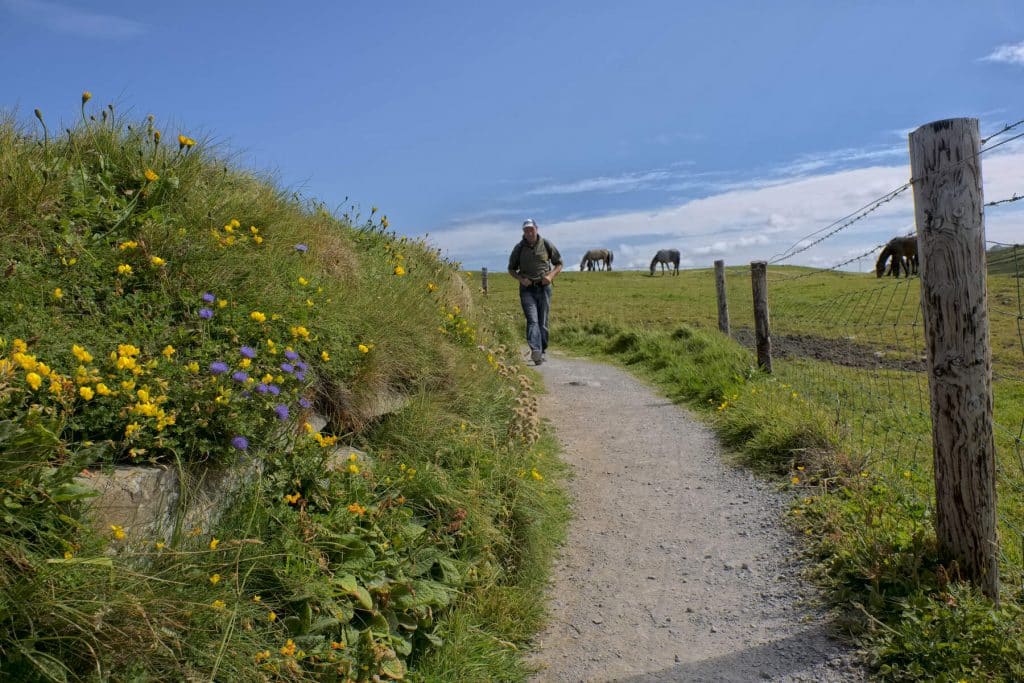 This is a linear walking trail, so you can choose in which direction to begin. We suggest starting from Liscannor and finishing Doolin.
Given the latter's love for traditional Irish music, there's no finer way to congratulate a job well done than with an impromptu trad session alongside the locals.
RELATED: If you are travelling from Galway, then have a read of our article on Galway to Cliffs of Moher: distance, travel options, tour companies, and things to see on the way
Distance – the time it takes
The Cliffs of Moher cliff walk is a demanding route. At 16 kilometres (9.9 miles), this strenuous trail is best for experienced hillwalkers and hikers.
The hike should take about 4.5 hours in total, and along the way, you can expect to encounter steep ascents and descents, uneven footing, farm fences, and muddy tracks, as well as narrow cliffs paths that sit abreast to the sheer cliff face.
Proceed with caution and take your time along these more challenging parts.
Where to park – insider tips
Simply find parking in whichever town you are beginning at (either Liscannor or Doolin) and head off on your walk.
After COVID lockdowns, the Cliffs of Moher Coastal Walk Shuttle Bus did not resume service.
This 16-seater shuttle bus service used to offer a hop-on, hop-off ticket system at eight stops along the coast. So, your best bet now is to take a taxi between the stops you wish to see if you don't have your own transport.
The public 350 bus goes between villages and the Cliffs of Moher Visitor Centre, but you need to walk to the trail from the village, so driving or taking a taxi are the most convenient routes.
What to bring – the essentials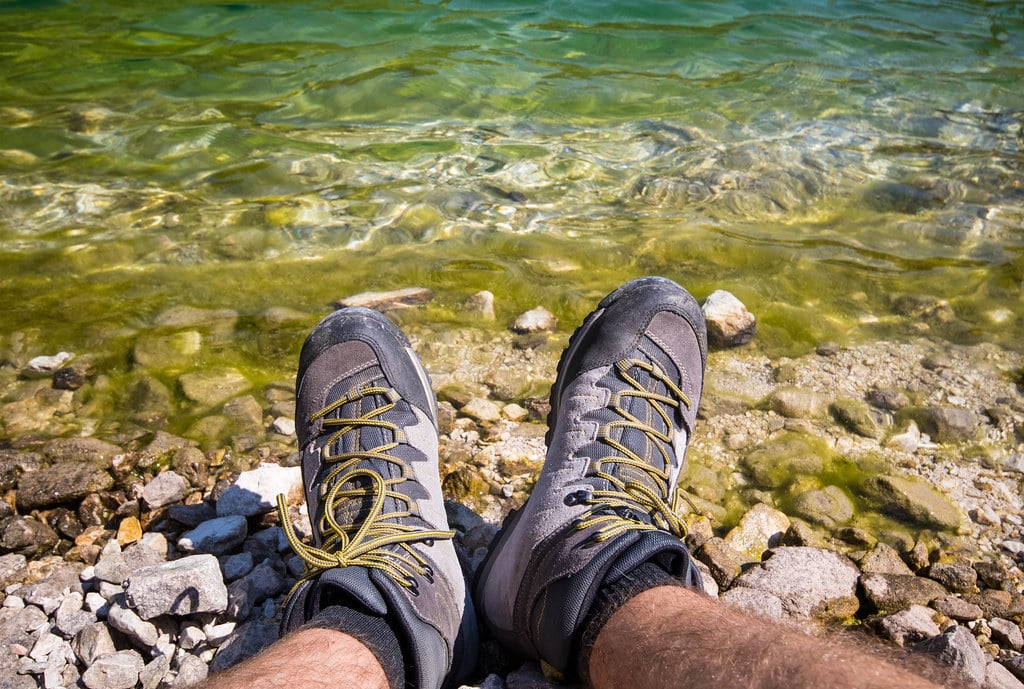 This is not a hike for the fainthearted. Make sure to wear appropriate footwear that is durable and suitable for all terrains. A trusty rain jacket is also essential when embracing the outdoors in Ireland.
As there will be little opportunity to avail of facilities along the route, make sure to pack ample snacks, supplies and water.
READ MORE: For more tips and advice on the Cliffs of Moher, have a read of our piece Cliffs of Moher: when to visit, what to see & things to know
Where to eat – for the foodies
Grab a cake and coffee to kickstart your Cliffs of Moher cliff walk at Moher Cottage in Liscannor.
Later, stop by Gus O'Connor's in Doolin – the town's most popular pub offering live music and hearty nosh nightly.
Where to stay – for a restful night's sleep
Doolin Inn is a charming three-star hotel for those who seek to find a home away from home. Alternatively, the four-star Hotel Doolin is unpretentious and inviting with an added dash of comfort.
If you choose to take the trail in the opposite direction, we suggest you bed down for the night at Vaughans Anchor Inn – a pub and guesthouse oozing with traditional charm and character.
Your questions answered about the Cliffs of Moher cliff walk
Read our article on the Cliffs of Moher cliff walk and still have some questions? Not to worry, we have you covered! Below are the most frequently asked questions about the topic from our readers and online.
How long is the walk along the Cliffs of Moher?
The walk will take around 3 hours. This goes through a gravel path and will end up at the Cliffs of Moher visitor centre. People also start at Doolin town and do the 8km (4.97 miles) walk to the centre.
Is the Cliffs of Moher a hard walk?
The walk in and around the Cliffs of Moher isn't tough itself, but you can make it harder. For example, people do the walk from Doolin and the Cliffs and back, and can take up to 7 hours to complete.
Can you walk Cliffs of Moher without paying?
Yes. You can walk the cliffs themselves for free. However, a fee would be required to enter the visitors centre.
Do I need hiking boots for Cliffs of Moher?
They are not essential to your walk on the Cliffs of Moher, however, like any trial, they would be extremely useful to have.
MORE IB4UD ARTICLES ON THE CLIFFS OF MOHER
The Cliffs of Moher Boat Tour is one of the most incredible Irish experiences
Cliffs of Moher ranked among world's most popular selfie spots
Cliffs of Moher Harry Potter scene: how to visit and all you need to know
Cliffs of Moher sunset guide: when to visit, what to see, and things to know