The West of Ireland offers a landscape so stunning it boasts the longest defined coastal touring route in the world.
The Wild Atlantic Way, which runs from Malin Head in Donegal to Cork's Kinsale Harbour, is an awesome way to explore the epic views and hidden gems dotted along the rugged coastline.
And nestled right in the heart of this stunning coastal path is Clare, a county so beautiful it would take your breath away.
Offering the raw beauty of The Burren and the jaw-dropping views from the famous cliffs of Moher it is hard to beat.
But natural wonders are not the only features Clare has to offer. It is the perfect place for family fun, raising a glass with the locals and making memories that will last a lifetime.
Here are our top 10 things you simply must experience in Clare before you die.
10. Loop Head
Flanked by the Shannon Estuary and the wild Atlantic, Loop Head peninsula in West Clare is a place of natural beauty and awesome landscape.
It was used as a film location for Star Wars: The Last Jedi and is a popular spot for Trekkies all year round.
Loop Head is also home to a famous lighthouse that offers the public a chance to climb its 75 feet and enjoy panoramic views from the balcony, the ideal spot to blow away any cobwebs!
You can even make a night of it and stay at the Light-keepers' house.
Location: Kilbaha South, Co. Clare, Ireland
9. The Burren
The Burren is a vast area of North West Clare known for its 'lunar-like' landscape, rare orchids and archaeological finds.
Explore the limestone hills of The Burren National Park for a truly spectacular experience.
Enjoy a walk on Fanore beach with The Burren backdrop and gentle lowing of cows dotted around the surrounding fields.
Visit the Burren Perfumery and take home a little piece of heaven…. There is nowhere quite like it.
Location: Co. Clare (and a little of Co. Galway), Ireland
8. Tea at Father Ted's House
Go on, go on, go on! A visit to Clare would not be complete without tea at Father Ted's house.
Available by appointment only this unique experience lets you visit Glanquin House, the property used in the popular sitcom, have a cup of Mrs Doyle's precious liquid gold and chat about some of your favourite 'Ted' moments.
The farmhouse is a family home with a warm welcome only found in Ireland.
So why not complete your trip to the West with a cup of tea? You will, you will, you will!
Address: Glenquin House Glenquin Kilnaboy, Ennis, Co. Clare, V95 VY2F, Ireland
7. Lisdoonvarna Matchmaking Festival
Looking for love? Well forget Tinder and get yourself to Lisdoonvarna this September for some good old fashioned 'on the pull' action!
From August 30 until September 29 Lisdoonvarna in Co. Clare is thronged with hopefuls looking for love.
The Matchmaking Festival runs over five weekends during which the streets come alive with music, dance and some serious flirting.
The sun is setting on summer and people travel from all over the world to find 'The One' before the year's out.
Address: Main St, Rathbaun, Lisdoonvarna, Co. Clare, V95 RY61, Ireland
6. Doolin Cave
In 1952 two Englishmen discovered a cave in Doolin. After a tediously long crawl, the brave pair made a stunning find, the longest stalactite in Europe!
Hanging at an impressive 7.3 metres in length and weighing around 10 tonnes, it is a natural wonder that can only be appreciated up close.
The tour takes around 1 hour with a guide who really knows his stuff. It does involve a staircase (127 steps to be exact) taking you more than 70 feet underground so is not for everyone but once down it is a careful walk through the cave until you reach the stalactite.
And what a sight! Suspended from a mere crack in the ceiling it hangs majestically like a magnificent chandelier. It is a must-see on a visit to Clare.
Address: Craggycorradan, Doolin, Co. Clare, Ireland
5. Lahinch waves
Surf's up! Lahinch beach is renowned for its awesome waves and stunning stretch of golden sand.
It is a fantastic spot for some summer fun. Three surf schools offer individual and family lessons and there are lots of places to eat in the town.
To experience some of the best surfing this side of the Atlantic Lahinch is the place to be!
Address: Ennistymon Rd, Dough, Lahinch, Co. Clare, Ireland
4. Bunratty Castle and Folk Park
Most parents will understand travelling with children can be challenging at times but never fear! Clare has one of the most fantastic attractions perfect for children of all ages.
Bunratty Folk Park is a recreated medieval village complete with school, houses and traditional shops to visit.
It also has farm animals, two resident Irish Wolfhounds, a great playground and a fairy village where wishes really do come true.
The castle can be explored until 4 pm where fantastic views can be enjoyed from the roof.
An overnight stay in Bunratty is another great idea, just so you can go back for the medieval banquet in the evening where you will be welcomed with a glass of Honey Wine and entertained by the wonderful Bunratty Singers.
Address: Bunratty West, Bunratty, Co. Clare, Ireland
3. The Aran Islands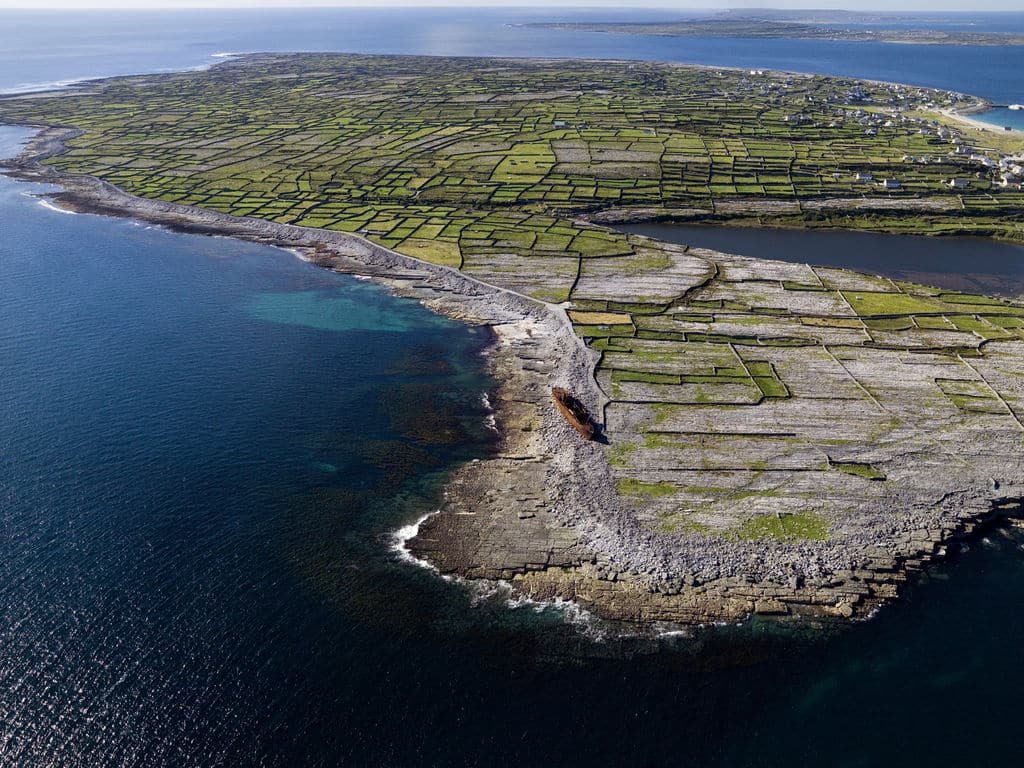 For a true 'Island life' experience take a boat from Doolin pier over to any three of the Aran Islands.
The tranquil setting and stunning landscapes are enough to slow down the most hectic of minds.
Inis Mór (translated Big Island) is the largest of the three and popular among those interested in Irish history and mythology. Its location also makes it a haven for surfers.
Inis Meain is the most modern island with around 200 residents. Its stunning landscape attracts artists all year round.
Inis Oirr is the smallest of the three islands and has a close-knit community. Life is simple and traditional with fishing playing a big role.
2. Doolin Folk Festival
If you enjoy traditional Irish music, then book your tickets for this year's Doolin Folk Festival.
It is held the weekend of June 14/16 and hosts some fantastic musicians.
Hotel Doolin holds the event, but as the music capital of the Emerald Isle, all the pubs have live sessions every night from early April, so you will be spoilt for choice.
A toe-tapping weekend where the Guinness is flowing and the crowd is dancing this is one event every festival lover should experience. Just get booking soon!
1. The Cliffs of Moher
The Cliffs of Moher are spectacular and something everyone should witness at least once.
Take a walk along the top for an epic view of the Atlantic Ocean or test your sea legs and take in the cliffs from below. Cruises can be booked from Doolin pier and take around an hour.
The view from the Atlantic is arguably the best way to experience the Cliffs in all their glory. Atlantic Puffins nest there in the warmer months and can sometimes be spotted on the water.
Not to mention Dusty the dolphin who can also make a surprise appearance. Nature at its best!