Celtic culture is as strong as ever, and these four festivals during the Celtic year are certainly worth knowing about.
Ireland is a proud Celtic nation, as are Scotland, Wales, and regions of France such as Brittany, and Galicia in Spain. Celtic holidays and traditions are taken seriously in these Celtic regions.
A solid Celtic heritage has influenced not only the language but also each nation's religion and cultural identity. However, since the Celts often fought with the Romans, the Celtic culture became increasingly restricted to these specific countries.
It is here that these traditions are still alive and well. For instance, four major Celtic festivals are celebrated by Celtic nations: Samhain, Imbolc, Bealtaine, and Lughnasa.
While plenty of other Celtic festivals are widely celebrated, these are the four annual Celtic festivals you need to know about. So, let's take a look at what each of these festivals represents in the Celtic calendar.
Ireland Before You Die's top facts about Celtic festivals:
Celtic festivals are rooted in ancient Celtic traditions. They celebrate aspects of nature, agriculture, and the supernatural.
Celtic religious leaders – druids – were significant in the organising of the festivals and acted as intermediaries between the spiritual and corporeal realms.
Celtic festivals have long been important social events that bring together communities and strengthen cultural identity.
There are some amazing cultural celebrations everyone needs to experience around the world. Many Celtic festivals include processions, bonfires, storytelling, dancing, feasts, and offerings to the Celtic deities.
4. Samhain (1 November) – the end of the harvest season on All Souls' Day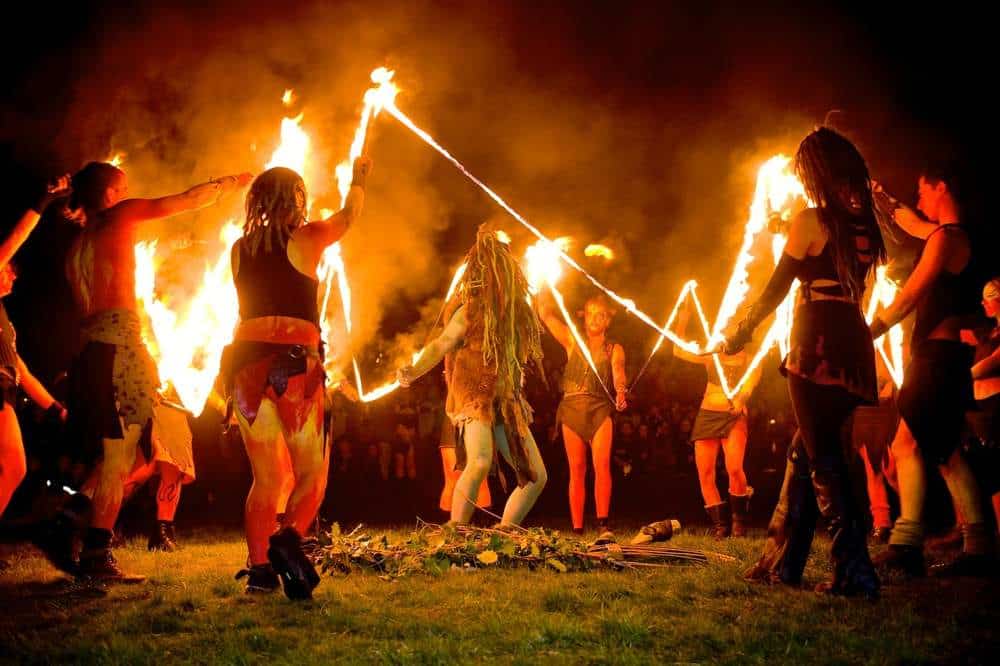 The festival of Samhain takes place on 1 November each year, just after Halloween; Samhain is the Irish word for Halloween.
The importance of this festival was to mark the end of the harvest season and the beginning of winter, and there were many ways in which locals celebrated this change.
During Samhain, it was and still is common to see bonfires on hilltops, which were said to have cleansing and protective powers against evil spirits.
The celebrations of Samhain officially begin on the evening of 31 October, which is about halfway between the autumn equinox and winter solstice.
The tradition of appeasing the spirits from the other world with offerings of food lives on in our modern Halloween tradition of trick-or-treating. The wearing of masks also stems from Samhain as people disguised themselves with masks to ward off bad spirits.
3. Imbolc (1 February) – the beginning of spring
Imbolc is a Celtic festival celebrated annually in Ireland, Scotland, and Wales, celebrating the beginning of spring. It falls on the feast day of St Brigid – the patroness saint of Ireland in Christianity.
Held between the winter solstice and the spring equinox on 1 February, Imbolc is a celebration that is still widely celebrated.
When Imbolc approaches, you will notice St Brigid's crosses for sale in many places, which have been traditionally handwoven to protect against illness, evil spirits, and fires. These are often hung above doors or windows.
Imbolc has been a public holiday in Ireland since 2023, to celebrate St Brigid, who was, in fact, the goddess of fire, poetry, and healing.
The day of Imbolc was the day when people would come together to enjoy a feast and celebration that they had made it through winter and welcome the longer, brighter days.
2. Bealtaine (1 May) – the beginning of summer
One of the leading Celtic holidays celebrated in Ireland and beyond is Bealtaine which falls on 1 May – May Day. Bealtaine is the Irish word for the month of May.
The beginning of summer was and is of great significance in Ireland. It is considered a pivotal time of the year to celebrate life.
Just like Samhain, when the Celts believed that the connection between the two worlds was at its thinnest, Bealtaine was a time when this was also apparent. This lead to traditions such as bonfires being lit to ensure special protective powers.
However, you could say that Bealtaine was the opposite of Samhain since this was a celebration of life rather than a day to celebrate and honour those who have passed.
Bealtaine involves plenty of parties, festivals, feasts, and even weddings, to mark the start of the summer and the beginning of better weather.
Since this Celtic festival marked the beginning of the pasture season, cattle were protected from harm with the symbolic use of fire to ensure a successful pastoral season.
1. Lughnasa (1 August) – the beginning of the harvest season
Marking the beginning of the harvest season, Lughnasa (sometimes spelt Lughnasadh) was a traditional Celtic festival which was a time for thanksgiving, with many significant traditions still celebrated today.
It is held halfway between the summer solstice and the autumn equinox, on 1 August, and in Irish, the word for July is, in fact, Lughnasa.
Traditionally this Celtic holiday involved matchmaking, trading, and lots of feasting. Furthermore, there was a custom of climbing hills where many traditional activities would occur.
Today you can still see remnants of such traditions, including the Puck Fair, the pilgrimage to Croagh Patrick at the end of July each year on Reek Sunday, and Bilberry Sunday, which included an offering of the first fruits.
A day to honour the Celtic God Lugh, Lughnasa was one in which our ancestors showed gratitude by dancing on hills, reenacting plays, eating, drinking, and enjoying folk music. This was and still is a time for cultural celebration in Ireland every year.
Other notable mentions
Yule/Winter solstice: On 21 December – the shortest day of the year – the winter solstice takes place. At this time, the sun rays, though few, flow through the passage tomb at Newgrange, marking an incredible connection to our ancestors and their beliefs.
Summer solstice: This sacred and significant Celtic holiday, which happens on 21 June, marks the longest day of the year when the sun is shining, the land is alive, and the peak of summer is here now.
Mabon/autumn equinox: On 21 September, the autumn equinox falls, and it is a time of equilibrium. The ancient site of Loughcrew was built to coincide with this specific day.
Ostara/spring equinox: This was a pivotal time of rebirth and renewal for the Celtic people as the days started to get longer and the cold days subsided. It is celebrated on 21 March each year.
Your questions answered about annual Celtic festivals
In this section, we answer our readers' most frequently asked questions along with some of the questions that appear most often in online searches.
What is Celtic culture known for?
Celtic culture is defined by people known to be fierce, well-connected with nature, rebellious, and artistic.
Where is Celtic culture from?
The Celts originated in Europe but were driven towards Ireland, Scotland, and Wales by the Romans, where the culture is still restricted to and celebrated.
What is the biggest Celtic festival in Europe?
The Festival Interceltique de Lorient, held in France each August, is the most significant Celtic festival that can be found, where Celtic music and culture are celebrated in the region of Lorient.
The traditions of the Celts are as strong as ever now that we can look back and see the ancient customs once celebrated, making these annual Celtic festivals extremely significant to all of us.
Get featured on Ireland Before You Die
Do you want to get your Irish business more online exposure? Especially to those interested in travelling the best places in Ireland? Then why not get a dedicated feature on Ireland Before You Die. Find out more 
here.