Home to some of Ireland's most spectacular sites, the Causeway Coastal Route is a must-visit on any trip to the Emerald Isle. Here is a local's guide to everything you need to know about Ireland's north coast.
From iconic tourist attractions like the Giant's Causeway and the Carrick-a-Rede Rope Bridge to quaint seaside towns like Ballycastle and Portrush, there is plenty to see along the Causeway Coastal Route, which is one of the most scenic drives in Northern Ireland.
Offering some of the best Irish scenery, this stunning coastline cannot be missed on any visit to Ireland.
Planning to embark on one of the most scenic drives in the world? Here is everything you need to know about visiting Ireland's Causeway Coast.
When to visit – best months to visit based on weather and visitor numbers
As the name suggests, a drive along the Causeway Coast Route will take you along some of the most incredible coastlines that Ireland has to offer. Therefore, you probably don't need us to tell you that summer is the best time to do this drive.
Summer in Ireland doesn't quite offer the sweltering heat of the Spanish coast or the Greek islands. However, the milder weather – and occasional sunny days – of June, July, and August will provide the most pleasant conditions and best views to enjoy this scenic coastal route.
Throughout the school holidays in July and August, tourists from Ireland and further afield flock to the north coast. If you want to experience a quieter Causeway Coastal Route, we recommend heading in early June or September.
What to see – Belfast to Ballycastle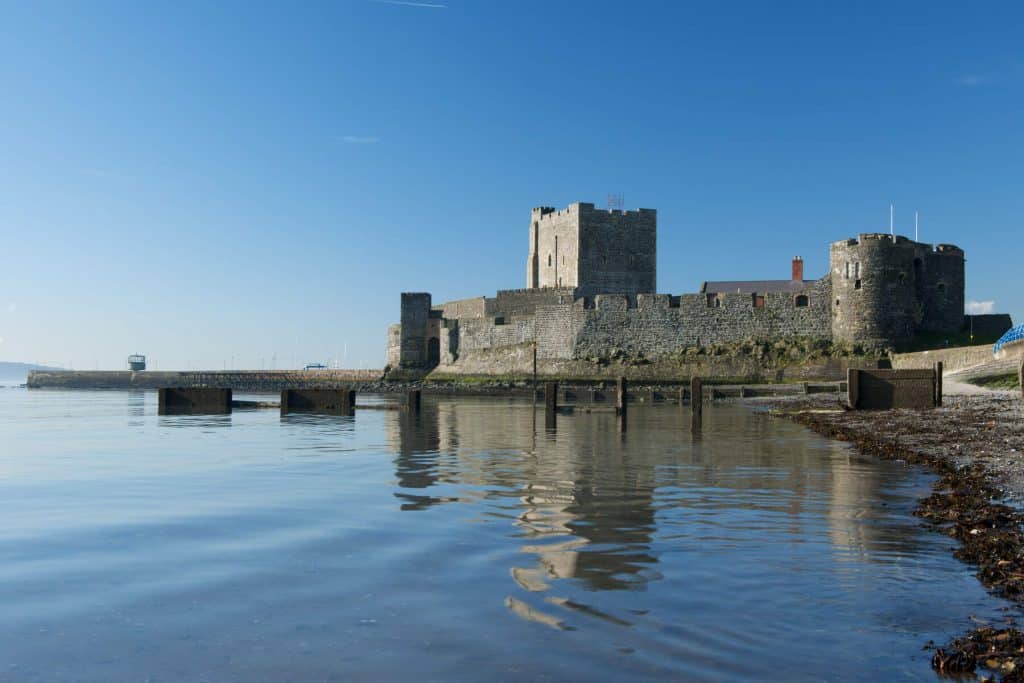 One thing is for sure; you will never be stuck for things to see and do along the Causeway Coastal Route.
Stretching from Northern Ireland's capital city, Belfast, all the way along the Atlantic coast to the historic city of Derry, there are endless Irish gems to experience and explore.
Working from east to west, here are some of the best things to see along the Causeway Coast.
The first stop we recommend on your way out of Belfast is Carrickfergus. This historic town situated on the northern shore of Belfast Lough is home to a Norman Castle. It was originally built by John de Courcy in 1177 – a must-visit for history buffs.
Just a ten-minute drive up the coastline will bring you to the quaint seaside town of Whitehead. Marvel at the colourful houses that line the promenade. Here, you can also check out the impressive Blackhead Lighthouse, which marks the end of Belfast Lough.
If you fancy a thrilling experience, make a short detour out to the Islandmagee Peninsula, where you can try the Gobbins Cliffwalk. This tubular bridge hugs the enormous Basalt cliffs along the coastline – great views guaranteed (on a clear day).
Heading further north will bring you through some small seaside towns such as Ballygally, home to the haunted Ballygally Castle Hotel. You will also drive through Glenarm, where you can visit the astonishing Glenarm Castle and Gardens.
Enjoy the views along this stunning coastal drive as you pass through more seaside towns, including Carnlough, Waterfoot, Cushendall, and Cushendun. Fans of HBO's Game of Thrones may recognise the Cushendun Caves where the infamous shadow baby scene was filmed.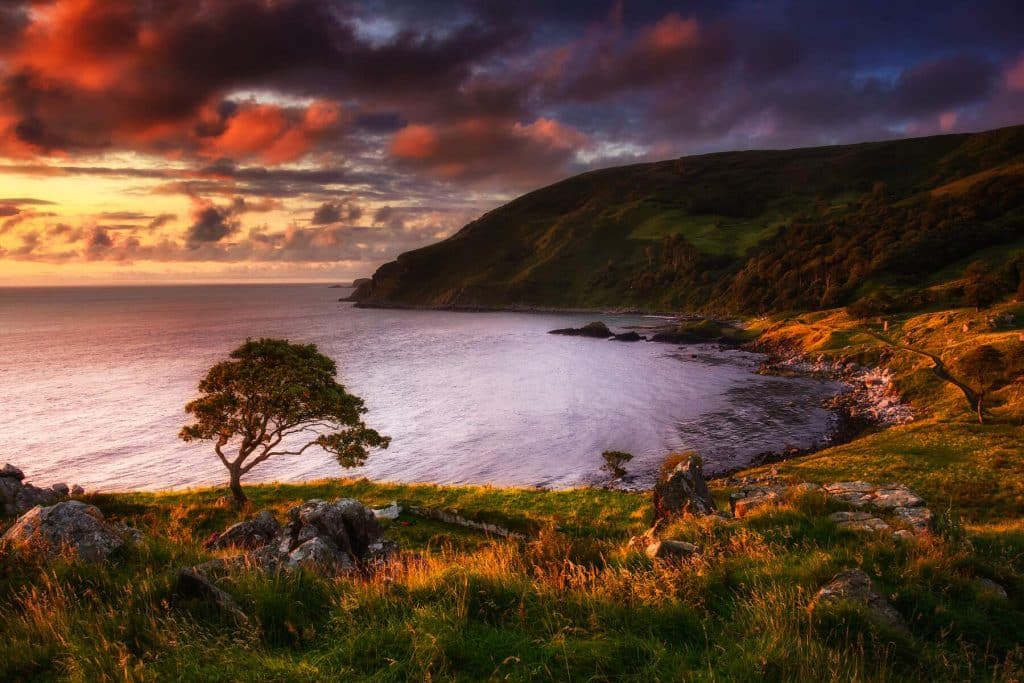 For fans of the show, we also recommend a drive to Murlough Bay. You may recognise some of the breathtaking landscape!
If waterfalls are more your thing, we recommend making the trip to Glenariff Forest Park. Here, you'll be treated to incredible views over the Irish coastline and some of the most impressive waterfalls in Northern Ireland.
Next on your drive along the Causeway Coastal Route, you'll come to the charming town of Ballycastle. Here, you can take a boat out to Northern Ireland's only inhabited island, Rathlin. Again, GOT fans may want to make the detour to the iconic Dark Hedges. It is only a 15-minute drive from here.
What to see – Ballycastle to Derry
As you make your way along the stunning coastline, make sure to stop off at the Carrick-a-Rede Rope Bridge. Not for the faint-hearted, make sure you don't look down as you cross this old fisherman's bridge suspended 100 ft (30 m) over the sea below. We promise the views from the other side are worth it!
After making your way back over the rope bridge, continue your drive west until you reach the reason why this coastline got its name: The Giant's Causeway. This unique heritage site is sure to take your breath away as the sea hits the hexagonal rock pillars.
After a few hours exploring the Giant's Causeway, continue on the road to Bushmills. Visit the Old Bushmills Distillery and Dunluce Castle, a 14th-century castle atop a 100 ft (30 m) cliff.
Along the remainder of the road to Derry, there are several quaint seaside towns, including Portstewart and Portrush.
You will also spot beautiful beaches like Downhill Strand, overlooked by the iconic Downhill Demesne and Mussenden Temple.
For incredible views out over the coastline, take the short walk up to Binevenagh – you won't regret it!
Where to eat – breakfast, lunch, and dinner options
For breakfast, try Bothy at White Park Bay, Panky Doos in Portrush, Lost and Found in Portstewart and Coleraine, or Creed in Carrickfergus.
At lunchtime, we recommend Mini Maegden at the Giant's Causeway for unforgettable grilled cheese sandwiches. Other delicious spots include Bob and Berts in multiple locations, Three Kings in Portstewart, or the Boat Yard in Coleraine.
For dinner, try Ramore Restaurants in Portrush, Harry's Shack on Portstewart Strand, or Newbridge in Coleraine. For something casual, grab some tasty fish and chips from Morton's in Ballycastle.
Where to stay – from luxury accommodation to budget-friendly B&Bs
For a luxury stay, try the Salthouse Hotel in Ballycastle (£170 per night) or Me and Mrs Jones in Portstewart (£144 per night). Some other great options are Ballygally Castle Hotel (£120 per night) or Roe Park Resort in Limavady (£150 per night).
For something more mid-range, try the Marine Hotel in Ballycastle (£70 per night). Alternatively, check out the Golflinks Hotel in Portrush (£100 per night), or The York in Portstewart (£100 per night).
For a budget-friendly stay, you can camp, glamp, or stay in a caravan at Benone Tourist Complex (varying prices). Alternatively, stay in one of the many B&Bs in the cute, coastal town of Portrush. Options include the Mandalay B&B (£75 per night).
Fancy a unique stay along the Causeway Coastal Route? Check out Further Space glamping pods in Glenarm and Ballycastle (£100-£180 per night).