A walk through the cobbled streets of Belfast's Cathedral Quarter would be incomplete without a pint in its pubs or a bite in its restaurants.
Belfast, the capital of Northern Ireland, is renowned for its nightlife, particularly its bars like the Sunflower, Kelly's Cellars, and Maddens.
Belfast's Cathedral Quarter is perhaps the area of the city with the greatest concentration of bars and restaurants.
In this article, we highlight some of the best watering holes and eateries under the shadow of the Spire of Hope.
Ireland Before You Die's top tips for visiting Cathedral Quarter Belfast:
The Cathedral Quarter is one of the pricier areas of Belfast for a night out, so be prepared for more expensive drinks than in other parts of the city.
Weekends are always busy in the Cathedral Quarter. If you fancy a quiet evening, we advise visiting during the week.
We advise making dinner reservations in the Cathedral Quarter well in advance to avoid disappointment.
You'll find some of the best coffee in Ireland in Established and Neighbourhood, both in the Cathedral Quarter.
The Metropolitan Art Centre (MAC), the Black Box, and the Oh Yeah Centre Music Centre are some of Belfast's cultural hubs. Check out their programmes in advance and secure tickets before your visit to the Cathedral Quarter.
Pubs – where to head for a drink in the Cathedral Quarter
The Duke of York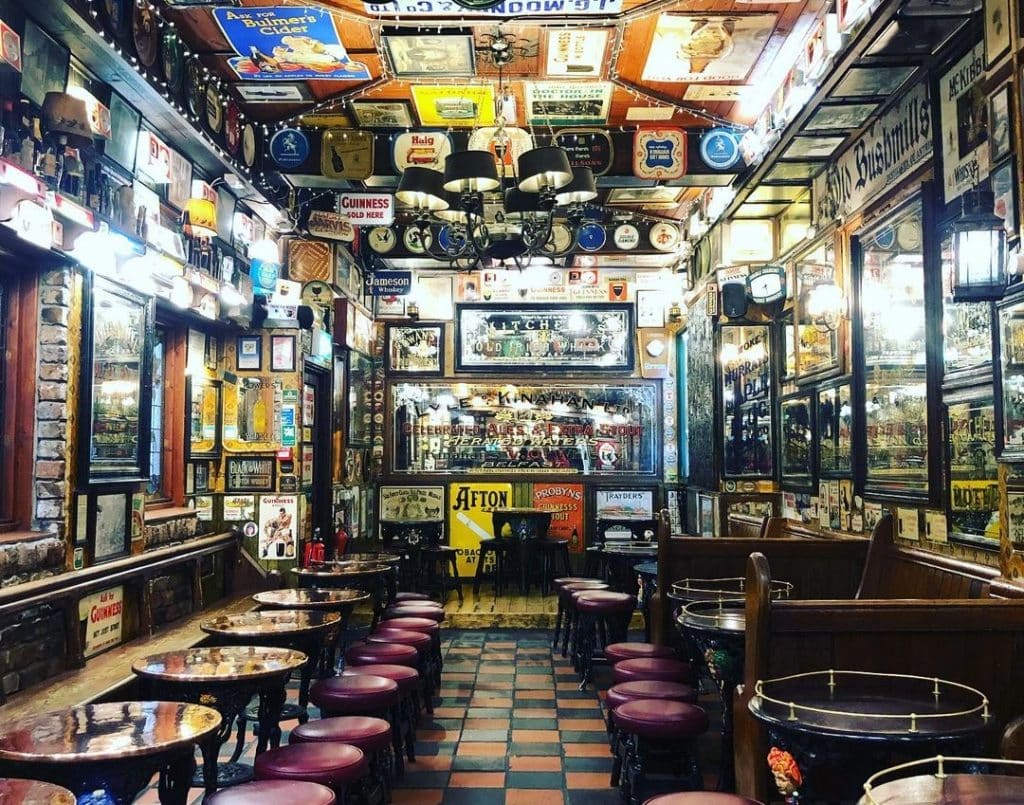 Most Belfast guides will tell you to visit the Duke of York pub, and with good reason.
This famous Belfast pub attracts all types thanks to its selection of drinks, including the ubiquitous Guinness and its main competitors, Murphy's and Beamish – which are harder to come by in Belfast.
Once you've been served in the Duke of York, make sure to head back out to the cobbled street to check out the colourful street art depicting some of Belfast's most famous faces.
Address: 7-11 Commercial Court, Belfast BT1 2NB
The Harp Bar
Directly across from the Duke of York, you'll find the Harp Bar. This bar was named after the original Harp Bar that was central to the 1970s punk scene in Belfast when Stiff Little Fingers and Rudi took to the stage.
You'll also find a plaque to the godfather of Belfast punk, Terri Hooley.
Today, live music normally comes in the form of acoustic performers that draw sizeable crowds on the weekend. Much like its neighbour, the Harp Bar boasts a wide array of advertising memorabilia on its walls.
Address: 35 Hill Street, Belfast BT1 2NB
The Spaniard
The Spaniard is one of the best bars in Cathedral Quarter Belfast for live music, with a weekly programme including local busking legend Kenny and his canine companion Charlie.
Many of the cast of Game of Thrones frequented the Spaniard when in town for filming.
A specialist rum bar, the bartenders in the Spaniard make some of the best rum-based cocktails in the city. The Guinness isn't bad, either. Space is often at a premium in this small bar, so make sure to arrive early for a seat.
Address: 3 Skipper St, Belfast BT1 2DZ
The John Hewitt
On the Cathedral Quarter bordering Donegall Street, you'll find the John Hewitt pub. Belfast is home to a thriving craft beer scene, and one of the spearheads of this scene, Boundary, is the current custodian of this iconic pub.
You're unlikely to find the usual fare in the John Hewitt, so we only really recommend this pub to craft beer drinkers. But if you fit that bill, you'll find plenty to love here.
Address: 51 Donegall St, Belfast BT1 2FH
READ MORE: Top 10 best pubs and bars in Belfast for 2023
Restaurants ­– the best food in Cathedral Quarter Belfast
Waterman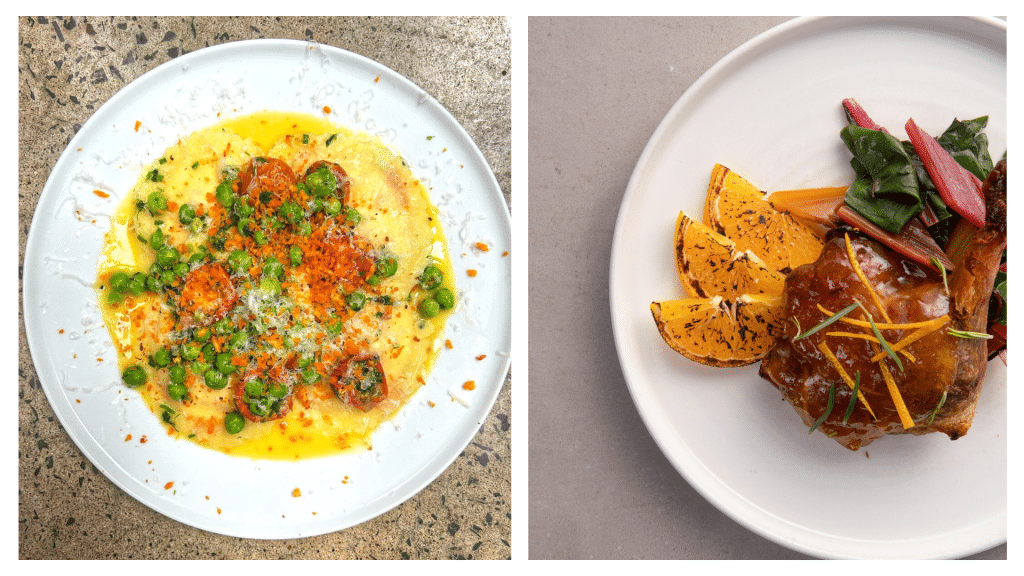 One of the newest restaurants in Belfast, Waterman offers a menu of locally sourced food that changes daily. The monthly beer, wine, and cocktail list is specially chosen to pair with the food served.
Address: Waterman House, 5 – 23 Hill Street, Belfast BT1 2NG
Coppi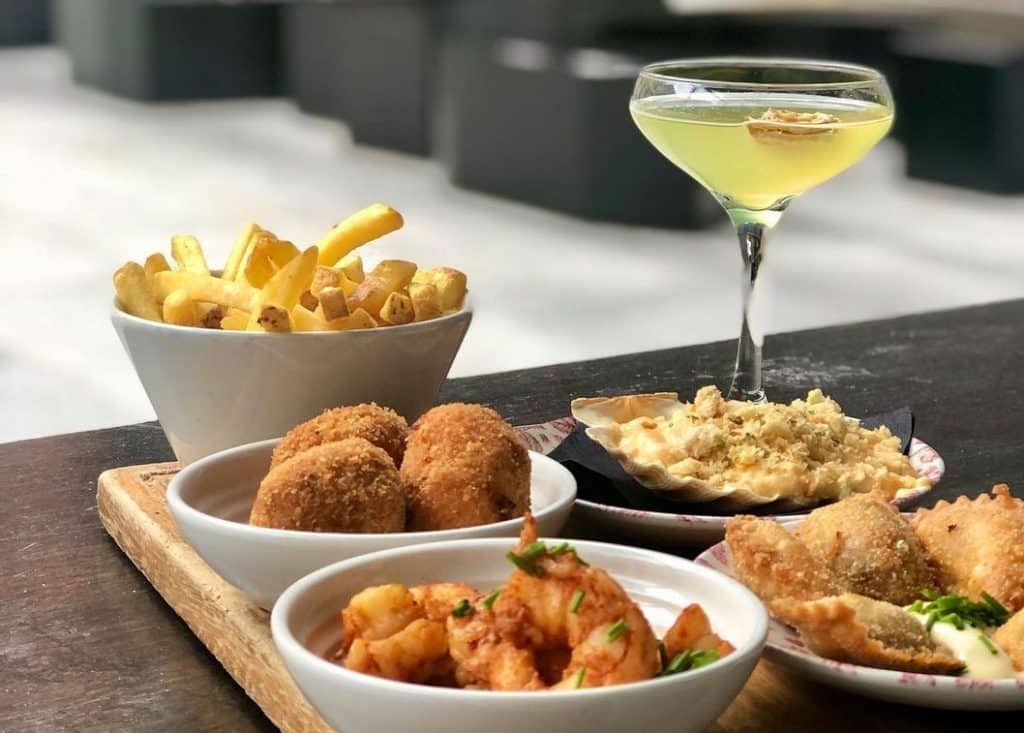 Named after a famed Italian cyclist, Coppi is a cool, modern restaurant that serves up fantastic Italian cuisine using the best in local produce. Friendly and knowledgeable staff are on hand with dish recommendations and wine pairing suggestions.
For our money, you can't go wrong with Coppi's Sunday roast lamb, but the menu offers much to choose from on other days of the week, too. Moreover, the restaurant caters well to vegans and vegetarians with a generous vegan menu.
Address: Saint Anne's Square, 11 Edward St, Belfast BT1 2LR
Buba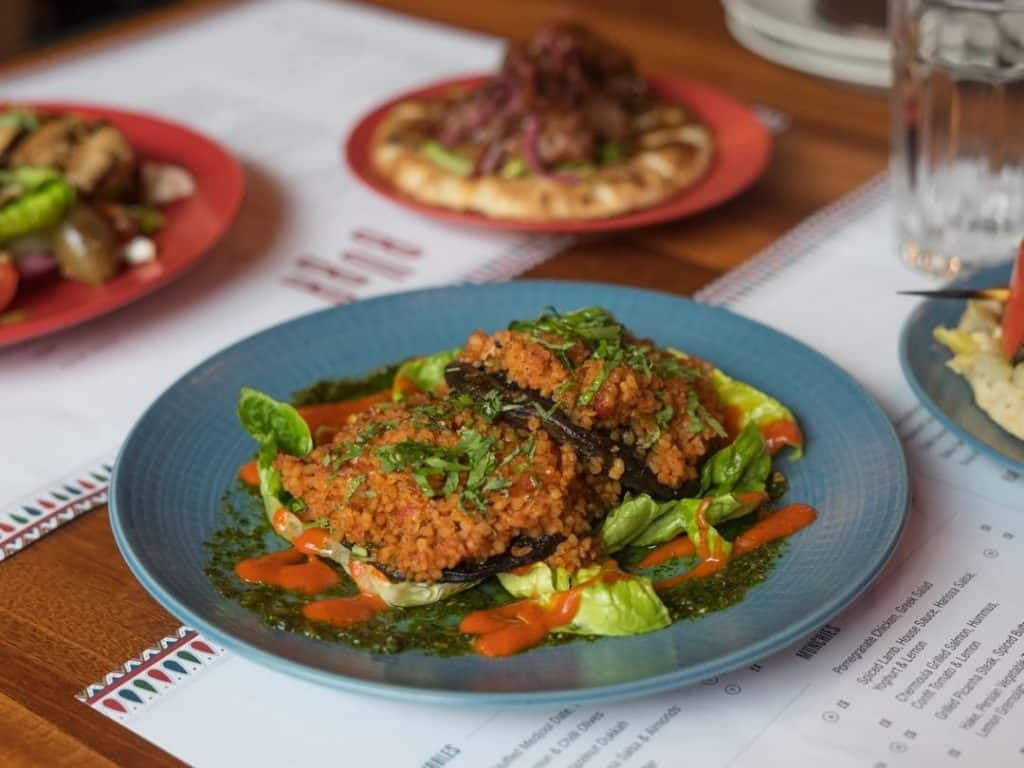 Eastern Mediterranean restaurant Buba now offers a relatively limited menu of 'burgers and bites' owing primarily to the changing face of the restaurant world in the wake of the Covid-19 pandemic.
However, while options may be limited, quality certainly isn't. Sharing several dishes with your dining partner is your best bet in Buba, and you can complement your meal with local and international beers, delicious cocktails, or fine wine.
Address: Unit 4, St Anne's Square, 10 Edward St, Belfast BT1 2LR
House of Zen
2023 marks the 11th year of business for one of the most popular Asian restaurants in Belfast. Serving up a great selection of Asian cuisine in a sleek dining room, there's little surprise that diners flock in their droves to House of Zen.
Many choose to show up early and enjoy a pre-dinner drink at House of Zen's cocktail bar, where you can sample some of the bear staff's innovative creations as well as all the classics you can think of.
Address: 3 St Annes Square, Belfast BT1 2LR
RELATED: The 20 best restaurants in Belfast (for all tastes & budgets)
Notable mentions
The Dark Horse: Owned by Willie Jack, who also owns the Duke of York and the Harp Bar, the Dark Horse opens by day (9 am–5 pm), serving coffee, cocktails, and pints.
The Dirty Onion: Located in what is supposedly Belfast's oldest building, the Dirty Onion offers a vast beer garden and a cosy indoor bar. The best part, it's dog-friendly!
Top Blade: On top of a wide range of steaks, Top Blade also offers a seitan steak that is suitable for both vegetarians and vegans.
Common Market: The best bet for casual food in Cathedral Quarter Belfast, the stalls in Common Market offer delectable international street food.
The Merchant Hotel: One of the most luxurious hotels in Belfast, the Merchant offers guests and visitors a renowned afternoon tea, as well as more substantial meals and drinks in the Great Room restaurant and the Cloth Ear bar. The Great Room of the five-star hotel is also home to Ireland's largest chandelier!
Your questions answered about the Cathedral Quarter Belfast
If you've still got questions, read on! In this section, we answer some of our readers' most frequently asked questions about Belfast's Cathedral Quarter.
Which bar in Belfast has umbrellas outside?
The Duke of York in Belfast's Cathedral Quarter has colourful umbrellas above the cobbled street outside and a courtyard of stunning murals.
What is the oldest pub in Belfast?
Established in 1630, White's Tavern in Winecellar Entry is the oldest pub in Belfast city centre.
What is the Cathedral Quarter best known for?
The Cathedral Quarter is probably best known for its array of cafes, bars, and restaurants, as well as St Anne's Cathedral, which gives it its name.
In recent years it has become renowned for the Cathedral Quarter Arts Festival, which showcases local and international artists of all disciplines.
Get featured on Ireland Before You Die
Do you want to get your Irish business more online exposure? Especially to those interested in travelling the best places in Ireland? Then why not get a dedicated feature on Ireland Before You Die. Find out more 
here.