Carrigaline has steadily grown a reputation in Cork for being a town of amazing local history, brilliant pubs, top-notch hospitality, and that renowned Irish friendliness. If you are thinking about visiting Cork, consider stopping in for a day and enjoying the town.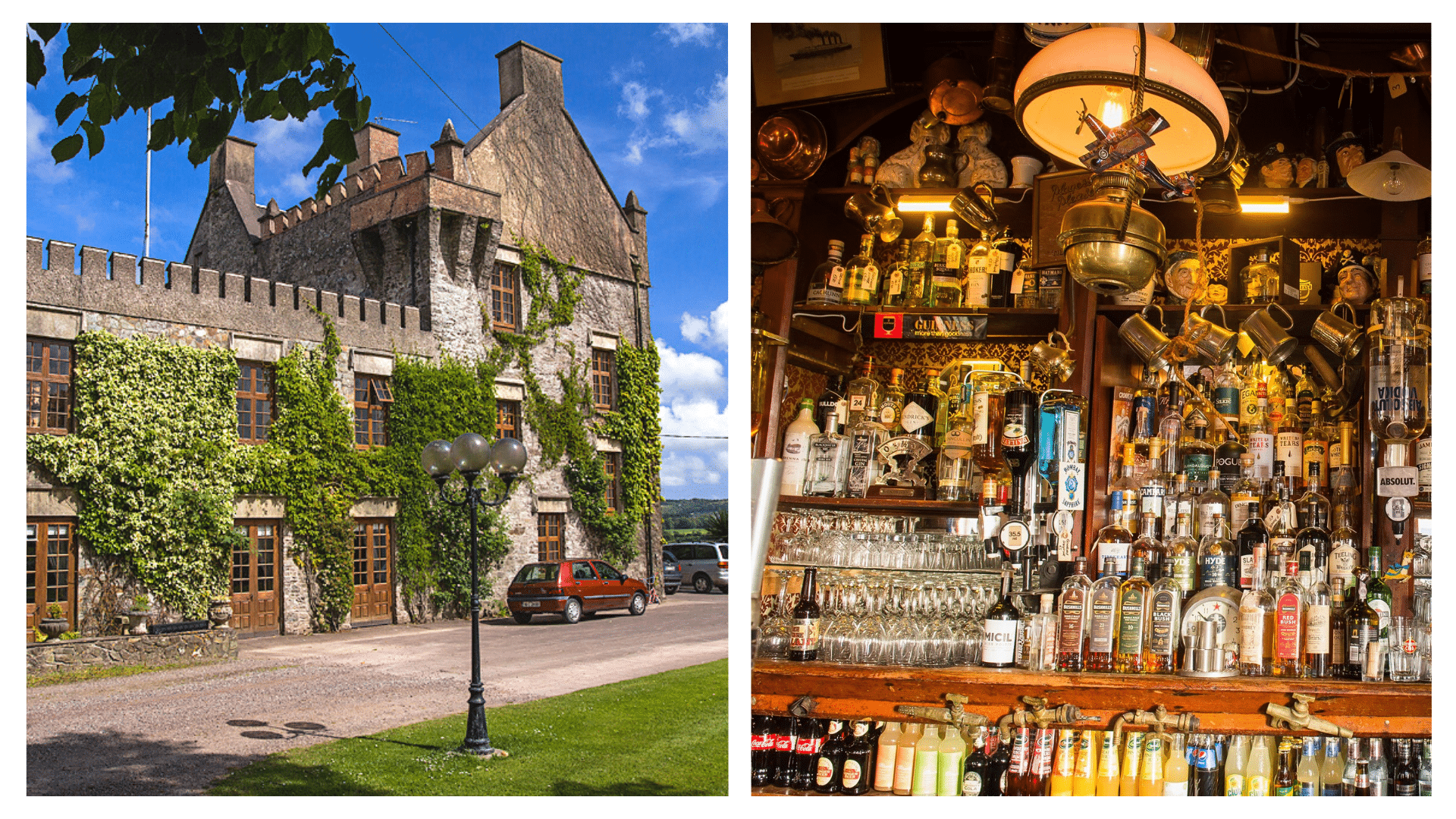 When visiting Cork, there are likely a few destinations on your travel tick list. The list is exhaustive, with the likes of the brilliant Cork City, the Blackrock Castle Observatory, St. Colman's Cathedral in Cobh, and Gougane Barra National Forest Park.
You could spend a day talking about every nook and cranny of the glorious County Cork. But we want to draw your attention to a little town you must visit.
It's a town slightly off the beaten path but one not to miss on your stay. We've put together a little cultural travel guide to the amazing small town of Carrigaline, which is only a 22-minute drive from Cork City!
This guide also covers the nearby coastal village of Crosshaven. Just ten minutes from Carrigaline, your visit to this part of Cork would be incomplete without a stop in Crosshaven.
Love Irish history? – visit Carrigaline
Whilst in the past many people in Cork might have referred to Carrigaline as a village, Carrigaline is now a vibrant and decent-sized commuter town.
The last census, carried out in 2016, recorded a population of over 15,770, but estimates suggest we now have over 25,000 residents.
Located 14 miles outside of Cork City, Carrigaline sits close enough to Cork to provide the benefits of city living while still allowing visitors and residents to enjoy the relaxing atmosphere of pure Irish coastal and country life.
Carrigaline comes from the Irish Carraig Uí Leighin (Rock of O'Leighin) and refers to a famous crop of rock where the notorious Norman settler Philip de Prendergast built his Beauvoir Castle. There is still a house bearing the name of Beauvoir in the town.
Two fascinating castles remain in Carrigaline: the more modern Ballea Castle (which is for sale) and the Castle of Carrigaline, built by the Normans and developed by the De Cogans in the Middle Ages.
The Irish Earls of Desmond acquired the castle in 1438. The FitzMaurice branch of the family then leased the castle in the 1500s until 1568, when it was given to English painter Warham St. Leger.
Following this English ownership, James FitzMaurice led the first major Catholic rebellion in the province and took back the castle.
However, English Tudor Lord Deputy Sydney besieged the castle, and FitzMaurice fled to the continent after submitting to the garrison and being denied the return of his lands.
The castle's tumultuous history continued in the next century when it was sold to the Kentish Daniel Gookin, who went on to help establish the American Newport News settlement.
Ultimately, the castle was abandoned in the 17th century and was gradually picked apart by local farmers gathering building materials. After a major section collapsed in 1986, what's left of the castle walls has been overgrown by local plant life.
Nightlife and entertainment – unspoilt tradition
Carrigaline used to be a bit of a dark horse for entertainment and nightlife in Cork. But over the years, we've slowly become known as a town with excellent and traditional Cork nightlife.
If you are looking for traditional Irish pubs (unlike some of Cork City's gimmicks), you must visit Carrigaline and sample the famous local Carrigalinen hospitality.
Stop for a proper Irish Guinness at true local Irish pubs, such as The Gaelic Bar, Rosie's Public House, The Corner House, The Stable Bar, or Cronin's Pub.
Due to their underexposure, these are some of the finest traditional Irish pubs that County Cork has to offer.
Also, stop at one of Cork's finest, highest-rated hotels – the famous Carrigaline Court Hotel.
Both a four-star hotel and a local leisure centre, Carrigaline Court Hotel offers a top-class luxurious bistro, Irish bar, swimming pool, and award-winning hotel facilities.
Given our proximity to the local southern Cork coastline, Carrigaline also offers plenty of water and boat-based leisure activities. The town is now a beautiful and culturally rich location for visitors.
Visiting local Crosshaven – ten minutes from Carrigaline
When visiting Carrigaline, you should double up your trip to the nearby village of Crosshaven, which is truly one of Cork's most awe-inspiring coastal villages.
It is a beautifully historic and quaint seaside village, packed with beautiful sea-cliff restaurants and houses, picturesque walks, dramatic cliffs, and eerie underground caves and tunnels.
The village has become a major sailing and angling centre in Cork, offering thrilling boat trips for couples and families across the picturesque Cork coastline.
You can also visit Camden Fort Meagher, a colossal 16th-century coastal fort built to defend Ireland at war. This site often hosts historical exhibitions and beautiful orchestra concerts.
The most amazing part is that Fort Meagher is right at the tip of the stunning Cork Harbour – the second-largest natural harbour in the world.
Crosshaven, alongside Carrigaline, will offer you beautiful ways to enjoy Cork by land, river, and sea and offers further scenic opportunities with boating, fishing, and watersport activities.
Thank you for reading this travel guide to Carrigaline and the adjacent Crosshaven.
If you're looking for a brilliant, rural view of the Cork Harbour, to visit some southern Cork towns and villages, and to take in all Cork has to offer, please make a day trip to Carrigaline and Crosshaven.
Both towns are beautiful and culturally rich and can entertain visitors and history enthusiasts.