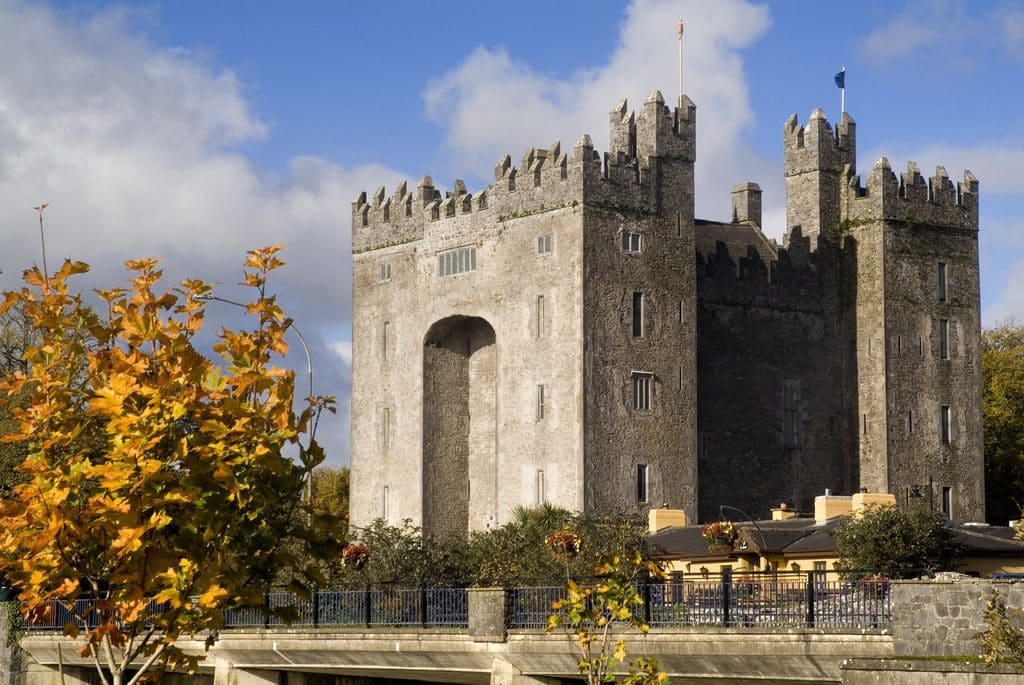 Bunratty Castle and Folk Park in County Clare has been named as Ireland's Tourist Attraction of the Year 2019.
The National Hospitality Awards ceremony, which was held on March 25, in Dublin's Crowne Plaza Airport Hotel this year, is a prestigious event celebrating the best in the business.
Nominees are accepted from the hotel and catering industry as well as pubs, clubs and tourist attractions with winners voted for by the general public.
The dedicated team at Bunratty Castle and Folk Park were delighted it was named Ireland's Tourist Attraction of the Year.
Managing Director of Shannon Heritage, Niall O'Callaghan, said, "This is an extremely proud accolade for our dedicated team.
"We are thrilled that Bunratty Castle and Folk Park won Tourist Attraction of the Year at the 2019 Irish Hospitality Awards.
"It is a huge honour and testament to the unforgettable experiences created here every day through hard work and enthusiasm."
Bunratty Castle directly translated 'the Castle at the Mouth of the Raite' river, is a 15th-century tower house in the centre of Bunratty village in Co. Clare.
It is located between Limerick and Ennis, with a short distance to Shannon town and airport.
Restored in 1956, it is managed by Shannon Heritage along with the adjoining Medieval Folk Park.
The 19th century Folk Park is set on an impressive 26 acre site and offers visitors to take a step back in time and experience how life was for the people of Ireland more than one hundred years ago.
The houses are set out with turf fires burning low, humble rooms decked out for respective families of the time and the Bean an Ti and schoolmaster present in full costume.
Traditional shops are dotted around the folk village as well as farm animals and two resident Irish wolfhounds to visit.
The Clare castle gives an authentic experience with spectacular views from the roof.
Evening banquets can be enjoyed by all ages with fun interaction between host and guests, access to the dreaded dungeon and superb entertainment from the talented Bunratty Singers.
The open-air museum also has an impressive Viking Playground and magical Fairy Village for little ones to explore while specific events are planned all year round to promote constant development.
Mr O'Callaghan added, "We are continually building on our strategy to develop compelling and stimulating visitor experiences with customer centricity at our core.
"There are some exciting times ahead for Bunratty Castle and Folk Park but for now we'll appreciate the significance of this award, a great reflection of all that Bunratty Castle and Folk Park has to offer."
The Irish Hospitality Award for Tourist Attraction of the Year is a true reflection of the commitment to provide an outstanding experience to anyone who visits Bunratty Castle and Folk Park.
The awards event, hosted by Irish TV presenter and best-selling author, Andrea Hayes, saw 28 winners recognised as experts in their field.
It also celebrated all professionals who work tirelessly in promoting Ireland as a top tourist destination.
A spokesperson for the Irish Hospitality Awards 2019 said, "The hospitality industry has grown significantly over the years and this has introduced new challenges to the professionals who work within the sector.
"The customer expectations have been increased but these winners are the experts in meeting their customers' needs and demands in the best possible way.
"The awards aimed to thank those who make a huge contribution to enhancing the country's tourism and reputation, whose work often remains overshadowed.
"We would like to congratulate all winners and finalists for their amazing achievements."