Good news! Brown bears are now living in Ireland again at a Donegal wildlife sanctuary.
An animal sanctuary in County Donegal has re-introduced three brown bears back into their once native land.
Wild Ireland, a stretch of 23 acres in Inishowen, has undergone a six-year transformation to become the ideal habitat for some of Ireland's most unique species.
Owner Killian McLaughlin, a solicitor and zoologist from Buncrana, rescued the bears from "horrendous conditions" in Lithuania.
Prehistoric Ireland – an insight to the past
The rugged Irish landscape was home to brown bears thousands of years ago before they became extinct during the Bronze Age.
Very few people inhabited the island before this time, but once hunter-gatherers began to settle, the brown bear was targeted as prey.
In an interview with the Irish Mirror, McLaughlin explained the fascinating history of the brown bear.
He said, "All these animals were native to Ireland, but they were hunted to extinction or went extinct due to habitat loss.
"Ireland is in the temperate rainforest belt. The trees are gone, but the rain is still here.
"So it is one of the rarest habitats in the world and the climate is perfect for the animals."
It has taken six years to adapt the Donegal site to represent the prehistoric landscape where brown bears once roamed free.
After being rescued from life-threatening conditions in Lithuania, these three animals can now enjoy a safer and more natural life in the northwest of Ireland.
Coming home – brown bears are back in Ireland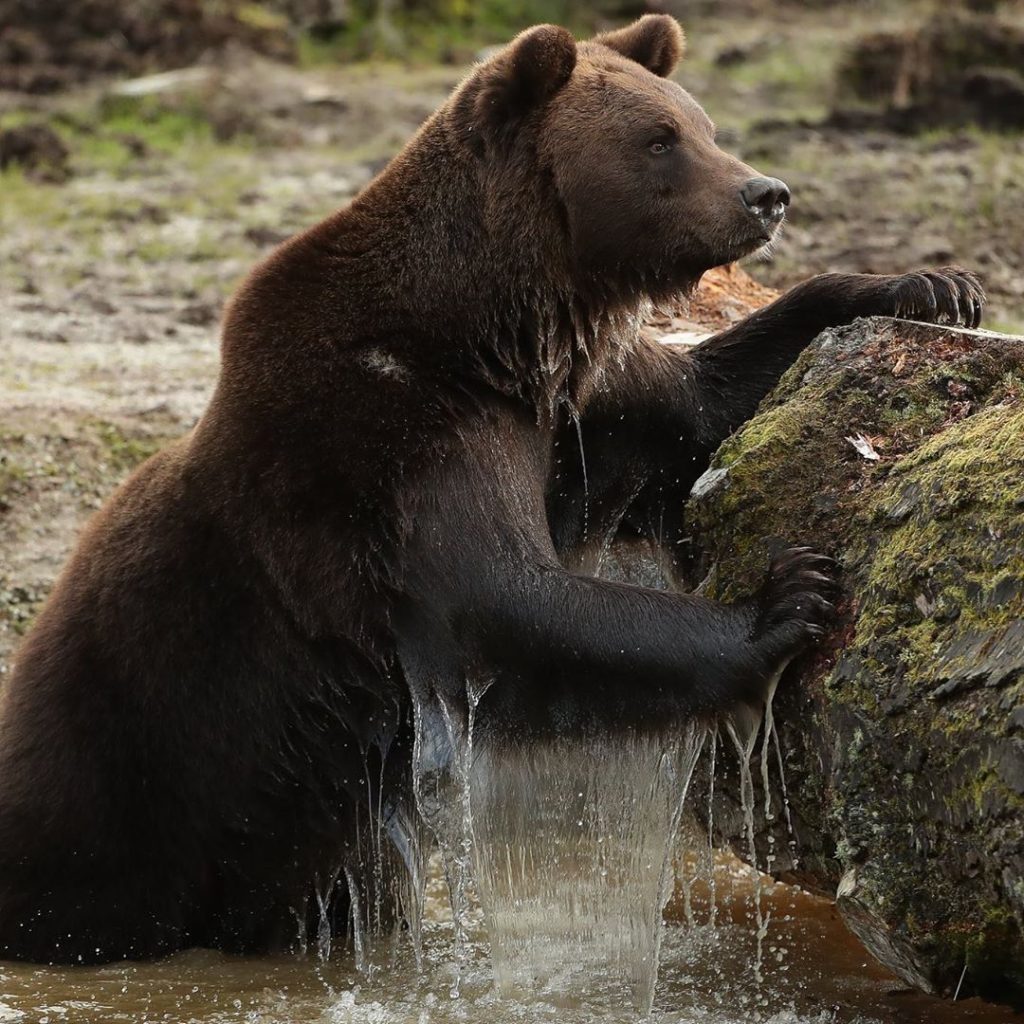 Animal enthusiast McLaughlin is committed to making the sanctuary home to rescued animals from all over the world.
He works closely with three international charities including 'Bears in Mind,' who helped him locate the brown bears in desperate need of rehoming.
He said, "Our brown bears were kept in horrendous conditions in Lithuania.
"The charity Bears in Mind confiscated them from a private mini-zoo where they were being kept behind bars in a small dirty concrete cage."
Wild Ireland now provides them with very different living arrangements including forest space to roam and a pool to cool down in.
And despite taking almost an hour to explore their new home, the brown bears are settling in nicely to the laid-back Irish lifestyle.
Describing the moment he released his precious cargo, McLaughlin said, "It took the bears 45 minutes to come out, they had never felt natural substrate before.
"Now they are free to run, swim and play in our specially designed enclosure."
The stunning animals can now explore the beauty of their original habitat and enjoy the landscape of their ancestors.
At the same time, small businesses in the surrounding areas can feel proud that they have provided a safe space for rescued animals as well as returning the brown bear to its native land.
A haven for animals – a comfortable home
The brown bears are among many rescued animals living at the Wild Ireland sanctuary.
Three wolves, hand-reared by McLaughlin from pups, also roam the stunning landscape that has been carefully adapted for its residents.
Wild boar and deer are some of the other fascinating species at the centre.
Not to mention swans, geese, ducks, and ferrets are all free to enjoy the peace of sanctuary life.
A stunning Celtic tiger (more commonly known as a lynx) called Naoise was rescued from cruel circus conditions while three Barbary macaques were saved from abuse in the illegal pet trade.
McLaughlin said, "Naoise the Lynx had never felt grass under her paws before. When she came out of her box she was totally overwhelmed."
As the original Celtic tiger, Naoise had arrived 'home' in more than one sense of the word.
Her ancestral species once roamed the very same landscape before being hunted to extinction by the people of Ireland.
Until now, the Barbary macaques were being looked after by Animal Advocacy and Protection.
They are now living happily on their very own 'monkey island' in Donegal and, according to their carer, are doing well.
He said, "The Barbary macaques fit in well with the climate perfectly. They are living well in a family group."
Wild Ireland opened to the public on 25 October 2019 and has the full support of locals and surrounding communities.
McLaughlin is delighted at the level of interest already shown in his "lifelong dream."
He hopes it will teach people about the beautiful native animals of prehistoric Ireland and encourage them to look after the animals currently in danger of becoming extinct in Ireland.
He told the Belfast Telegraph, "Ireland's wild habitat is deteriorating at a rapid rate but hopefully by coming here people will see how much we have lost and that will inspire them to preserve the animals we still have but are in danger of losing, like the pine martens and red squirrels."