If getting out into nature is on the cards, then you cannot overlook these beautiful County Sligo walks, which make for an epic day out.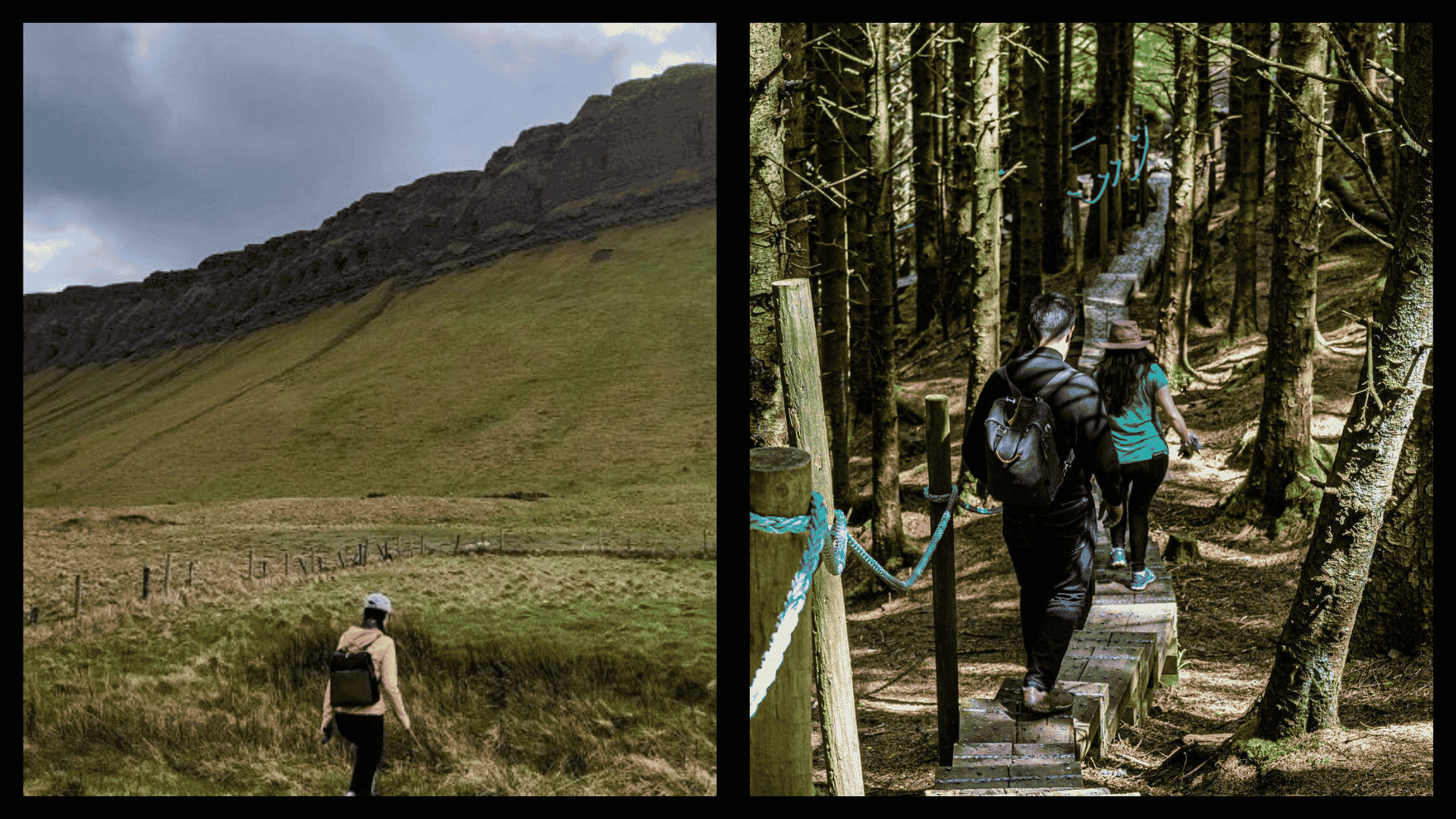 Sligo is one of the wildest, most scenic, and most loved parts of the country. It is the place that inspired a young W.B. Yeats, who spent much of his childhood there.
These days, whenever someone is looking for tranquillity, some time out, and a date with nature, they almost always consider a trip to Sligo, given that this region has an endless variety of walking trails guaranteed to soothe the soul.
Not only does Sligo hug the wild Atlantic coastline, but it is home to the iconic Benbulben mountain as well as an array of coastal towns, which together make for a perfect getaway.
With that being said, we are excited to break down the ten best walks in Sligo you need to experience to inspire your next adventure.
10. Lough Talt ‒ a picturesque mountain walk with panoramic views
Lough Talt is located in the Ox Mountains in County Sligo. You can enjoy a beautiful and picturesque walk around the lake, all with incredible views.
Home to a diverse range of bird life, you will spot plenty of natural beauty along this 5.5 km (3.1 miles) walk.
Address: Co. Sligo, Ireland
9. Gleniff Horseshoe ‒ one of the most famous walks in Sligo
The Gleniff Horseshoe is a 10 km (6.2 miles) loop that offers fantastic views of the Dartry Mountains and Donegal Bay. It is, without a doubt, one of the best walks in Sligo.
Having taken social media by storm, the Gleniff Horseshoe is a must-visit if you want to get that iconic Instagram picture!
Address: Gleniff, Co. Sligo, Ireland
8. Killaspugbrone Coastal Walk – enjoy the sea air
Fancy taking in some fresh sea air while on your walk? Then head along this 6.8 km (4.2 miles) trail, which starts in the bustling town of Strandhill.
This moderate-level walk will take around two hours but perhaps longer with photo stops. So, take all the time in the world to enjoy one of the five best walks in Sligo you need to experience.
Address: Killaspugbrone, Co. Sligo
7. Garavogue River Walk – one for all the family
Start your river walking trail from Sligo town centre, where there is parking near the trailhead at Kennedy Parade. From here, follow the signs that will lead you on this easy 7 km (4.3 miles) walk.
The walk is perfect for a family stroll or for anyone wanting to get out and about without too much strenuous activity. It is certainly one of the best walks in Sligo you need to experience.
Address: Sligo Town, Co. Sligo
6. The Devils Chimney – a walk to the waterfall
This mountain track is of moderate level, so it is perfect for someone wanting to work up a sweat and have an amazing view at the end.
You'll end up at Sligo's tallest waterfall, which is 492 ft (150 m) high. It is a fantastic place to take photos. There is roadside parking, and the trail itself is 1.5 km (0.9 miles), taking around an hour to complete.
Address: Tormore, Co. Sligo
5. Mullaghmore Head Walk – one of the best walks in Sligo along the coast
Mullaghmore is one of the most beautiful coastal areas of Sligo. Here, you will not only take in some unsurpassed coastal views, but you will also see Classiebawn Castle and perhaps get a glimpse of Donegal Bay and the Slieve League Cliffs.
Stretching for 8 km (4.97 miles), this coastal walk is accessible for most people with a good level of fitness. The walk can be done at your own pace, especially if you love photography. Trust us, you will want to make a few stops.
Start at Pier Head Hotel and follow the headland until you complete the trail.
Address: Mullaghmore Harbour, Kilkilloge, Mullaghmore, Co. Sligo
4. Glencar Waterfall Walk – a moderate but beautiful hike
Any walk that leads to a waterfall this beautiful is a must-do in our eyes, and you will agree once you feast your eyes on these natural wonders.
This moderate walk takes around two hours and is on the border of Sligo and Leitrim. However, if you want to get technical about it, it is officially located in Leitrim.
Located just a 20-minute walk from Sligo town and Rosses Point Beach, this walk is ideal for anyone in and around the area looking for their next adventure.
You will have no trouble getting parked outside during the summer months, but during summer, just arrive early to beat the crowds.
The walk to the waterfall takes just ten minutes from the car park. However, the full Glencar Waterfall Walk will continue for around two hours, taking you back down the road and up a nearby hill, making it a relatively easy and enjoyable walk for everyone.
Address: Formoyle, Glencar, Co. Leitrim
3. The Glen – a very easy and gentle walk along a nice trail
This tiny valley, which sits snuggly beside Knocknarea Mountain, captivates many due to its easy accessibility, otherworldly feels, and fairytale landscape.
Ireland has many of these little nooks and crannies dotted around the country, and this is one of Sligo's most quaint glens, making it one of the best Sligo walks to be discovered.
This may be a tricky place to find, but once you are there, you will be transported to a place of nature as well as historical significance – you will come across Queen Maeve's tomb along the way.
This relatively unknown and infrequently visited nature spot is the ideal getaway for those looking to get some exercise, take in some fresh countryside air, and take some time for themselves.
Address: Knocknarea, Co. Sligo
2. Knocknarea Mountain Walk – a challenging hike for spectacular views all around
This two-hour strenuous walk is one of the best walks in Sligo for those looking to work up a sweat and get a sense of adventure while soaking up the stunning views from the summit once you arrive there.
It is no wonder this hike is one of the most popular in Sligo and in Ireland, for that matter. A climb to the summit of 1,073 ft (327 m) is one you will not forget.
One thing to remember for this hike is that it is best tackled on a clear day for safety and to soak up the unsurpassed views once you reach the top.
We recommend proper hiking gear, including sturdy walking shoes, hiking poles, and plenty of water. Be sure to start early and take your time.
Address: Knocknarea South, Co. Sligo
1. Benbulben Forest Walk – a must for everyone for gorgeous views of Sligo Bay
One of the main reasons Benbulben Forest Walk has made the list of one of the best walks in Sligo you need to experience is because of its accessibility and beautiful views.
While many might steer clear of any challenging hike, you can rest assured that this walk will not only provide you with excellent vistas of Ireland's iconic Table Mountain, but also it is accessible to those with a range of skill levels.
This is the kind of place you can come across people jogging, walking their dog, taking a Sunday family stroll, or even out taking photographs (this is a photographer's paradise). Thus, making it a place that welcomes all.
There is a small car park at the start of the hiking trail, but be sure to get there early to get a spot. Although large vehicles can enter, it may be tricky to turn around or park if there are many cars, so be sure to plan.
Address: Gortarowey, Co. Sligo
Notable mentions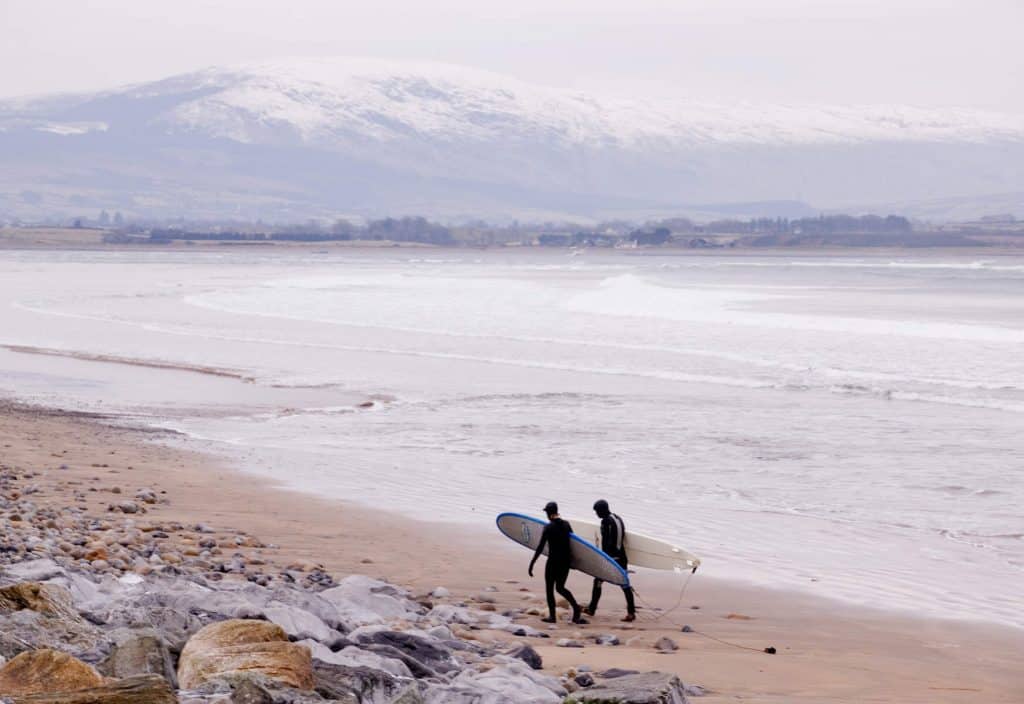 Strandhill Beach: When in Sligo, you can't miss a walk along Strandhill Beach. It really is one of the most beautiful beaches in Ireland.
Caves of Kesh: A tricky and strenuous hike to see the 17 caves of Keashcorran.
Union Wood: An easy two-hour forest walk.
Streedagh Beach: Perhaps one of County Sligo's most beautiful beaches, Streedagh Beach is a great walk by the water.
FAQs about the best walks in Sligo
What are the best forest walks in Sligo?
Benbulben Forest Walk and Union Wood are two of the best forest walks in Sligo.
How hard is the Benbulben hike?
The Benbulben hike is relativelyeasy for most fitness levels.
What are the different types of hiking trails in County Sligo?
There are strenuous mountain trails, forest paths, and coastal walks to choose from.
Alas, with the best walks in Sligo list we have compiled, you now have plenty of opportunities to get into nature and see the beauty of the west.