Boasting everything from fine to casual dining and everything in between, there is a reason Cork is known as Ireland's culinary capital.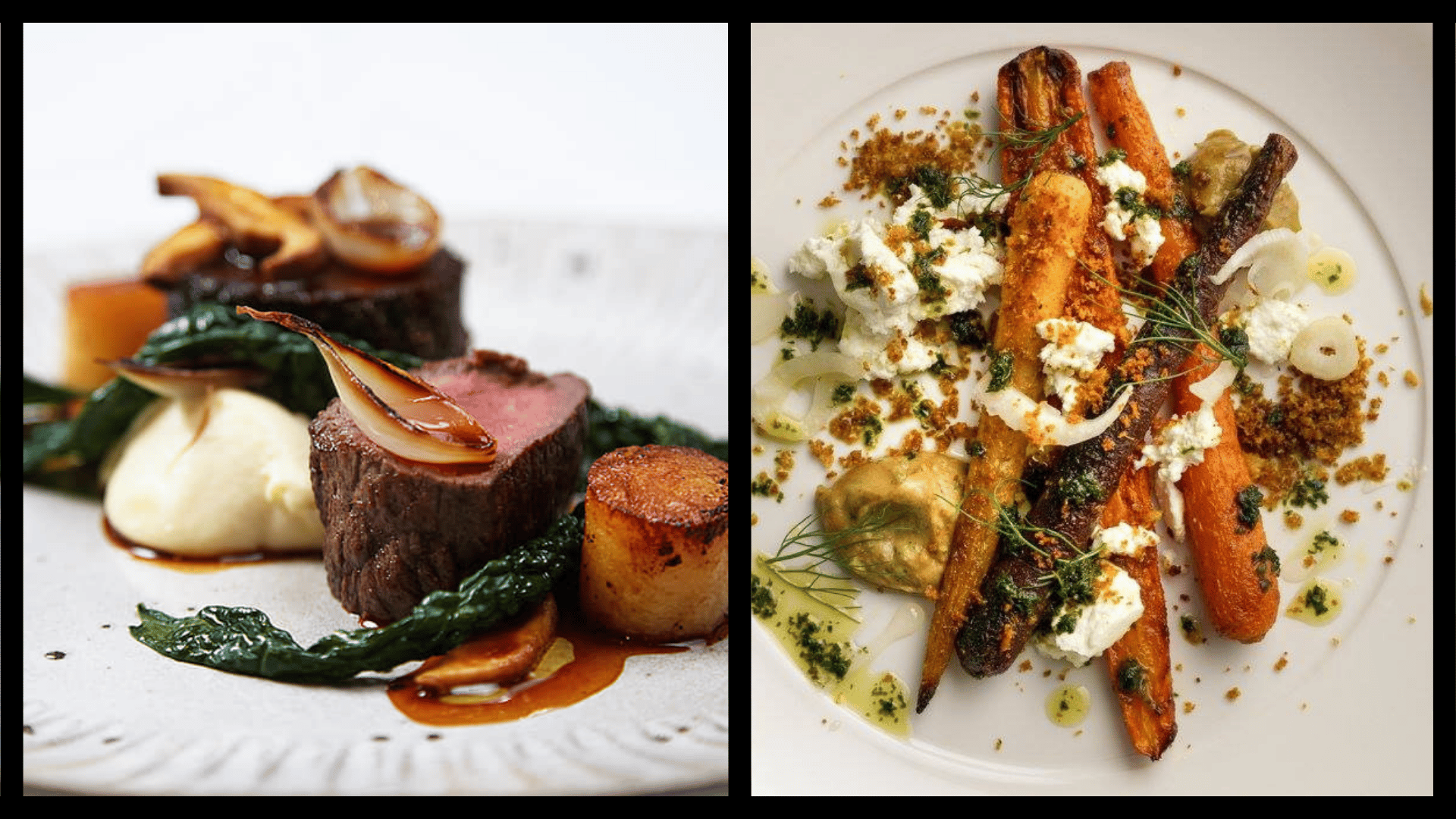 If you're in the city looking for a memorable dining experience, you've come to the right place. Today, we're revealing the top 20 best restaurants in Cork to suit all tastes and budgets.
Cork has gained international renown as Ireland's culinary capital, thanks to its array of Michelin Star eateries and casual dining alternatives.
Top-class eateries can be found all across County Cork. So, if you're feeling hungry and are looking for something delicious, read on to find out more.
Our top facts about the food scene in Cork:
Cork is home to The English Market, which is one of the oldest markets in Ireland. It focuses on food, with many local and international specialities available.
We also recommend a visit to the Coal Quay Market and the Douglas Farmers Market for fresh local produce.
A food that is common in County Cork and neighbouring County Limerick is drisheen, a type of blood sausage. It is typically paired with tripe.
Other Cork specialities include spiced beef and buttered eggs.
20. Ferrit and Lee Restaurant – an East Cork must for all
Located in Midleton, East Cork, Ferrit and Lee Restaurant is undoubtedly one of the county's very best restaurants. Set beside the Jameson Whiskey Experience, it's a great place to eat before checking out this popular attraction.
Using fresh Irish ingredients from local artisan producers, this amazing restaurant offers an extensive food menu to suit all tastes.
Address: Distillery Walk, Midleton, Co. Cork, Ireland
19. Il Padrino – for a delicious Italian meal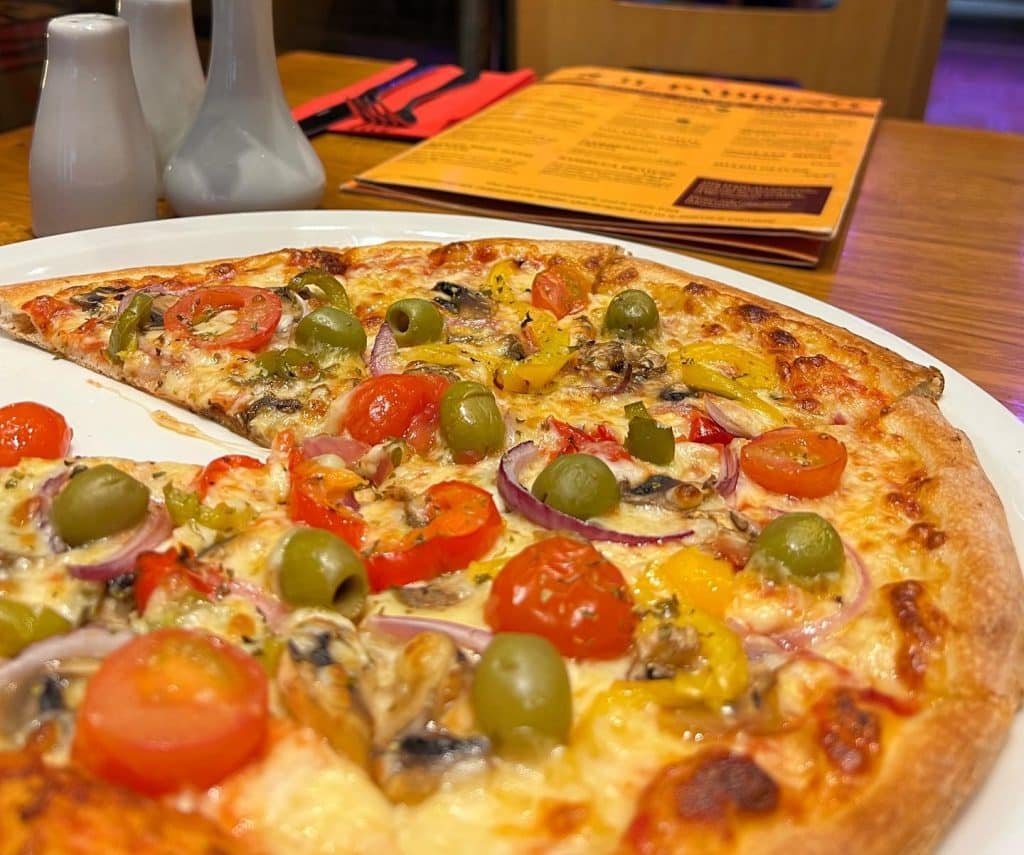 If you find yourself in Cork city searching for delicious pasta and Italian wine, then we direct you to Il Padrino in the centre of town.
Serving a delightful menu inspired by the flavours of Italy, this rustic eatery is undoubtedly one of the best restaurants in Cork to suit all tastes.
LEARN MORE: The IB4UD guide to the best Italian restaurants in Cork.
Address: 21 Cook St, Centre, Cork, T12 K3KA, Ireland
18. Isaac's Restaurant – a top-class restaurant serving fresh Cork food
Serving both a fantastic evening and lunch menu, Isaac's Restaurant in the Victorian Quarter is a must-visit no matter the time of day.
Specialising in Irish cuisine with a menu featuring dishes such as seafood chowder, Skeaghanore confit duck, and local cheeses, dining here is sure to be a delightful experience.
Address: 48 MacCurtain Street, Victorian Quarter, Cork, T23 F6EK, Ireland
17. Barry's of Douglas – a favourite restaurant among locals
Located at the edge of Cork city, Barry's of Douglas is a traditional Irish pub and restaurant with a contemporary twist.
Known for its tasteful décor, generous portions, and impeccable service, this is a casual dining experience you can't miss while in the area. They even offer an array of vegan options!
Address: Douglas East, Cork, T12 YV08, Ireland
16. Orso Kitchen and Bar – a focus on seasonality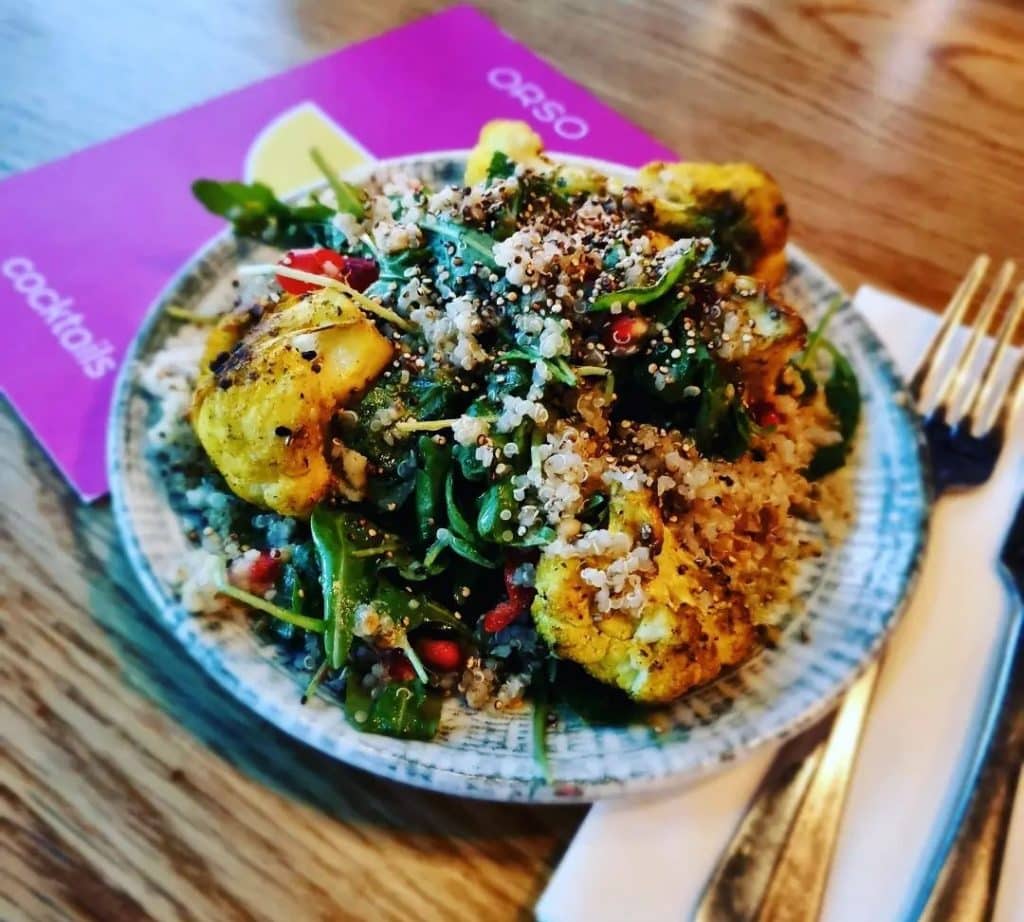 Serving fresh, seasonal, creative dishes using locally sourced ingredients, Orso Kitchen and Bar is a stylish eatery that welcomes locals and tourists in their droves week after week.
With an ever-changing menu, there is always a new reason to head back. So, trust us when we say this is one you don't want to miss!
Address: 8 Pembroke Street, Centre, Cork, T12 YY90, Ireland
15. Franciscan Well Bar & Brewery – with over 20 years of experience in the city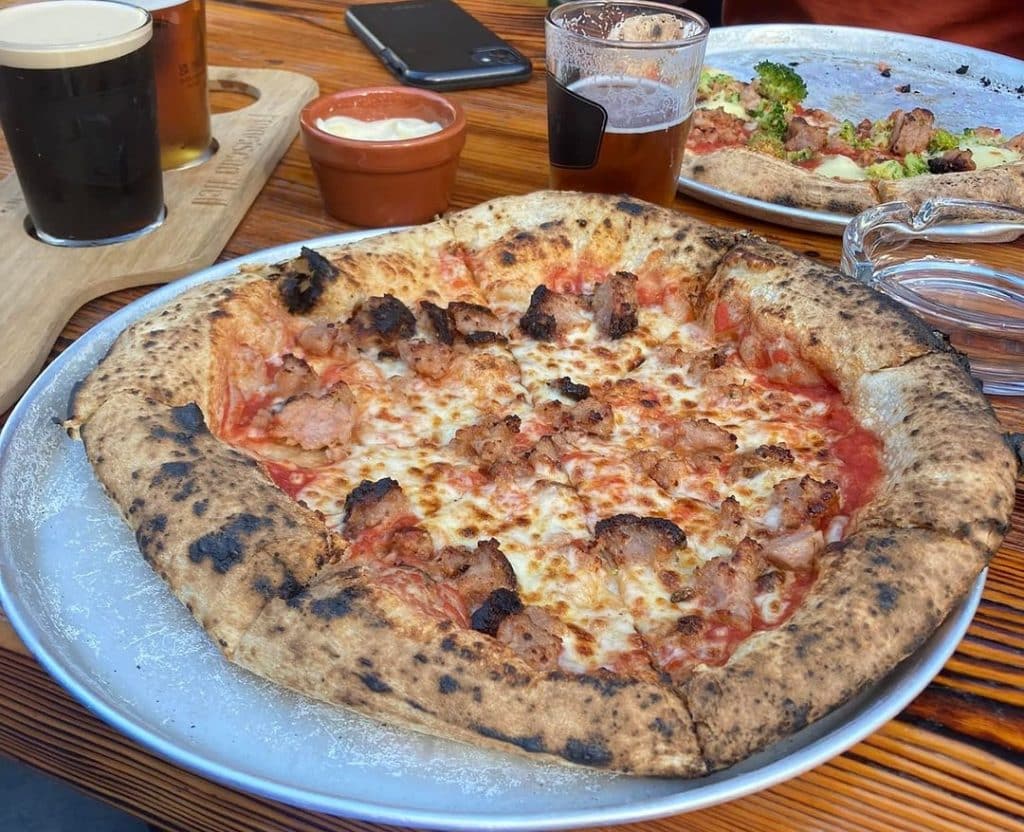 Perhaps one of the most well-known bars and breweries in Ireland, Franciscan Well is also well-known for its freshly cooked pizzas.
If you fancy some awesome cocktails to wash down your pizza, you can even check out the Monk Cocktail Bar, which is located upstairs.
Address: 14 N Mall, Sunday's Well, Cork, T23 P264, Ireland
14. Coqbull – for unbelievable burgers and chicken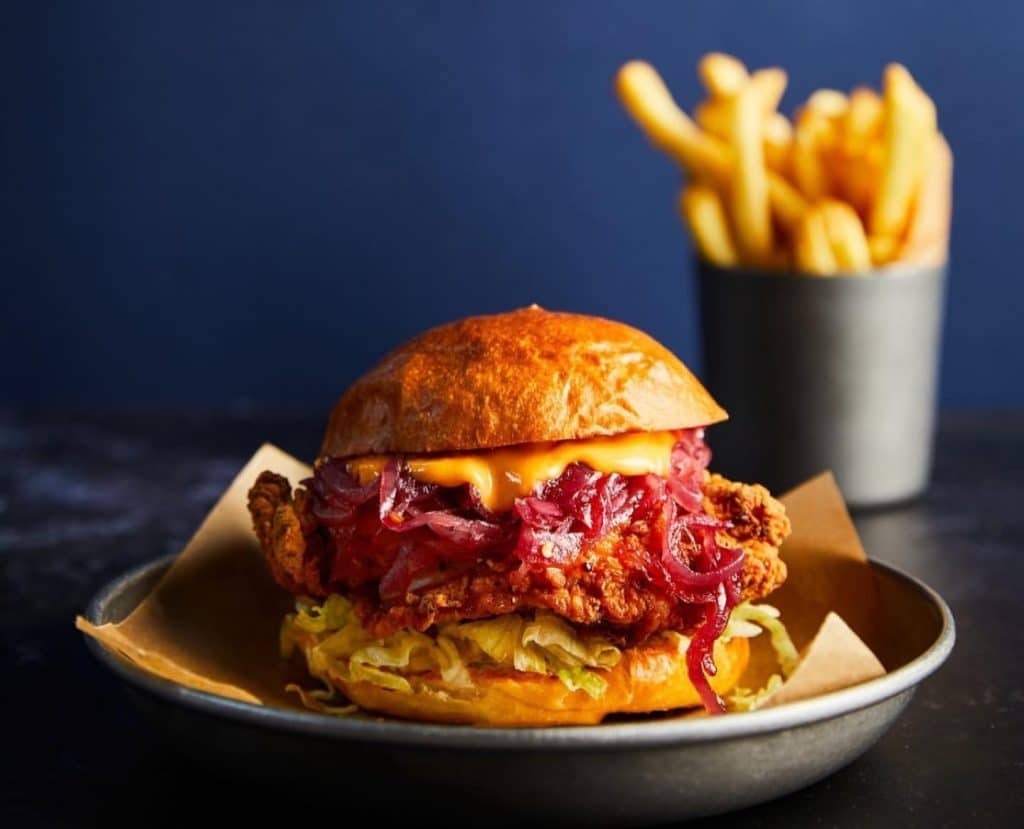 Coqbull is a popular chicken and burger restaurant in the city centre. With branches in cities such as London and Limerick, this popular eatery is a great place to catch up with friends.
They offer mouthwatering lunch and dinner menus with everything from pizzas to fully loaded burgers and fries. Their delicious cocktails and desserts are impossible to resist, too.
Address: 5 French Church St, Centre, Cork, Ireland
13. Farmgate Café – located inside a lively market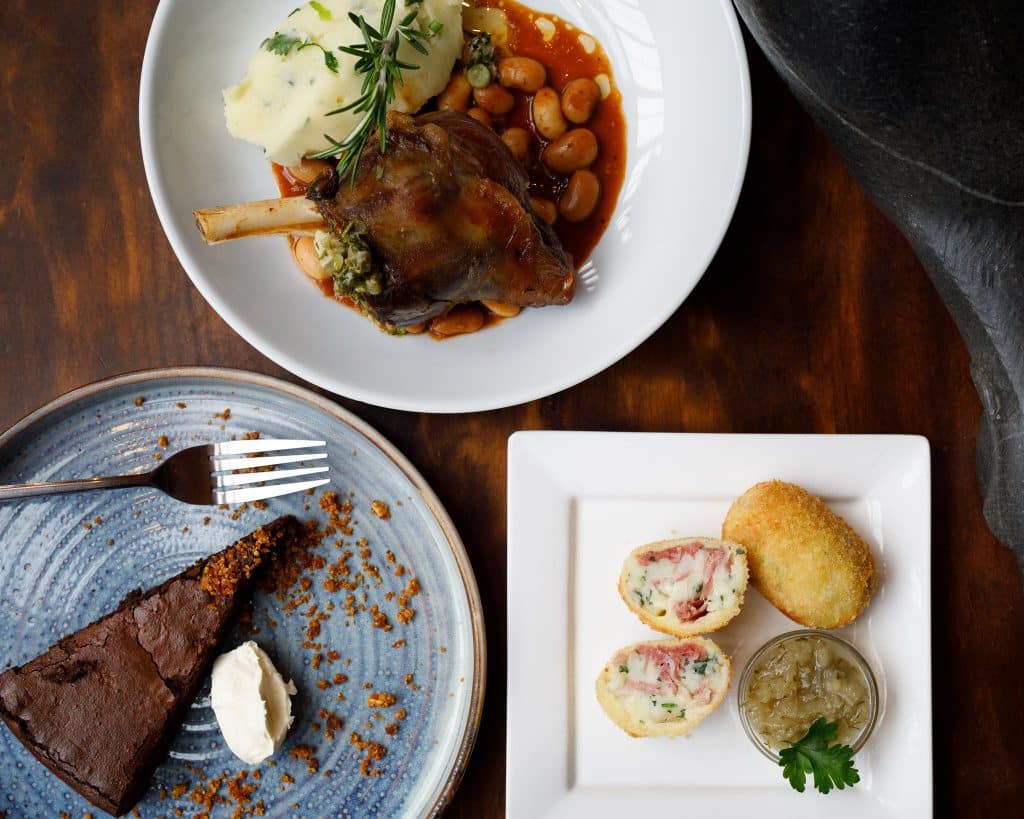 Located inside an indoor market on Princes Street in Cork city centre, Farmgate Café has been serving locals since the 1980s.
Open for both breakfast and lunch, Farmgate specialises in dishes made using organic ingredients. A mainstay in Cork's vibrant food scene, there is a reason this spot has enjoyed enduring success.
Address: The English Market, Princes St, Centre, Cork, T12 NC8Y, Ireland
12. Cornstore – a great restaurant for all
With branches in both Cork and Limerick, Cornstore is one of the west of Ireland's best-loved restaurants. Offering a menu specialising in European foods, there is something for everyone here.
The perfect location for families, first dates, or meetups with friends, Cornstore boasts a lively and fun atmosphere. Plus, the friendly kitchen team will ensure you have a great dining experience!
Address: 41-43 Cornmarket Street, Centre, Cork, T12 R886, Ireland
11. Gallagher's Gastro Pub – a great spot for brunch, lunch, and dinner
Under the management of the Gannon family since 2013, Gallagher's Gastro Pub has continued to go from strength to strength.
Named after local rock legend Rory Gallagher, this restaurant has a truly friendly local feel. Their exquisite menu celebrates fresh ingredients and creative ideas, so you can always expect a delicious meal here.
Address: 32 MacCurtain Street, Victorian Quarter, Cork, T23 Y07X, Ireland
10. Ichigo Ichie – for award-winning Japanese cuisine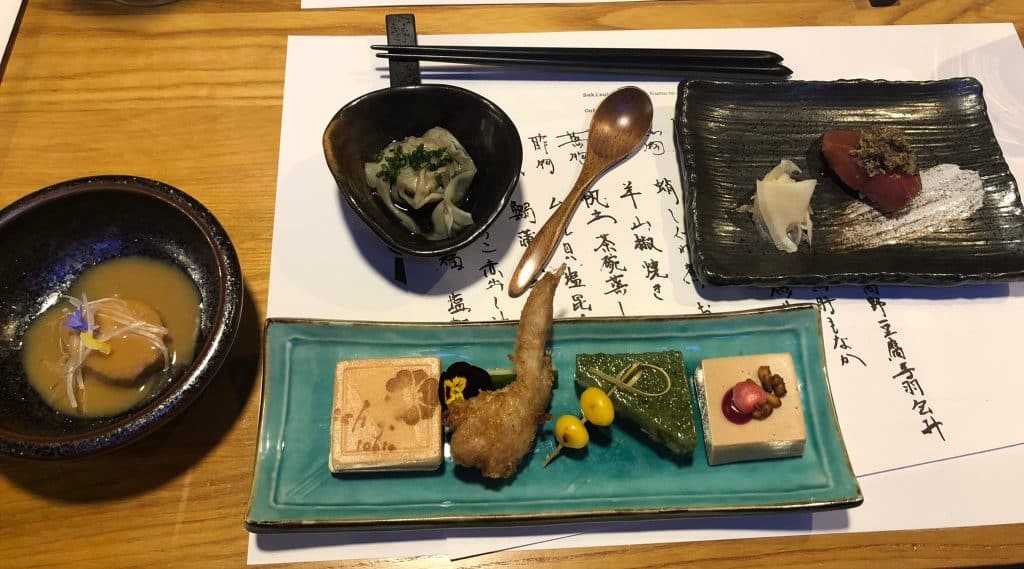 If Japanese food is on your mind, then Ichigo Ichie needs to be on your radar. This Michelin Star restaurant, headed by Japanese chef Takashi Miyazaki, offers an extensive seafood menu with favourites for all.
This is not just the best Japanese restaurant in the city, but one of the very best restaurants overall. They even serve an incredible 12-course menu, so what are you waiting for?
Address: No5 Sheares St, Centre, Cork, T12 RY7Y, Ireland
9. Quinlans Seafood Bar – for amazing seafood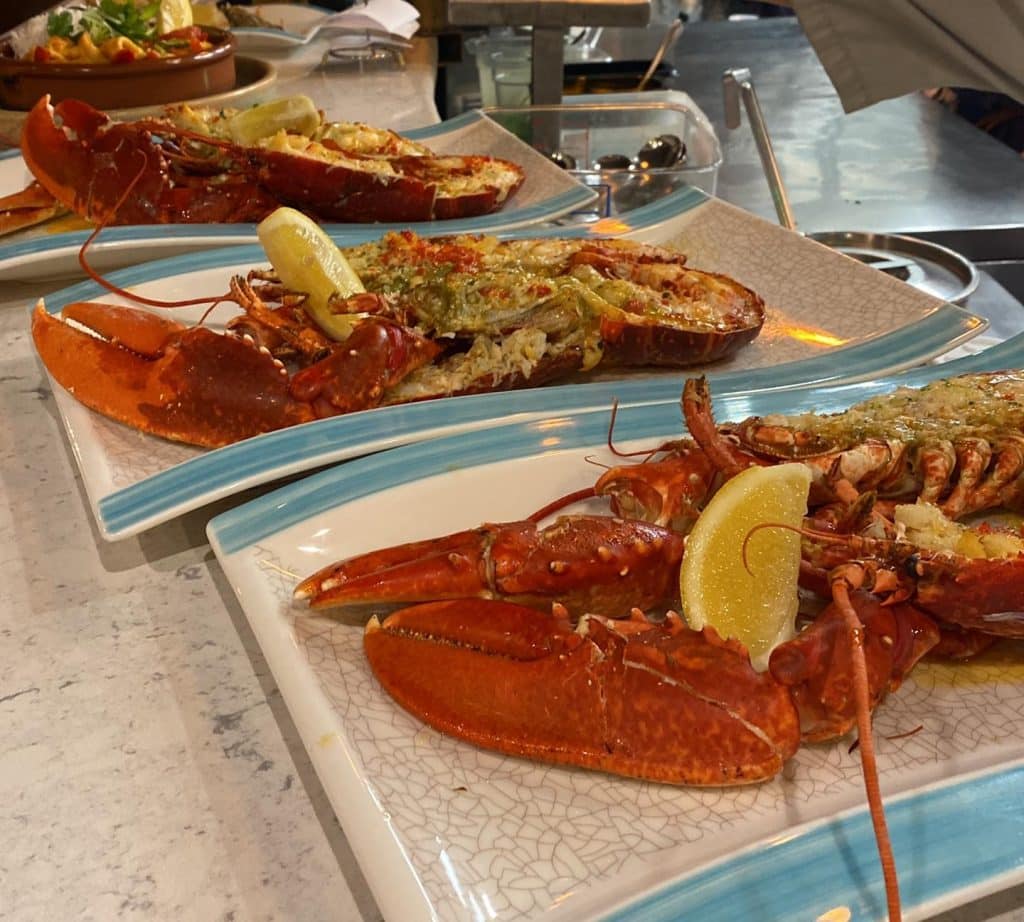 Serving locally sourced seafood at affordable prices, Quinlans Seafood Bar sees visitors travel to the city from all over Ireland and further afield.
This popular fish bar is well-known for its delicious fish and chips, and once you try it for yourself, you'll quickly learn why!
RELATED READ: Our guide to the best places for fish and chips in Cork.
Address: 14 Princes St, Centre, Cork, T12 K2HW, Ireland
8. Strasbourg Goose Restaurant – for a unique fine-dining experience
Creating a cultural mix of Irish and French cuisine, Strasbourg Goose Restaurant offers a great selection of dishes to suit all tastes.
Diners can expect perfectly cooked steaks, fresh seafood, pasta dishes, and more, all lovingly prepared in house.
Address: 17/18 French Church St, An Linn Dubh, Cork, T12 WFP3, Ireland
7. Liberty Grill – for a taste of America in Ireland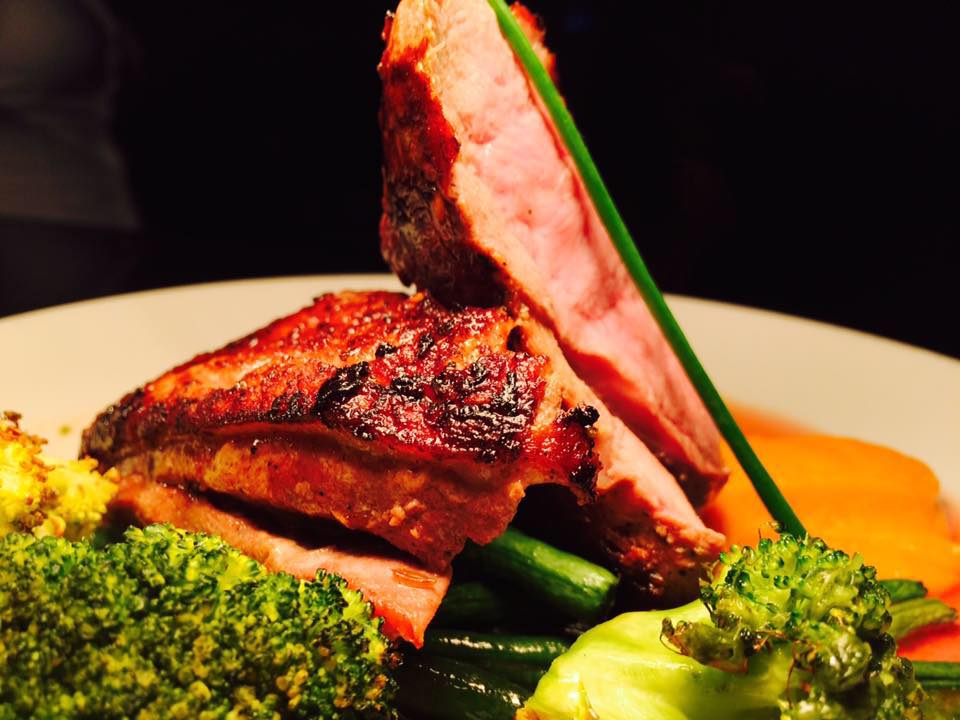 Inspired by New England cuisine, Liberty Grill is an incredibly popular Cork restaurant that offers brunch, lunch, and dinner menus to delight all.
Diners can expect everything from Nova Scotia fish cakes to aubergine rollotini, Amalfi chicken to calamari.
Address: 32 Washington St, Centre, Cork, T12 T880, Ireland
6. Jacobs on the Mall – a Cork favourite with great meat-free options
This modern European-style restaurant located on Cork's South Mall serves up a plant-filled menu with plenty of options for both vegans and vegetarians.
This award-winning dining establishment has a real contemporary feel and pays tribute to Ireland's rich culinary heritage in all its dishes.
Address: 30 S Mall, Centre, Cork, T12 NY22, Ireland
5. Elbow Lane Brew and Smoke House – for delicious food and great drinks
This sister restaurant of Cork's award-winning Market Lane, we highly recommend checking out Elbow Lane Brew and Smoke House while in the city.
Set in a charming building at the edge of Oliver Plunkett Street, the food here is truly unforgettable. They also have a great selection of beers, wines, and cocktails.
Address: 4 Oliver Plunkett Sreet, Centre, Cork, T12 YH24, Ireland
4. Market Lane – an award-winning eatery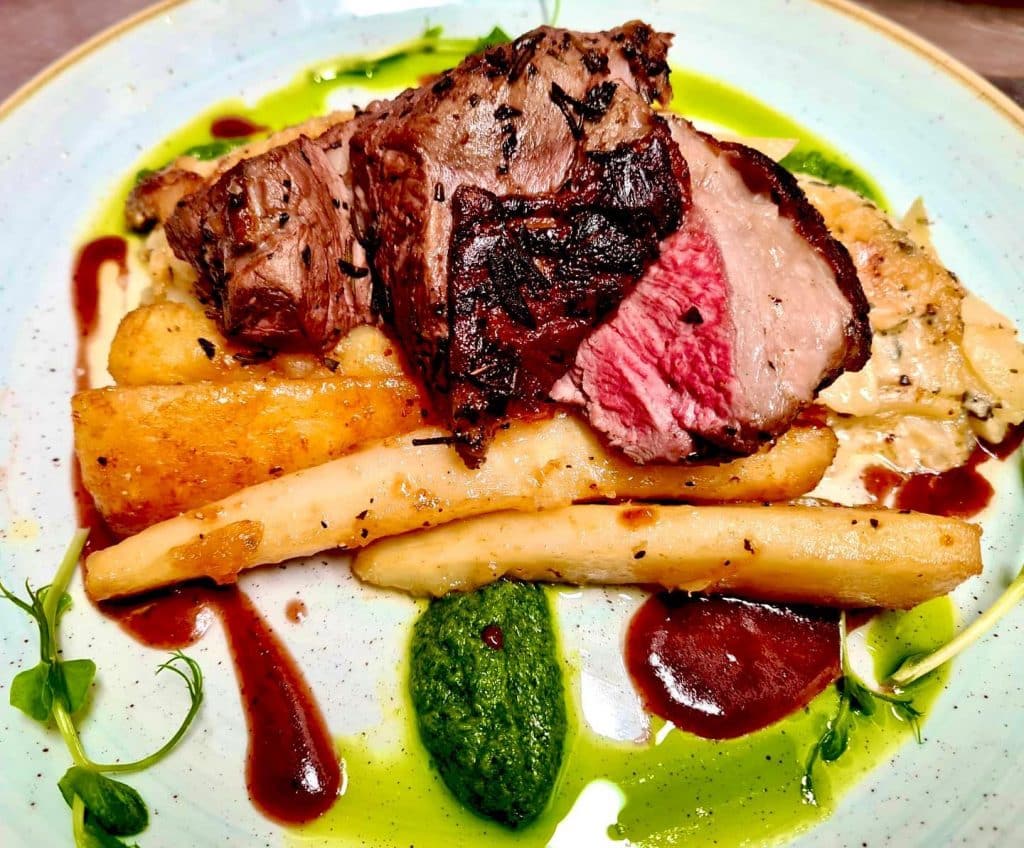 This popular two-floor restaurant and cocktail bar on Oliver Plunkett Street needs to be on all foodies' radars during a visit to Cork.
Having won numerous awards, diners can expect great food for both lunch and dinner. They even have a heated outdoor terrace for those who enjoy dining alfresco.
Address: 5-6 Oliver Plunkett St, Centre, Cork, T12 T959, Ireland
3. The SpitJack Cork – a modern restaurant with dishes full of flavour
Among the city's most popular restaurants, The SpitJack Cork first opened in 2017 and has quickly gained a reputation as one of the city's finest establishments.
Open for brunch, lunch, and dinner; you can enjoy a delicious meal here, no matter the time of day. With dishes such as rotisserie chicken and pork ribs, the flavours here are truly unrivalled.
Address: 34 Washington St, Centre, Cork, T12 RY96, Ireland
2. Paradiso – for delicious meat-free sharing plates
A popular vegetarian restaurant, Paradiso serves an incredible sharing small plates menu that is bursting with flavour and creativity.
The menus can also be made fully vegan, making this a great spot for those following a plant-based lifestyle. All sharing plates are for two, so at least two at the table must opt for the vegan option for it to be served.
READ MORE: Our guide to the best vegan restaurants in Cork.
Address: 16 Lancaster Quay, Mardyke, Cork, T12 AR24, Ireland
1. Greenes Restaurant – for some of the best food in Ireland
Topping our list of best restaurants in Cork is Greenes Restaurant at the heart of the city's Victorian Quarter.
Specialising in fine dining cuisine, the chefs here bring together traditional food practices with innovative techniques to curate a menu you won't want to miss.
Serving seasonal dishes made using the finest local ingredients, your tastebuds will delight at what is in front of you here.
MORE: Ireland Before You Die's guide to Cork restaurants that foodies love.
Address: Greenes Restaurant, 48 MacCurtain Street, Victorian Quarter, Cork, T23 F6EK, Ireland
Notable mentions
Tung Sing Restaurant: Located on Cork's bustling Patrick Street, Tung Sing Restaurant specialises in delicious Asian-style cuisine.
Electric: This brilliant art deco restaurant is located on the riverside, offering delicious food and great views. The menu features everything from fresh fish to burgers, sushi to curry, and more.
The Glass Curtain: Offering up a five-course menu of dishes prepared using fresh, local, seasonal ingredients, dining at The Glass Curtain is sure to be an experience you won't forget.
Izz Café: Known for their incredible Middle Eastern dishes, Izz Café is the place to go for a casual dining experience and plenty of flavour.
Iyer's: Specialising in authentic Indian street food, Iyer's is well-known on the streets of the Cork market town of Shandon.
Dede at the Customs House Baltimore: Taking inspiration from his Turkish roots, Chef Ahmet Dede creates delicious dishes using the freshest ingredients at his West Cork restaurant. The tasting menu is worth checking out if that's your sort of thing.
Ballyvolane House: This fantastic country house-style eatery in West Cork is known for its excellent food, such as fresh salt-water fish, delicious roasts, and home-grown vegetables.
Perrotts Garden Bistro: Perrotts is an upmarket restaurant on Sullivan's Quay that is worth the expense.
Crawford Gallery Cafe: Crawford Gallery Cafe is one of the nicest dining rooms in the country in the heart of a serene art gallery.
Your questions answered about the best restaurants in Cork
If you've still got questions in mind, you're in luck! In this section we answer some of our readers' most frequently asked questions and some questions that appear often in online searches.
What are the best places to eat in Cork City for a fancy meal?
Greenes Restaurant, Paradiso, and Orchids Restaurant at Hayfield Manor are some of the best places in Cork for a fancy meal.
What Cork restaurants are great for a cheap, tasty bite?
Shake Dog Cork, Franciscan Well Bar and Brewery, and Quinlan's Seafood Bar are some of our favourites for a cheap, tasty bite in Cork.
What food is Cork famous for?
Clonakilty Black Pudding is one of the most famous foods from Cork.