When you visit Ireland, there are certain foods you need to try, such as Irish stew, boxty, Tayto crisps, and, of course, the humble and delicious fish and chips.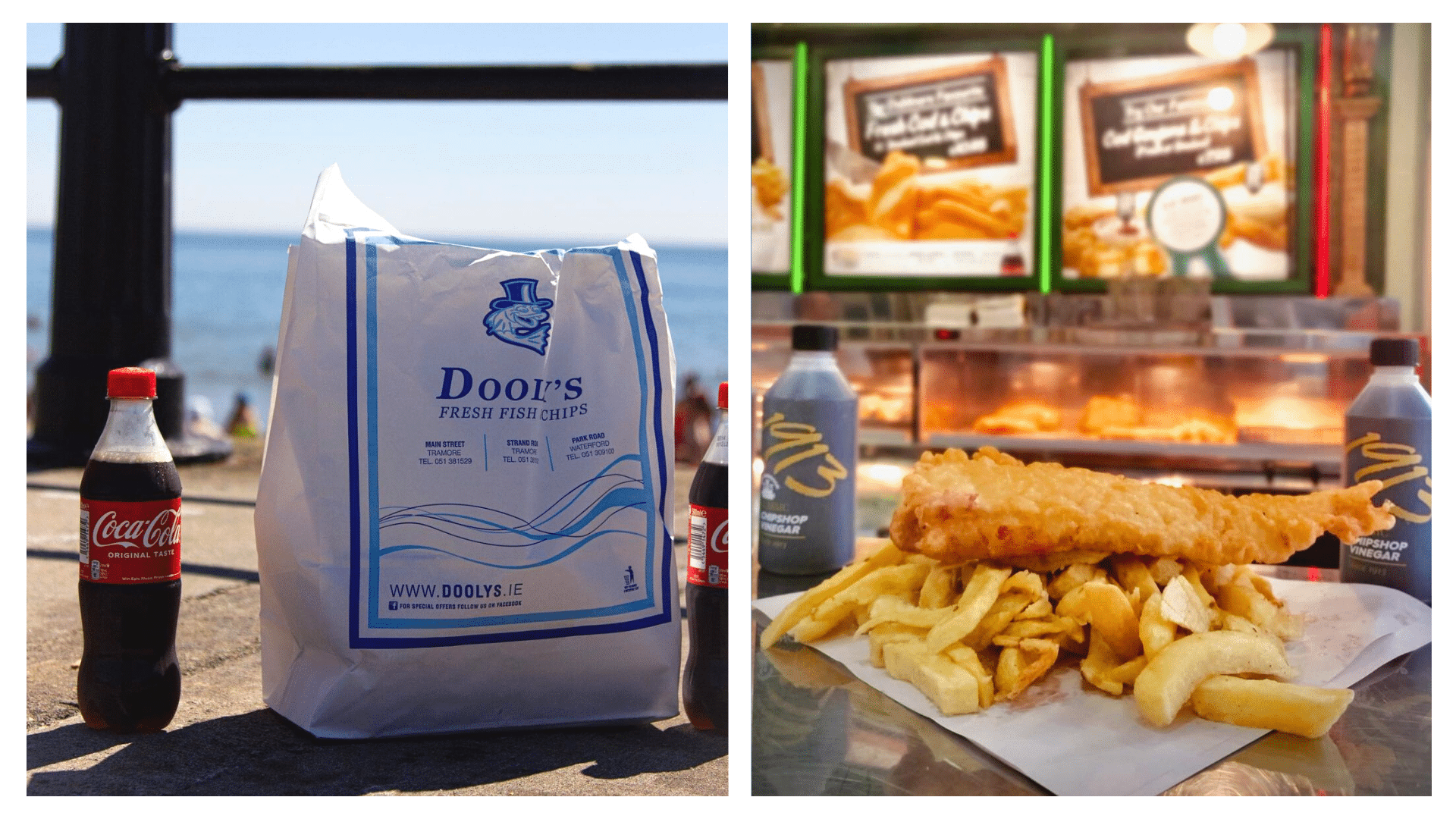 Come Friday night, families all across Ireland make a beeline for their favourite fish and chip shop, or 'chipper', as they are more commonly known across the Emerald Isle.
Known for its greasy, golden deliciousness, the chipper is the epitome of Irish cuisine, with potatoes and various types of meat fried in a deep vat of hot oil.
The perfect warming meal at the end of a cold winter's day or the ideal lunch during a day at the chilly Irish coast, you can't go wrong with a good ol' fish and chip. So, here are the 30 best places for fish and chips in Ireland.
30. Reel Dingle Fish, Co. Kerry – for fresh and local food
If you find yourself in the stunning seaside town of Dingle in the mood for some delicious fish and chips, then you need to check out the fantastic Reel Dingle Fish.
A local favourite, this relaxed spot offers diners fresh, locally sourced produce from all over the Dingle Peninsula.
Address: Bridge St, Dingle, Co. Kerry, Ireland
29. Danolla's Diner and Takeaway, Co. Mayo – for top-quality fish and chips
Located in Castlebar, County Mayo, Danolla's Diner and Takeaway is undoubtedly among the very best places for fish and chips in Ireland.
A family-run diner, Danolla's is a popular spot among locals and is highly regarded for its traditional fried fish and freshly cut chips.
Address: Apartment 1, Danolla's Apartments, Castle St, Gorteendrunagh, Castlebar, Co. Mayo, F23 WR88, Ireland
28. John Keogh's Gastropub, Co. Galway– for award-winning food
An award-winning gastropub in the heart of Galway, John Keogh's is a great spot to enjoy some delicious fish and chips in Ireland's Capital of Culture.
They aren't only known for their delicious food, however. Rather, John Keogh's offers top-quality beers and cocktails, as well as friendly service and a lively atmosphere.
Address: 22-24 Dominick St Upper, Galway, H91 WNH0, Ireland
27. Dooly's, Co. Waterford – with something for everyone
Located in Tramore East, Dooly's is a traditional Irish chipper serving everything from high-quality fish and chips to burgers, sausages, and more.
They even offer some fantastic vegan options – something that is often unheard of in traditional Irish fish and chip shops.
Address: Park Rd, Waterford, X91 W772, Ireland
26. The Brass Fox, Co. Wicklow – for a gourmet twist on fish and chips
A charming traditional Irish pub in the heart of Wicklow town, The Brass Fox offers dine-in, takeaway, and delivery.
They offer a wide range of delicious dishes, including fries, salads, steak, pasta, and more. However, if it's fish and chips you're after, then you're in luck as they offer a fresh cod fillet in a light and crispy beer batter served with some 'foxy fries'.
Address: 14-15 Leitrim Pl, Corporation Land (1st Division), Wicklow, A67 Y429, Ireland
25. Embassy Grill, Co. Dublin– a well-established Dublin chipper
If you fancy a fish and chip dinner while in the capital, Embassy Grill is a great spot to check out.
Established all the way back in 1971, this chipper truly does know what the people of Dublin want. Serving a wide range of quality classics, this family-friendly restaurant is open for both dine-in and takeaway.
Address: 172 Pembroke Rd, Dublin, D04 WK27, Ireland
24. The Galley Takeaway and Restaurant, Co. Down – for fish and chips by the sea
Located in Annalong, County Down, along the scenic Mourne Coastal Route, The Galley Takeaway and Restaurant is a popular spot for fish and chips among both locals and those visiting the area.
Concerned with sustainability, all seafood and meat come from sustainable and well-managed fisheries. Thus, you can rest assured that the produce here is of the highest quality.
Address: 43 Kilkeel Rd, Annalong, Newry BT34 4TJ
23. John Long's, Co. Antrim – one of Belfast's best
Belfast is home to plenty of fantastic fish and chip shops that are worth checking out. One you can't miss while in the city is John Long's.
This long-established eatery is not only popular among locals. In fact, famous faces such as Sean Bean and Brendan Fraser have also paid a visit.
Address: 39 Athol St, Belfast BT12 4GX
22. Olde Castle Bar and Seafood Restaurant, Co. Donegal – for fans of Donegal seafood
Located in Donegal Town, the Olde Castle Bar and Seafood Restaurant is a laid-back pub serving locally sourced fish and seafood in a cosy upstairs dining room.
As Donegal's seafood is widely regarded as some of the finest in Europe, you are sure to fall in love with their beer-battered Killybegs cod.
Address: Castle St, Milltown, Donegal Town, Co. Donegal, Ireland
21. The Boathouse, Co. Antrim – for picturesque waterside dining
Overlooking Lough Neagh and the picturesque Antrim Lough Shore, The Boathouse is the perfect place to enjoy a relaxed meal with friends or family.
Having been recognised as one of the best waterside restaurants in the UK, you will be blown away by the quality of the fish and chips offered here.
Address: Lough Rd, Antrim BT41 4DQ
20. Merchant Fish & Chip Shop, Co. Antrim – a must-visit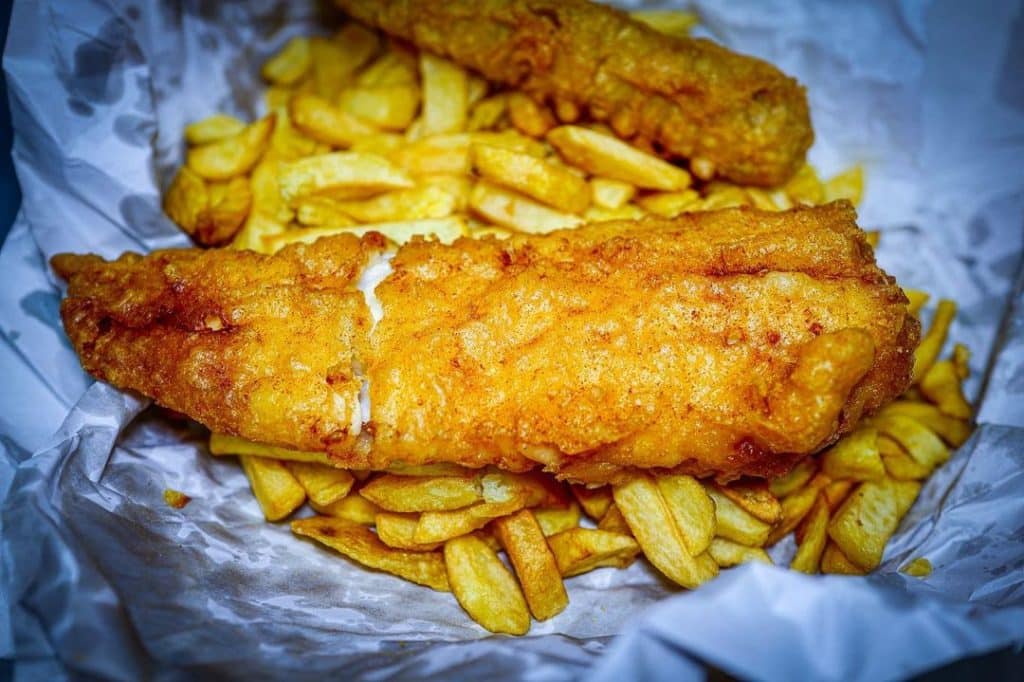 The Merchant Fish and Chip Shop in Ballymena is often ranked among the best places to get delicious fish and chips.
Scrolling through their social media is sure to get your mouth watering at all the golden deliciousness.
Address: 41 Linenhall St, Ballymena BT43 5AJ
19. The Fish Shop, Co. Dublin – a popular Dublin eatery
Another popular spot in Ireland's capital city, the Fish Shop in Smithfield is highly rated as one of the best places for fish and chips in Dublin and Ireland as a whole.
First opened in a converted shed in Blackrock Market in 2013, this fantastic spot has gone from strength to strength over the past decade, with customers, both new and old, raving about the high quality of food offered.
Address: 76 Benburb St, Smithfield, Dublin, D07 X3PN, Ireland
18. Fishy Fishy, Co. Cork– for world-renowned seafood
Heading down south, Fishy Fishy Restaurant in Kinsale is the quintessential seaside eatery.
World-renowned for its award-winning seafood, this Michelin Bib Gourmand restaurant is run by a talented husband and wife team with a passion for great food.
Address: Crowleys Quay, Kinsale Co, Co. IE, Ireland
17. Squid Shack, Co. Down – an unconventional chip shop
Located in Dundrum, County Down, this fantastic takeaway restaurant and hot food bar proves hugely popular with those passing through the town.
They offer a creative menu featuring your choice of squid, chicken, or prawns in their delicious salt n' chilli boxes or the classic beer battered fish and chips.
Address: 81 Main St, Dundrum, Newcastle BT33 0LU
16. Luigi's, Co. Limerick – a beloved Limerick eatery
For traditional fish and chips in Limerick, one of the best places you can visit is Luigi's.
With stunning wood interiors, plush leather-style seats, and industrial lighting, this traditional chipper gives off a modern vibe. Not to mention their food is of some of the highest quality in the city.
Address: 44/45 Parnell St, Limerick, V94 H6KP, Ireland
15. Wharton's, Co. Kerry – the perfect stop on the Ring of Kerry
Located on the picturesque Ring of Kerry, Wharton's Traditional Fish and Chips is a popular spot among those travelling this well-trodden trail.
Operating from a van, this is the perfect place to get an authentic Irish fish and chip experience.
Address: Greenane, Templenoe, Co. Kerry, Ireland
14. Kraken Fish and Chips, Co. Antrim– for some of the finest fish and chips in Northern Ireland
The north coast of Northern Ireland is one of those places where you just have to get fish and chips.
It's something about the salty sea air, the amusement arcades, and the beautiful beaches. One of the best places to get fish and chips along the Causeway Coastal Route is undoubtedly the amazing Kraken Fish and Chips in Portrush.
Address: 25 Lansdowne Cres, Portrush BT56 8AY
13. Jackie Lennox's, Co. Cork – one of Cork's most popular eateries
Next up on our list of top spots for fish and chips in Ireland is the iconic Jackie Lennox's in Cork.
Established in 1951, this spot has over 70 years experience serving the people of Cork. So, there's no doubt that they know what they're doing!
Address: 137 Bandon Rd, The Lough, Cork, T12 C959, Ireland
12. Morton's Fish and Chips, Co. Antrim – a seaside seafood spot
Another popular spot for fish and chips along the north Antrim coast, there is always a queue at Morton's. However, we can promise you that the wait is worth it.
A family business started by Johnny Morton over 100 years ago, the quality of seafood on offer here is truly unmatched.
Address: 9 Bayview Rd, Ballycastle BT54 6BT
11. McDonagh's, Co. Galway – in business for over 100 years
Galway is known for its high-quality food offerings, and McDonagh's on Quay Street is truly no exception to the rule.
A traditional, family-run chipper, this spot has been trading since 1902. So, they must be doing something right!
Address: 22 Quay St, Galway, H91 N902, Ireland
10. Mr Chippie, Co. Donegal – a popular Donegal takeaway
No visit to Donegal is complete without a trip to the fish and chip shop. So, if you find yourself near Letterkenny, check out the fantastic Mr Chippie.
Serving fresh fish from Killybegs and hand-cut chips, meals here are sure to satisfy your cravings.
Address: Highfield Pl, Gortlee, Letterkenny, Co. Donegal, Ireland
9. Harry's Shack, Co. Derry – a beautiful beachfront restaurant
Set on Portstewart Strand, Harry's Shack is known for breathtaking views and fresh local seafood.
An upscale dining experience, this is a great spot for special occasions. Flavourful dishes are guaranteed here, making it a fantastic place for seafood.
Address: 116 Strand Rd, Portstewart BT55 7PG
8. The Saltee Chipper, Co. Wexford– an award-winning takeaway
Fancy fish and chips in the sunny southeast? If so, then The Saltee Chipper in County Wexford should be on your Irish bucket list.
Located in Kilmore Quay, this spot was awarded Takeaway of the Year 2019 at the Yeschef Irish Takeaway Awards. So, if that doesn't speak to the quality of what's on offer here, then we don't know what does.
Address: Crossfarnoge, Co. Wexford, Ireland
7. Donkey Fords, Co. Limerick – a Limerick institution
One of the oldest chippers in Ireland, Donkey Fords is a firm piece of the fabric of the city of Limerick.
A friendly local takeaway, this place is always flat out on Friday and Saturday nights as locals flock to get their tasty chipper tea.
Address: 22 John's St, Limerick, V94 WD21, Ireland
6. Hooked, Co. Galway– one taste and you're hooked
An award-winning family-run seafood business in County Galway, Hooked is a great spot to enjoy mouthwatering fish and chips.
With two locations, one in Galway's West End and one at Seapoint, Barna Village, you won't be too far from tasty seafood dishes.
Address: 65 Henry St, Galway, H91 DP78, Ireland
5. Quinlan's, Co. Kerry – plenty of locations to choose from
A chain of seafood restaurants with outlets throughout Cork and Kerry, you can't go wrong with a feed from Quinlan's.
Known for generous portions, high-quality seafood, and friendly service, this is undoubtedly one of the best places for fish and chips in Ireland.
Address: 77 High Street, Killarney, Co. Kerry, V93 R2X3, Ireland
4. Beshoff Bros, Co. Dublin– a Howth institution
The Dublin suburb of Howth is a popular spot for a seaside day out not far from the city. So, what better way to enjoy a day at the seaside than with some delicious fish and chips from Beshoff Bros?
Address: 12 Harbour Rd, Howth, Dublin, D13 X4P8, Ireland
3. Fish City, Co. Antrim – for fancy fish and chips
If you want fish and chips that are a step above the norm, then we highly recommend Fish City in Belfast.
This casual seafood restaurant has won numerous awards for its high-quality food.
Address: 33 Ann St, Belfast BT1 4EB
2. KC & Son & Sons, Co. Cork – a family-run chipper
For 'good, honest food' in the heart of Douglas Village, you must check out KC & Son & Sons.
Operating in the area since 1958, this family-run business has seen three generations serving the people of Douglas Village with delicious fish and chips.
Address: Douglas East, Cork, T12 YP27, Ireland
1. Leo Burdock's, Co. Dublin– an iconic Dublin chipper
Topping our list of best places for fish and chips in Ireland is the famous Leo Burdock's in Dublin's Temple Bar district.
Well-known across Ireland, Leo Burdock's was founded in 1913. Thus, making it Dublin's oldest remaining chipper.
Address: 4 Crown Alley, Temple Bar, Dublin 2, D02 YH05, Ireland