Dublin has always been spoken about in the same breaths as Amsterdam and Copenhagen in terms of bike-friendly cities, and rightly so.
With cycle lanes widening, the bike-share program expanding, and an ever responsive and willing population ready to ditch its four-wheeled automotive competitor – cycling is flourishing in this great city. So, here are the six best cycle routes in Dublin.
Rest assured, there is plenty for the would-be cyclist to see in this sprawling metropolis as well.
6. Glasnevin to St Anne's Park via Griffith Avenue and Clontarf Road (11.8 km) – beautiful in autumn
If you were to ask any local North Dubliner where you would be best placed to take in some of the city's autumnal beauty, they would be hard-pressed to point you in any direction other than Griffith Avenue. This is only one of the things that makes it one of the best cycle routes in Dublin.
This leafy street has rightly earned the accolade of the longest tree-lined avenue in the Northern Hemisphere void of any retail, and it's here where your bike tyre will undoubtedly feel that golden leafy crunch!
Begin your journey from Glasnevin pedalling down Griffith through Marino and onto Clontarf Road, where you will soon bask in the glory of Dublin Bay.
Finish the trek through the former home of the Guinness family in St Anne's Park, making sure to time it impeccably with the Farmer's Market (running 10 am to 4 pm every Saturday) for some hot food refuelling.
5. Sandymount to Dun Laoghaire (40 Foot) via Strand Road (9.8 km) – take in the beauty of Dublin's coastline
Now this one is a real beauty. Start your pedal-pushing from Sandymount Beach, heading on down to Booterstown before breezing on through Blackrock Park to ensure the best view of that glorious Dublin coastline and the infamous Poolbeg chimneys.
Take the bend at Monkstown to the lovely harbour town of Dun Laoghaire, making sure to finish your cycle with a close glimpse of Martello Tower – recognizable from the opening scene of James Joyce's book Ulysses, where the famous writer once lived.
Once you've stepped back out of Irish literature's Shangri-la, you could perhaps brave the 40 Foot and a dip in the Irish Sea to cool down.
4. Phoenix Park (8.2 km) – one of Europe's biggest parks
There is no better arena to dance the two-wheeled dance than Dublin's Phoenix Park, one of the best cycle routes in Dublin.
Stretching to over 1,700 acres and one of Europe's largest urban parks, it represents a cyclist's dream with its largely flat gradient and stunning views.
Make your way up Chesterfield Avenue from the Conyngham Road entrance peering left and right at Dublin's patrons relishing in the President of Ireland's front garden. That's right, keep an eye out for the Aras an Uachtarain (President's House) on your right-hand side!
After that, continue on taking a left at Furze Road, where you might be lucky enough to catch some of Phoenix Park's other residents – some 450 deer.
Loop on round Ordnance Survey Road – the deer's usual stomping ground – and back on down Chesterfield Avenue to complete a cycle we think you'll be quite fawn'd of.
3. Portobello to Liffey Side via Smithfield and Henrietta Street (4.6 km) – explore Dublin inner-city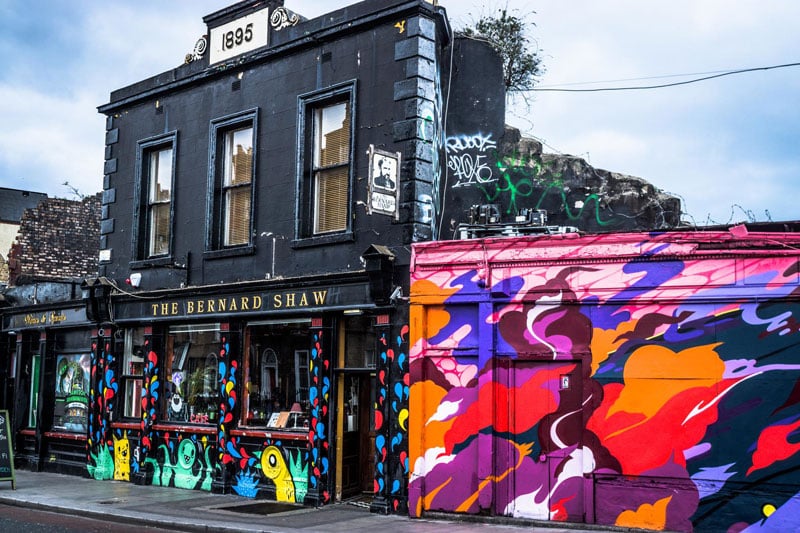 One for the Dublin City Bike stalwart willing to weave one's way through the hustle and bustle of inner-city Dublin for all exploration and expedition purposes.
For those without a chrome cruiser of their own, grab one of the Dublin Bikes located at various points in the city – we're kickstarting from the Portobello rack for this one.
Firstly, make your way down through the vibrant Camden Street onto Kevin Street Lower and around St Patrick's Cathedral.
After that, whizz your way down Christchurch Hill, over the Liffey and through Smithfield, perhaps stopping off to snap some of Dublin's best pieces of street art and graffiti – particularly the comical intercultural effigy at the Cobblestone Bar.
Take the short hill up to Kings Inn Park, where you will then be able to manoeuvre your wheels through a small archway onto Henrietta Street – Dublin's earliest Georgian Street and home to Dublin's newest tenement museum, which is well worth a pit-stop.
Conclude this city tour down Capel Street – a rough diamond in its own right – before parking up at one of the city's most famous landmarks – the Ha'penny Bridge.
2. Malahide to Howth Head via Portmarnock and Coast Road (12.5 km) – the perfect coastal route
If there were ever a cycle route to showcase the North Dublin coastline, this gem would be your go-to.
Firstly, embark from the homely village of Malahide, taking the picturesque Coast Road to Portmarnock with the gorgeous Ireland's Eye Island on your horizon.
You'll feel the wind behind your back and the scent of the Dublin Bay sea salt tickling your nostrils as you approach the residential Sutton – the base of the Howth Head peninsula.
Do take caution on Strand Road as you come through Balldoyle, however, as the lack of cycle lane does warrant a high visibility jacket and a slower pace.
Carry on down the Howth Road until you reach the gleaming Howth Harbour, making sure to hop off the bikes for a luscious Guinness in the cosy Abbey Tavern before clocking off for the day.
1. Grand Canal to Bushy Park via Dodder River (8.3 km) – cycle through suburban South Dublin
This route offers the perfect opportunity to take in all that suburban South Dublin has to offer.
Set off from the exciting urban space that is Grand Canal Dock in the direction of tree-laden Ballsbridge, taking a right onto Angelsea Road, which runs parallel alongside the Dodder River.
Continue on the designated cycle path along Beaver Row, following the Dodder all the way through Milltown and into the quaint Darty Park.
Pit stop at The Kiosk just off Orwell Road for a well-earned 99 before concluding your river run at Bushy Park, Rathfarnham – a haven for dog walkers and joggers alike, and a fitting finale our list of the best cycle routes in Dublin.