If you didn't already know, Ireland draws many people to its shores for many reasons, and its array of beautiful castles is certainly one of them. So let us unveil the 20 best castles in Ireland, ranked.
Believe it or not, Ireland has around 30,000 spectacular castles, including castle ruins, fortified castles, and restored castles. So, those with a love for history will truly be in their element on the island of Ireland.
These incredible symbols of the past are dotted all over the island from north to south and east to west, so no matter where you find yourself on the island, you will almost always stumble across a castle. Did you know you can even rent an entire Irish castle on Airbnb?
Given that castles are embedded in Irish culture, we are excited to unveil the 20 best castles in Ireland. So, next time you fancy a trip back in time to old Ireland, you can marvel at one of these beauties.
So, sit back and take note of these historical landmarks across the country.
20. Belfast Castle, Co. Antrim ‒ for amazing views over the Lough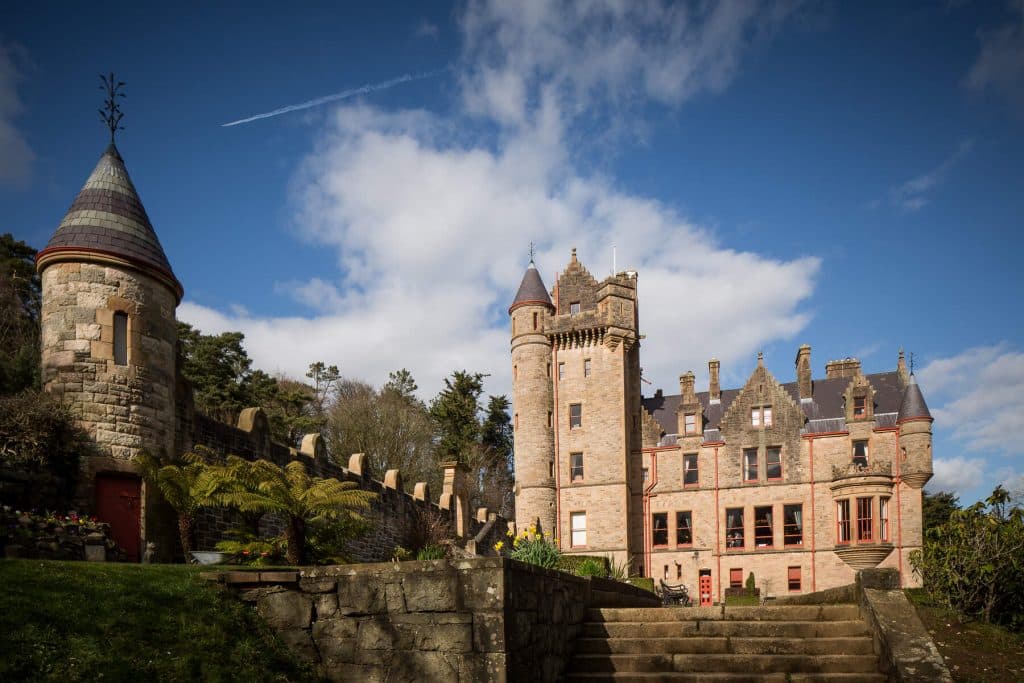 Overlooking Belfast Lough and providing panoramic vistas over the city, this is an iconic stop-off when in Belfast.
Address: Antrim Rd, Belfast BT15 5GR,
19. Enniskillen Castle, Co. Fermanagh ‒ a castle on an island
This 16th-century castle located in Fermanagh now has a variety of museums to be discovered.
Address: Enniskillen BT74 7HL
18. Kylemore Castle, Co. Galway ‒ plenty of fascinating history to discover
Kylemore Castle, now known as Kylemore Abbey, is a mind-blowing sight to see. It is an absolute must on any west coast trip as one of the best castles in Ireland.
Address: Kylemore Abbey, Pollacappul, Co. Galway
17. Dromoland Castle, Co. Clare ‒ a castle turned luxury hotel
Now a luxurious five-star hotel, which has hosted many famous names, Dromoland Castle is one to add to your bucket list on a trip to Ireland.
Address: Dromoland, Newmarket on Fergus, Co. Clare
16. Birr Castle, Co. Offaly ‒ lots to discover
This prominent castle in Birr is home to a science museum and publicly accessible gardens.
Address: Townparks, Birr, Co. Offaly
15. Classiebawn Castle, Co. Sligo ‒ a truly unique sight to behold
Located on the west coast near Mullaghmore, this fabulously situated castle is one you need to see in real life.
Address: Mullaghmore, Cliffony, Co. Sligo
14. Donegal Castle, Co. Donegal ‒ right in the heart of Donegal town
The town of Donegal hosts its very own castle, which is located right in the heart, making it significantly important to the area and the locals.
Address: Saint Helens, 11 Castle St, Milltown, Donegal, F94 E3W5
13. Kilkenny Castle, Co. Kilkenny ‒ a stunning medieval castle
As one of the most visited castles in Ireland, Kilkenny Castle stands among the finest attractions we have on offer.
Address: The Parade, Collegepark, Kilkenny, R95 YRK1, Ireland
12. Trim Castle, Co. Meath ‒ a popular filming location
As one of the film locations for Mel Gibson's movie Braveheart, Trim Castle has long been a tourist attraction. Today, it even features a hotel.
Address: Trim Castle, Castle St, Trim, Co. Meath, C15 HN90, Ireland
11. Minard Castle, Co. Kerry ‒ for breathtaking views of the Kerry coast
One of the quaintest castles in Ireland has to be Minard Castle, which has stunning views across the Iveragh Peninsula.
Address: Kilmurry, Co. Kerry
10. Dunguaire Castle, Co. Galway ‒ a must-visit while in Galway
This picturesque castle, located in Galway Bay, dates back to the 16th-century. It is truly a fantastic sight to behold.
Not far from Galway City, it is a great place to visit while in the area.
Address: Dungory West, Kinvarra, Co. Galway
9. Cahir Castle, Co. Tipperary ‒ one of the very best castles in Ireland
This well-preserved castle is impressive for its size, being one of the largest in Ireland. It is perfectly situated on an island on the River Suir.
Address: Castle St, Townparks, Cahir, Co. Tipperary, E21 P652
8. Malahide Castle, Co. Dublin ‒ just north of the city
Located close to the coastal village of Malahide, Malahide Castle is a 12th-century castle that makes for a great summer day out, with acres of parkland to enjoy.
Address: Back Rd, Broomfield, Dublin
7. Dublin Castle, Co. Dublin ‒ Dublin's own famous castle
A trip to Dublin is not complete without visiting Dublin Castle, an iconic site that holds much historical significance.
Address: Dame St, Dublin 2
6. Ashford Castle, Co. Mayo ‒ home to one of Ireland's most luxurious hotels
Ashford Castle is a 13th-century castle that has become one of the finest hotels on the island.
It holds a special place in the hearts of the Irish nation. You just need to feast your eyes on this place.
Address: Ashford Castle Dr, Leaf Island, Cong, Co. Galway
5. Ross Castle, Co. Kerry ‒ a mesmerizing sight
This 15th-century castle in the kingdom of Kerry is a sight to behold, situated on the shores of Lough Leane in Killarney National Park.
Address: Ross Rd, Ross Island, Killarney, Co. Kerry, V93 V304
4. Blarney Castle, Co. Cork ‒ don't forget to kiss the Blarney Stone
One of the best castles in Ireland has to be Blarney Castle, which attracts many people wishing to kiss the world-famous Blarney Stone that makes up part of the castle.
Address: Monacnapa, Blarney, Co. Cork
3. The Rock of Cashel, Co. Tipperary ‒ a truly iconic historical site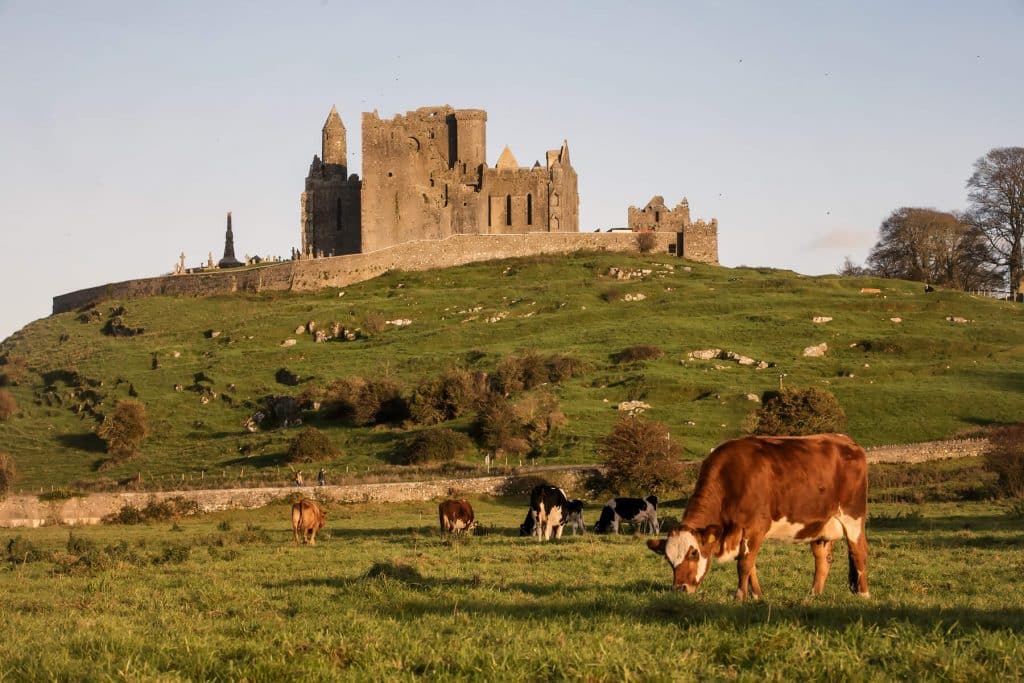 The historical site of the Rock of Cashel in Tipperary is well known among locals and visitors alike, who are enthralled by the dramatic location perched on top of a large outcrop of limestone.
Address: Moor, Cashel, Co. Tipperary
2. Dunluce Castle, Co. Antrim ‒ a breathtaking castle on a cliff
Accessed via a bridge, this iconic castle in the north of the island is famed for being one of the filming locations for Game of Thrones.
It is also relatively close to the Giant's Causeway, one of Northern Ireland's most iconic attractions.
Address: 87 Dunluce Rd, Bushmills BT57 8UY
1. Bunratty Castle, Co. Clare ‒ one of the best castles in Ireland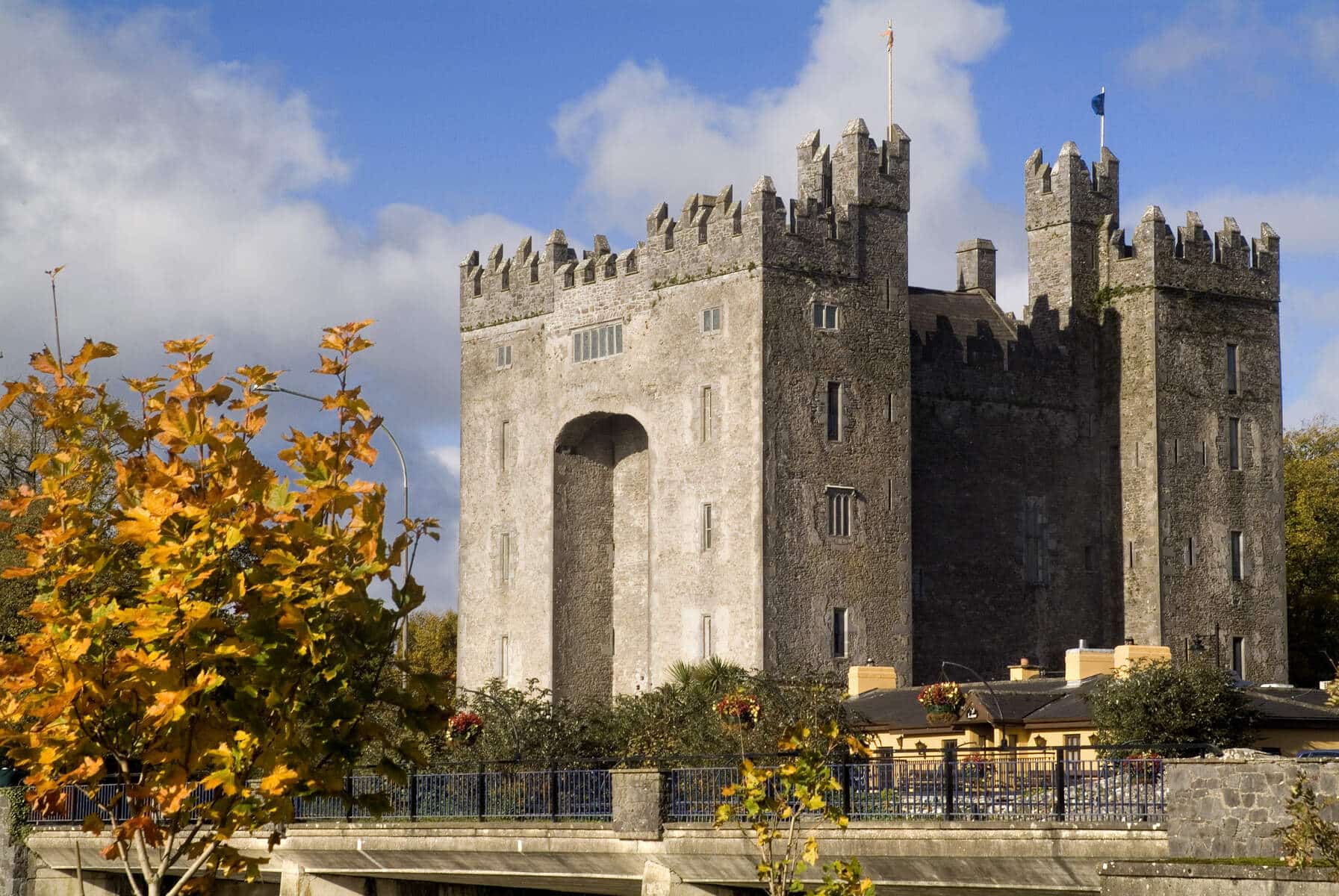 If there is one castle that everyone has heard about, it has to be Bunratty Castle.
Dating back to the 15th-century, it is among the top attractions in Ireland. Guests could spend hours exploring the incredible castle grounds.
Address: Bunratty West, Bunratty, Co. Clare
Notable mentions
Dunboyne Castle, Co. Meath:This castle turned hotel is a major sight in County Meath.
Lismore Castle, Co. Waterford:The imposing Lismore Castle is on a hill overlooking the town of Lismore.
Ballinskelligs Castle, Co. Kerry:This impressive castle is situated on a narrow peninsula in County Kerry.
Lough Eske Castle, Co. Donegal: Now a luxury hotel, the beautiful Lough Eske Castle is surrounded by the incredible Blue Stack Mountains.
FAQs about the best castles in Ireland
What part of Ireland has the best castles?
The midlands and west of Ireland are home to fantastic castles.
What is the oldest castle in Ireland?
Kilkea Castle, which was built in the 12th century, is just an hour from Dublin.
How many castles are in Ireland?
It has been said that there are around 30,000 Irish castles to be discovered.
So, there you have it, the 20 best castles in Ireland, all of which have their selling points. Still, whichever one you come across, just know that they all played a huge role in Ireland and your experience today.
What is the largest castle in Ireland?
At a whopping 322,917 square feet (30,000 square metres), Trim Castle is the largest Cambro-Norman castle in Ireland.
What is the best castle tour in Ireland?
We've put together a list of the ten best castle tours in Ireland, which will help you decide the one for you.
Are there any castles in Ireland that can be used for a wedding?
Yes, there is! Here is our list of the ten best castles in Ireland for a wedding.
If you are interested in learning more about castles in Ireland, you will find these articles really helpful:
Stay at a castle in Ireland
10 Castle Hotels You Must Stay In Before You Die
10 castle hotels in Ireland we'd all love to stay in
10 haunted Irish castles you can actually stay in
Live in a castle in Ireland
Top 10 incredible castles for rent in Ireland
An Irish Castle is Available For Rent On Airbnb – And It's MASSIVE
Top 5 incredible castles for sale in Ireland right now
Castle culture
Top 10 fairytale castles in Ireland you won't believe exist
5 hotels in Ireland with a castle view
Top 10 best castles in Ireland everyone needs to see
The 10 most haunted castles in Ireland
32 Irish castles: the best castle in every county of Ireland
5 Irish castles that look dreamy in snow
The 5 best castles in Northern Ireland
A 360° Virtual Tour Of Seven Incredible Irish Castles