Our list of the top ten best beer gardens in Dublin will ensure that you have many great choices this summer for a pint.
There are many wonderful beer gardens throughout Ireland's capital of Dublin, from spots by the sea to unique and quirky bars full of character.
With summer on the way, there are many great beer gardens to enjoy and experience throughout the city.

In this article, we will reveal the top ten best beer gardens in Dublin that you should make sure to visit this summer.
10. The Hairy Lemon – a quirky but classic beer garden
The Hairy Lemon has a beer garden that can best be described as a quirky but classic beer garden. Thanks to its central location in Dublin city, it is very conveniently placed.
While the beer garden is small, it still deserves a place on our list, thanks to its quirky design and ideal location.
Address:  Stephen Street Lower, Dublin 2
9. The Manhattan – a fantastic beer garden to enjoy a meal in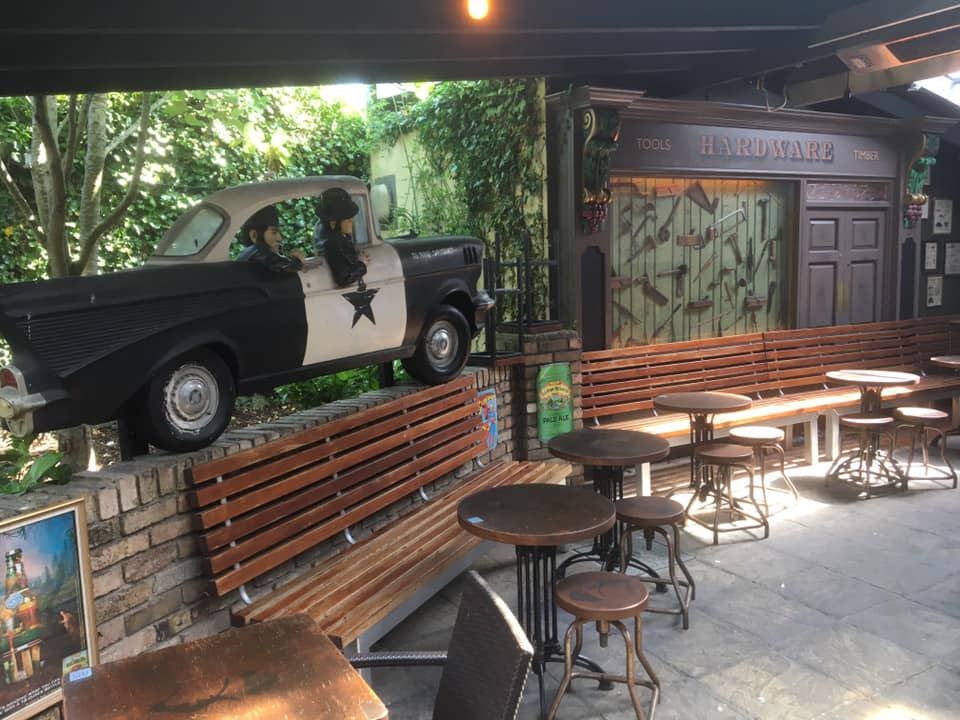 The Manhattan bar is a contemporary atmospheric gastropub with a great beer garden adorned with funky lighting fixtures and picnic tables.
You will find some of the finest pub grub in the capital here, and what better place to enjoy some fine dining than in this beautiful beer garden?
Address: 3-5 Station Rd, Donaghmede, Dublin 5, D05 T9K8
8. The Bloody Stream – a fan favourite with locals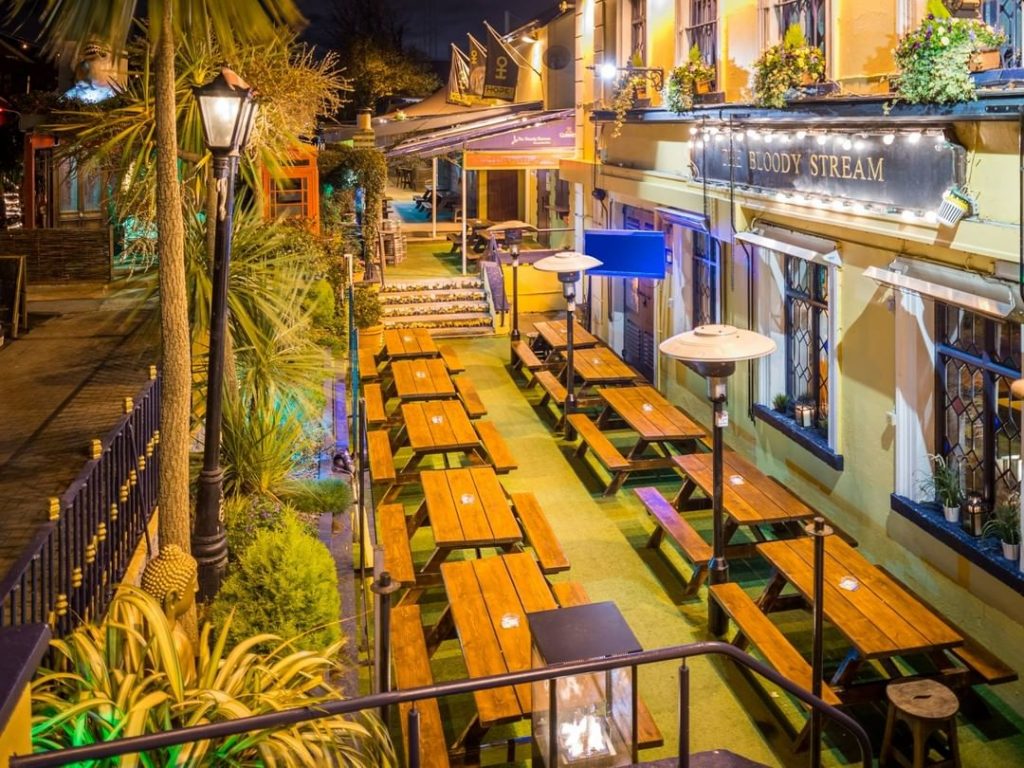 The Bloody Stream is a pier-side pub that offers fantastic views of Howth. It is a fan favourite with the local people and comes alive at night time.
With plenty of seating and heaters, this beer garden can be enjoyed during summer or winter evenings.
Address: Howth Railway Station, Howth, Co Dublin
7. No Name – a unique beer garden
The Dublin bar, known as No Name and located on Fade Street, is a unique bar typically accessed via an unmarked door.
Here, visitors climb a flight of stairs to access the bar and unique heated beer garden that is perfectly suited to all types of weather.
Address: 3 Fade St, Dublin
6. Blackbird – a trendy beer garden that offers living room vibes
Located in Rathmines, the Blackbird bar has a trendy beer garden that offers living room vibes. This is easily one of the best beer gardens in Dublin, great for drinks with friends.
The lively beer garden can be pretty busy, so it's recommended to try and get in there early to grab a picnic table and enjoy the sunshine for an afternoon of pints.
Address: 82-84 Rathmines Rd Lower, Dublin Southside, Rathmines, Co. Dublin
5. The Living Room – a fantastic beer garden to enjoy a match in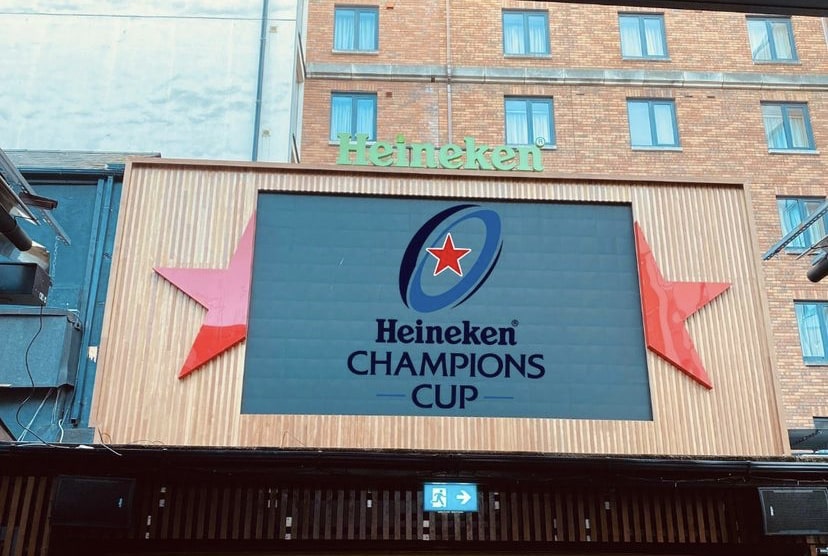 The Living Room on O'Connell Street in Dublin city is a huge sports bar with a massive beer garden.
This is one of our favourite beer gardens and is the place to be on matchday. Make sure you arrive early to ensure you get a good spot in front of the TV.
Address: Cathal Brugha Street, Rotunda, Dublin 1
4. O'Donoghue's – a beer garden full of character
The cosy beer garden at O'Donoghue's traditional pub is a popular spot that is bursting with character and possesses an excellent drinks menu.
It also plays host to many an impromptu Irish trad session. The bar itself is known for pouring one of the best pints of Guinness in the city.
Address: 15 Merrion Row, Dublin
3. The Barge – located perfectly on the Dublin Canal
The Barge is a pub found on the Dublin Canal close to the city centre. While it doesn't possess a beer garden in the traditional sense, its proximity to the water makes it a must-see.
This is especially so on a sunny day when many people can be seen enjoying a creamy pint outside the pub, making it a popular spot.
Address: 42 Sráid Charlemont, Saint Kevin's, Dublin 2, D02 R593
2. Toner's – home to a huge beer garden
While Toner's pub is relatively small, its primary selling point is its excellent and sprawling beer garden, which is much bigger than the pub itself, meaning you will have plenty of space.
The pub has also been regularly named "best Guinness" in Dublin city, so it's worth a visit for that reason alone. It is the perfect spot for a summer pint.
Address: 139 Baggot Street Lower, Dublin 2
1. The Bernard Shaw – the best beer garden in Dublin
In first place on our list of best beer gardens in Dublin is The Bernard Shaw, which, similar to our last entry, has a beer garden that dwarves the size of the actual pub.
You will find everything from a big bus serving artisanal pizza and a trendy night food market to a pool table and a karaoke caravan in the beer garden itself. There is also a superb selection of drinks and is a popular venue in the summer months.
This is one beer garden that you won't regret visiting!
Address: 11-12 Richmond St South, Saint Kevin's, Dublin 2
That concludes our article on the top ten best beer gardens in Dublin that you should visit this summer. Have you been to any of them yet?
Other notable mentions
Opium: Inspired by the draping flowers of the botanical gardens, this beer garden is a nature lover's dream and an ideal spot for a creamy pint.
Harcourt Bar: This beer garden in Harcourt Street used to be remembered as DTwo. However, it has since been transformed into one of the best beer gardens in the city, with a great outdoor terrace and outdoor seating.
Camden Bites & Brews: This beer garden on Camden Street is a lovely outdoor space that makes for a great place to enjoy some fine pub grub outdoors and is a sun trap on warm days.
The Church: Located just off Mary Street, this is a great central location and outdoor spot that has welcomed Taylor Swift.
FAQs about beer gardens in Dublin
What are the best beer gardens in Dublin?
In our opinion, the best beer gardens in Dublin would be The Bernard Shaw and Toners.
What are the most unique beer gardens in Dublin?
Dublin's most unique beer gardens would be the No Name Bar and the Opium bar, thanks to their distinctive and memorable design.
Do Ireland's beer gardens have heating?
Yes, most of Ireland's beer gardens do have heating, so you can still enjoy drinking outdoors without feeling a winter chill. However, the summer days and summer evenings are coming.
Get featured on Ireland Before You Die
Do you want to get your Irish business more online exposure? Especially to those interested in travelling the best places in Ireland? Then why not get a dedicated feature on Ireland Before You Die. Find out more 
here.