Discover some of the most beautiful beaches in Kinsale, a beautiful coastal town on the Wild Atlantic Way.
Located in the West of Cork, Kinsale is a gorgeous coastal town bustling with activity. While the town doesn't have a beach, it marks the start of the Wild Atlantic Way, meaning plenty of beaches are nearby.
We have ranked the best beaches in Kinsale, so read on; whether you are looking for photo opportunities or your next new favourite surf spot, there is a beach on this list to suit all your needs.
5. Sandycove Beach – an excellent spot for stand-up paddle boarding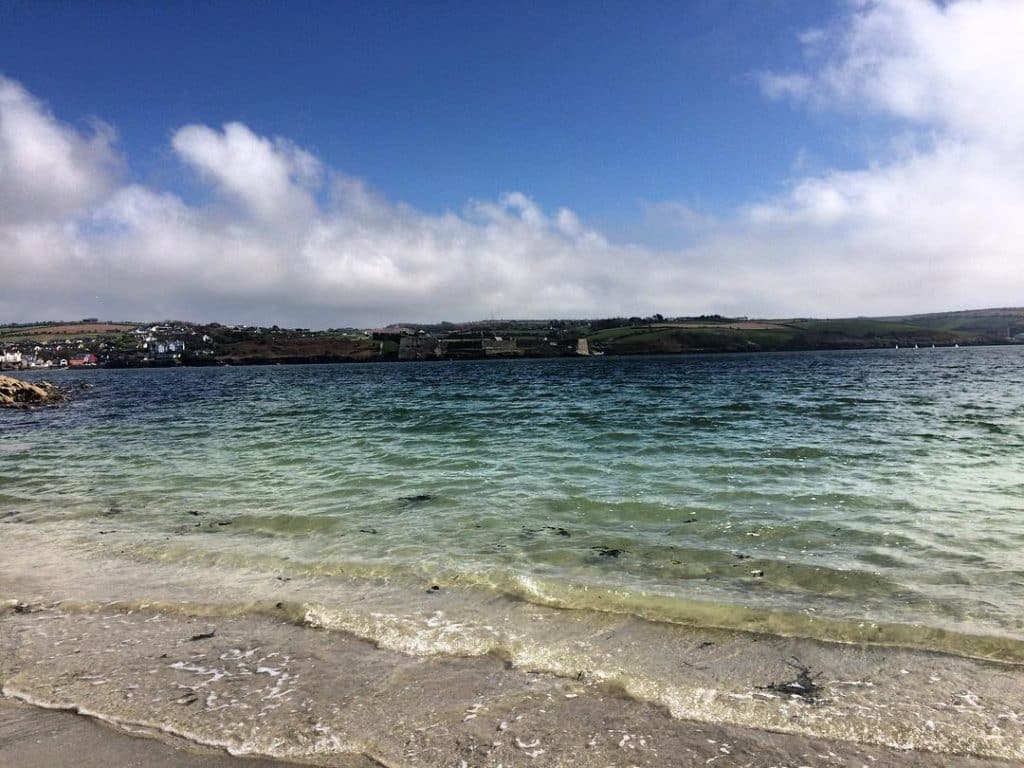 Located only ten minutes from Kinsale by car, Sandycove is a small but very popular beach. The calm water here is especially popular for stand-up paddle boarding and kayaking.
The beach looks onto Sandycove Island, uninhabited except by a herd of feral goats. An annual Sandycove Island Challenge is hosted every September, which invites swimmers to swim the 5,900 ft (1,800 m) around the island.
A nearby cliff walk provides some beautiful photo opportunities, but we advise you to take care and watch your footing if you opt for the cliff route. There is limited parking at Sandycove Beach, so consider this when planning a visit.
Address: Muir Cheilteach, Sandycove, Ringrone Heights, Co. Cork, Ireland
4. Garretstown Beach – a fabulous Blue Flag beach
Garretstown is a gorgeous sandy beach and one of the best beaches in Kinsale. Only a 15-minute drive away, this Blue Flag beach has a large area for cars to park up for the day.
Garretstown is an ideal surf spot; many people visit it yearly for its excellent waves alone. It's also a popular spot for families, with plenty of sand to stroll along and rock pools for small children to marvel at.
It is a busy spot in the summer, with lifeguards on duty on the beach to ensure water safety. If you are lucky, you might arrive when a food truck is there too, and there is a high chance of this in the summer months.
Address: Co. Cork, Ireland
3. Rocky Bay Beach – the perfect spot for bird watchers
Rocky Bay Beach is approximately 20 minutes from this Cork town by car and is a magnificent place to visit if you like bird watching; if you're lucky, you might spot a peregrine falcon here.
This area has been awarded the Green Coast Award on multiple occasions, meaning it is renowned as a beach of high environmental quality.
This beach has limited parking but excellent disability access, with a concrete walkway for those using wheelchairs.
Address: Ballyfoyle, Nohoval, Co. Cork, Ireland
2. Nohoval Cove – for breathtaking landscapes
Located about 20 minutes from Kinsale by car, Nohoval Cove has spectacular rugged scenery, with powerful sea stacks providing the perfect backdrop for some breathtaking photographs of the Wild Atlantic Way.
Nohoval Cove is a popular spot for kayakers and a specific place of interest for divers, as there are many ancient shipwrecks in the cove.
There is no designated parking at this beach as it is very remote and off the beaten track, but we promise this hidden gem is one of the best beaches in Kinsale.
Address: Reaniesglen, Co. Cork, Ireland
1. The Dock Beach – the closest beach to the town of Kinsale
Less than a 10-minute drive away, The Dock Beach is the closest beach to Kinsale, easily making it the most popular beach. While small, it provides breathtaking views of the historic Charles Fort.
It is also in a walking destination of James Fort, both top-rated tourist destinations and well worth visiting. This location is famous for watersports lovers, particularly stand-up paddle boarders and kayakers. It is also a perfect family spot as it is small.
Parking is limited here in the summer months due to its popularity and size.
Address: P17 PH02, 4, Castlepark Village, Kinsale, Co. Cork, P17 PH02, Ireland
Honourable mention: Garranefeen Strand – one of the best beaches in Kinsale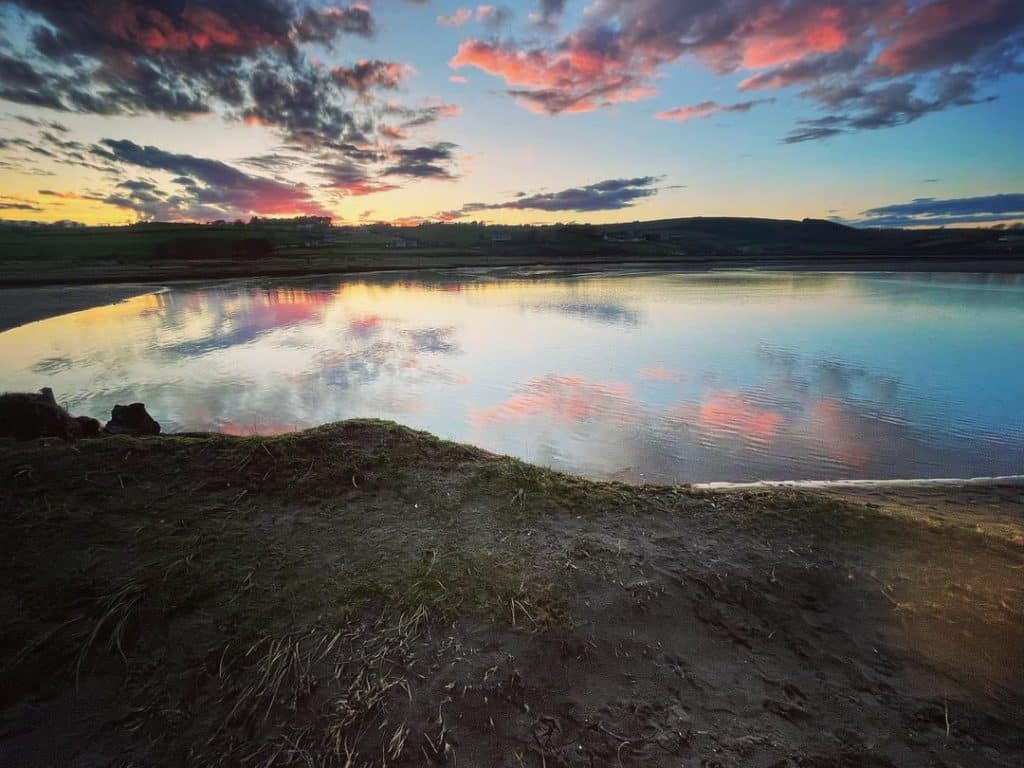 We couldn't leave Harbour View Beach (a.k.a. Garranefeen Strand) off our list, as it is a magnificent spot for kite surfing.
Located a mere 20 minutes from Kinsale by car, this beach provides spectacular bay views. It also has a long strand at low tide, making it an ideal location for dog walkers.
It is a firm favourite of locals in Kinsale. However, this area has powerful currents, so enter the water cautiously.
Address: Garranefeen, Co. Cork, Ireland