Dublin is a haven for food lovers, and those with a taste for Asian food will be in their element, so add these top Asian eateries to your list.
Dublin is a melting pot of cultures and is a fantastic city when it comes to its vibrant and mouthwatering culinary scene. It may be a small city, but it packs a punch with plenty of incredible restaurants featuring authentic food from across the globe.
Without needing to book a flight or apply for a Chinese or Vietnam visa, these local Asian restaurants allow you to taste authentic Asian cuisine. So, let's tantalise those tastebuds with our list of the ten best Asian restaurants in Dublin that you can't miss.
10. Lao Chinese and Korean BBQ – an all-you-can-eat favourite
Known for its authentic Chinese hotpot buffet and delicious Korean BBQ options, this Dublin-based Asian eatery will tickle your tastebuds.
Their all-you-can-eat option is fantastic for those who want to load up on the best Asian food and get great value for money in the heart of Dublin.
Address: Ireland, IE Dublin IE 102 Parnell Street Dublin 1 D01VOF1
9. Saba Restaurant – Thai food done right
Saba is one of the most popular Asian restaurants in Dublin, and while the prices might be a little higher than others, you certainly get what you pay for.
Their carefully prepared Thai dishes are heavenly and boast so much flavour, while the décor and atmosphere add to the overall charm of the place.
Address: 7 William St S, Dublin 2, D02 CV65, Ireland
8. Eatokyo Asian Restaurant and Sushi Bar – a must for Japanese food lovers
Located in Temple Bar, close to the banks of the River Liffey, Eatokyo is arguably one of the best Asian restaurants in Dublin for a few reasons.
Firstly, you get value for money; secondly, their range of fresh Japanese dishes is excellent; and lastly, the portion sizes will keep you full and satisfied.
Address: 51 Wellington Quay, Temple Bar, Dublin 2, D02 NH04, Ireland
7. Lee's Charming Noodles – for a memorable dining experience
Lee's Charming Noodles on Parnell Street comes with a warning: if you visit once, you will want to visit again.
Specialising in authentic Chinese noodles and delicious stir fries, Lee's is a popular choice for many Dubliners who seek hearty and fresh dishes at excellent prices that will put a smile on your face.
Address: 105 Parnell St, Rotunda, Dublin 1, D01 W448, Ireland
6. Hang Dai Chinese – not your typical Chinese eatery
Chinese cuisine is trendy across Ireland, and Dublin has some exceptional restaurants, including Hang Dai Chinese.
The vibe, interior décor, and wide range of food options of this eatery make it one of the best Asian restaurants in Dublin. You cannot miss this great experience.
Address: 20 Camden Street Lower, Saint Kevin's, Dublin, D02 T275, Ireland
5. Asahi Asian Street Food – a fusion of street food favourites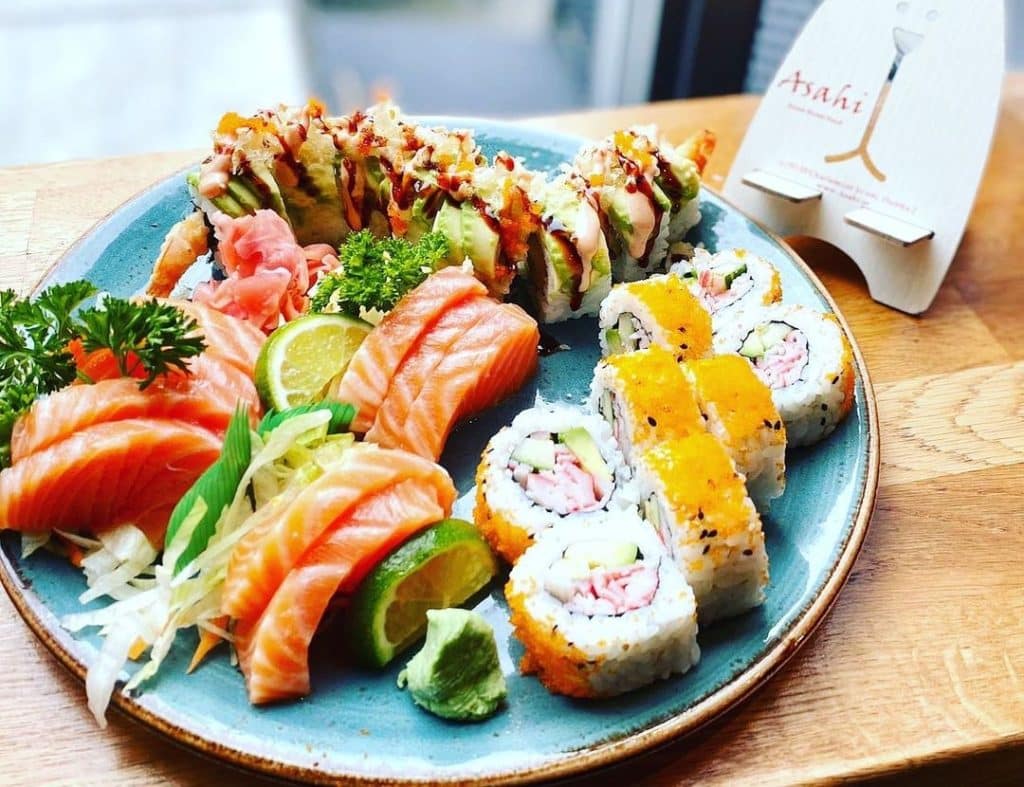 Asahi is the place to go if you want to try an array of fantastic street food from places like China, India, Thailand, or Japan.
Not only is their menu eclectic and diverse, but the restaurant is BYOB (bring your own booze), so you can enjoy some of your favourite wine or beer with your fabulous meal.
Address: 33 Charlemont St, Saint Kevin's, Dublin 2, Ireland
4. Fujiyama Restaurant – freshly prepared Japanese food
This Asian fusion restaurant focuses heavily on mouthwatering Japanese food, with options like ramen, sushi, and flavoursome miso soup.
Their food is well-priced, fresh, and served quickly, making it a perfect option for all occasions. If you love fresh Japanese food, don't miss this option.
Address: 11 O'Connell Street Upper, North City, Dublin 1, D01 A2K0, Ireland
3. Red Torch Ginger – divine Thai cuisine
Thai food is one of the most delicious cuisines on the planet, and Red Torch does it just right. For anyone who loves authentic Pad Thai or yellow curry, look no further than this spot. Furthermore, they do a range of vegan options, too.
Their central location is ideal for a quick lunch or social meet-up.
Address: 14/15 St Andrew's St, Dublin, D02 HP58, Ireland
2. Chai-Yo – for an electric atmosphere
Chai-Yo is your spot if it's vibrancy, delicious food, and live entertainment you seek in a dining experience. Not only do they serve up some fantastic dishes, but they also prepare them in front of you, allowing for an interactive culinary experience.
This is as popular as ever for those celebrating special occasions or meeting friends.
Address: 100 Baggot Street Lower, Dublin, D02 X048, Ireland
1. NEON Asian Street Food – a must-visit when in Dublin
Regarded as a culinary gem in the heart of the capital, NEON Asian Street Food is the place to enjoy delicious meals filled with authentic flavours at a great price.
The cosy atmosphere, welcoming service, and extensive menu filled with various fresh options are reasons to return time and time again.
Address: 17 Camden Street Lower, Saint Kevin's, Dublin, D02 TX94, Ireland
So, there you have some of the best Asian restaurants in Dublin, each with its charm and unique dishes, allowing you to get great value for money in the capital.